If you thought mobile apps were solely for big names like Amazon or Expedia, you couldn't be further from the truth. You may even think, "Oh, I have a responsive website! My customers get the same great experience regardless of which device they browse on. So why again invest in a mobile app?"
Well, providing impeccable user experience is the buzzword as far as digital marketing is concerned. Responsive web design is just one part of this strategy; development of native apps takes this experience to the next level. It's not just about presenting existing content and functionality in a different manner – apps present content, functionality and navigation that are specifically optimized for the way in which we use our mobile devices. You can curate the app experience for your users to be actionable and easily accessible briefly and impulsively; after all, the average attention span is coming crashing down!
Push notifications, integration with device and platform capabilities and so on, are tactics that can be implemented through native apps – which cannot be achieved with websites that are mainly for display purposes. Mobile optimized experiences enable you to offer your customers a more effective, engaging and efficient user experience than your responsive website could ever do. Responsive websites only address the problems of mobile users to a certain extent; to deliver a truly memorable user experience, you need a mobile app.
Just look around; nearly every company worth its salt invests in mobile application development today. Why? Obviously it reaps significant benefits. It's not just the international or even national chains; even your friendly neighborhood spa probably has its own app! Let's talk about why you should consider building a mobile app for your company.
#1. Mobile Penetration is Globally Increasing: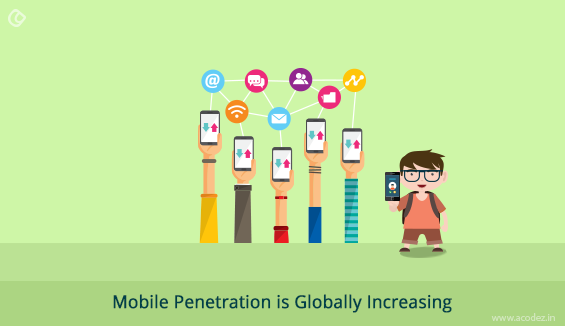 People all over the world are increasingly going mobile. Whether it's looking for information, booking tickets, buying fashion or anything else, people are turning to their mobile phones to perform these tasks – and there is no turning back. Your online branding activities are being increasingly accessed through mobile channels. Traditional websites, even when responsive, become a bit overwhelming for mobile screens. Ergo, merely having a responsive website is no longer going to suffice. Mobile apps, whether Android or iOS, are far more intuitive.
#2. Enhanced Brand Visibility:
Mobile apps make it easy for your customers to purchase on the go. Whether they are waiting in line, traveling, when they have trouble falling asleep at night, or in a boring meeting, a mobile app will let them browse and purchase at their convenience. Basically, you are visible to them at all times. Even if they are not looking for products you sell per se, your app is bound to 'be in the way' when users scroll through and search for the apps they want on their phones. Regularly seeing, interacting with, and purchasing from you through your app, reinforces your brand image in the minds of customers. In advertising parlance, this is called effective frequency. You are literally putting your business at their fingertips and in their pockets!
#3. Build Loyalty:
You've seen how your mobile app can create and grow awareness about your brand. Among all the flyers, banners, TV ads and so on, you need to be able to stand out and be seen by potential customers. A mobile app is pretty much like an empty canvas – you can design it the way you want; you can create it to shock, excite, educate, entertain or anything else you want; but above all, you can develop an app to include features your customers, present and potential, will love. At the same time, your mobile app can be functional, beautiful and of course, branded – all in one!
#4. Direct Marketing Channel and Improved Customer Engagement: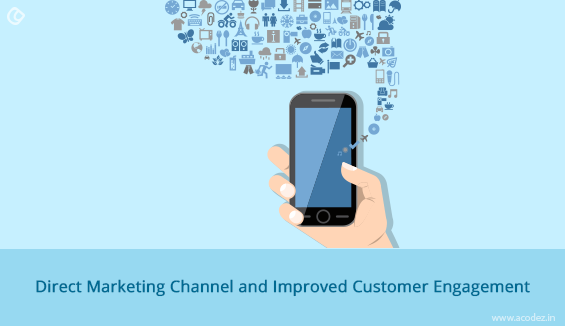 A mobile application can serve several purposes; it can give information, mention prices, allow users to create accounts, search, deliver news feeds, capture user info in forms, and facilitate messengers, and so on. By delivering all this information to your customers' fingertips, you can remind them about your products and services when you need it without having to spend money on advertising. For example, you can offer them 'special' previews and early bird offers on new products or products on sale through push messages. You have an open, direct channel already! It also provides a platform for your customers to reach you directly when they want. Their Smartphone is something they carry with them at all times, so when they can leave a detailed request, feedback or grievance using their phone via your app whenever they want, it makes customer engagement easier and more robust.
#5. Provide Value to your Customers:
You can digitalize your loyalty program; no more distributing cards; instead, you can allow your customers to collect and redeem reward points through the app. You can be sure that more people will download the app – and you can also see more of them coming back to you.
#6. A Social Platform:
Everyone is on the social networks today – from your 86 your old granny to your 9 year old nephew. People love to post their experiences and photos on Facebook, Twitter, Instagram, Pinterest and so on. Make it easy for your customers to talk about you on social media – your app can do this with in-app messaging, share buttons, review sharing, discussion forums, and so on.
#7. Steal a March over the Competition:
You can do this either by being the first startup or small business in your field to launch an Android or iOS mobile application, or hire experts for the development of an app that is superior to that of your competitors.
#8. Quicker Sales and Easier Service:
The development of mobile applications has changed the way we buy and sell products and services forever. Customers are able to analyze a product thoroughly before making a purchase decision; they have far more options than before. They can buy with just a few taps on their screens. When your app provides customers with the information they need, you are providing exemplary customer service. You can also embed 'how-to' videos and tutorials in your app, creating even more value for your customers.
#9. Capture Data in Real Time:
An app saves you time, money and effort in collecting information about a client. Apps can capture customer info, preferences, actions (to record browsing and purchase history), and use this data to deliver relevant, personalized content. This will help customers in making quicker decisions, and will give you an insight as to improvements you may need to make to your app, based on customer usage.
#10. Greater Convenience:
Users often have to scroll, search and tap several times to navigate to where they want to on a mobile web site. But with a mobile application, the amount of information and data is minimal, allowing the app to perform much more efficiently. Users will be able to navigate far more quickly and easily, and are more likely to stay focused on their task with an app as compared to a website.
You can also embed your responsive website in your mobile application, making it easy for your customers to check out your website if they want to. Ideally, you should embed only those pages from your site that are relevant to your customers, rather than the entire site. This will help you provide an integrated and seamless user experience that will not draw the focus away from their main task.
Going by the way the mobile industry is developing, it is imperative for every business to invest in mobile app development. With several benefits going to the users and businesses, having a mobile app is a win-win situation. Don't lag behind your competition; they are either in the process of developing an app, or will soon do so. Be a leader in your field – create a mobile application for your business now!
Looking for a good team
for your next project?
Contact us and we'll give you a preliminary free consultation
on the web & mobile strategy that'd suit your needs best.