Hello there!
I hope you are enjoying your Flutter journey?
In our previous article Top 9 Advantages Of Flutter, we discussed what flutter is, how it works, and why anyone could pick it up and create magic with it. I would love to hear your story, send us a shout out on our twitter handle @acodez. We would love to know how your journey is coming.
However, this article will be throwing more lights on projects that were built on flutter. We all know that flutter recently gained lots of attention in the last year. And since the last flutter day held on the 25th of June 2020 a lot of companies, developers, and startup founders are taking flutter a lot more seriously and this is interesting to watch.
There are over 3,000 apps uploaded daily. But I'd like to discuss the most interesting applications built with flutter and how they've solved problems and made life easy for both developers and the users. But before we go into a detailed list, I'd like to iterate on a brief introduction to:
What Is Flutter?
Flutter is a Google UI toolkit for building beautiful user interfaces for cross-platform applications i.e coding with flutter allows you to run your applications on both Android and iOS.
Why Developers And Founders Are Choosing Flutter

High productivity: The use of flutter by developers helps save time because you write on one codebase and it runs for both Android and iOS thereby saving development time. And the reusable code feature is a huge plus.

Beautiful designs: Flutter apps are aesthetically pleasing to the eyes and have a native feel provided by the flexibility of using widgets to build applications.

Stateful hot reload: Being able to implement a change with just a click and in milliseconds, is one huge advantage of flutter.
Amongst others, flutter saves a lot of time by building for multiple platforms. The flutter community is small yet so supportive and willing to help each other get past bugs and challenges.
This list is not exactly in any particular order, and I had to pick really interesting applications that are doing super well. These applications are not rated based on any specific conditions.
I just figured that a mix of success rate, startup, and solution-based could be a huge reason to convince you that flutter could be used by any and everyone.
Some Really Interesting Apps Built With Flutter
Google Ads
The most interesting for me is Google building for Google. I mean Google built dart and out of dart they built flutter, just when we thought things ended at that loop, we got google ads built out of flutter.
Google ads was built to help publishers, bloggers, content creators, and advertisers display product listings, brief advertisements, service offerings, video content, and more to a targeted audience.
This app allows users to manage google ads and campaigns from their mobile phones, therefore, taking away the task of always needing a PC to access an account.
Download at: Google ads
Rating: 4.3
Downloads: 10million +

Alibaba's Xianyu
The developers' team at Alibaba needed a way to design beautiful solutions that could satisfy both Android and iOS users.
After some research, they discovered flutter could be the answer to a long time of worrying about satisfying customers and implementing aesthetically appealing yet functional user experience across platforms.
Xianyu is a mobile application that provides a platform for people to sell or buy things from each other. It is an e-commerce solution owned by Alibaba- that encourages sales of fairly used items.
Xianyu is one of the biggest e-commerce platforms with over 50 million active users carrying out transactions daily.
Rating: 3.5
Download at: Xianyu / Taobao app download
Downloads: Over 10 million downloads.

Reflectly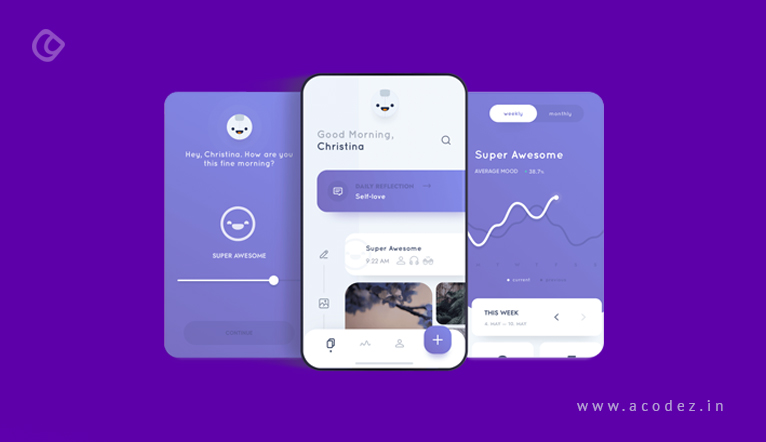 This is an AI-Powered app that serves as a journal and helps users to record emotions and feelings. It does this by sending users questions daily, to understand stress levels, daily life experiences, and thoughts.
Given the emotions and activities on the app, the app gives detailed insight into how the day/week was for the user.
This app uses artificial intelligence to monitor, cheer up, and encourage users to maintain a healthy mind. And with the high rise in anxiety attacks and depression, Thus seems to be a perfectly great app at these times to help keep everyone in check.
App Rating: 4.3
Downloads: Over 1 million downloads.
Download at: Reflectly App
WaterManiac
Watermaniac is an interesting app. The goal of building this app was to remind users to drink water, as we all know drinking enough water is super healthy but due to busy schedules, we may or never be able to take enough water per day.
However, the WaterManiac app helps users set goals on how much water they wish to consume per day and set reminders to meet those goals. This is an amazing app because it promotes good health. And good health in turn provides us with high energy and productivity.
App Rating: 4.0
Downloads: Over 1 thousand downloads.
Download at: WaterManiac – Play store
TrackAm
This is a super interesting application, built with love and a hunger to solve a troubling situation in the local environment of Nigeria.
The developers of TrackAm are software engineers from Nigeria trying to solve the problem of insecurity. The rise in police brutality, kidnap and rape cases led to the birth of such a mind-blowing application.
TrackAm is a mobile phone application that sends a message to selected contacts when the phone is shaken. The app sends an SMS notifying the recipients that the user is in trouble and needs assistance. But most interestingly, it's built with flutter.
During the user testing stage, I was honored to test the app, and yes it was smooth, the UI was beautiful and it sends a message immediately.
This product is on this list because it solves an immediate problem and even though it is still in its early years, I believe it will help curb the problems of insecurity in Nigeria and beyond.
App Rating: 4.3
Downloads: Over 1 thousand downloads.
Download at: TrackAm app
Dream11
I came across this app during my research, this is the only flutter app I didn't really know what it was about prior to this article. But somehow I stumbled on it and it sure is impressive.
Dream11 is an India based app. It is a fantasy app that allows users to create a team of players, fix matches, and allows cricket, basketball, hockey, kabaddi, and football. This app allows users to create an imaginary team of players and get to earn points based on the performance of players in real matches.
Like every other gaming app, dream11 offers both freemium and paid contests. The user pays a small amount of cash to register and stands the chance of winning cash. This game is only legal for people above 18years of age.
App Rating: 4.3
Download at: www,dream11.com
Conclusion
The advantages of flutter can never be overemphasized. Every day, we get to witness the trend of developers creating beautiful mobile applications using flutter both evident in the number of flutter apps launched on play store and the number of developers coming into the community.
The majority of Startup and business owners now see reasons why they should choose flutter as a toolkit for building solutions.
I hope this article was able to make you understand that a lot could be done with flutter and no matter the sector, idea, scale, or category, flutter will always be a good choice for making really tough development and business decisions.
However, to see how these apps function you could visit app marketplaces like google play store or app store to download, have a feel, and maybe use it forever.
I do hope that this article helped you understand not just why flutter is doing a good job in helping developers and businesses build cross-platform solutions, but also be encouraged that users also love these apps.
Yes, flutter may still have its bad side, but like every other technology, it is definitely going to grow into a highly rated recommendation in the coming years.
So, why not learn about this magic?
Drop in the comments the other flutter-built apps you know about, we would love to see what you're creating in your community.

Acodez is a renowned website development and mobile app development company in India. We offer all kinds of web design and web development services to our clients using the latest technologies. We are also a leading digital marketing agency providing SEO, SMM, SEM, Inbound marketing services, etc at affordable prices. For further information, please contact us.
Looking for a good team
for your next project?
Contact us and we'll give you a preliminary free consultation
on the web & mobile strategy that'd suit your needs best.