When you hear the word "the web," what crosses your mind?
For me, it would be a beautifully designed aesthetic website that has some appealing colors, images, videos and a little bit of information. That is all that the web means for most of us.
Some people take it to posting selfies on their Instagram and Facebook profiles and let me do some guesswork here; the web is all about selfying for these people.
Posting selfies, updating statuses, online shopping, or E-learning, whatever we do, undoubtedly today the web is an inseparable part of our lives.
Let us not underestimate the power of web designs and the geniuses of web designers in weaving the web magic.
Here the question is what about the scope and future of Web Design?
If someone were to ask this question to me, I would say that it is infinite.
Now web Designers you will never be out of a job because the internet needs you for its survival and vice-versa.
Your career may get sealed if one fine morning the internet decides to fade away.
Sounds rude! But, unfortunately, that is a bitter truth and forms one of our worst nightmares.
No worries! Your job is safe! The internet has no plans to quit at present. So enjoy and be proud to be a webie.
Let me cheer you up with some awesome news about my anticipations and expert views on what the future and scope of the web will be.
I can assure you that the Internet will continue ruling the world with 100% confidence.
I don't know how many of you are aware of the fact that the first kind of the Internet also referred to as the Intranet came to be launched somewhere around the 1960's. Since then there has been no looking back though there has been inevitable and unprecedented progress every other day.
And, we are all living evidence of this growth that continues to dominate millions of people all around the world.
The evolution of the first website:
I have done my research before I set out to help you, and my sources reveal that Tim Berners-Lee was the person to create the first website design as early as in the 90's.
To be precise the exact date when the world got its first website is on the 1st of August, 1991.
Almost 26 years have gone by since the first site was launched. Have you ever wondered what was your first website like?
Let me tell you:
This first website has content that described what the World Wide Web is all about and also it contains a few links.
The HTML page was a single-column design, and some inline links were fused in. Don't know whether the new gen kids like you have ever seen what this resembles?
If you have had the luck to study the history of web designing or how it evolved, you might be aware of the standard structure of HTML pages that is more or less content based with a few tags like the heading, paragraphs and links.
As time passed, newer versions started replacing these and also we had updates like options to include images, tables, graphics and more…
The Web is the property of all and not any single person. So, there should be some way to prevent individuals or organizations from disturbing the built-in ecosystem of the web.
Emergence of the World Wide Web Consortium:
Commonly known as the W3 Consortium, which came to be formed in the year 1994 brought along with it the standardization of the web.
It qualified HTML as the standard for marking up web pages.
As time passed, several changes evolved, and we got table-based designs, followed by design over structure, flash based web designs, Macromedia Shockwave, DHTML, 3DML, CSS-Based designs and what not.
Future of Web Designs:
Let me be frank with the things, as we have discussed the Internet has its roots of origin to somewhere back in the year 1969 and it took almost more than 30 years for it to evolve and reach the common man all around the world.
So, my point is there are several things around us, and it takes not more than a minimum of 25-30 years for it to become a trend and an inseparable part of our lives.
Let me take some other examples that include the CTSS Mail Service, which came to be launched in the year 1965 but it was not until in the 1990's that Email services became available for people all over the world.
Similarly, the wearable computers that have become quite a trend now have its origin somewhere in the 1980's and today Apple iWatch, Google Glasses and all are a part of our lives.
So, what you are doing today will become a trend for years to come.
These are examples of technology though the design is an equally important thing. For that matter, if you check out the WordPress plugins that we use, each has evolved over time with an improvement in its functionality and beauty.
Speaking of the future of web designs, we can expect many brilliant pieces of designs in the coming future – Brilliant and at the same time that offers convenience and so much ease with exciting features. After all the features and designs we see on many prominent websites these days were just a dream a few years back. 
When we look into the initial time of the World Wide Web, the designers were hired to create designs for firms and organizations which could be done easily from scratch and wouldn't cost much but with the Internet so prevalent now, the role of designers took a drastic change. There is an end number of sites these days, and the designers are expected to come up with something unique. 
Web design is constantly changing and naturally, web designers need to constantly educate them with new skills and techniques to come up with something creative while meeting current industry trends. Designers should first understand what their clients looking for and some of them do exactly what their clients asked for while some give their honest opinion and decisions based on current trends and give a better functioning website. 
Branding became the new trend on the internet and is expected to grow with the internet in the coming future. Apart from just creating websites, the designers are expected to represent the brand by understanding the values of the company and what factors make them unique. 
One of the radical changes that happened in web design is responsive design- Back then it was impossible to make the website look equally attractive on all devices, but now the websites are designed in a manner that is attractive and at the same time ease of use in both desktop and mobile devices. For example – Facebook, Twitter, Linkedin, etc. 
With new tools and APIs, designers can create an attractive responsive design with merely a few clicks, and the Artificial intelligence features made it easy for them to get control over the functions.
Now, cloud computing became the trend that would change the way of work and how companies run – getting a platform that has the ability to create a website and send files without numerous servers is a huge benefit for companies that can be achieved through cloud computing.
 We can expect more exciting design features in the coming years that will offer a more engaging experience on mobile devices as they offer much easy interaction. Web designs are constantly changing over the years and we can expect further expansion in visualization, motion graphics, interaction, and animation. 
How can we connect technology and web design?
As you see the kind of web designs that we have are responsive, single page web design, material design, card design, etc.
The need for different types of designs depends on the content that you are viewing and the kind of device that is being used to view the content.
Also Read: Responsive or Adaptive Design? Design trends to look for in the year
Some might use desktops, laptops, tablets, or mobile for accessing the websites.
The way we view these digitized documents has not changed much as cited by Nathan B. Weller.
It looks like we are entering the contextual age as predicted by computer scientists decades back.
So, where will this Contextual age take us to?
Contextual computing is nothing but, there will be a point of time when technology will trace what our needs are and what we are yearning to, what we wish to do, and accordingly integrate all these to make our lives easier without any botheration or effort from our side.
I just can't wait to be a part of the Age of Context.
There exist five virtual or augmented objects that are the inseparable part of the Age of Context and these includes
How the Grid changes all?
Yes, the Grid is considered to be the game changer.
Using this Artificial Intelligence, you can build websites that alter or adapts itself to incorporate the content that is being added up.
It looks like days of optimizing sites automatically that would be more of user-specific are not far behind. To be more precise, there will be a day when the websites would start adapting or changing according to the kind of users accessing these.
What can we expect in 20 years from now?
The way we analyze and interpret information will take a different change. A website is nothing but something that showcases data or information.
Imagine having a small chip or card placed in your memory that will bring you the reflection of anything and everything you wish to reach out.
It means there will be no more the need for creating web pages or websites.
Because we have turned ourselves into human-bots, that can feed information into our memories.
So, what is the scope of your job web designers?
It looks like you need to find another job for your bread and butter once we enter the Contextual Age.
So is the case with Content Writers and others, because the context of viewing data and others are changing and you have to change.
But again, as I said these are all my weird imaginations out of my weird memory box.
So, let us examine what is happening around us:
Outsourcing or in-house:
These days outsourcing has become quite irrelevant. People establish in-house web design and development teams to get the work done.
But, outsourcing is not dead.
Still people trust on web design and development agencies to get them work on creating beautiful designs that offer the best
There have been certain discussions on the round where there are businesses who hired outsourcing agencies to help them develop websites but found out that things don't work this way.
They did a lot of rework, and there was wastage of money, time and other resources.
This is the point when freelance designers emerged.
And what they did?
Situations were much similar though there might be lesser loss of monetary resources. It is not necessary that they deliver the product keeping in synch with the requested timeline.
If you see as Paul Boag has it designs are becoming modular and it is necessary that a whole dedicated team works on it providing continuous support and assistance.
One of the reasons why several big heads today have an in-house web design and development team with them.
So, today we can see that these corporates are seeking the help of agencies while working on bigger projects that their in-house team cannot accomplish by themselves.
In-house team and outsourcing agencies work together.
But still some companies depend upon Saas and the Grid to develop websites that are flexible.
Though it has been found that these cannot meet up with the general requirements.
Understanding the Basics of Web Designing:
The basic role of a web designer entails one to employ several skill sets in the production and maintenance of Web Sites. To deliver appropriate quality, they would need to harness knowledge in the following areas:
• Graphic design
• Interface design
• Authoring using standardized code and proprietary software
• User experience design
• Search engine optimization
While the above mentioned are merely enablers that help him or her bag the job the real skill set required to enable them to keep the job goes much deeper than this. It centers on the inherent need for a Web Designer to possess an aesthetic sense and ability to empathize with the audience to deliver an enhanced web viewing experience through their designs.
Tools and Technologies:
Technology is ever evolving. As a result, Web designs based on these technologies would also need to be redefined with every evolutionary phase. Nevertheless, there are several standard tools which would always be in demand by Web Designers. This include:
• HTML and CSS
• WYSIWYG editors like Dreamweaver
• Graphic Editors like Adobe Photoshop
• Programming skills
• Flash
Career Opportunities for web designers:
Web Designing is a promising career opportunity which displays immense scope for interested candidates. In India, one of the biggest industry, which provides a possible room for Web Designing as a career opportunity is the IT or the software industry. Clients interested in getting their online presence established are approaching the software giants to get their Web sites designed. Therefore, the software stalwarts recruit experienced professionals who would be sufficiently qualified in executing the deliverables in quick turn around time.
Also, they also welcome Freshers, who are put through rigorous training and then made to learn the ropes under the wings of the experienced seniors. This provides them with an excellent opportunity to learn the work hands-on.
Most organizations also recruit web designers for their internal projects which have a distinct flavor of their own as it provides the opportunity for Designers to interact with major company stakeholders who run these internal initiatives.
Web Designers are also required in the Media Industry like News or advertising agencies or even in the education industry developing educational websites and learning material for students.
Also Read The Scope of Digital Marketing in India Here: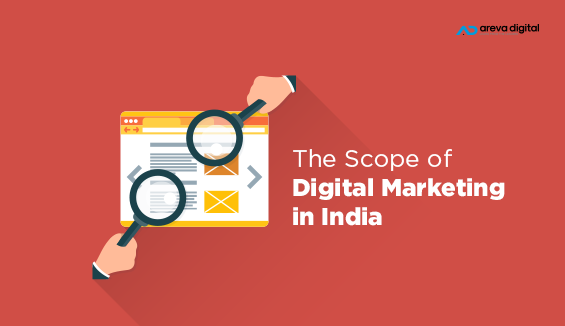 Future Roadmap:
With such a wide canvas it is little wonder that Web Designers can etch out a promising roadmap for the future. Designers need to evolve beyond rigid design boards and emerge as architects of a new change which is redefining the traditional concepts of Web Design.
Mobility first, Responsive Designs, Minimalist look, Content first approach are the new terminologies which need to be carved on their easel broadening their canvas a tad bit more. The onus is on them taking the cue and sketch out the new roadmap for the future.
Acodez IT Solutions is a leading website designing company based in India providing web design and development services to people across the world. We constantly keep on updating with the latest trends to meet the emerging needs of our clients. We also experiment with innovative ideas to make it more easy and simple for people to use.
We are also a digital marketing solutions provider helping businesses plan their online presence in a way that automatically makes them the apple of their customer's eye.
For web design services, contact us today.
Looking for a good team
for your next project?
Contact us and we'll give you a preliminary free consultation
on the web & mobile strategy that'd suit your needs best.