In this blog we are going to explore an unsuspected technological territory: the world of gaming technology applied for the military, law enforcement, education, or even research.
What are we referring to? Video games can be very intensive, and they can provide a very immersive experience.
Commercial video games almost always feature characters involved in a war or fighting actions which makes them an ideal tool for real military training.
Think about the incredible success of a game such as counter-strike which has become very popular on so many cyber-cafes in the world. Such a game is in fact an almost perfect training system for real soldiers.
Serious games refer to games that have been developed primarily for another purpose than 'raw' entertainment.
The military has developed several such games with the intention of providing soldiers with a realistic combat simulation environment.
A serious game – in general – also called an applied game is a real game but with another goal than entertainment.
The games are dubbed 'serious' because they are used by industries such as defense, engineering, scientific exploration, education, emergency management, health care, politics, or city planning.
Serious games share of course a lot of aspects with simulation generally speaking (especially flight simulation or medical simulation), but serious games are also games, and as such they contain and underline the implicit fun and competition found in games in general.
Hence, serious games are not only simulations.
Darwars
Darwars used to be a research program inside the well-known research facility of D.A.R.P.A and aimed at accelerating the production and deployment of military training systems.
Such training systems were designed with many factors in mind, especially PC simulators, online communities, virtual reality, and video games.
From the research program, the Darwars Ambush, a serious game was created.
This multi-player game features a convoy trainer and is designed to save lives and improve soldiers' effectiveness.
As mentioned in the title of the game, the scenarios feature especially situations of ambushes of a military convoy in a war zone.
EndeavorRx: An Example Of A Medical Serious Game
Endeavor Rx is a medical serious game specifically designed for children with A.D.H.D syndrome (Attention Deficit Hyperactivity Disorder).
The game has been licensed by the Food and Drug Administration in the USA. The game is specifically conceived to increase the attention of the patients.
The game is very important in the history of serious games because that's the first time in history that a game is being officially prescribed by doctors as a drug for a disease.
The FDA authorization to classify EndeavorRx as a pharmaceutical product came after the game went through seven years of clinical trials where more than 600 children with the A.D.H.D syndrome were studied to figure out if a game could actually provide them with a cure.
Medical serious games can make a change in the behavior of patients who deal with chronic pain. By playing serious medical games, these patients learn how to deal with their pain and control it.
Since the game is also fun to play, this provokes a normal and natural stimulation
Wii Sports
Wii sport is a serious game aimed at helping the user to perform physical training and fitness exercises (and acts as a demonstrator of the capacity of the Wii console). The game works with the wireless Wii console.
Wii sports features five sports:
Tennis;

Baseball;

Bowling;

Golf;

Boxing.
Persuasive Games: The Example Of A Serious Game Editor
Persuasive games is a game editor developing serious games for corporate or marketing purposes (advergames).
The company claimed to have developed titles in the following areas:
airport security;

consumer debt ;

disaffected workers;

pandemic flu;

suburban errands;

data compression;

the petroleum industry;

the politics of nutrition;

food inspection;

factory farming;

fast food franchise economics;

chemical bonding ;

grass-roots outreach.
While at first view, the list may look surprising, the game studio developed indeed real serious games for each of these topics.
Most of their games aren't available to be played and are often to stay private.
A lot of titles feature activism or politics. Here we give two examples of such titles:

Killer Flu
As an example, the company developed the Killer Flu game. Killer Flu was developed as an attempt to demonstrate realistically how a virus like a Swine flu mutates and spreads, and how 'challenging' it is in fact for the flu to affect a large amount of the population.
In the game, the player plays as a flu virus and tries to infect as many people as possible. The idea is to contain panic and show how hard it is in reality for such an infectious virus to spread through borders.
The game was ordered by the UK Clinical Virology Network.
Debt Ski
In that 2D game, Players will play as Piggy Banks, the Game's central character, and navigate through a set of obstacles.
Their goal will be to maximize Piggy's savings, to limit Piggy's debt, and maintain a satisfactory level of happiness. The serious game was ordered by the Peter G. Peterson Foundation.
America's Army
America's Army also dubbed 'AA' has developed the game 'proving grounds' which is also the official game of the US army.
A proving ground/training area is a special area where weapons, military vehicles, or specific military technology or military tactics have experimented.
This is an ultra-realistic action game, shooter genre. It bears some similarities with titles such as Call of Duty for example.
Police Serious Games
Dutch Police
The law enforcement agencies are consumers of serious games.
The Dutch police are using the following serious games for their training:
POINTER (POlice INTERview game)

LOITER (LOItering Teenagers)

JUST-TALK
These games feature situations of dialogue with mentally ill people or loitering young adults for the training of the social skills of police officers.
For example, in LOITER, players of the serious game have to resolve some conflicts involving a group of loitering teenagers.
By playing this game, police students can improve their social skills. Players are able to interact with protagonists in a fully immersive gaming 3D engine.
Dealing with loitering can be complex for police officers because it involves the respect of fundamental freedom rights but also the prevention of some potential crime because loitering can just be "the tip of the iceberg", hence the importance of a training game.
LOITER is based on some research work in behavioral modeling in the Netherlands. Yet there are no clues that it is used extensively in police training.

Dubai Police
The Dubai police have developed a series of serious games for their internal training. Here we present a typical view of such a game, where the goal is to process a traffic accident.
This is not a simulation software but a real game with some elements of fun inside.
The PLUS Project In The UK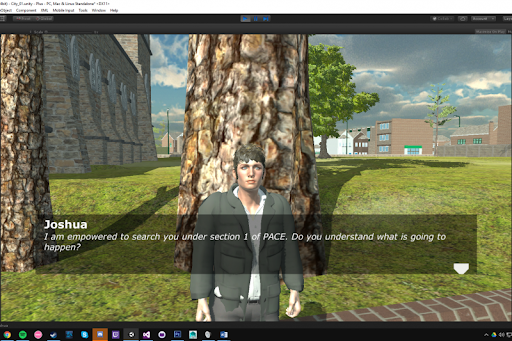 The PLUS (Police Training Using Simulations) project aims at developing serious games for the Dorset Police force.
The games feature interactive dialogue with characters and present realistic scenarios that may occur in the everyday work of a UK police officer.
AUGGMED
The AUGGMED (Automated Serious Game Scenario Generator for Mixed Reality Training) project is a serious game developed for counter-terrorism training purposes.
AUGGMED is using gaming technology, VR as well as the augmented reality which provided more realism. It is described as a way to use virtual reality for training aid workers and police on how to deal with terror-related attacks.
The motivation behind the serious game is a will to better prepare special police forces and the relevant medical personnel to deal with terrorist attacks and their consequences.
Researchers from Sheffield Hallam University, UK, have developed a complex system mixing gaming and other technologies to provide an ultra-realistic environment offering the maximal realism of such extreme situations.
Conclusion
As we saw serious games, which are probably vastly unknown to the public, are finding more and more applications in many businesses and industries as well as in the military and law enforcement sector.
Games can be any way at the frontier between fantasy/imagination and reality. For example, casino games are 'real' in that sense that they require money and involve real financial situations.
There are other examples of games such as 'escape games' or heroic-fantasy games that can involve challenges in the 'real' world. Therefore, there isn't always exactly a clear border between 'games' and 'serious games'.
Of course, this poses serious questions because by playing a game for training for real situations, there exists a risk of confusion between reality and virtuality.
Therefore, serious games should be developed following very strict guidelines, to be sure that no inordinate or incongruous elements are present in the game 'universe'.
Most of the serious game-based training for police is vastly experimental and there is no real proof that they are used on a regular basis for the training of new recruits.
Many of these serious games may have quite mediocre artistic qualities but it is interesting to see how games and virtual reality will be used more and more as a way to teach and to train people. Stay tuned for more information!
Acodez is a renowned web design and web development company in India. We offer all kinds of web design and web development services to our clients using the latest technologies. We are also a leading digital marketing company providing SEO, SMM, SEM, Inbound marketing services, etc at affordable prices. For further information, please contact us.
Looking for a good team
for your next project?
Contact us and we'll give you a preliminary free consultation
on the web & mobile strategy that'd suit your needs best.