If you were to examine two slides – one with detailed yet plain content and other with high quality attractive imagery with few catchy lines of copy, which one will appeal you the most?
Of course, the combination of striking image accompanied by creative content!
And this has been on the minds of market strategists long ago. It is a proven fact that such combinations go a long way to establish the brand and connect the dots with the audience.
Images Rule Social Media
The increased preference of image over content is substantiated by the statistics of Social Times which reveal that Pinterest and Tumblr were the fastest-growing social networking sites in the year 2014. Adding to the image craze is the exponential increase in the usage of mobile devices with high mp cameras. Sharing visual moments on social media is only a click away these days.
We are going to share a few tips on how to fix the most common and avoidable mistakes in visual content sharing and how to leverage the visual world to your command.
Visual content is usually marketed through Images at Instagram, Pinterest, Tumblr, through Infographics at Infogram, Visually, through Slides at SlideShare and Speaker Deck, through Videos at YouTube, Vimeo and through comics, memes, gags, etc. Social media websites viz. Snapchat, YouTube, Facebook, Twitter, Instagram, Pinterest, Tumblr, and Vine are ace promoters and distributors of visual content.
The success formula for visual content to go viral is the fact that it is perceived faster and generate stronger emotions on the go. Scientific research has proven that our brain performs 60,000X faster while decoding visual content compared to the plain textual information.
Common Mistakes to Avoid
To err is human. It is pretty normal to commit mistakes, even the best of us can do so. What is important is to learn from such mistakes and a determination to never commit them again. Here we highlight 10 most common mistakes made by brands, marketers and designers along with the tricks to fix them.
No Call to Action
While designing any poster, product advertisement, or other forms of infographic, the designer is more than often so engrossed into his artwork that he tends to incorporate as many elements as possible. This would no doubt create a visually appealing image but at times, it can mess with the mind of the viewer regarding the underlying message. This is called lack of message, understanding or call to action.
Solution
An attractive design will neither serve the purpose nor hit the desired target audience. There has to be a clear indication of the outcome of the ad. So, if you are creating an online invite, create a button, a call to action or a link that can be used for navigation or filling the requisite details.
Pro Trick: Try to create only one call to action that is prominently visible, to attract immediate attention of the viewer.
Lack of strategy
Most of the times, start-ups and amateurs come with a decision to go with a strategy to get maximum likes and shares on a particular event. Such on-the-spot features may be successful in grabbing the eyeballs but it would be for a considerably shorter period. Events may come and go. You may get likes and shares but eventually, all will be forgotten. Marketing requires a definitive strategy with regard to your audience, competitor outlook and market research.
Solution
First things first, define your business goals, target audience and market segment clearly. Then, understand your audience, their demands and desires. Back your decision with research about your market segment and how your competitors are doing it. Conjoin all this information and create a strategic backbone for all your marketing activities. Thus, not only current but the long term prospects of your business will be secured.
Say No to one image for all purpose
Every finger is of different size and every individual has a separate taste. One image for each platform will not fetch you the correct audience. Although there are no preset guidelines to tap the social media, you need to research on every type of platform to understand the format for each of them.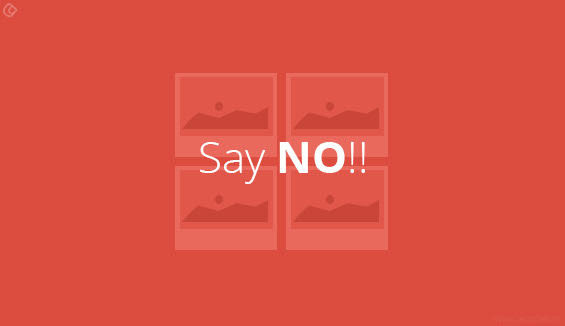 Solution
Once you have your command on the formats and other constrains of each platform, you can create simple accessible templates which can be used for all your future posts. This will save your time and energy in starting all over again whenever you want to make a post on social media.
Low-Res Images
In today's digital world, high-res, attractive images does the trick all the time. If you are coming up with a visual content, it is pertinent to give specific attention to the quality of the image. Even if the content accompanying the image is of average quality, an attractive image will fetch you the desired shares and user engagement.
Solution
In order to establish quality in your images, you need to sit back with your designers on defining the font size, color scheme, language, type of images, spacing, border, etc. Uploading quality images at all times will appeal your audience and you will see an increase in the graph of your fan following.
Don't forget your purpose
While creating content for the purpose of sharing on social media, always repeat the contention of creating it in the back of your mind. This will save you from any apparent deviations that you might come across. For example, Instagram works only with mobile devices. So, while creating images for such mobile based social platform and other desktop based ones, you need to alter the content as images appear differently on mobile and desktops.
Solution
Defining your target audience will save you from the blow here. Say, if you are targeting teenagers, you would choose better than to work with Facebook as it is losing the interest of teenagers. Instead, keep your preference to the latest trends in social media life Snapchat, Instagram, etc.
Go Generic. Avoid Personal Taste
You would do better than just listening to your mind. This is one of the most common mistake that people tend to commit. You should always consider the likes and preferences of your audience than just implementing as per your taste. Step into the shoes of your viewer and then design considering what he would want to see.
Solution
You can put a questionnaire or feedback form to understand the likes and dislikes of your audience, what they would like to view and share, what catches their interest and what would they prefer. Another option is to analyze the figures and determine what type of content people have viewed and shared the most and also the content created by your competitors.
Lack of consistency
It takes ages to build a reputation and a day to ruin it. It is important to establish yourself as a brand in the beginning more than anything else. Eventually, people will start recognizing you, understand your product, your business and your vision. Any inconsistency in setting your image will hinder your brand loyalty.
Solution
You may have to skip on some brilliant marketing ideas in order to stay tuned to your brand. Make sure you don't move offbeat from the graphic style, color schemes, font etc. This will only confuse your audience and leave them in a mess. Consistency with the content and images attracts audience and inspires them to share your content and follow your brand.
Short-term planning
Indeed, festive seasons like Christmas and New Year fetch great marketing opportunities, yet they don't pay well in the long term. Humungous likes, shares and comments may be received during these special occasions. The user engagement is on a flight at such times but suddenly you will notice it freezes after reaching a certain point. People will eventually reduce sharing your content which may hamper your brand image.
Solution
At such occasions, it is advisable to stick to your roots and promote what your brand was meant for in the first place. Work harder towards strengthening your brand image by setting clear realizable goals, and transparent mission statement. For e.g. Nike with his iconic "Just do it." and "Find your greatness." Campaigns have managed to stay true to its roots while keeping the audience connected to their brand since a long time. Moreover, these taglines also work during festive seasons. So it's like two birds, one arrow.
Don't forget customer is the King
The wide spread arms of internet have enabled an overwhelming creation and sharing of content to a large number of audience. For those brands that fail to recognize the content that their customers are willing to read and share are missing out on strong visual marketing campaigns that speak directly to the customers.
Solution
With advanced technology, it is easier to monitor the servings by your brand with tools like Google Alerts, SumAll, Mention, etc. In today's world, customer is the King, you need to understand his importance to get closer to him. Once your customers know this, they will revere your brand and not hesitate to take it to the next level. This acts as the ultimate promotional technique in today's time.
Conclusion
You might have heard it several times on how to attract your audience and indulge them with the visual content marketing techniques. But here, we have highlighted few common mistakes that people commit while building their brand and how to deal with such situations. We hope that these tips and tricks will guide you in taking your brand a notch higher. Social Media Platforms are ever changing, you need be update yourself continuously to hit the right mark.
Are you looking forward to hire a Web Designing Company in India? Call us at +91 9544668844 & get in touch with our team right away!
Looking for a good team
for your next project?
Contact us and we'll give you a preliminary free consultation
on the web & mobile strategy that'd suit your needs best.