Introduction
In this article, we will dig into the fascinating world of the Bitcoins ATMs and the Bitcoins credit cards.
We assume this is an area that is badly known to the reader. But as we want to give you the latest news in science and technology, here we are!
Let's take it for granted that you know what is a cryptocurrency and especially what is Bitcoin.
We're seeing now the development of Bitcoin ATMs and Bitcoin credit cards.
By this, you must understand that you can withdraw cash in many areas only by authenticating your BTC wallet and withdrawing a cash equivalent in local currency to the BTC you wish to withdraw from your wallet. Of course that works often not only for BTC but also for ETH (Ethereum) or USDT ( Tether).
Bitcoin ATMs – An Overview
Bitcoins ATMs are often nicknamed BATMs . They are just like any other Automatic teller machine – except that you can buy BTC from them If they are bi-directionals, they also provide the offer of selling your Bitcoins for immediate cash exchange.
BATMs are various and only around 30% of them are truly bidirectional. Actually, they allow you to sell your BTC to get instant cash.
Some BATMs require the user to have previously registered an account on the network that the machine operates. Some Others are truly anonymous.
A Bitcoin ATM looks exactly like a bank ATM, except that it will not connect to a bank server but instead will connect to the BTC blockchain.
If you buy BTC, it will ask for a credit card (or direct cash sometimes) and will process your payment, then send an equivalent amount of BTC to a BTC public address you would have previously imputed.
Some bitcoin ATMs are just standard ATMs with some upgraded software inside.
Beware that these bitcoin ATMs will charge much higher fees than other traditional ATMs. There is a dedicated website, coin ATM radar, which tracks and reports all the bitcoin ATMs on the planet.
Count ATM radar was reporting the incredible amount of 10k crypto ATMs worldwide at the moment this article was redacted!
However, the repartition is far from being uniform.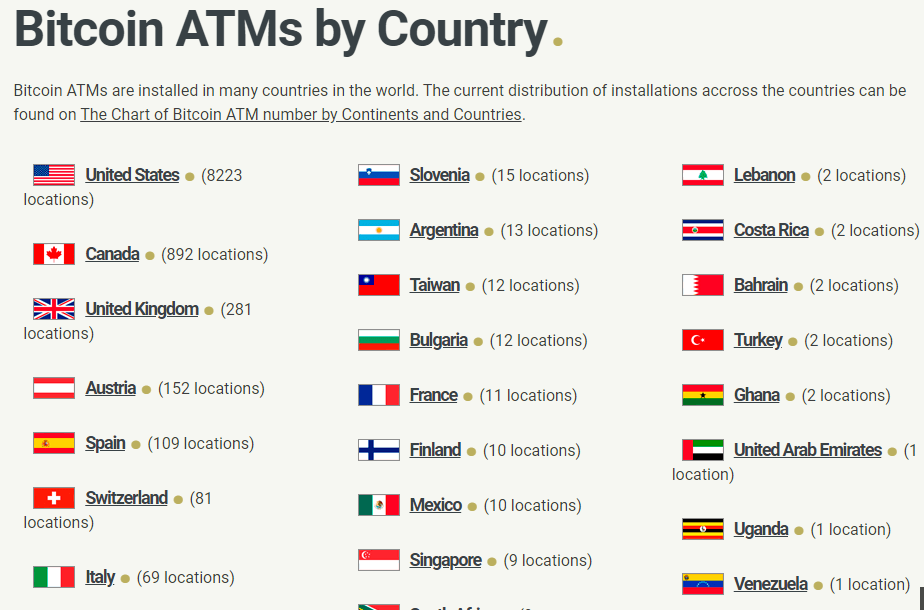 As we can see most BATMs are located in the USA then Canada and the UK. In the rest of the world, BATMs are in a very small amount.
For example, in India, there is only one BATM registered.
Bitcoin ATM Constructors And Providers
The Bitcoin ATMs – like other ATMS – have dedicated constructors and operators. Here we wish to present a few ones.
Lamassu
Lamassu is an Israeli vendor of BTC ATMs.
General bytes
General Bytes is the leading worldwide provider of Bitcoin ATMs (and other cryptocurrencies). Their headquarters are located in the Czech republic and they claim to have sold around 5k BATMs up to now.
Hyosung
Hyosung is a global ATM vendor and they recently announced that they will provide BTC transaction support via the JustCash application.
Most Important BTC ATM Operator
ATM bitcoin operators are different from machine manufacturers. Bitcoin Depot is the most important BTC ATM operator. The second-largest BTC ATM operator is Rockitcoin followed by ATM Coiners, Coinflip, Coincloud, and Coinsource.
Bitcoin Credit Cards
Bitcoin Credit cards are a more complex concept to achieve. Ideally, a 'pure' Bitcoin credit card consists of a credit card – loaded with the BTC private key – that can be used in BATMs without any bank or card issuer or card brand linked to the credit card.
As of 2020, this is not yet possible (unless we speak of a cashback BTC card like the Fold card)
Current Bitcoin Credit Cards are in fact linked to a bank account and users load them with Bitcoins (or other cryptocurrencies) then withdraw the corresponding money to a standard bank ATM.
Here are the most important crypto credit cards as of 2020:
TenX

Nexo

.

Monolith

.

BlockCard
The Future For Bitcoin ATM And Bitcoin Credit Cards
Here we must discuss what the future holds for such payment systems.
First, the Bitcoin is not completely legal in many countries and can be considered as most as 'tolerated' in a lot of countries – India included. This means that there is some instability involved with these payment systems.
On the other hand, Bitcoins and cryptocurrencies have proved to the world that they are trustworthy and provide many benefits to the users, especially trans-national instant money transfer.
So far Only companies such as Western Union and Moneygram or Visa/Mastercard direct transfer can rival BTC in terms of instant transnational money transfer.
There is a real trend: Installations of Bitcoin ATMs in the US raised up from 1,216 in January 2018 to 2,475 in January 2019 however, sometimes, regulatory hindrances are forcing some Bitcoin manufacturers to change slightly their plans.
However, the bitcoin & cryptocurrencies trend is not supposed to stop. Therefore we can bet on a continuous increase in the installation of new BTC ATMs.
Now BTC ATMs surpass 10,000 installations worldwide. The Bitcoin ATM operators are gaining more and more market share month after month.
Conclusion
Unless there is a general consensus to stop Bitcoin and cryptocurrencies – especially in the USA – BTC ATMs have a bright future. BTC credit cards should also become fully operational (without a bank account linked ) sooner or later.
For now, the trend is too new but many investors are investing more and more in such systems. Stay tuned for the updates.
Acodez is a renowned website development company with a dedicated Emerging Technology Services division in India. We offer all kinds of web design and web development services to our clients using the latest technologies. We are also a leading digital marketing company providing SEO, SMM, SEM, Inbound marketing services, etc at affordable prices. For further information, please contact us.
Looking for a good team
for your next project?
Contact us and we'll give you a preliminary free consultation
on the web & mobile strategy that'd suit your needs best.