The ultimate goal of Marketing and sales efforts is Conversion, We are working to get more visitors, leads and customers so that they take the next move on our page. If we get them involved in our brand the chances of them buying our product is more. And to achieve this we need to target our visitors to convert them to lead and this can be done using a powerful Landing page.
What is a landing page?
A landing page is a page in a website which has a Single Goal that may be sign up to an email list, buy a product, download a coupon or create a account in a website.
Landing page is dedicatedly prepared to reach one particular goal so the layout and design becomes most crucial factor for a website to convert the visitor into leads.
Landing page is not the same for all businesses. Landing page need to be customized based on your requirement. Your landing page should perform the action which you are looking for. A good landing page can enhance your reach and give a boost to your sales. I will explain you on how to make a perfect Landing page for your business. By the end of the post, you will understand the basics of the landing page and it's importance to a business.
There are different types of landing pages:
#1. "Coming soon" landing page
This type of landing page is very important, if you are planning to launch a new product in market, you can make a landing page, which will provide a brief information regarding your product you are going to launch, This is how you can generate curiosity and spread awareness of your product. You can use "Coming soon" landing page to increase your sale. You can get started with your landing page with these simple tips:
Brief about the Benefits – You can brief out the benefits in bullet-points and also keep your landing page simple by requesting email id for the sign up and all. Don't complicate your landing page with unnecessary stuff. It should be simple and convey the message of your business product.
Specify the time of your product launch – There are many users who really wish to use the product first. They are the early movers in your industry as they are the ones to use your product for the first time and spread word about the product. So make sure that you mention about the time period when you are going to launch the particular product.  
Easy to share and offer rewards – If you want your product to go viral share it over the social media. So offer a easy share button on your landing page and also offer rewards to all those who share your content with their friends.
Get connected after signup – You need to think about the process which you are going to use after a user subscribes for your email newsletters. You need to offer them with a customized experience as this increases their closeness with your brand, you can use them to get feedback about the things they don't like in your competitor products or the issues they face in your industry. By this you will get a fair knowledge about what a customer is looking for in your product. This will help to enhance your product.
Tell your story – Offer them a story, take them across the people behind your project and the vision of your product, this will increase the count of your loyal audience and some of them may even convert as an active partner for your venture.
Some other benefits of having a coming soon page is you have some early targeted traffic as qualified leads, get feedback to refine your product and the best part is if no one is interested in your product you can understand that there is no particular demand for your product in the market and you can move on to something more interesting that will save your energy and money 🙂
Now the next big question is how to create a Coming Soon Page that will get converted into a landing page. You will have to do A/B Testing if you feel that one page is converting at a greater rate rather than the other one. It will help you to decide which one to follow for good.
You can seek help from these providers: Kickoff Labs, Unbounce, Lander for your Coming soon page although these tools are not free. As you need to do A/B Testing it would be great to look for a  freelance landing page designer or any top ux design companies in india. They can help you to create a customized landing page for you, which will provide you with a more customized option to manage your page.
#2. Video landing page
Most of the time we cannot explain everything in a short page. You will have to explain the product and its benefits. These things are necessary mostly when an unique and complex product is being launched. It helps you to convert everything into video format so that users will understand about the product.
Video will specifically focus landing page only. It will explain the core aspect of the page in video format, it does not mean that it will not contain text. We will include text in our landing page.
These are the main things you need to consider before launching a Video into your landing page:
Your landing page should consist of a small 2-3 minutes of video, as most of the users like to see a small video rather than reading a landing page. so including a relevant video can increase the conversion rate on your landing page.
So, the most important fact is that you need to place a good quality video on your landing page, because your conversion depends on the quality of your video, it is very common tendency that if video quality is not good then the chance of skipping your video is more, Your video should need to be interesting so that user will be connected from starting to end.
A professionally created video can generate a good amount of traffic. A good video means no blurriness, good lighting, no background disturbance, no echo problems, no stuttering and clear speech. You can also take help of some of the online tools. You can hire professional experts through freelance sites or video marketing agency. If cost is not a problem it would be great to seek help from a video agency and it will be worth than using any tools.
Your Video needs to be entertaining, and it should tell a story about your product in 2-3 minutes. You need to explain about your product and its main features and how that product can help viewers to solve their problems. Longer videos have lesser view rate. If you want advanced results your video should be  professional.
If you are planning to apply video on your landing page then follow these steps to get most of it:
First decide what is your budget, a quality video per minutes will cost you more than $1000.
If you have a lesser budget then cut the time but don't cut the quality. In video quality matters.
After this you need to find a freelance explainer video creator for your video. You can find them on freelance sites like like Upwork or Freelancer. If you are giving your project to a video creation agency then they will take provide you with best results. There exists a special place in the market for video creators like Video Brewery.
Now, you need to come up with your video outline and script. For this you can take help of freelancers, or you can do it by yourself to save some money.
At last your video is ready to be published. Before that give your feedback for edits. If any then publish it on your site.
Videos are good for a landing page but only the video cannot help you to acquire new customers so you need to use content in your video landing page, as Google gives more value to content related landing page. Add content to your landing page as it helps to rank on Google for your landing page.
#3. Lead generating landing page
There are two types of traffic you get to your site. First traffic is new traffic also know as cold traffic. Cold traffic is not aware of your product and services. They are very new to your services. and the other type of traffic is old traffic, we also called it as "warm traffic". They are the ones who already know about your brand.
Chances of purchasing product from you is more in second type of traffic. So, you need to offer a customized landing page for both type of traffics. You need to treat your cold traffic with more care than the warm traffic. You should avoid sending your cold traffic directly to your product selling page.
The chances of getting sales through cold traffic is less. So you need to send cold traffic to another hierarchy of your sales funnel, which would be an awareness stage for your product so that when that viewers comes again then will be you warm traffic and chances of getting sales through them is more.
You need to create two landing page for your traffic. when you start getting signups from your cold traffic landing page. Now you can send email and build a relationship with your audience.  Once you build some good relationship with your audience. it is the correct time to send them to your product landing page. If you are creating a cold traffic landing page then you need to bribe them with some thing which is valuable to them. In other words, it is known as lead magnet. you can create a lead magnet based on your viewers requirement. If you want to know what a lead magnet is and how to create a lead magnet one which convert highly we will tell you.
Some basic elements for an effective lead magnet is that it should be audience specific. This means that the product and the traffic interest will be relevant, other factor is value of the lead magnet. Examine whether the lead magnet provides value to your audience. and the last point is feasibility. You need to check how much you can provide value to a person with your lead magnet so that it is not too much or too less.
#4. Problem solving landing page
Till now we discussed about our product feature based landing pages, we can also create landing pages which can tackle a problem based on this kind of a landing page.
We need to focus on two main points to get this done:
First you need to focus on headlines, which explains the problems your product can solve and other is call-to-action button that is solution based. Call-to-action button is a place where people click and convert. Normally, we create a call-to-action button with general phrases such as  "Learn More",
"Download" and "Buy This".
But for problem solving landing page you can create Call- to- action that focuses more on providing solution to visitors. For instance "I want to loose my weight", "I want to loose my belly fat". If you use more descriptive CTA the chance of getting more click is higher.
You can add more customization like "today" & "now" to get more attention.
If you want to learn more on how to use call to action button more effectively read this blog by Neil Patel.
#5. Customize Product Choice Landing Page
We love everything about our product, but not necessary the user will. Sometimes they will love some of the features of your product. But they do not buy your product because they are not happy with all the features you have, and they leave your page without buying.
If we can provide them a freedom to choose from our features there are more chances of getting conversion on your page. Here comes the role of customized product choice landing page, where user has the option to choose from the features. They can choose the features they like and they can leave other features which they don't want. This kind of landing page will be very useful to those potential customers who want only some specific features.
It is better to provide features in this kind of landing page, let visitor choose from the features and based on that you can lead them to a different landing page. You can check out Hubspot for this kind of landing page design.
Essentials of a landing page
The absence of unnecessary navigation: The landing page is not a usual web page and you must do away with any extra link other than required for the user to respond to the call for action. If the landing page is an advertisement of an eBook, it should have a brief explanation, an image and a link to the site where the user can buy the book
Page Layout: There is no set pattern for the page layout; however, elements that must be present in it are background image, the company's logo, the call for action and the link. If you want to capture the user's e-mail, you can add an email field too.
Color combination: Every color has its own meaning. Red color signifies urgency and blue signifies a sense of security. Choose the colors that you use in your landing page carefully.
Quick Contact Form: A contact form is the most important aspect of a landing page, if the objective of the page is lead generation. The important thing to be considered while designing the form is that it should be small and intuitive. Restricting the fields to minimum (Name, Email, Phone & Comments), would be ideal.
Call to action: A call to action is a must for all landing pages as they are intended to encourage the users to sign up with you. A call to action must be in sync with the target audience and should be designed in a way to excite the users to try it.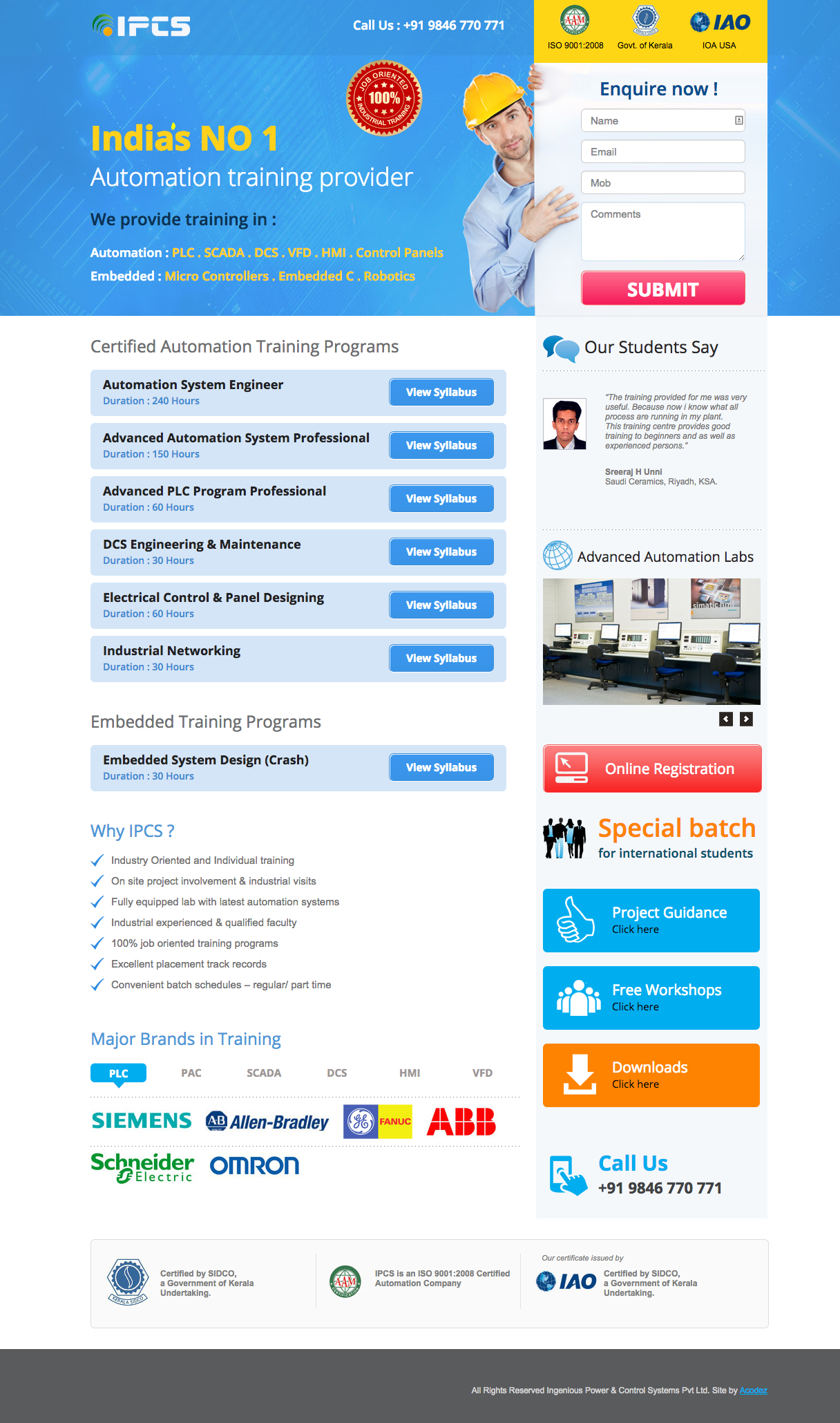 Responsive design: The landing page like any other webpage must be responsive, i.e. it must be compatible with the mobile browser as most of the people now browse on their mobile phones and tablets.
Social proof: If you are able to provide your users with social proofs, i.e. testimonials from users along with their pictures, it will work in your favor because people do not like to alone in an unknown place.
You are now good to go and can start with your own landing page keeping in mind all these technicalities.
Are you looking forward to Outsource Landing page or Web Design in India ? Call us at +91 9544668844 & get in touch with our team right away!
Credits:  Cover Image  Landing page designs: Acodez
Looking for a good team
for your next project?
Contact us and we'll give you a preliminary free consultation
on the web & mobile strategy that'd suit your needs best.