Adobe Photoshop, world's best digital imaging software program. Adobe Photoshop CS6 is the 13th major release of Adobe Photoshop with its latest 3D editing and image analysis tools. For years and till date, this software has been the best friend for web designers and photographers over the globe to experiment and master their digital imaging horizons.
But sometimes, it takes a lot of time and effort tweaking effects in Photoshop to make the final design look cool.
So, some of you might be familiar with handy extensions or plugins which ease your efforts. Standard Photoshop Plugins are often called as add-ons which help designers to attain the best design output efficiently.
Even if you are a graphic designer, web designer or a photographer, there are lots of cool free Photoshop plugins out there. But to choose the best may take some time. Keep Calm; we would like to share some Free Photoshop Plugins that can guarantee your designs, the perfect visual appealing.
Here is our list of best free Photoshop plugins that are available for download.
1. Web Font Plugin:
The web font is a free plug-in which allows you to use WebINK and Google Web Fonts in the creation of website mock-ups in Photoshop. This cool plugin gives you easy access to use more than 1000 WebINK web fonts in Adobe Photoshop. To get the plug-in, you should download and install the trial version of Suitcase Fusion 5 (professional font manager from Extensis). Currently, the Web Font Plugin can be used in Adobe Photoshop CS5, Adobe Photoshop CS5.1, Adobe Photoshop CS6, Adobe Photoshop CC (version 14), Adobe Creative Suite 5.5.
2. GuideGuide:
Since creating grids in Photoshop sounds a lot of effort, most designers just estimate and drag guides arbitrarily. Cameron McEfee's Photoshop extension GuideGuide is a great plugin which provides a tool to create pixel accurate columns, rows, midpoints, and baselines. If you have an active selection in your Photoshop document, GuideGuide creates the grid you specify within the selection's boundaries. Anything GuideGuide can do can be done using either the document or selection.
3. Cut&Slice me:
Cut&Slice me is an Adobe Photoshop CS6 plugin developed by Daniel Peruho. Cut&Slice me boosts up the modern slicing process and with a lot of powerful features. Features of this plugin include taking a group of layers and treating it as a single object. Then it trims unnecessary pixels and exports the group to an image file. It can auto-slice the multiple states of the button once the layers are named according to the format required by the plugin.
4. CSS3PS:
This is a cool cloud based photoshop plugin that converts your layers to CSS3. Since all the calculations are made in their cloud, most of their updates and bug-fixes are transparent to all users, and you don't need to refresh the plugin to use new features. Users can also view the result styles in the browser and share them with other people. Layers conversion at CSS3PS takes place within 5 seconds
5. Flaticon.com:
Flaticon.com is a platform hosting nearly 35,846 icons (as of now), following the flat design trend. They have designed dedicated Photoshop plugin to quickly find the icons you need for your design, without leaving your working environment. Created for and by designers and developers, flaticon is a cool free project you should check out. You can search for the icons you need, select and use them in vector format. You can also customize them in any way you want.
6. Adobe's Kuler:
Do you think if only there were a color picker tool? Then, it's here: Adobe's Kuler tool. It helps to find out what color's blend in well with your design.
7. CSSHat:
Would you like to see your web page magically pop out of a hat? This amazing plug-in helps you code your CSS. Where do you want the magic to happen? Choose the desired layer and copy the code to the clipboard and enjoy the magical charm.
It comes with a readable syntax, so it is simple and easy to work with.
8. SiteGrinder: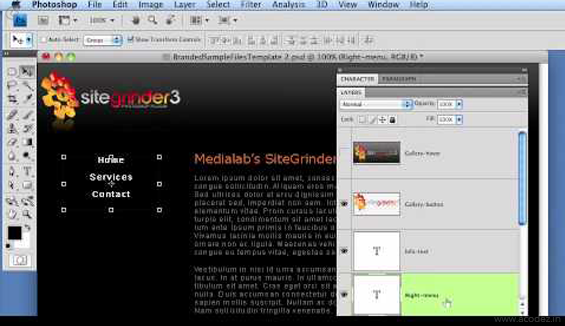 How to create web pages out of PSDs?
Use SiteGrinder.
It will help you to transform your PSDs into web pages. With SiteGrinder, you need not slice or code anything. If you have ever had the luck to work with Divine Elemente, then, note that SiteGrinder will provide you with almost a similar ease of operation.
9. SubtlePatterns:
Does your site or design need detailed background patterns? Then, you can use SubtlePatterns for your needs.
It comes with a wide variety of uploaded patterns and so, it helps the designer to choose a pattern with quite an ease. It saves you from the effort of creating these.
The users create the patterns by themselves. So, there is no doubt about their quality.
Though, you can add intricate components to your website, the subtle nature of these patterns will assure that it does not deviate the attention of your users.
10. Perfect Resize:
Perfect Resize also known as Genuine Fractals can be used to blow up images without destructing the image's sharpness.
This photographic plugin is also an excellent choice if you are struggling with the headers and background images.
You can go for a 30-day trial and also, you can download it as a stand-alone software.
11. Skeuomorphism:
Are you finding it difficult to transform your skeuomorphic PSD websites into flat designs?
You can now use the Skeumorphism.it plugin to convert these skeuomorphic PSD websites into flat designs.
This wonderful plug-in that you can download with ease can be used to remove the unneeded layer effects of your design.
12. SuitcaseFusion:
If you are looking for a plug-in that will help you with font management, then, Suitcase Fusion is what you need.
You can preview the fonts that you will be using in your design and also, it helps to organize and access it with ease.
The suitcase comes with a collection of fonts from which you can choose the one that fits into your design.
13. SuperPNG:
PNG files form an inseparable part of web designs. SuperPNG allows you to create PNG files without losing its compressions, and this is what is expected of your super designs by the modern browsers.
It comes with the features such as ICC Profile Embedding, Alpha Channel Control, variable compression and metadata saving.
14. Corner Editor:
If you want to make the corners of a polygonal shape round, then, use Corner Editor.
You can also use it for multiple and smooth corners too. It helps to edit multiple layers at a click.
15. Divine Elemente
If you want to dive straight from the Photoshop drawing boards into a WordPress theme then Divine Elemente is the one for you. This unique plugin helps you develop a fully functional theme for WordPress. The Plugin is attached with a cost of $199. However, there is also a free version available for you to try it out before taking the plunge.
16. WebZap
Designing for the web has never been made easier. Photoshop now has plugins to help it do so more easily. The WebZap plugin helps you create mock designs by a drag and drop process from its existing UI library. This eliminates the need to create the design from scratch. The WebZap plugin is available at a cost of $19 and is developed by UI Parade.
17.Glifo
Glifo, another one from the period portfolio, helps you to export PSD icon layer as an icon web font. The exporter plugin is available at a cost of $19.
18. Super PNG
If you wish to acquire more control over your outputs in PNG then it is time you got hold of SuperPNG. This is a free plugin that gives you amazing control over your PNG output through its features like Alpha channel control, variable compression and metadata saving.
19. Pixel Dropr
If you have always longed for a library of your own, now is the right time to get one with the PixelDropr. The plugin helps you to save your elements and objects from one project into a whole new library for use in future projects. This saves you the time to re-create the element or object all over again. A plugin with a pre-made refill set is available at an approximate cost of $19-$29. For a team pack of 10 pre-made refill sets, you need to pay around $99.
20.Skeuomorphism
The Roy Barber designed plugin, Skeuomorphism, helps you to become an expert in designing flat web pages. The plugin is freely available and helps to create amazing flat designs quite easily.
21. SpecKing
Among its various tools, the SpecKing is one of the most popular in corporate circles. It helps to create specifications of the designs that you have developed. Each spec contains annotations for your reference. It helps to enhance productivity and is available at a cost of $19.
22. Flaticon.com
Flaticon.com is a platform hosting nearly 35,846 icons (as of now), following the flat design trend. They have designed dedicated photoshop plugin in order to quickly find the icons you need for your design, without leaving your working environment. Created for and by designers and developers, flaticon is a cool free project you should definitely check out. You can search for the icons you need, select and use them in vector format. You can also customize them in any way you want.
23. HTML Block:
Somewhere I have read that coders and Photoshop don't appreciate one another's company much! But, that is absolute nonsense if you have this plug-in HTML Block installed The plugin implements WebKit engine which is positioned inside a special block inside Photoshop to successfully render HTML/CSS without annoying the code.
24. Ditto:
It provides you with the ease of assigning variables for the components such as text, font sizes, line heights, x-positions, y-positions. This helps to keep the variables up-to-date and is one of the safest ways to get it done.
25. Duplllicator:
It is one of the plugins that you can implement to duplicate layers and groups. Decide the number of copies you want and also the horizontal and vertical spacing that you need. You can use this plugin with Photoshop CC and CC 2014.
26. Page Layers:
This is for those people who love designing in the browser. With this plugin, you could get a Photoshop file of your design. This screenshot app is capable of converting any web page to Photoshop and you will have each page elements with separate named layers. Very much useful when you are working on improvising the current page's design!
27. Neat Image:
Sometimes there occurs pollution in the photographic images that you are using. But, Neat Image is one such computer software that helps to get rid of the digital pollution from these images and capable of performing improvisation to enhance the quality of your images.
28. Chroma Palette for Photoshop:
You can now create, store or bring back colors using your Numpad or Keypad. It was never as easy as this. All thanks to this Chroma Palette which comes with all these facilities.
29. Retinize It:
The name suggests a visual impact. It could be something that hits the retina. This is for designing or optimizing across iOS devices for retina websites.
30. Codly:
The name gives a hint of what action this plugin is responsible for. But, to be more precise this newly added plugin allows you to convert your Photoshop mobile designs into native code within no time.
31. Ink
Web designers who spread out multiple layouts simultaneously can use Ink for getting all this together in Photoshop. If you are looking for a powerful plugin that would help you to convert the components on your page into HTML and CSS code, then, this is what you exactly need.
With Ink, you can get the detailed layout of the information. You can get the information about fonts generated, color, tracking, leading and size, and what not. Also, it will help you to create code for gradients and shadows. Also, you can generate measurements that are not less than pixel-perfect ones among the various components that contribute to your design.
32. Fontea
It is a fact that your options are limited to a very few fonts when you are using the typography supplied by Photoshop. But, here is something that can solve your concern – there are certain plugins that will help provide the number of fonts for you – fonts.com is one of those. But, if you are looking to save some money, then, this can be a bit expensive. Also, you will have to go through the user rights for each of these, which could be a complicated process before using them.
But, to save you the effort, we recommend Fontea, which comes with the access to Google's fonts. You need not worry about the usage rights for these as they are open source and absolutely free of cost. You can browse through these and then filter the style that you were looking for. The download will happen automatically and their removal is very much similar and too easy.
33. Long Shadow Generator 2
The most important use of Photoshop plugins is to make your task easier. Yes, of course, all the plugins and extensions are capable of simplifying the process. And, this is where a plugin like Long Shadow Generator 2 becomes the true love of designers. It does exactly what the name suggests.
Regardless of whether you choose a flat shadow or the one that fades, it will help you create white shadows across your text or objects, while they are on a background that is much dark in color. On the basis of your preference, it provides you with the provision to get it done with just a single click.
34. Pexels Plugin
There is hardly any designer who is not aware of the site Pexels.com, where we all have arrived at least once in our lifetimes during our hunt for free stock image sites. With the free plugins offered by this site, you can access content so easily that you don't even need to exit Photoshop.
Just follow the simple steps:
Open Windows, then Extensions and inside Pexels, you open Pexels.com within its panel. This will give you access to images that have been divided by Recent or Popular and even by viewing popular searches and tags that you can find under the Likes tab. Also, here you can find an option to search as well.
By clicking a photo, it will automatically download and position itself over a new layer on your Photoshop file that is awaiting its launch. This is one of the best things that you can ask for whenever you are planning to add texture to images, change the background or anything that you wish to do. You can also get a stock library positioned within Photoshop, which will further simplify the workflow. You can find plugins for commercial stock photos with Getty and iStock. Though these might be free, the images come at a cost.
35. ON1 Effects
Instagram is the new cool. It has been attracting users with the varied variety of styles and colors that it owns. So, if you want to create this kind of an Instagram style effect within your Photoshop, use ON1 effects. If you want something like a voluminous array of presets that cover broader appearance ideas, such as cinematic or hipster as well as the ones that revolve around certain film stock. With this plugin, you can enjoy a variety of filter that will help in enhancing the tone and color of your images.
With On1 effects, you get to view a one-click panel in Photoshop. This will help you to get control over how you apply those presets to your images.
36. Adobe exchange assets
The most interesting fact about this Photoshop is that this Photoshop template comes in the PSD format. It comes with appropriately layered smart objects for each of the icons and previews that you might need while sending a product to Adobe Exchange.
37. Google Photos Panel
This small panel helps in loading Google Photos and with this, you can browse images that are uploaded to Google Photos. Also, you can upload photos on your computer by using File Explorer for Windows or Finder for Mac.
38. Size Marks
Another interesting plugin that is available free of cost. This is one of those scripts that is widely used by engineers and web designers who work on the front end.
39. Getty Images
The Getty Images search experience is awesome. This free Photoshop plugin provides search and filter images, existing boards, videos and illustrations with just this one Getty images. This is available with Photoshop CC 2016, Mac OS X 10.9, Windows 10, Windows 8.1 and Windows 7 Service Pack 1 and more.
40. Virtual Photographer
With Virtual Photographer, you can apply professional photographic styles to those digital images with no compromise over quality in one click.
41. Composer
Use composer if you wish to update multi-layers within Photoshop in just one click. Here, you do not need to strain much for maintenance and can easily focus on designing. It comes with CC, CS6, and CS5.
42. Parametric curves
If you have ever wished to operate across the mathematically defined curves adjustment layers, then use this parametric curves. This free Photoshop script helps to plot the javascript curves adjustment layers.
43. Velositey
If you want to create a website template with ease, then this simple and easy-to-work-with plugin will take you through a shortcut to your website template design. It is compatible with Photoshop CC, Photoshop CC 2014 and Photoshop CS6.
Do you use any Photoshop plugins apart from these listed out here? Then, share those with us and help us improve the article further.
Acodez IT Solutions is a web design company in India providing a wide range of services that includes web design and development to our clients in India and abroad. We implement the latest trends and techniques to design websites that our clients expect from us.
We are also an SEO agency in India providing A to Z inbound marketing services to help take their business to the next level.
For further assistance, contact us today!
Looking for a good team
for your next project?
Contact us and we'll give you a preliminary free consultation
on the web & mobile strategy that'd suit your needs best.