Today, voice recognition is one of the fastest-growing businesses, making it a highly interesting field to work in.
From smartphones, smartwatches, and smart speakers to your automobile, almost every gadget has a VUI (Voice User Interface). In fact, according to a Voicebot consumer survey, 87.7 million U.S. adults were already using smart speakers as of January 2020.
This number is anticipated to rise, with predictions predicting that by 2024, the number of digital voice assistants will hit 8.4 billion units, which is more than the world's population.
The MarketsandMarkets research also predicts that the voice recognition industry will be valued at $22.0 billion in 2026.
Consumers are not only investing in virtual assistants; they are also using them. As per Google, 72% of people who own voice-activated speakers say they use them on a daily basis.
Voice Assistance Statistics – Image Source: Think with Google
It's difficult to predict whether VUIs will become so popular in the coming years that present web development will become obsolete.
However, there's no doubting the future demands and growing market for voice technology.
Google, Microsoft, Apple, Facebook, and Amazon are among the major technology companies that have created or are actively creating voice-enabled virtual assistants. In fact, Siri alone (the virtual assistant built into Apple Inc.'s operating systems) is helping more than 500 million users today.
As a result, regardless of whether it's VUIs for smartphone devices or home automation speakers, voice interfaces are growing more popular in modern-day technology, particularly considering screen weariness is a worry.
So it's critical to guarantee that dealing with voice interactions is a seamless experience.
VUI design is both an interesting and complex task for user experience (UX) designers. This article examines VUI design as it relates to voice content and usability, as well as how VUI designers design for voice.
What are Voice User Interfaces?
Now that you've learned more about their popularity from the statistics above, what exactly are voice user interfaces?
VUIs enable users to communicate with systems using voice or speech instructions. They include voice assistants such as Alexa, Google Assistant, and Siri.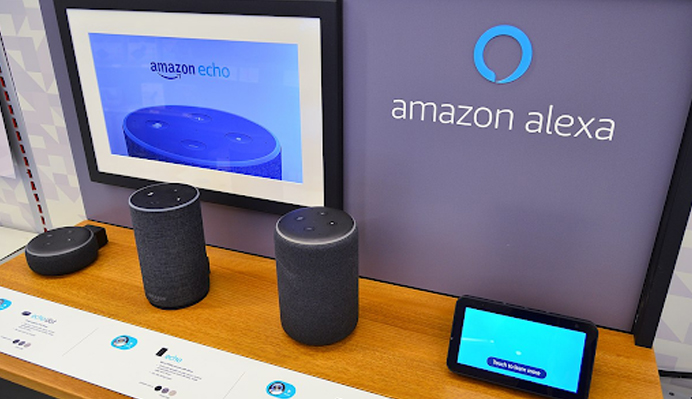 Amazon Alexa – Image Source: Wikidata
The vital feature of a VUI is that it enables consumers to communicate with a device while focusing their efforts somewhere else and without using their hands or eyes.
As pointed out previously, speech interactions have become extremely widespread, whether it is a voice-enabled smartphone application, a voice-controlled gadget such as smart speakers, or an Artificial Intelligence (AI) assistant.
And not only AI assistants but also smart gadgets with VUIs, such as Google Home and Amazon Echo, are driving the market growth.
Voice command is used to communicate with a gadget or an application using VUI, and with the rising usage of digital gadgets, screen weariness has become a more common problem.
As we will see in the following section, this has increased the benefits of developing and employing voice user interfaces.
Why Is VUI Design Important?
We all know that voice is the most convenient and efficient way to engage with anyone else, which is why VUI's speech technique is so efficacious;
It helps users complete their daily chores more quickly and naturally (including setting a reminder alarm).
Voice recognition is the only way to convey sentiments and intents that other interfaces, such as GUI, cannot. According to Umakant Mishra's article "Inventions on conveying emotions in Graphical User Interface," the conventional GUI is more mechanical and does not perceive or express emotions, making VUI the essence of AI.
Voice user interfaces can be implemented as an alternative tool that users can use as needed and are not limited to only the typing capability.
Voice-controlled devices and virtual assistants such as Cortana (a virtual assistant developed by Microsoft and available on Windows) are critical for visually impaired persons to work, allowing them equal access to computer-based tasks.
VUI is ideal for any activity that benefits from hands-free usages, such as preparing meals or driving software, smart home appliances with an emotional connection, and fitness training or creativity.
With the benefits listed above, we can conclude that VUIs have made significant contributions to accessibility. The gadgets have also been used to assist individuals who are struggling with depression or loneliness.
Mindscape, for instance, was created in collaboration with the mental health organization Mind as a voice-based frontline assistance tool for those having a panic attack.
Left to Right: Cat Turner and Jen Heape – respectively Chief Creative Office and Creative Innovation Lead at Cult LDN, and Aifric Lennon – Image Source: MassiveMusic
According to Digital Health, the program, available for both Amazon Alexa and Google Home, walks users through breathing techniques to calm them before asking some questions about their mental condition.
Conceptualized and sponsored by creative agency CULT, Mindscape provides valuable recommendations as well as simple approaches to assist the user.
Some of these gadgets can detect indicators of depression and respond appropriately, and, in extreme instances, they can even propose informing the approved specialist.
How VUI Designers Design for Voice
For you to develop a VUI design that does not irritate consumers and gives a pleasant customer experience, you must first grasp what a voice interaction is and how it functions.
However, just because you have our voice user interface definition and functionalities from the preceding sections does not mean you are ready to design a VUI.
Designers should know that it is impossible to implement the same design principles in VUIs as in graphical user interfaces (GUI). Since there are no visual cues in a VUI, consumers have no strong signals about what the user interface (UI) can accomplish or what their alternatives are when they interact with it as well.
Thus whenever implementing VUI initiatives, it is critical that the framework explicitly shows two interaction possibilities, informs the user of the feature they are utilizing, and limits the generalizability of the findings to a certain quantity that individuals can absorb.
Users are often confused about the sophistication to which the VUI can comprehend since they generally equate speech with verbal relationships instead of human-computer interaction (HCI).
HCI Multiple Disciplines – Image Source: Interaction Design Foundation
As a result, for a VUI to work effectively, it must have a strong understanding of spoken speech and educate users to recognize what sort of voice commands they can utilize and which complex interactions they may perform.
Due to the obvious complexities of a user's interaction with a VUI, a designer must pay special attention to how easily a user may exceed assumptions.
Hence it is critical to build the product in such a minimal, nearly featureless manner, to make the consumer aware that two-way human communication is impossible.
Similarly, the user's persistence in developing a communicative connection will contribute to increased satisfaction when the VUI, as it becomes more familiar with the user's voice, provides them with much correct and reliable feedback and solutions.
Key Tips for Designing VUIs Effectively
Here are five crucial voice content and usability design tips to consider when creating voice user interfaces.
Identify Critical User Tasks
When it comes to designing VUIs, there are two essential questions you must address before you begin: Why will consumers want to use your voice assistant? What responsibilities and objectives do they want to fulfill with it?
The main objective of VUI design is to develop a system that will be effectively incorporated into consumers' everyday experiences. This is why, in the planning stage, you should concentrate on user research to understand the objectives or interests of your intended audience.
User research is the most crucial procedure for identifying customers' challenges and pain points.
Discovering and comprehending user wants and pain points to aid in the development of better solutions to user challenges. Journey mapping aids in the understanding of specific problems at various stages.
In fact, according to UserZoom, "'Mapping customer behaviour' is a key differentiator for companies who outperform in customer experience." 88% agree that customer mapping has improved their capacity to provide a personalized customer experience.
As a result, you should perform user interviews and observations to study customer behaviors, comprehend how consumers presently interact with your brand, and determine a series of tasks that are suitable for speech dialogues.
Have a Clear Picture of the Dialogue Flow
Two-way human dialogue has a natural flow.
The dialogue is more than just a sequence of questions and responses. Rather, the dialogue will typically begin with a simple inquiry and progress when additional details are offered.
An effective voice user interface must consider context as well as be able to point out previous responses.
The most sophisticated VUIs available today, such as Siri, Google Assistant, or even Alexa, can effectively hold a conversation to some extent, but there is a lot to be done before they are flawless.
Siri, for instance, can respond to self-harm dialogues.
Example of Siri's Dialogue Flow – Image Sources: iDownloadBlog and OSXDaily Respectively
When in this circumstance, she will answer concerns about suicide with a supportive response that includes details from the National Suicide Prevention Lifeline helpline, as well as a simple button to tap on to connect directly to the hotline number (1-800-273-8255).
But what about individuals who live outside the United States? Is Siri equipped with country-specific suicide helplines? And if a person lives in a country without a suicide prevention helpline, could she be designed to instead provide suicide prevention online link?
According to PTP, "The best user experience lies at the intersection of best practices, high EI, and accounting for the user's emotional state."
VUI Design Best Practices – Image Source: PTP
A virtual assistant smart enough to recognize specific emotional experiences could, for instance, ask an open question to validate the allegedly perplexed participant's response or omit certain processes or tasks when engaging with an irritated user.
Provide the User With Interaction Options
Designers can easily show people what alternatives they have on a GUI. A tablet touchscreen, for example, is a fantastic piece of gateway or portal through which you can navigate quite a sort of events till you reach whatever you need to visit.
A speech interface cannot display to the consumer what choices are available, and new subscribers base their assumptions on previous dialogue.
Moreover, VUIs are specially intended for those whose eyes and arms are occupied with other tasks. Consider a person who is preparing breakfast and has his arms filled up. To know all the ingredients, he engages a virtual assistant.
Of course, you can have a virtual assistant who has a screen, but what if your virtual assistant does not necessitate a peek at the screen?
Consumers may begin by requesting that which your VUI does not recognize. In this instance, present the operator with various interaction alternatives. Alexa, for instance, always has dialogue options. Users can try "Alexa, who inspires you?" like in the example below.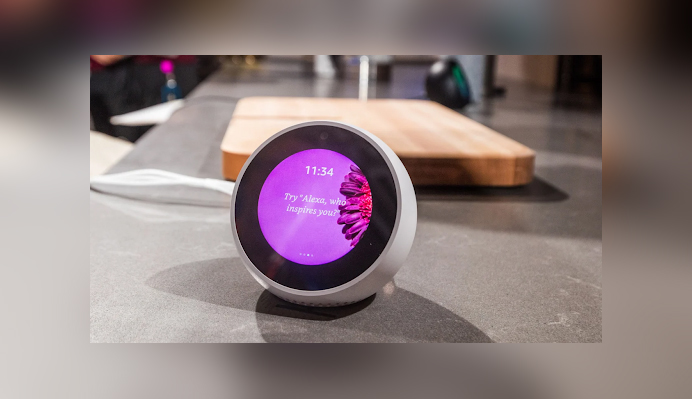 Example of Alexa Interaction Options – Image Source: Mashable
If you're creating a virtual weather assistant, it may say something like, "Try, what's the weather?" or "Try, will it rain today?" If that's the case, you'll know to bring a raincoat or umbrella for yourself and possibly your child before traveling.
Limit the Quantity of Information You Provide
There is a significant difference between GUI and VUI. Whenever customers connect with VUI, they cannot skip specific user interface segments; they must listen to the info provided by the device.
Furthermore, users must remember what they hear via VUI, and the more material the virtual assistant provides, the more brain strain a participant will experience.
However, designers can improve users' lives by minimizing the content from the device. It is critical to limit the quantity of material requested by the user without losing its quality.
If you have a larger selection, categorize the alternatives and begin by showing the most obvious choices to the consumers. Remind them they can request more selections by inquiring if they want more choices or solutions.
However, user cognitive impairment is only part of the problem here. There's the irritation they will feel if they are taken on a long, confusing journey when all they want to do is attain a basic objective.
Create a Brand Persona
The speech pattern used in VUIs has a significant influence on the UX. Once consumers begin engaging with VUI, they infer charm and charisma within the first few moments of hearing a voice.
This is one thing that most people do unknowingly. A brand persona is a set of personality traits, attitudes, and values that your brand communicates to users to help connect with them.
Brand Persona Concept – Image Source: Ebaqdesign
"The purpose of personas is to create reliable and realistic representations of your key audience segments for reference," according to Usability.gov. "These representations should be based on qualitative and some quantitative user research and web analytics."
And if you don't build a brand persona, your consumers will, and the persona they generate may not be something you would really like to represent.
Consumers value connection and instruction, and they personalize speech interfaces as well. As a result, it is critical to comprehend the emotion conveyed by the virtual assistant.
Here are a few things to consider when building a persona for your VUI, according to the UX Collective.
The Role
What is the device's role in the user's life? Is this a recognizable virtual assistant to the user? The virtual assistant's role should be defined beforehand, depending on distinct use scenarios.
As a designer, you must determine if the VUI will operate as an advisor, offering recommendations and assisting in strategic planning, or as an assistant performing the task.
Company Brand / Image
Prior to actually settling on a voice, the brand needs to be thoroughly recognized; the brand image should be aligned with the voice.
After determining the brand image, the emotions, the quality of voice, and the tone should all be determined. The persona you choose for the software program should at least fit with the image of the corporation.
Familiarity & Target Audience
Your users should recognize your persona.
As a result, in order to create an engaging persona, we must examine demographics, level of consumption, and the individual's lifestyle.
A persona that is effective in one country may not be effective in another country. And since not everybody can understand every dialect, the voice and dialect should be selected with the specific demographic in mind.
Conclusion
While there are numerous approaches to designing a compelling VUI, keep in mind that the final goal is to serve consumers. As a result, it is critical to comprehend not only the target consumers but also the scenario in which the conversations will occur.
To create an amazing VUI, you must discover a seamless approach to present users with relevant info about the tasks they can perform and how they can accomplish those tasks without exhausting them.
You must define important user tasks, have a clear vision of the dialogue flow, provide interaction options to the user, restrict the amount of information you present, as well as build your brand persona.
In other words, you should address the assumptions that people have based on their previous interactions. Learn about user-centered design techniques and how to tackle the challenge humanely.
With this article, I believe you have a better understanding of what a VUI interface is and how designers design for voice in terms of voice content and usability.
Acodez is a leading UX agency in India, having experience working with a variety of clients, ranging from leading corporate houses to one-man start-ups, from across the globe. We also are a leading web design company in India, where we handle every aspect of a web project, starting from UX, to UI development, to back-end development to content development and digital marketing.
Looking for a good team
for your next project?
Contact us and we'll give you a preliminary free consultation
on the web & mobile strategy that'd suit your needs best.