The majority of information that humans process faster is visuals. With the human brain processing images 60,000 times faster than text, it's a big deal.
Consumers find visual content more engaging and intriguing when it comes to promoting products. Tweets with images, for instance, receive 18% more clicks and 150% more retweets than those with no images.
Even the most complicated concepts can be presented with illustrations.
Images in web design can be employed not simply to elicit emotions but must also be practical. The reasons to use Illustrations are particularly common in the building of user interfaces in today's design concepts.
This article will go over the ways and reasons for using illustrations on your website.
What are Illustrations?
Illustrations are essentially any visual portrayal of a specific concept.
They are images that seek to complement, explain, or even enhance the concepts that people obtain from other sources of information, which are usually in the form of text.
Illustrations can be used in a variety of print media over the years, including books, posters, and educational resources. Eventually, animations and video creation breathed fresh life into the field.
Lately, new tech and techniques have pushed the boundaries, ushering in a new era of digital illustration trends.
Because of its beauty and innovative freedom, illustration is being used in an increasing number of web and mobile applications. Its used as a technique to improve accessibility, usability and visual appearance of the user interface (UI). But what are the reasons to use illustrations in UI design?
10 Reasons to Use Illustrations on Your Website
1. Illustrations can break a lot of barriers the first being reality
One of the reasons to use illustrations on your website is that they help break through several boundaries. One of those boundaries is reality. You can alter perspective or remove it entirely.
By incorporating illustrations, you have the ability to turn the sky yellow. When you integrate visuals and line art, your business can be in its own place, universe or reality.
All you have to do is integrate these illustrations with your logo, design. Most significantly, your content – and your business will stand out in ways that stock photos couldn't.
For example, Etsy, an American e-commerce company focused on handmade or vintage items and craft supplies, incorporates brand colors across its illustrated content to integrate with its logo.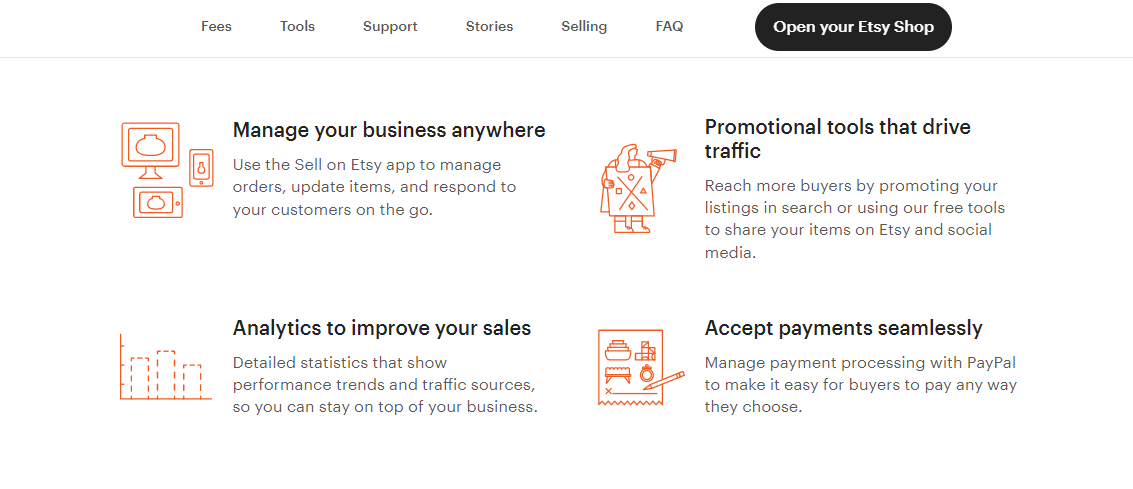 The natural orange hues emphasize the handcrafted style of the items manufactured by the site's content creators and entrepreneurs.
When you visit the platform, you are drawn to Etsy's whimsical graphical style. It uses a variety of forms, figures, and artifacts to mimic the unique attributes of the things to purchase on the website.
The entire impression is meditative and welcoming, conveying to the visitor that Etsy is a reputable online marketplace for artists and designers.
2. Users can better comprehend the context of an image by using illustrations
Users perceive visuals faster than words, as stated earlier, and illustrations are more appealing than other aspects of digital engagement. Hence, if you want to convey an important message, utilize a visual to reinforce it.
In this scenario, an illustration will suffice to explain what words cannot. Remember that when a consumer arrives at a website, they scan the content rather than read it at first.
Visitors will abandon a website that displays nothing but texts. Illustrations also perform better in long-term memory, guaranteeing that users will understand more about your brand than having to read texts.
Furthermore, its more beneficial if your website is accessed by users from various nationalities. In that case visuals in the user interface can make your content global. This is a compelling reason to use illustrations on your website to build powerful and quick visual impressions.
Characters, colors, layout, and easily identifiable features will effectively inform users and support the content provided in text form.
And, even if you just have a limited number of characters to communicate with your followers, like in the example below from BioMed Central tweet, you can use visuals to help illustrate these difficult topics without taking up space.
3. Illustrations lay the groundwork for originality and artistic harmony
Illustrations provide personality to the user interface and help firms stand out from the crowd.
It is critical to distinguish out in a world of fierce competition. Consumers may well not buy your goods if they do not comprehend their merits.
Developers may fine-tune hero images for posts or articles, customer review sites and testimonials, and landing pages by considering the interests of the potential customers and balancing them with company objectives or concepts behind a specific project or concept.
This approach enables the generation of unique analogies, color combinations, characters, and environments that will successfully engage a particular group of audience or visitors.
Slack, an American software company's proprietary commercial communication network, embraces vibrant color without constraint, producing illustrative content that is appealing and engaging from the time you visit its website.
You'll appreciate the incorporation of characters inside a scenario, and you'll find yourself paying more attention to exploring the images and their relationship to the prose alongside them.
Slack's angular design occasionally gives flow to the graphics. It emphasizes the dynamic system in which the technology was supposed to be utilized.
Slack's social media platforms have a slightly different visual style; however, the color scheme and the use of the corporate logo connect it back to the main brand image or identity effectively.
4. Custom illustrations can improve the navigation of the whole interface
A cohesive, clear visual aid will be required for an effective and smart site layout such that users have quick, easy accessibility when they are browsing through your website.
The layout or display of items in a way indicates prominence and affects the manner. Wherein the human visual system processes what it sees is referred to as visual hierarchy in website design.
According to the hypothesis, the human brain possesses "innate organizing tendencies that structure individual elements, shapes, or forms into a coherent, organized whole."
It is crucial to remember that aesthetic hierarchy must operate in tandem with functionality in website design. Hence, form and function must be in perfect sync.
When a website merely has stunning looks but appears to lack functionality, visitors will leave since they have no means to respond to calls-to-action (CTAs) or make a purchase. Instead, they will go to a competitor's website that satisfies their demands.
As a result, fonts, white space, forms, and CTAs are critical components that developers must take into account.
Custom graphics can aid in the design of the entire interface by acting as a visual boundary between sections, giving users a clear perspective of what's going on around them.
Trussle, an online mortgage broker, strives to attract the attention of youthful home buyers with the very vibrant, easy-to-use homepage, as shown in the example below.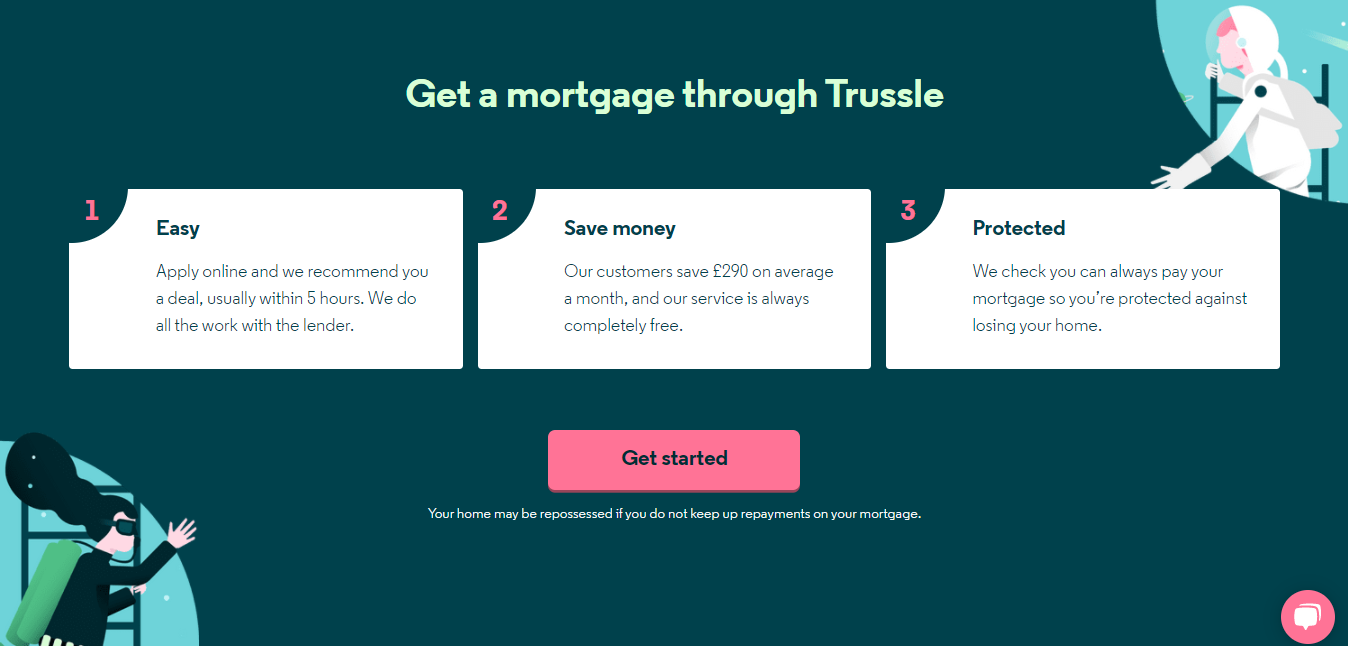 It is evident that the firm has prioritized user experiences on its services page, as evidenced by the illustrations, which are basic and skillfully positioned.
Something else that stands out is how the corner illustrations link to CTA buttons. They help to refocus the user's attention closer to the middle of the page instead of being a distraction.
5. Illustrations add aesthetic value to the design
In addition to their amazing functionality, the use of illustrations on your website will add artistic appeal to the design.
The general appearance of your eCommerce site cannot be overlooked while discussing design. Fully functioning websites can be effective, but combining functionality with aesthetics will elevate your offering to a higher level.
Yes, utility and accessibility are the cornerstones of any design, system, or interface. However, attractiveness is an enticing face that draws viewers to your product, helps them enjoy using it, and makes them want to use it more and more.
Illustrations are a tried-and-true technique to achieve these goals since they offer elegance, flair, and beauty.
Take a look at the Dasher & Crank website's hero image that uses a 3D illustration.
Food products are shot from above on many food websites, giving them a flat appearance.
Even those shown from the sides lack reality since they are captured within the setting of someone else's hands or the restaurant background.
However, the ice cream sandwiches show out brilliantly as 3D items against the pink background in the example above, making them appear delicious enough to grab a bite.
The artwork not only establishes the theme but also makes the user interface enticing and visually appealing, making it one of the best reasons to use illustrations.
6. Illustrations have a tremendous impact on the emotional appeal
We are all emotional beings, and our emotions influence our choices. Your online appearance symbolizes the products or services you are delivering.
Consumers will be able to engage with your brand and do business with you if you create an emotion around your products.
Reason to use illustrations on your website is to portray powerful emotions associated with your business.
Whatever you incorporate into them, may it be shapes, facial expressions, or colors, has a big impact on eliciting emotions.
Developers can make visuals a powerful tool that integrates experience to user feelings from the first instant of encounters by analyzing user activity, behavior, and elements that drive emotional appeal.
Here is an example of a Mailchimp design concept. Mailchimp is a marketing automation software that lets you create, send, and track emails and ad campaigns.
Regardless of how often you've done it, pressing the send button on an email campaign may be nerve-racking. Therefore, what is Mailchimp's response? With the pop-up shown above.
This is a minor detail, but it's tremendously satisfying for the visitor. It gives them confirmation, a feeling of accomplishment, and makes them feel proud of themselves when making their decision.
7. Illustrations are effective in increasing brand awareness and recognition
Reasons to use illustrations on your website will distinguish your business from the competitors in the market while also helping to develop strong brand recognition.
Illustrations are popular in backgrounds and the introduction process of online services.
Designers frequently utilize graphic skills while creating brand designs.
Designers also employ graphics to create additional branding elements such as custom logos and custom open market operations trends/charts.
Thus, illustrations are extremely useful at making a user interface design distinctive and supporting the branding of a website. They make interactions within your website more user-friendly and sentient.
Airbnb is an example of a corporation whose brand identity is based on graphics.
Even though it does not use illustrations on its homepage, it does use them for trust indicators.
The goal of the website is to convey the sense that the users of Airbnb are trustworthy, and using illustrations with a homey feel is a smart approach to accomplish so.
Airbnb took a business dominated by huge lodging corporations and substantially increased the alternatives through the use of visuals.
With illustrations, Airbnb makes sure individuals can simply rent a room or an apartment any time, and it virtually doesn't matter where you're in the globe because the user base is so large and diverse.
Illustrations are a tried-and-true method for creative storytelling
Storytelling is the process of combining several informative elements into one narrative in order to make them more remembered while demonstrating a close correlation between the elements.
Employ your hero figures to tell a tale, communicate a message, create a positive environment, or showcase the merits in a way that corresponds to your company's tone and style while remaining customer-relatable.
This strategy has shown to be quite effective both in advertising and interactive design.
Dropbox, for example, began employing visualization from the outset by leveraging storytelling graphics to make the system appear simple and friendly.
This technique has become an essential component of its marketing and has proven to be extremely efficient.
Intercom, a customer messaging platform, is another example that employs graphics throughout the UI.
This technique has become an essential component of its marketing and has proven to be extremely efficient.
Intercom, a customer messaging platform, is another example that employs graphics throughout the UI.
The illustrations on the platform are incredibly simple and amusing.
In the examples above, illustrations look like they are manipulated to develop a strong relationship between users and the services provided. It greatly outweighs any connection they would have experienced with ordinary stock photographs. This is one of the reasons to use illustrations.
Illustrations are used to create animated short videos and interactive features
Animations are used in user interface design on an increasing number of sites and applications.
With this approach, you may improve not just the functionality but rather the emotional connection and beauty of the user interface appearance.
As a result, we now see animated logos, symbols, and even intricate animated artworks on a regular basis. The animation provides additional emphasis on the image's theme, message, and atmosphere.
Furthermore, one of the most popular and efficient trends in design is the usage of animations,. Graphics have given a new degree of growth and engagement with consumers.
My Grandmother's Lingo is an example of an interactive storybook designed and animated to educate and inform you about languages.
The animation makes it more entertaining and fascinating for the viewers.
The white lines across the black background make it really striking and one-of-a-kind.
Squadeasy employs an animated 3D dog graphic that moves with you as you browse.
Every time you scroll quickly, the dog's eyes and head swirls, and he becomes woozy.
The remainder of the platform's layout and structure is straightforward; hence incorporating this amusing and adorable interaction as the user navigates makes them want to discover more.
Copyright concerns can be easily avoided by using illustrations instead
Getting the ideal image is not always straightforward, and even if you do, the images can be copyrighted.
Obtaining the artist's consent may require a lot of the ins and outs between you two. It may come at a high cost if the creator is ready to grant you the license in the first place.
As a result, many businesses rely on stock images since they are free. It is simple to use, and will not land you in legal problems.
The problem with employing stock images is that they are overused and have a limited selection.
It is fairly uncommon for numerous websites to employ the same graphics, which does not show uniqueness or enable them to stand out from the crowd.
This can be avoided by using illustrations.
Neither stock picture nor any purchased artwork will ever match or come close to representing exactly what you already have in your imagination if you locate a graphic artist who has the capacity to produce exactly what you have visualized.
Conclusion
Illustrations are among the most effective elements for sharing ideas, as well as one of the most creative communication channels. Incorporating illustrations into the website can significantly improve your online presence.
They are useful for developers and designers for a variety of reasons, including message conveyance since people perceive visuals faster than words, originality, and artistic harmony. Illustrations increase overall interface navigation, aesthetics, emotions, brand identity, and tried-and-true method for creative storytelling.
With the above reason to use illustrations on your website, you might want to employ illustrations on your website.
However, before you begin adding any visuals to your website, you should learn more about your core demographic since poorly employed visuals might result in a poor customer journey.
Acodez is an award-winning web development company in India with 10+ years of experience in building 1000+ custom-designed websites. Acodez has won more than 15 international awards for various works for our clients worldwide. We are also the best digital marketing agency in India, with highly qualified team members of 100+ and talented designers, we're all set to serve your next requirement. Contact us now for more details!
Looking for a good team
for your next project?
Contact us and we'll give you a preliminary free consultation
on the web & mobile strategy that'd suit your needs best.