Let us take a deeper look at what a mobile app is, what it can do for businesses, and why you, as a business owner, should invest in its development.
Technologies make an astonishing breakthrough every year without fail. One of the best examples to demonstrate this is the rapid development of the smartphone industry, which has revolutionised our world and altered consumer behaviour.
With the introduction of the Internet and the increasing use of smartphones by people worldwide, there is a need for business owners to position their brands and remain relevant in their respective industries.
What is a mobile app?
According to Techopedia, a mobile app, or mobile application, is a type of application software designed to run on a mobile device, such as a smartphone or tablet computer.
If you need a short CliffNote version, think of a mobile app as an extension for PC-based applications, only that it has limited capabilities and functions.
Try checking your phone. How many mobile apps have you installed? That is proof of how critical mobile applications are today in helping us manage our tasks in various ways, from keeping track of your sleep to waking you up in the morning and getting you ready for the day with your to-do list.
Benefits of mobile apps for business
Any industry or business that wants to grow must think outside the box and keep up with current trends. As a result, having a solid mobile presence in the industry has never been more important for businesses to succeed in this day and age.
Did you know? According to Marketing Dive, consumer spending across app stores grew 19% in 2021, and 5% of consumers downloaded 230 billion apps worldwide. Without a doubt, mobile apps will continue to have a significant impact on customers' purchasing decisions for many years to come. It is as evidenced by the continued growth in mobile app purchases and downloaded apps.
More businesses are beginning to jump on the bandwagon and develop their mobile applications for various reasons. One of them is to make it easier for customers to make purchases and provide them with a better customer experience. However, developing a mobile application does not come without a price, as it can be pretty expensive. However, the benefits always outweigh the costs depending on your end goal, as it can help your business to thrive.
If you are still debating whether or not to invest in your mobile app development, here are a few compelling reasons in support of doing so.
Why you should invest in mobile app development for your business?
#1. Mobile on the Go
Take a look around you. Almost everyone carries a smartphone nowadays. We spend most of our time on our phones checking for notifications, making plans for the day, and staying connected with friends and family. Briefly stated, we are propelled and driven by the technology we have in our hands to assist us in our daily activities.
What role does this knowledge play in assisting a business owner in deciding whether or not to invest in a mobile application? It's simple: a mobile application allows you to communicate with your customers more effectively. In addition, Commbox stated that mobile apps are the second most popular category of apps, with game apps being the most popular. That is unquestionably sufficient justification for you to begin developing a mobile application immediately!
A dedicated mobile application for your company is much more than a mobile web version of your website. Customers can interact with your brand more when they use a mobile app. It can help bridge the gaps that a big screen cannot. It is one of the many advantages of having a mobile app to help your business succeed.
You get to be much closer to your customers as they will get instant access to your brand through a mobile app.
#2. Build brand awareness locally and globally
Do you want to increase your brand awareness? First and foremost, you must reach out to more potential customers, and the most effective way to do so is through the use of a mobile application.
With a mobile app, your company not only benefits from the ability to find customers in your immediate area, but it also can market your brand internationally because users can download your mobile app from any location in the world. That is one of the benefits of the Internet, as more users will discover your app with ease.
Additionally, a mobile app allows you to take a more comprehensive approach to meet your customers' needs because of its intuitive features. Consequently, if you want your customers to feel a genuine connection to your brand. This is why you should consider developing a mobile application.
An app for your brand is an excellent way to market your business. Because it increases visibility and awareness of your brand in a way that a website cannot. Furthermore, developing a mobile application for your company is an excellent strategy. That is if you want your customers to remember your brand, mainly your company logo. Because your logo is the most visible representation of your company. Having a mobile app that users can download can help create a long-lasting impact. It also creates an impression whenever they use their phones and see your logo.
#3. Increase customer engagement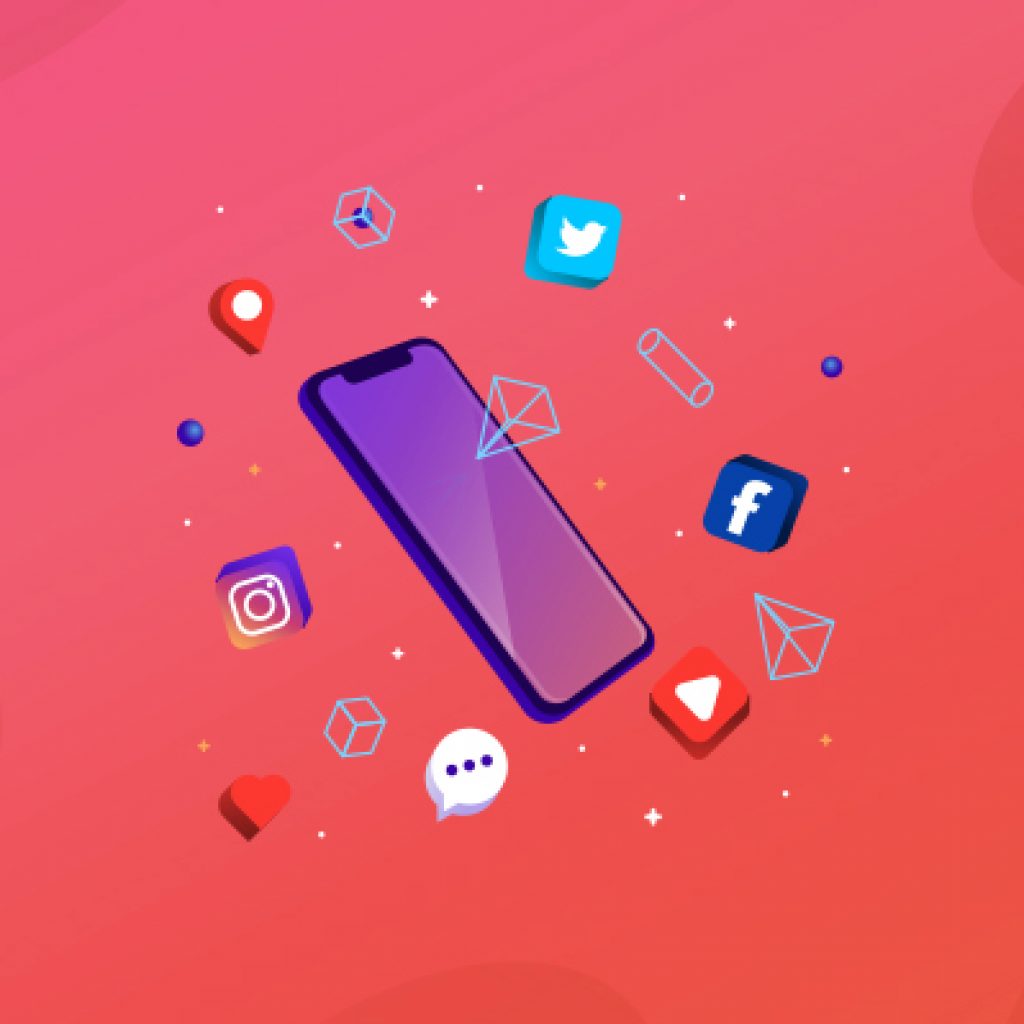 If your goal is to increase customer engagement and help nurture your customer, then a mobile app is the answer. Engaging your customers is the key to everything that can help you sell more and establish your brand more effectively.
Compared to using a web browser, a mobile app can help increase your customer's engagement. It's because they will spend more time on the app browsing your product than they would on a web browser.
When your customers use your mobile app, they are more likely to purchase from you than your competitors. Fact is, the more engaged your customer is with your mobile app, the higher your sales will be! Therefore, you should make sure that your mobile app is interactive and contains relevant content tailored to your customer's requirements. As this will encourage them to spend more time on the app overall.
If you want to entice your customers, consider using push notifications on your app. This can assist you in crafting a more personalized message for them. Having a push notification is a fantastic feature because it allows you to keep your customers engaged with your company. Your customers will be able to keep up to date on the latest app improvements and new products. You can even suggest that they check out your app for additional rewards or discounts.
#4. Increase sales and revenue
Increased business revenue is something that every business owner would want to happen. By streamlining and improving the purchasing process, a mobile app can undoubtedly assist any business in accomplishing this goal. The more straightforward your app's customer purchasing journey is, the more likely it is that your customers will purchase additional items from you. They will and continue to do so on your app also. Furthermore, a mobile app should make purchasing easier for your customers, increasing the likelihood that they will do business with you again in the future.
A mobile app is unique enabling businesses to take advantage of mobile app features such as in-app purchasing. It also helps receiving special discounts while using the app, and many other features and benefits. It also encourages repeat purchases in the app and aids in customer retention. Both of which will undoubtedly increase your conversion rate and profit margin.
Do you need some pointers on how to increase your customers' sales by utilizing a mobile application? Consider providing your customers with a reward or loyalty programmed to encourage them to return for more products or services. Your customers can receive a discount, a reward, or incentives in the form of coupons, vouchers. It can help receive many other forms of vouchers, or even free items after they have purchased from your company.
How you design your customer loyalty programme will determine how you intend to reward your customers. For example, perhaps you'd like to offer them discounts after they've spent a certain amount of money with you.
#5. Improve customer experience and satisfaction
As a consumer, if you are satisfied with your purchase, you are more likely to remain loyal to the brand. The same is true for your customers. Additionally, a mobile app provides your customers with a personalized purchasing experience tailored to their needs. It helps them access to product lines relevant to them.
Your customers want their needs and requirements fulfilled, and they want the brand to understand what they are going through and how the brand can solve their problems. When this occurs, a mobile app can gather valuable data and insights about your customers' purchasing behavior. It helps to create a set of personalised user experiences for them while using the application. This reason alone allows your customers to enjoy a one-of-a-kind shopping experience tailored to their purchasing habits, encouraging them to return for more.
Utilising customer profile and behaviour data to create a better customer experience through a mobile app is one of the most effective ways to improve the customer experience. For example, you could use this information to create a dedicated and personalised journey for your customers, encouraging them to log in, make a purchase, and return to your store again and again.
The ability to engage and re-engage customers with high purchase intentions is another incredible feature of a mobile app. It will assist you in developing the best possible relationship with them.
#6. Better customer service and support
Your customers want a fast response to any issues they face. If their requests are left unattended or if they feel ignored, it can seriously damage your reputation in the long run. You certainly do not want them to give a bad review or rating to your company as there is a chance that they might take it to someone else. Nothing hurts more than a bad reputation for businesses that can escalate rapidly through word of mouth among your customers.
A mobile app can address these challenges by providing a better customer service approach and support to your customers without interfering with their mobile app experience. They don't have to leave the app to contact your customer service support about their issues or any concerns.
In addition, a mobile app provides your customers with immediate feedback and support whenever they need it with the tips of their fingers. They can access or obtain any information they require through the live chat function. Your customers are looking for quick and dependable responses to assist them in resolving their problems. As a result, your customers can contact customer support instantly and experience less hassle. This method is far superior and more convenient than the traditional approach of placing a phone call to the company. Much better than experiencing an endless cycle of frustration, call transfers, and waiting longer in line, which can be time-consuming.
In conclusion, a mobile support app can assist you in improving your app's rating and customer satisfaction. Particularly if your customer service can promptly respond to customers' issues to resolve their concerns. To provide real-time support, using a mobile application will be highly beneficial, and additionally, it will impress your customers! When you can meet your customers' expectations and keep them satisfied, you are also improving your rating, which will increase your sales.
Conclusion:
We've provided you with some compelling arguments for why you should consider developing a mobile application for your company. First, a mobile app isn't just a trend; it is a future for any business that wishes to expand from brick-and-mortar to online. Additionally, it would be best to consider the possibilities of what a mobile app can do for your business. If it is allowing you to thrive and giving your brand a competitive advantage in a sea of other competitors.
When designing a mobile app, you can be fraught with challenges. But it is a best practice to keep in mind to design a mobile app that can address your customer's needs and go beyond to meet their expectations. You don't want them to be disappointed; instead, you want them to be impressed. If your customers are pleased with their purchase, they are more likely to return.
About the writer:
Nina Osman is a content writer for the Ninja Pack Blog for Ninja Van Malaysia. Ninja Pack is an ALL-YOU-CAN-FIT Prepaid Delivery Product with no weight limit and is the best solution for online businesses in Malaysia that require a fast and reliable shipping service.
Looking for a good team
for your next project?
Contact us and we'll give you a preliminary free consultation
on the web & mobile strategy that'd suit your needs best.