Web design is a norm for businesses today. Creating websites could be easy with a number of templates available online to do so. But creating a beautiful one could be a daunting task when the competition is so fierce out there.
To make your job easier, we have collated a list of some of the best web design inspirations available out there.
List of Web Design Inspiration Sources
Template Monster
Launched in 2002, today, Template Monster is the top-rated inspiration for many web designs that are being designed every day worldwide. The aim of Template Monster is to make available high-class digital products to people at affordable prices. The high-quality design essentials provided by Template Monster can be used by anyone and everyone (including a newbie, freelancer, MNC, small-tier organization, and even a start-up) to build or tailor a website from a template.
Every time, they keep updating their product ideas to provide people with trendy and great products that they can easily customize.
Awwwards
This is a meeting point for digital design professionals from around the world. They can find inspiration, connect, engage, share knowledge and experiences, and even critiques. The tagline is 'Always questioning,' 'always evolving.'
Awards are announced and distributed to felicitate and honor the works of some of the best designs in various categories.
To explore the award categories and draw inspiration, click here.
Designspiration
Pinterest in the social media world is what Designspiration is to the world of design. In some ways, it is similar to Pinterest. This visual medium makes it easier for people to save images, articles or draw inspiration. The only difference is that in the world of Designspiration, the design is the core.
Starting with web design inspiration, you can find all kinds of design-related inspiration on this site. You can save, explore or use inspiration ideas from the examples available on Designspiration for your website.
Draw inspiration for your next website design here.
Behance
Behance is part of the Adobe group of companies, which is one of the most trusted brands. The web design discover page of Behance is its highlight. It showcases design inspirations from a huge and diverse design community.
You can set your search preferences based on location, timeline, and even popularity. The filtering options are wide and varied, which makes it easier for people to find what they are looking for with ease.
To find some inspiration for your next web design project, click here.
ResponsiveDesign.is
Do you want some out-of-the-box design ideas? Then, this is the right place to look for some inspiration. Besides providing web design inspiration, this site also gives you an idea of how your website will look across a variety of devices.
It is not just web design inspiration that you get here, but more: responsiveness is the theme. You get design ideas, articles on responsive design, content marketing, and podcasts.
Click here to find out more.
CSSnectar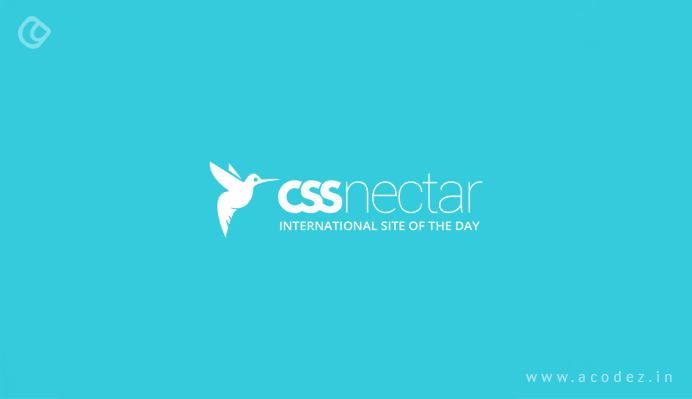 Being a web designer is not an easy task. We all know that it is just not the design that matters. A design comprises a number of elements that make it visually appealing. In that case for the various other design elements, it would be great to check this site.
CSSnectar is a collection of a number of website designs. The design community then votes and prioritizes these website designs based on several categories, such as creativity, coding, and design.
Once all the voting is done, CSSnectar calculates the overall score for the designs of each site. Then these scores will be published below the thumbnail of each design. You can compare these scores while you search the sites for inspiration.
If you are a beginner, this would be really helpful when you are looking at different sites for inspiration. Also, the site allows you to filter your search based on various categories, including location and color.
To find out more about this site and draw inspiration, click here.
Pinterest
Pinterest is one of the common places where we all have been to draw some inspiration. It gives you inspiration for not only design but a number of other things. You can find inspiration for everything, starting from wedding dresses to cooking recipes on Pinterest.
Just type 'web design inspiration'. It would take you through the users, who have pinned their favorite related web design content. This is visible to others.
To find out more about the pins available on Pinterest, click here.
99designs
If you are looking for top web design inspirations, then this is the place for you. Here, you will find a great deal of design inspiration ideas from highly talented designers. The site has a Discover feature, which helps you to search for styles, ideas or design inspirations that you need.
When you like a design, you can always reach out to its owner and transform that inspiration into your site. You can send a message and let them know your thoughts.
For more details on how it works, click here.
Best Website Gallery
Here, you can find some of the best web design inspiration. Owned by David Hellmann, this gallery of web design ideas was launched in the year 2008.
It follows a tagging system, which will allow you to find inspirations based on various categories: style, functionality, design, and others. The gallery has some high-quality design ideas. You can follow these ideas in case you are designing a portfolio website, agency website or color ideas.
To find out more about this site, click here.
siteInspire
A number of beautiful site ideas can be found here. The highlight of this site is that you can sort the inspiration for web designs based on the platform that they were designed on.
Click here to find out more about this site.
Abduzeedo
There is a regular addition of new ideas and inspirations to this site. So you can always find new ideas here apart from the regular boring ones. It offers you a wide range of options not only in the domain of web design but others as well.
It includes everything starting from photography to architecture. It offers a range of inspiration in case you are looking for more creativity. To find out more about the variety of ideas they have, click here.
Acodez IT Solutions is a web design agency providing web-related services to businesses worldwide. We are also a digital marketing company in India offering all kinds of services including SEO, SEM, SMO, PPC, inbound marketing solutions, etc to help take businesses to the next level. For further information, contact us today.
Looking for a good team
for your next project?
Contact us and we'll give you a preliminary free consultation
on the web & mobile strategy that'd suit your needs best.