Measuring your success online can be confusing and a bit overwhelming when you have multiple metrics to consider. Today, eCommerce outlets need to measure brand health, return on investment (ROI) for promotional content, conversions, click-through-rates, and other metrics. That's when share of voice come into action.
Analyzing these metrics is still not enough until you are able to compare them to your competition. How do you manage these metrics without losing track of your business goal?
Share of voice (SOV) helps you get a better overview of your performance relative to the competition. This metric shows you your position in the market. It enables you to have a better understanding of your brand value and market share.
In this article, we will take you through everything you need to know about SOV. Why it matters, and how you can measure it for social media PPC, SEO, and PR.
What Is Share of Voice (SOV)?
Similar to market share, SOV is a representation of the overall portion of the market your brand owns in a given industry. It is the number of online brand mentions or conversations compared to competitors' mentions.
This metric tells you your level of brand awareness, customer engagement, and popularity. Implying how well your performance is compared to the competition, on different channels, such as social media, blogs, forums, etc.
The higher your SOV, the more your online visibility, media spending, and social media presence, factors which trickle down to more traffic, conversions, and sales.
SOV is a reflection of how often customers are seeing and engaging with your brand online; hence, the higher the metric, the better your advertising efforts and online visibility.
Why Share Of Voice Matters
Collecting data about your business performance is not enough. If you cannot analyze it and see where you stand in the market, there is no use.
Measuring SOV comes with plenty of benefits, making it one of the leading metrics sought after by today's businesses. These include:
1. To gain consumer insights
SOV enabled you to gather customer feedback and conversations from multiple platforms, such as your social media pages. This information gives you an idea of what people are saying about your products and brand. It shows their tastes and preferences. Thus giving you useful insights about the key selling points.
For instance, your analysis could reveal that customers choose your products because they are more affordable or durable. That is when compared to competitors' offerings.
You could also learn the channels customers prefer interacting with your brand. For ex: through the website, chat, or even on social media, etc. SOV also enables you to learn of new opportunities. Such as the kind of products or services your customers prefer to have.
A tool like Sprout Social's social listening software will enable you to gather useful SOV insights from social conversations. You will be able to gather actionable insights to propel your brand towards a higher position in the market. Also helps identify gaps in the industry.
When you use the social listening tools to interact with your customers in-app, you can respond to complaints right away. As well as promote your products to a ready clientele.
2. To gather competitor insights
Social listening tools come with multiple features and benefits. It enables you to not only calculate your SOV. It also identify new players in the market and understands the sources of their traffic and mentions.
The SOV results will show you the areas where your brand is performing better. The sources of the conversations, and the sentiments surrounding these mentions.
You can integrate conversations from multiple social media platforms, such as Twitter, Facebook, Instagram, YouTube, and Reddit. It gives you an all-round picture of what is happening in the industry.
You can also compare your brand against the leading competitors to get an idea of the areas you are lagging in. For instance, you can compare brand mentions by segmenting your audience according to country or region, social media channel, or language, etc. This practice enables you to understand which businesses are leading in which categories within your industry.
These competitor insights are useful because they enable you to discover new opportunities you can exploit as well as areas of improvement.
3. For better brand management
SOV enables you to measure and analyze your brand mentions and overall customer sentiment compared to your competitors.
SOV will tell you how many customers know about your brand, how often they visit your site, and how much they engage with it.
The results will tell you whether customers' perception about your brand is positive, negative, or neutral and how well other players in the market are performing in terms of awareness and mentions, engagement, and social shares.
These results will enable you to identify areas of improvement, including variations in performance relative to KPIs and competitor performance.
As you monitor your brand reputation, you can tell what customers are happy or unhappy about and quickly develop remedies and responses to manage your brand image.
4. How can you measure SOV for social media, PPC, SEO and PR?
Share of voice is obtained using the following formula:
Your brand metrics / Total market metrics
Your business goals and marketing strategy will determine the SOV metrics to measure. As a start, let's have a look at how you can measure your social media SOV.
Share Of Voice For Social Media
Social media is considered the ultimate measure of share of voice because the main element being considered here is customers' voice.
You can measure your SOV for social media either manually or by using a paid social listening platform.
The latter option is preferred because in addition to speed and accuracy, an automated social listening tool comes with advanced analytics.
A free tool like Social Searcher will enable you to manually input variables, giving you insights like market reach and sentiment.
The following are the steps for operating a manual tool to measure SOV for social media:
Open the tool and enter your brand name.
Put down the number of mentions the tool has gathered.
Write down the competitors' number of mentions.
Calculate your SOV as follows: "Number of your brand mentions / Total number of brand mentions (yours + competitors') * 100
The image below is a demonstration of the results and analytics you should expect to see after using a manual tool to calculate share of voice for social media.
Tool to measure SOV for Social Media
The disadvantage of using a free tool to measure social media SOV is that you might not get precise results that cover all major social media platforms. You will also have to look for additional resources. You will have to look for detailed statistics and to be able to track performance patterns over time.
One of the best options for automated SOV is the Sprout social listening tool. The platform gives you an overview of your brand's share according to engagements, unique authors, impressions, and sentiments. You can also filter results according to elements like network or geography using the advanced filter function.
Other great social listening tools include:
Awario – a tool small businesses use to monitor instant brand, product, and keyword mentions.
Brandwatch – an enterprise-level tool with powerful social media and Pay Per Click (PPC) monitoring and analytic capabilities.
Your goal is to understand your customers' preferences and your competitors' share of positive and negative mentions. You should also learn where your competitors are popular, the platforms that they use the most, and the perception influencers have towards them.
SOV for PPC
This metric measures your ad visibility by analyzing the number of times an ad is capable of showing up in comparison to the actual number of appearances.
A tool like Google AdWords helps you determine the potential visibility of your ad. It uses campaign and keyword settings. SOV in AdWords is known as Impression Share. It is obtained by the percentage of impressions your ads get versus the number they could get.
The formula for obtaining the share of voice for PPC (impression share) is:
Your Impressions / Total eligible impressions
The total number of eligible impressions are determined by factors like approval statuses, targeting settings, and quality of ad displays for all participants in the ad auctions.
To set up your brand's impression share, login to your Google AdWords account, click on the Campaigns tab and then on the columns button. Next, select Modify columns and click on Competitive metrics. Once done, select and add your preferred impression column shares for your campaign, such as performance, visibility, and conversions. Remember to click on Apply for the impression share data to appear in your statistics table.
Now you can easily track multiple variables to determine the performance of your campaigns compared to how you expect them to perform, giving you a reliable idea of how to adjust your marketing strategy and budget.
Here are more detailed metrics and insights you will get from using Google AdWords to measure your SOV for PPC: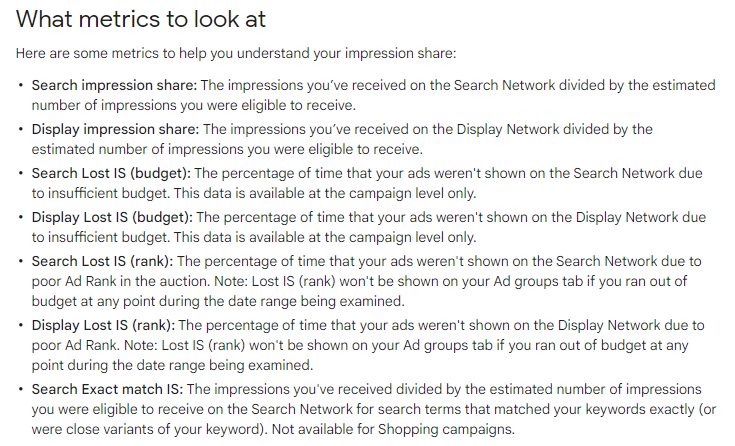 Sprout Social's SOV formula will also enable you to measure the performance of your PPC keywords as well as in depth campaign analytics.
SOV for SEO
SOV for search engine optimization (SEO) differs from SOV for PPC in that the former measures the performance of your campaigns and brand share based on organic search, unlike the latter, whose traffic sources are paid.
You can easily measure this metric using SEO tools that show your search visibility on particular keywords for both your business and the competition.
To start you off, gather a list of topic-specific keywords with the highest clicks – those that can tell you how your brand stacks against your competitors, e.g. "halloween costume ideas". Ensure the keywords relate to your industry.
Paste the list onto an analytical tool, such as Ahref's Rank Tracker, then type in your competitors' domains. Once done, click on the Competitors tab to view your SOV for SEO.
The results will tell you the number of clicks for all your topic-specific keywords that actually land on your website, relative to your competitors'. With this information, you can determine if your visibility is good enough and take action to improve your site rankings.
Other SEO metrics to track include the average position and traffic over time, and positions distribution, which refers to your ranking positions segmented according to groups, i.e. Positions #1-3, Positions #4-5, etc.
The Rank Tracker also comes with advanced metrics to measure your cost per click (CPC), estimated search volume, clicks, return rate, and others.
A tool like Pi Datametrics will also enable you to calculate your organic search SOV as it contains similar metrics as Rank Tracker.
SOV for PR
Your brand's share of voice for media platforms shows you the mentions you are garnering on platforms like blogs and news websites.
The objective is to understand the industry publications and news sites that are talking about your brand, the context around which these conversations are taking place, and what industry experts think about your offering.
PR is more of your brand popularity in the industry and what intangible value industry experts think you are worth.
SOV for PR also entails analyzing publications covering your competitors and comparing their mentions to yours. The results will tell you which media outlets give focus to your PR efforts.
To obtain your brand's SOV for PR, you can use the Sprout social listening tool. The platform contains analytics for blogs and news outlets, as well as filters to enable you to add and remove keywords and other elements to suit your research objectives.
Ways to improve your share of voice
Here are a few tips to enhance your brand SOV:
1. Remain active on social platforms
Ensure to share content regularly and consistently.
Monitor your posts' performance for trends on the days and timings that derive the best performance.
Remember to also use a social media calendar to plan and schedule your content appropriately.
2. Engage with the audience
Your social media platforms are spaces to only share content, but to also connect and engage with users.
You can enhance your share of voice by commenting on your followers' posts, resolving an issue, or even offering support.
Take your time to respond to positive brand conversations as well, while appreciating your customers for their loyalty.
Engage more with followers by creating and running social media polls and hashtag challenges that prompt customers to vote and participate.
3. Create valuable content
Your audience will be encouraged to follow your brand and share your content if it educates, inspires, and entertains them.
Tips, how-to-guides, motivational quotes, industry news, and other materials relevant to your niche and audience will definitely keep your customers engaged for the long-term.
Creating user-generated content (UGC) can also help enhance your brand's share of voice because more people will be talking about your brand and products from personal experience, which is a more believable marketing strategy than advertising.
Starbucks' #RedCupContest is an example of an effective UGC the company uses to incentivize customers to participate and share the brand's messages. Users are required to buy a red cup then take a picture, an activity that helps promote the brand and make customers share the buzz around Starbucks products.
4. Drive conservations to your social platforms
Ensure to link your conversations, such as blog posts, to your social profiles. You can consolidate the conversations across multiple platforms by providing social media buttons which customers can use to share the content.
Prompting customers to get support through your social customer care rather than phone or email will also help improve your brand's SOV as more conversations and mentions will be taking place on social.
The better your responses to customer queries and issues on social media profiles, the higher the connections and engagement.
5. Invest in digital PR
Connect with respected media platforms to get your brand mentioned in outlets like magazines, trade publications, newspapers, and top-ranking blogs.
The more people see and learn about your brand, the more they will talk about it and share their sentiments with friends and family, further increasing your mentions, conversions, and growth.
6. Enhance your site's SEO
Use your blog and product pages to publish content with the right keywords (high volume, low SD).
These are low competition keywords that customers are using to find your products, services, and information about your brand, giving you an edge over the competition.
Conclusion
Share of voice (SOV) is a representation of the overall portion of the market your brand owns in a given industry. It is the number of online brand mentions or conversations compared to competitors' mentions. SOV matters because it helps you gather and understand the important customer and competitor insights, giving you an idea of areas of improvement to make your brand better and more engaging.
There are a number of tools you can use to improve your brand SOV for social media, PPC, SEO, and PR, such as the social listening tool and rank tracker. In addition, you can enhance your brand's share of voice by engaging with your audience actively on social media platforms and blogs, creating valuable content, investing in digital PR, and enhancing your site's SEO.
Acodez is a leading branding agency in India with experience of 10+ years. We are also an award-winning digital marketing agency with experience working with a wide range of clients ranging from corporates to one-man start-ups. Contact us now for a custom quote on your requirement!
Looking for a good team
for your next project?
Contact us and we'll give you a preliminary free consultation
on the web & mobile strategy that'd suit your needs best.