With a myriad of WooCommerce plugins on the table, are you curious about which one will actually give you a noticeable increase in sales and take your business up a notch?
Fret not! For we have hand-picked 4 awesome WooCommerce plugins, with both the premium and free versions! Without a doubt, once you install and start using them, you will see the numbers on your sales increasing!
Without further ado, let's explore what they have to offer, why we think they are your best bet, and how to get them working for you right away.
Product Addons For WooCommerce
Getting custom designed products enhances one's shopping experience and brings out an entirely different layer to the retail therapy factor that customers are looking forward to when they look at your product.
This is where this light-weight WooCommerce product addons plugin comes in extremely handy.
With this reliable plugin, you get a custom form builder which makes it a breeze for you to get information from your customers on how they would like their product customized in the most organized and efficient method.
For example, if you are selling custom t-shirts and want your customer to specify the color of their t-shirt, all you have to do is add the color chooser from your Product Add-on plugin and there is all that is needed to make the buying process a user-friendly one.
Like the color picker radio button, you can also add other fields in your product form such as drop-down fields, text inputs, and checkboxes, and many more!
Why Go For The Product Addons Plugin?
When buying something off the internet, the lesser the hassle, the more likely it is for one to go ahead with the purchase.
No one wants to get the feeling of having to fill a college admission application when they are buying their favorite product. That's where the product add-on plugin comes into play.
Some of the myriad benefits that this plugin brings to your store are:
22+ custom product fields

To avoid having to make a form for each product, make a single form and use conditional logic to hide specific fields according to your objectives

Want to offer better prices on bulk buying? Use customized pricing

Are there add-ons with your products that have to be calculated according to the variations set by each buyer? Use the formula-based pricing
The best news is that to make your website user friendly and the buying process simpler, you don't have to have excellent coding skills at all.
All you need to know is how to drag and drop the fields in the custom form builder: click on that field and while clicking on it, take it to the form builder and edit it however you want. That is all!
How Do You Get The Product Addon Plugin Up And Running In WooCommerce?
This plugin has two versions: the free and premium one. Hence before downloading the plugin, decide if you want the premium version or you are good with the free one.
The free version WooCommerce Custom Fields can be downloaded from WordPress plugin directory.
Step 1: Depending on your choice, download the plugin file. (note: for the premium version, you will have to purchase the plugin file first)
Step 2: Upload the plugin file onto your WordPress dashboard
Step 3: Click on products to expand the Product Tab and there, you will find Custom Product Options. Click on it. You will see a window that has a list of various forms.
Step 4: Click on "Add New Product Form" to launch the custom form builder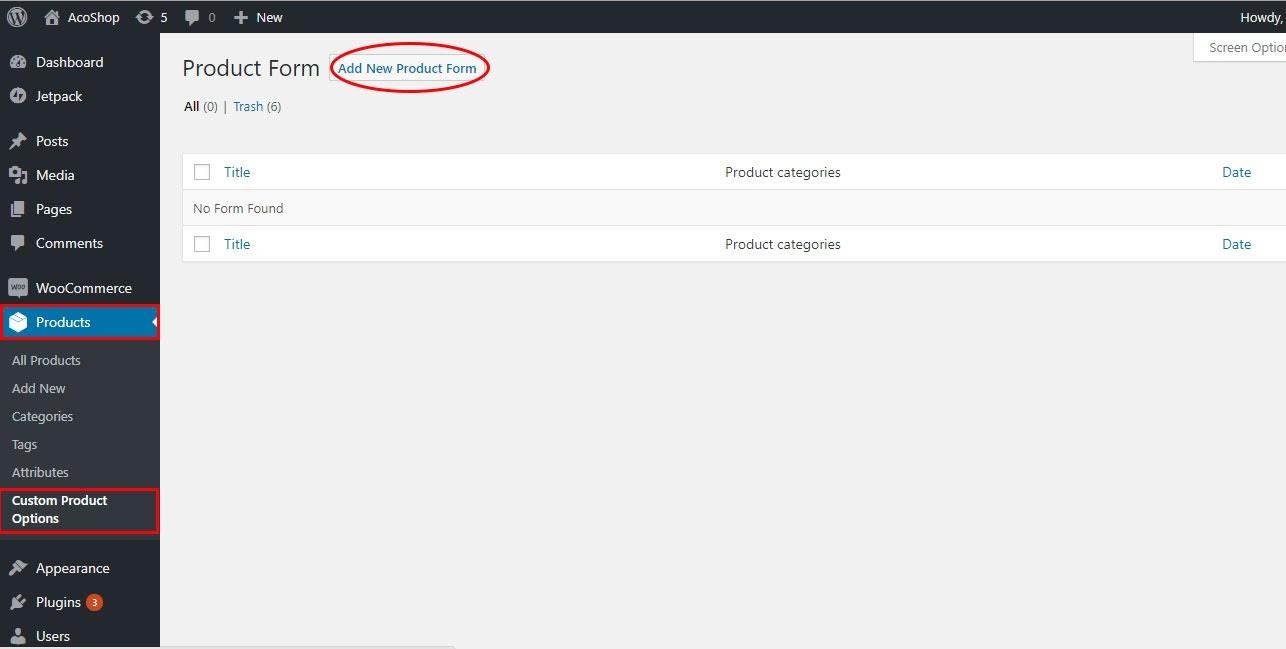 You are all set to start using this awesome product add-on plugin to hike your sales with your WooCommerce store!
Checkout Field Editor And Manager For WooCommerce
The final step to the sale is the most crucial one: the checkout! Buying things from the internet can be a pretty intensive experience, with news of money frauds and product frauds being a regular feature in the newspapers, customers are often very indecisive when they are at the last step which is the checkout.
As the store owner and designer, it is your job to make the process super easy and quick for them.
Keep in mind that the longer the form is, or the longer the page takes to load, the more possible it becomes that the customer's indecisiveness wins over their want of your product and they end up abandoning the sale for good.
Hence, from the land of best UX practices, we have summoned this plugin to make sure that your customer enjoys a seamless checkout experience and you enjoy the sales, reaping its benefits without much hard work on the checkout page.
Why Go For The Checkout Field Editor And Manager Plugin?
With the WooCommerce Checkout Manager plugin, your checkout form becomes a customizable treat.
You can edit all fields in any way you want to show whatever you please, all to your heart's content, and according to what best meets your sales objectives and needs.
Among the editable options, the checkout field editor plugin offers you the features to:
Edit the fields that have been set as default by WooCommerce

Add new fields as per what information you want to get at checkout

If you think that the field placed last is super important and needs to be asked first, you can even change the field order

Some fields are just not applicable. For example, why would you want to ask your customer's country if you only offer delivery in your locality? So, hide that field on checkout. That's one less question your customers have to answer at checkout

Show all information that the customer has filled before they make the final payment so that they can make any edits they are not happy with. This is done with the Show in order details option
Show in emails options works like the last one except with emails

Unhappy with the field size? Adjust its width according to the importance of information

Set custom css class for stylistic elements for each field

Support for WPML and Poly lang is also available
These are just some of the features that are available. Explore them now with a fast download of the WooCommerce Checkout Field Editor Plugin!
Dynamic Pricing With Discount Rules For WooCommerce
After friendly design, the next tool to convert your prospective customer into a definite sale is to use a dynamic pricing strategy, hence reaping higher profits for you and enticing more customers to click on the checkout button.
With WooCommerce Dynamic Pricing, eCommerce businesses are quickly evaluating and assessing the data they get from websites like Google Adwords and Facebook Pixel to offer their clients special discounts and enticing offers that lure them in for purchases immediately.
From there, it's just a domino effect, the customer buys one product and they get suggestions for more – the browsing then leads to more buying which leads to more browsing and so on.
Hence, you are looking for an explosive increase in your profits and revenues in the long run. The smarter your prices, the more strategic your business.
Why Go For The WooCommerce Dynamic Pricing With Discount Rules Plugin?
Once you decide on your strategy, you don't want a hassle in setting discounts each time.
Hence, with this plugin, you get a comprehensive user interface that lets you set discounts based on set criteria that you can manage so that all that you have to is set the rules once, and your WooCommerce store with the help of WooCommerce Dynamic Pricing plugin, manages your business game efficiently and accurately without you having to break a sweat over it.
Some of the awesome features that we are talking about with this plugin include:
Choose from a range of discount types or set the discount rules yourself based on how you want your product to be priced

Offer discounts based on the user. If that user is a prospective large fish, you want to offer them better discounts and deals so they become your long-lasting customer. This is easily done with user restrictions where you can set the discounts and offers based on that user's role, their amount spent, the amount spent on their last order, etc. Additionally, it is also possible to set discounts for individual users.

You can schedule your discounts for whatever date or time you want for example for a

festive holiday

or black Fridays.

The pricing table can be displayed which shows customers what discounts they will get with different bulk quantities

You can even set a time limit for the products on sale with sale badges and timers

WPML and PolyLang Support is also available with this awesome plugin for Dynamic Pricing with Discount Rules
Product Labels For WooCommerce
Customers are more likely to click on products with badges. A lot of eCommerce shop owners offer a myriad of offers such as discounts, free shipping, and sale among others.
However, customers do not get to know about them unless they order and the others simply bounce from your store.
With the WooCommerce Product Labels plugin, it has now become easier than ever to highlight the special attributes of each product with a sticker/badge that displays right atop the product picture and is impossible to miss while buying.
Got new products added to your store? Add a badge that says NEW! On the latest additions. If you have products on limited stock, add that on the product with a Limited Stock badge.
These are just some of the multiple ways that you can entice your potential customer to click on your product and then click on the Add to Cart option.
Why Go For The Product Labels Plugin?
Initially, badges like these had to be edited into every single product picture making the entire process extremely complicated and tiring.
However, the WooCommerce Product Badges plugin makes it a breeze to make your badges once and then apply them to whichever product you want.
Moreover, the feature-rich plugin also enables you to set timers on these badges so you want to painstakingly remove each badge on your own. Instead, it will be removed on its own as per the time that you have set.
This simple to use plugin offers a range of styles and trends that you can use for your badges or you can put your own creative hat on and customize your badges however you wish.
With live preview, the changes that you make to your badges will be instantly seen so that you can edit the product with ease.
WooCommerce PDF Invoice and Packing Slips
WooCommerce PDF invoices plugin from Acowebs helps to create custom-designed invoices based on your branding choice and also the other shipping related items like the Dispatch Labels, Delivery Notes, Packing Slips etc which all can be customized according to the various templates it has. WooCommerce invoice plugin also comes with a free version which can be downloaded from the WordPress plugin directory.
Conclusion
What are you waiting for, add these plugins to your dashboard now, activate them, and start using them right away if you want to take your sales to the next level.
Let us know which plugin got you the most ROI and which one was your favorite in the comment section.
Stay tuned to keep learning about the best methods to run your WooCommerce store with smart strategies so that you don't have to learn to code, make any efforts, and yet you can reap benefits in the form of maximum sales.
When it comes to the list of web development company India, Acodez ranks among the top companies. We offer all kinds of web design and Mobile app development services to our clients using the latest technologies. We are also a leading digital marketing company providing SEO, SMM, SEM, Inbound marketing services, etc at affordable prices We also offer Branding solutions to our clients. For further information, please contact us.
Looking for a good team
for your next project?
Contact us and we'll give you a preliminary free consultation
on the web & mobile strategy that'd suit your needs best.