If I ask you to name a few logos that come to your mind immediately, which would you say? Probably, your list would contain names such as Apple, Nike, Windows, and Google etc. Why?
Think why is it that these names stay in your mind and you cannot remember the name or any sign of the shop next door?
The ideas behind these designs could be the reason that you can easily relate to them. It was designed for staying etched in the minds of the people while the rest were not designed from the perspective of the people.
So, what is it that we can do to design a logo that will stay etched in the minds of our people?
Here, I shall share some of the things that you need to be considering before creating a logo for your start up:
1. Inspiration
You are not the first person to have a logo designed. Several others have already designed it and are winning customer hearts. You need a path to reach out to your people with your logo which is a unique identification of your presence over the web. So, how do you go about it?
Draw inspiration from others! People have ideas, why not take something from here and there and then, combine everything and put it out on your wireframe and see which blends in with your business exactly.
I know what you are thinking! Of course, I am not encouraging you to copy others! But, you could get help from designs.
[tweetthis]Inspiration is nothing but your research which is the most important thing and of course, we all do a lot of research before working on anything.[/tweetthis]
Inspiration is nothing but your research which is the most important thing and of course, we all do a lot of research before working on anything.
Let's move on to the #2.
2. Distinctiveness
You have been researching and collecting ideas and then, coupling all these to generate a logo for your business. But, you are not using the same ones!
Logo is the unique identification point of your business. If you are using the same logo with a variation in the color or design as that of your competitor, no one is going to think of your business.
All that they will feel is that they are again visiting your competitor's store. You do not want to lose your business to your competitors when you are starting out new.
People will think that someone who cannot even design a unique identification for themselves how can he offer me a product or a solution different from that of his competitor?
Why should I go to him?
We are all going to think along such lines.
Creating a distinctive and unique identity for your business is the most important point in winning your customer's heart.
Also Read: 4 Common Web Design Mistakes And Their Right Solutions
3. Name
In the case of startups, they lack idea of where to start and usually sit down to nail a name before accomplishing other important tasks.
Of course, what's in a name?
You can think of it as may be "x" or "y" and in the mean time work on the other important aspects of your logo design. You do not have time to waste! Get on to work before someone steals your idea.
You can always find a name in the long run. Trust me there are several successful businesses that have found awesome names while working on other important parts of the logo design.
Remember "Rome was not built in a day!"
4. Trends don't matter
Trends! There are people who think that whether my logo will be accepted 10 years from now?
Of course, a great thing to think about! But, genuinely, do you think you can find an answer to this question?
No, you cannot!
Nothing is still on this earth! There is the rule of dynamicity that binds us to the world of virtual reality and the web.
The technology is evolving because we do not support the old and outdated things and this change is happening every other day.
Why worry about the days to come?
Think of what lies ahead of today and work on your design. Forget the old ones and never think about what is yet to come.
Focus on what is trending currently and work on your logos.
Also, there is no trend as such! It is your brain and innovative ideas that transform into trend! So, it is high time you gave your brain some serious work to do. Rack your brains and get to work. Who knows whether your logo turns out to be the trendsetter of tomorrow?
5. Should you hire an expert to design
Do you draw? Great!
But, for now keep your drawing skills aside! Don't put your business at stake just because you thought you were a great artist!
I know you are a start up and have resource constraints.
But, when it comes to logo designs it is an excellent idea to get an expert graphic designer design your logos because they have a very clear idea on how your logo should appear across various media including the websites, apps, and the variety of devices. Also, they know the perfect precision and size that your logo should be exhibiting.
Why do you want to do brew up a disaster? Spend some bucks and get a beautiful logo designed!
6. Cost
As we already discussed in #5 you should not reconsider your decision to hire a logo designer just because you don't have the budget.
There are a number of logo design companies that offer logo design services at cheap and affordable prices.
But, before you choose your designer find out whether they really do have the caliber to work on it and they can help you out. Ask for references and examine whether they have worked on similar projects and then fix a good price and move ahead.
7. Colors and font of your logo
Experts say that when choosing color for your logo never go for those colors that your biggest competitors are using. It is something that your people can easy relate and they have been seeing it all this time, so there is nothing new.
Also, make a wise and smart choice of color selection.
For instance, if you are a brand specializing in baby products you could go for a light shade of pink.
If you are specializing in women's products never choose a color like orange or gray or brown since, these do not go down well with ladies.
Also, the font selection matters just like the color of your logo.
In fact, the color and font of your logo are capable of evoking positive and negative emotions in your people and unless it is impossible for people to relate with these your logo will never stay in their minds.
We have been striving all this time to find a way into their hearts and if the wrong choice of a color or a font frustrates our users there is no way they will remember us the next time they think of our product or service.
8. What does the logo convey?
Have you noticed the multi-giant Amazon's logo? It says A to Z with an arrow below it.
It clearly conveys what you need!
A complete A to Z defines everything and stays in the mind of the customer and they know where to look for the things they need the next time.
Now, you know how beautifully you can convey the message of your business within your logo. "A to Z" is simple and powerful. And, the arrow depicts a smile!
These are creative ideas. It would be worth if you could get an expert graphic designer to design your company website and your business logo.
Alsor Read: 21 Factors To Consider Before You Set Out To Design New Website
9. What kind of Logo will suit my business?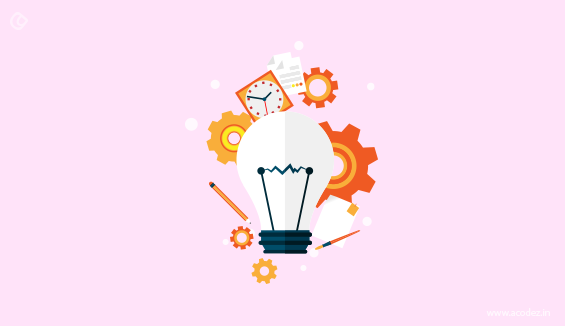 If you ask me if there is any specific type of logo that will blend into your business well, then, it is doubtful whether I can give you an approximate answer.
It depends on ideas and again, I repeat get help from a professional graphic designer who has worked across various verticals particularly has hands over experience in your particular niche.
Also Read: Top Tips for Becoming a Better Designer
Letters and alphabets are a good go! Facebook's F is cool and we can easily relate with it!
Abstract kinds of logos are excellent choices if it can exactly convey what your business stands for exactly just like Mc Donald's.
10. Types of logo
Yes, there are certain kinds of logos that you need to know about before starting to design your logo and ensure that this fits into your business needs:
Letterform: Which are the letterforms that come to your mind when you think of logos? Uber and Unilever?
Pictorial logos: Symbols! Of course, symbols play an important role in logo design. Strong symbols can easily stay etched into the minds of people. Whatsapp, Snapchat, Instagram, and KFC are some of the examples.
Abstract logos: In fact, if you ask me what these abstract logos represent, they do not represent anything. But, Nike stays in all our minds! Think about it when you plan to design a logo.
Wordmarks: Google is one of the best examples for Wordmarks. These could be individual words or multi lettered abbreviation.
11. Legibility
This is another important factor that needs to be taken into consideration when designing logos. It should be clear and clean. You are not overwriting or overly designing your logo. It would be clean, clear and precise for people to really find out what it says clearly.
This is the most important thing. Imagine if Apple overlapped the logo with a Mango? How would you find out what it is about?
Let us stay focused!
12. Relevance
Another important thing to be kept in mind when designing logos is their relevance. Your logo is the representation of your business. For instance, if yours is a business that deals with women's cosmetics and you are using the image of tomatoes, then, people will obviously relate it with a food brand and you are confusing your customers.
Introducing your Mascot in your logo could be a great idea just like "Mail Chimp". People can easily relate to it for the relevance that it contains.
Do you need help with logo design for your business? Then, we can help you!
Acodez IT Solutions is an Ecommerce website design company india offering all kinds of web design and development services at affordable prices. We do not make any compromise on the quality of the products that we design and develop. We ensure that you are the best in the industry! We are also a SEO agency based in India offering all kinds of inbound marketing and other relevant services to our clients to help take their business to the next level.
For further information on our services and how we can help your business, contact us today!
Looking for a good team
for your next project?
Contact us and we'll give you a preliminary free consultation
on the web & mobile strategy that'd suit your needs best.