A lot of new ideas are emerging in the world of technology. Thanks to all the different kinds of ideas that exists, facilitating businesses to develop some of the greatest of technologies ever. Among all the different types of innovative and sophisticated facilities that help us to connect across the web, we have the internet of things (IoT). This is the positive side of technology that fuels the development of the best products and services. Mobile app developers have made the best utilization of IoT for mobile app development. These mobile app developers are exploring the awesomeness of IoT, which goes straight through the customer's eye into their hearts. It has contributed a great deal in the growth of the industry.
Let us find out more about how the app developers have been implementing IoT to ease their tasks. IoT and mobile development are two sides of a coin. They complement each other well, ensuring that the final product stands out amidst the others.
Mobile and IoT: a beautiful love story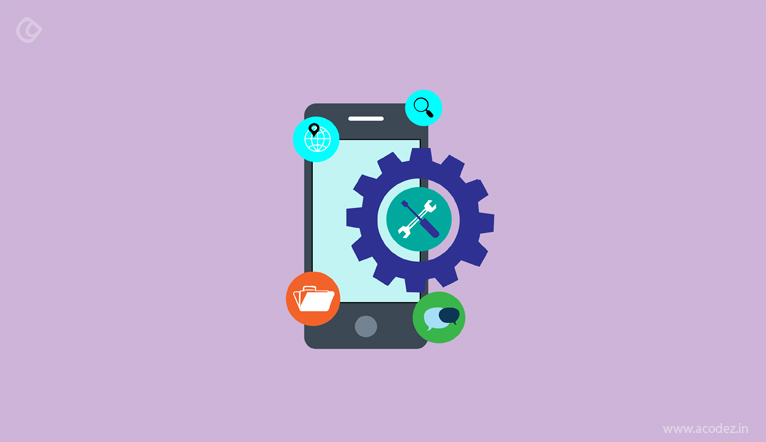 One of the interesting facts about mobile devices is that until date, no other device has made news for being and continue to be so popular and in high demand. When compared with the other devices, no other mobile or digital devices have experienced this kind of a demand in the world of technology. People are smart and technology-driven, which is why they are always looking out for the better.
If stats are to be believed, it is assumed that an average US customer spends not less than five hours on a daily basis using their mobile phones, which is ultimately, what app developers are looking for. As you might be aware, apps are a gateway between consumers and businesses, and most of the five hours that a user spends over his mobile phone is through these apps. IoT is what helps the mobile app developers to bring about an optimized and customized approach when developing these apps.
These apps are cost effective and it facilitates the ease of connection across different devices. IoT is making news these days as it is highly popular not only among the mobile app developers (helping these developers to collaborate and work as a team, sorting out challenges, which is ultimately providing a platform for these developers to create further innovative ideas).
IoT has proved its ability by developing massive mobile networks, which ultimately generates greater demand for these mobile apps. All businesses are bringing about some kind of innovativeness or other to the setups that they create using IoT. Only those who are experienced at utilizing this can succeed in this race.
How does it contribute to an upcoming business?
Many of the successful organizations have been utilizing the power of IoT to a great extent through their mobile apps. By default, we are aware of the fact that our customers own a smartphone and this is what helps us to implement IoT infrastrcture and utilize it to the fullest in our apps. The best example is the Uber app. It is designed such that the customers can have their car arriving in less time and get going to their destination with just a flip of their phone. The business is constantly monitoring their customer behavior and demographics, which helps in customizing solutions and services in favor of their requirements.
The data that the business gathers from the app users is implemented throughout to provide them with personalized solutions, which will ultimately ensure that your app is a success. How else do you think they could provide the customers with an insight into the cab's location and how long it will take the cabs to reach their place? This IoT parameter is what bridged the gaps and brought businesses, including Uber, closer to their customers. The ease and time frame of IoT is what helps mobile users to get along well across anything and everything that they want to access with the touch of a finger on the screen of their phones.
The flawless connectivity offered by IoT has helped businesses, including Uber, to stay connected with their people by providing them with excellent solutions. Also, it provides people with the provision to share the app. Customers pleased with your services are ready to spread a word or two about your business across the world. The growing influence of social media will carry your brand reputation to far and wide.
The increase in demand for digital services facilitated by IoT has created confusions about the privacy and security of these systems. But, to the relief of customers, mobile app developers ensure that their data and related information are encrypted and protected. Don't you think it is amazing to get IoT free of cost, while all your information is secure and safe?
The growth of IoT will bring about further changes in the mobile app development and they will work hand-in-hand complementing one another, while ensuring that the customer needs and requirements are taken care of well.
Evolution of IoT
The first known use of IoT or it is said to be have launched in the year 1999. Since then, there was no looking back for IoT as there was always a constant growth. All the different domains of the business world are today enjoying the benefits of IoT. We have reached an extent where starting from the apps on our devices, which includes wearable ones, such as watches, are all operating with IoT embedded in these. The major concern of businesses to connect personally with every customer has been sorted out here as it provides customization, which varies from one person to other.
Here, is a glimpse into how the emergence and evolution of IoT and mobile apps have affected people and their lives:
There is around 40% increase in the people using smartphones in the past 4-5 years
On an average, it is believed that more than 70% of Americans own a smartphone, which is a tropical hike when compared with the usage in 2011, which was reported to be only 35%.
More than 90% of Americans use mobile phones that can connect to the world wide web.
These numbers suggest that with more number of people using smartphones, mobile app developers have the liberty to explore and experiment their innovative ideas.
The only thing you need to be careful when building these mobile apps is that you create and release it when the demand is on a rise.
Mobile app development and mobile devices provide further scope for the IoT-enabled devices to expand and flourish. Almost all the sectors, including education, travel, fashion, healthcare, restaurants and others, are utilizing the excellence of IoT for better.
How can your business benefit from these?
When customers utilize or use your mobile apps, there is automatically an engagement happening there and a satisfied customer would never leave without offering a token of courtesy for the service that you offered them.
The costs for developing mobile apps are cheap, which helps in cutting the extra costs that are utilized for sending newsletters and messages. Apps are a direct medium for communication between customers and businesses, and you can stop annoying people by hitting their mail boxes with spam every time.
The site loading speed and time is saved here as there is no web browsing required. The app is clear and transparent providing the customers with an idea of what is to be done here.
Unlike the traditional websites that actually gulp all the time of the visitors, mobile apps are smart and provide quality services, where in they can find what they are looking for and perform the desired action within no time.
A lot of features are available with the mobile apps, including notifications that appears in the news feeds of social media sites, such as Facebook, that provides the users with insights into the latest updates.
This also contributes a great deal in the promotion of a business. It also provides you with substantial information on their demographics and behavior pattern, which can be used in future for improvising your products and services.
Socializing with your people is also possible with these mobile apps over the social media sites, as these provide options for likes, shares and comments, which helps in enhancing your visibility over these sites.
IoT devices are smart, safe and secure, which ultimately helps you to save and store a lot of vital information related to your business and customers.
Moreover, the main intent of these devices is to provide ease of use and flexibility to the users. Of course, all businesses are here and operating with an aim to provide 100% satisfaction to their customers. Once the people start using these IoT-connected mobile devices, then, they will never want to switch over from this for the ample of number of facilities that these provide. The developers are working with one and only one aim and, that is, the end user's satisfaction.
Do you think you have a great product idea, which you think will be accepted by your people in this time? Then, allow us to help you further develop these.
Acodez is a mobile app development company in India offering different kind of services like app development, business branding and web design services in India and abroad. We also provide SEO and digital marketing services, and business intelligence as well.
Looking for a good team
for your next project?
Contact us and we'll give you a preliminary free consultation
on the web & mobile strategy that'd suit your needs best.