As you are aware of it, Twitter has unveiled one of its most brilliant live video streaming mobile apps to date, "Periscope". Six months into the ground, Periscope has managed to gain a wide range of popularity among the iPhone and Android Smartphone users.  Meerkat, another similar kind of video streaming mobile app is already popular for the wide number of functionalities that it offers.
Periscope has been downloaded more than 10 million times already, as people find it easier to relate to this kind of a live streaming app as it connects them to the real time business world with just a tap on their smart phones. Though Periscope and Meerkat have been among the very few innovative live streaming apps that are available today, the former seems to be more in demand than the latter. Actually, researchers and experts have not yet confirmed which among these forms the best from the business perspective and in future which one will create history?
As I have already discussed, both Periscope and Meerkat exhibit similar functionalities and these includes:
You can view live video streams while you are online
Use a simple URL and share the live video stream with your friends (If you find it to be informative and impressive)
Available for both iPhone and Android Smartphone users
These are some characteristic features of Periscope that you cannot find in Meerkat:
It automatically saves video which is available for the next 24 hours
These video streams are shared via Twitter
Once the original filming has been accomplished, the users can view these video streams
People can create and view videos via private streams (Privacy is guaranteed)
You can turn on and off the comments section as per your choice
These are the interestingly attractive features of Periscope that Meerkat does not have though it provides the audience with an opportunity to interact with you via the video's commenting section.
Why use Periscope?
It is one of the simplest and highly-innovative mobile apps that bridge the gap between real time and virtual world. You can use Periscope to broadcast a live video stream from your phone, possibly from anywhere at any time.
Whenever you are up with a video, your followers will be notified about your Periscope engagement and they can join you. Usually, the nature of these broadcasts is short and offers nothing less than 24 hours of replay something that Meerkat fails to do.
I have seen quite a lot of my people on Twitter utilizing Periscope these days for their Business. Some are using Periscope to broadcast their first romantic dates, while I remember watching someone in a hair grooming parlor and here was someone enjoying a holiday along the Miami Beach with their families, and last but not the least, businesses are using Periscope to build their brands which helps in acquiring followers. I would suggest it is one of the best platforms where brands can experiment and reach out to their people through real world.
Twitter brings you Periscope with an intention to increase Engagement through likes, there is no doubt that people will come to you as the interaction is happening in real time. Twitter has been encouraging brands to try and utilize Periscope for improving their business and brand engagement and Twitter's spokesperson was quoted saying, "Brands can forge a more personal relation with consumers using Periscope to give them real time access to anything & everything that they are doing".
I have seen quite a large number of businesses implementing Periscope to provide people with a deeper insight of what is happening behind-the-scenes or to conduct live Q-A sessions which brings in a great audience engagement.
Now let me take you across these simple things that 9 times businesses benefitted from Periscoping:
1.Personalizing relationships 
You have been constantly searching for some or the other means to stay close to your people and create emotional ties with them. Social media networking sites do provide you with options to stay connected, but the influence of Periscope is far beyond your imagination. Here Periscope provides you with live video streaming and broadcasting while people all around the globe can catch you whenever you go live. This is one of the points how real time helps businesses to reach out to their audience in a better way. Now, that you are broadcasting a video, why not personalize it? Take your people to the humans behind the screens.
 Give them a deeper insight into your business and this will help you to develop an emotional attachment with them. This reminds me of a quote made by a famous marketing organization's founder: "People love the idea of being on the inside. A rare look of where the magic happens. "
They are happy to glimpse the moments of what life at your organization is like.  You do not have to create a special event or occasion for the video, but capture in some of the exciting things like for instance "how your team plans a website design strategy", if you are a web development company. Let me make it even simpler- you can even shoot those birthday celebrations at your office and invite your people to join in the party.
 The rule is quite simple people just love to stalk at what happens in others lives. Apply it for your Periscope sessions. Trust me. It actually works.
2. Exhibit your products
Now that you have already shown what life is like at your organization. Let us move a step ahead. I would like to take a page from those movie promotion series, wherein a lot of T.V. shows give you an insight into the making of these movies. You are excited to catch your favorite stars at shooting. Apply it here. Instead of cameras and story boards and actors you have your products. Periscope a video that has shots of how you work on developing a product. For instance, if you manufacture chocolates, take your people across a tour of the manufacturing units and give them a glimpse of the ingredients used and their quantity, how these are processed by those manufacturing machines. It would be really exciting for your people to learn how you do it. This kind of an approach will help you to build their trust. The view of your product through periscope, gives them a feel of entering in to your family and being a part of it. They are actually walking through how things work in real-time. It promotes quality that builds trust.
3. Product Demos
I hope now you are seriously considering walking your people across the real time product development process at your organization. That is not all. Further, you can use Periscope to market your product. Broadcast the live video stream of your product's demo. Till date, we are used to product demos or guidance for people to use our products just through the static web page content and images that are uploaded on our websites. But when you exhibit it for them live, they actually get an idea of how your product exactly works. It gives them a feel of how simple it is.
Businesses have been on a hunt to find an appropriate media to exhibit the height of technology that prevails in their related industry and how they implement it. Now, Periscope makes it easy as it provides a live video streaming of the technical functionalities in real time.
4. Tutorials
Since the day internet became people's source of information, tutorials has been one of the most sought out form of information or guide. This brings us to the next point that is using Tutorials or live training sessions to help out people. You are now utilizing Periscope to teach something of value to someone absolutely free of cost. This is one of the proven ways to be an industry expert.  It helps to increase followers and customers as it adds value to their lives. When people find something valuable and useful available for free, they spread word. This will increase your fan following and audiences. People will approach you, now that they know how awesome it is to work with you.
5. Offer something
 The same old rule applies here; your visitors are your bread and butter. Don't miss them.  Offer them something in return for visiting you. It is not like you are not offering tangible products so you lose out your people, do not worry; periscope will exhibit what your company has to offer and how they can benefit from it.
6. Live Events
Interact with your people, bring them closer to you. Request their participation in your organization's happiness whenever a new product or service is being launched or you are organizing an event. Through Periscope you can make it live and have your people with you at the best times of your organization though they might not be able to attend the event in person.
A company Startuppop.com has been organizing monthly startup events where they invited around 10 companies to pitch in the presence of the investors and the video was broadcasted via Periscope and the final outcome was splendid.
7. Live Q & A
 Q&A facilitates interaction with your customers. I am not talking about the frequently asked Questions that you have set up on your website that needs an update regularly, though none of us including mine are most of the times outdated as we often fail to do so. Here, let me change the strategy and make it easy for you, there is no need to strive hard to update these list of Q&A. You can use periscope for a live streaming session of Q & A with your people.  Advantages of Live Q &A:
You can showcase your experience and expertise with realism
It also provides you with an opportunity to think across the various possibilities rather than the repeated questions on your web page.
8.Live Webinars
Just like Live Q&A, you now have the option to hold live webinars on Periscope. It is one of the easiest and cost-effective approaches. No specialized technical skills or web fees are required for hosting webinars. I would recommend that you utilize Periscope for conducting live webinars as it helps to boost engagement. It can create an excellent visual impact and people can experience your expertise before their eyes, when you respond immediately in real time to their questions. It also provides your business with a great learning opportunity as you have something to contemplate on with the new questions and you can boost the audience engagement by acquainting with the problems that people face regularly. Also, you can familiarize with the audience terminology.
9. Customer Service
You have been asking people to contact you for a better customer service on your website for ages now, and you answer the questions, let us change the monotony. Imagine how fruitful it would be when you are providing them with customer service via Periscope.
Let me summarize our discussion on how effectively Periscope can be utilized for businesses:
Builds relationships
Product Exhibition
Product Demos
Tutorials
Offering something in return for visiting
Broadcasting Live Events
Live Q&A
Live Webinars
Customer Support
Now I shall reveal the simple steps to setting up your first Periscope:
As we have already discussed, Periscope is Twitter's property and you can utilize it via your Twitter account or signup for a free standing Periscope account.
Login to your account and activate your camera, location and microphone.
Privacy
Whenever you broadcast a video, you can decide whether you want it to be private (accessible to your friends & followers or a few selected users) or public (anyone can have access to it). Like Facebook, you can report inappropriate broadcasts as well as block users.
Title
You need to use a title for your Periscope broadcast. If you are logged in to Periscope via your Twitter account then it will tweet you are broadcasting live on your behalf with the title of your broadcast. You can use one or two hash tags if need be, but make sure you keep it small, simple and attractive.
Camera
 I have seen a lot of people; including one of my colleagues who tried to broadcast his first Periscope video, complain the annoyance caused by the camera as it does not allow you to change the direction until after the broadcast begins. Now you can just double tap the camera to turn it in your direction. Let us hope they work over it and get it fixed soon.
Alerts/ Notifications
Your followers will be alerted with notifications whenever you go live to broadcast a video and they can catch you in real time or replay later.
 Viewers can send in comments while you are broadcasting and these comments are visible to you and other viewers in real time. The Q&A sessions are quite fun and engaging.
Hearts
Hearts are Periscope's replacement of the Facebook likes. With a tap of the screen viewers can give you hearts, and unlike Facebook, there is no limit to the number of hearts someone can give you. Depending on the number of hearts that you receive your ranking will be determined, the number of hearts you have, higher your ranking goes in the app's most loved section.
Stop Broadcast
You can put a stop to your broadcast with just a swipe on the screen that will reveal the stop button. Save the broadcast to your camera roll, you can even choose to share the link to your broadcast replay on the social media sites. Viewers can watch it from their web via the link within 24 hours of the broadcast.
Viewer Statistics
This will help you to judge your Periscope broadcast. You can swipe right to check the number of people watching the live broadcast. Once you are done with the broadcast, you can analyze how many people watched it live, the number of hearts they gave and how many replayed it. These statistics are saved in your settings and you can use these for future reference.
It is normal to feel uneasy when you go live with a live audience watching you. No one is perfect, but you can perfectionize, in the mean time don't miss out this opportunity to be in the real time. Periscope does not allow you to schedule broadcasts, but it is a lot more fun and excitement when you broadcast spontaneously.
Getting Started
Here is a demo on how my colleague helped me with my efforts on using Periscope for the first time. Follow these simple steps for your broadcast:
Easy to download & install
Go to the App stores and download the Periscope app. Once you download it, install it. Now that you have installed it, you need to Login or Sign Up. You can either choose to login using your Twitter account or you can create a new profile. After signing up, you need to confirm authorization by clicking allow.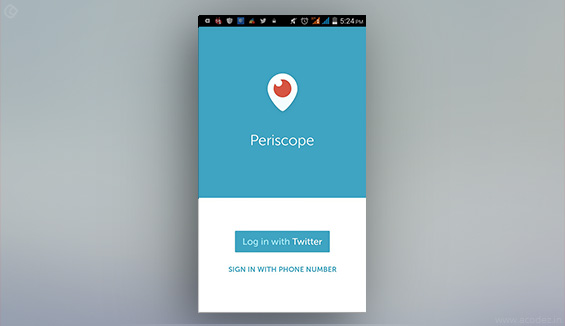 Login screen
When you login to your app, your screen will show these:
Firstly, you will find 3 icons. In the below shared image you can find a TV icon, and it is showing activity in that particular TV icon. Apart from the TV icon there are 2 more icons that we will be discussing later.
Here, in the above image (my colleague's Periscope trial), you can find that he is already following some friends and it shows the people who are currently live on the list. And here in this case no one he is following is active and so it says "No one you are following is live".
The Featured Periscope displays the broadcasts with the maximum number of hearts. Below the Featured Periscope, you can find the outcomes of your already broadcasted periscopes and the periscope activities of people you are following. It provides you with the information on how many broadcasts have been recently added. Now check the right hand corner towards the end where you will find the image of a red colored camera, and you will be live streaming your broadcasts via this camera.
Camera
When you click on the camera, it will take you to the below given page (find the screenshot). Here you can live stream your broadcast. There are two kinds of live stream: one is public and the other is private. The same image appears if you decide to go public, what happens with private will be discussed later. Here you can make smart implementation of # hash tags and emojis to increase customer engagement and visibility. Below this you can find 3 icons: 1.) arrow 2.) Message & 3.) Twitter.
Arrow denotes the location from where you are broadcasting.
Message is a chat box that allows people you are following to indulge in a conversation with you. If you choose to chat with a selected category of people you can customize the message box's visibility accordingly. It can be set according to your preference: you can choose to chat with everyone or chat with only the selected list of people.
Twitter allows you to share your live stream on Twitter. It will take your broadcast across more number of people and they can join your live streaming.
Broadcasting
Once you have filled in your live streaming details by choosing on the action, messaging and twitter (as discussed above). Now you can click on the "Start Broadcast" option to start with the live streaming.
When you start your broadcast, you will see the below given screen (check the screenshot). It provides with the on screen option that allows you to activate the front camera. Here, your audience can communicate with you. You can respond to them by answering their queries and even ask them some questions. On the right hand side, the hearts will start blooming, which denotes people like your broadcast. You can provide hearts by tapping on the right side corner. A person can give any number of likes for a video (the maximum limit being 500 hearts). If your video scores maximum number of likes, then undoubtedly it will be listed in the featured video stream on your periscope account.
Once you are done with your broadcast, you can click on the screen to end it and you will find a red colored tab appearing with a "Stop Broadcast" option.
The below screenshot is a video reply and so you can find a pause button towards the bottom right side.
When your video is live it will show the number of users joining the live stream
Icons
Next to the TV icon, you will find an icon denoted by globe which shows location. This will display the information of the active periscope users across the globe, which means you, can see the list of people broadcasting from different places. You can search for locations and find out where live streaming is happening. You can also replay the saved videos for that particular location.
Settings
This tab allows you to follow active people on periscope. It also allows you to search for people and these are mostly your twitter followers. At the top right corner you can find a symbol that denotes person, which is your profile. You can click on that to access your user profile. Just like the other social media platforms you can edit your user profile. Also it displays your account details including the list of your followers, people you are following and the blocked users (you can choose to block a user) and also the broadcasts.
Below this you can find the settings option, where you can choose to record your broadcast with the Auto Save broadcast option.
Tips to effectively utilize your Periscope Broadcast:
Use Bit.ly link to promote your landing page (pin some lead magnets to your landing page) and make sure you have one landing page so that you can convert your audience into your sales funnel.
Use #Hash tag and emoji in your Broadcast, it will attract more user engagement
Don't forget to share your broadcast via your twitter account
Engage your audience. Introduce some activities and tasks that will keep them engaged throughout the broadcast.
Request your audience to share your scope with their friends
Request your followers to take screen shot and post it on their Instagram with #hash tag
Provide your audience with some valuable tips
Keep the interaction live by asking some questions
Here, you can check out the Infographics: 20 Simple Business Periscoping Tips to Increase Customer Engagement!
Acodez IT Solutions is a leading web development and digital marketing solutions provider with 9 international awards in its kitty for our expertise in developing awesome web designs with no compromise over quality. We also offer inbound marketing and SEO strategies for the success of your business. For more details, contact us today.
Looking for a good team
for your next project?
Contact us and we'll give you a preliminary free consultation
on the web & mobile strategy that'd suit your needs best.