Analytics is a broad concept used in many business and marketing contexts. But at the end of the day, it's about gathering crucial data to learn more about the consumer experience and using what you know to improve the procedure.
To improve the customer journey before and after the purchase, you'll want to understand two specific sorts of analytics: product and marketing analytics.
Today's organizations have realized that data is the best method to advance their operations. Technology and analytics are now standard terms used in business meetings, frequently by people who have no idea what the terms they are saying imply.
Nevertheless, gathering more data and conducting the appropriate analysis have become integral parts of almost every modern organization.
"Product analytics" and "marketing analytics" are two of these terms that are frequently (and wrongly) used interchangeably to allude to a general awareness that data analysis is crucial without articulating the reasons or justifications.
However, they are relatively diverse technologies that call for various skill sets and approaches to data collection. The names make the main distinctions and similarities clear on an elementary level.
They are analytical tools, one with a product-level focus and the other with a narrow focus on customer retention and brand loyalty marketing activities. But let us dive into more detail about what each one includes.
According to Statista, responding marketers from the United States stated that 37.7% of their initiatives used marketing analytics to guide in choosing in February 2020.
Since industry experts have been debating the extent of analytics engagement since February 2019, it appears that a resolution as to whether to employ analytics in marketing or not is still up for debate.
What Is Product Analytics?
Product Analytics Concept – Image Source: Medium
Every business wants to keep new customers and gain more value from them. You can get vital information from product analytics, such as the percentage of users who signed up and carried out the action you wanted.
Businesses can concentrate on offering excellent user experiences by comprehending the journey of their visitors and by paying attention to every activity they do on the website.
You can monitor some of the crucial user interaction metrics with a product onboarding funnel, such as the time it took consumers to get from knowing about your product to purchasing it.
You can find out where your users are having trouble with the onboarding process by establishing these funnels. Product analytics helps you better understand your target market by examining user behavior.
Product analytics give you helpful information based on how users engage with your product, which helps you better understand your customers and improve your product.
Since it is not good to conclude with the essentials of data, product data analytics only function efficiently if a company has a specific measure of consumers.
If your consumer base is small, doing brief surveys and requesting user feedback would help you find any product flaws and provide helpful information about your product from the customers' point of view.
It is usually wise to keep an eye on a few occurrences first and expand with study and knowledge gained from their prior results.
To thoroughly examine customers' actions and produce significant results, you must instead have a minimum threshold of users for your product.
You can use this information to inform critical future decisions, such as investments in marketing.
What Is Marketing Analytics?
Marketing analytics measures the effectiveness of your marketing. Marketing initiatives now take place simultaneously across numerous platforms, and marketing analytics gathers all of these activities into one location to assess their coherence, effectiveness, and success.
The primary purpose of marketing analytics is to provide this single picture, which allows one to determine marketing choices at a macro level and then distill them down for each specific channel or platform.
The ROI of marketing activities or attribution can be determined by analyzing the quality of marketing endeavors.
You can examine a staggering amount of data through marketing analytics. Customers' online purchases, customer-level data, market and competition research, as well as the data, included.
Sales, customer support, and data related to a particular campaign fall under this category. All of this serves the purposes of ;
Maximizing marketing efforts and return on investment (ROI).
Encouraging consumer action.
Streamlining marketing campaigns.
Customer retention
Statistics of Companies Using Marketing Analytics – Image Credit: Hbr
Differences Between Product and Marketing Analytics
When discussing analytics, most marketers cannot decide between marketing and product analytics. How different are they? Which analytics would be most beneficial for your company?
Here are some of the differences between the two.
1. Product Analytics Gathers Information From a Variety of Sources
Marketing analytics data is gathered from various marketing channels, so it is only relevant to marketing activity.
On the other hand, product analytics collect information about your product, including information about customer events. In other terms, user-level data is integrated into product analytics.
Compared to marketing analytics, product analytics is more complicated.
For instance, constructing a funnel in marketing analytics is more straightforward than doing the same in product analytics since the events that generate the steps of the funnel are more constrained.
You can monitor numerous user activities in your app, and each business has a unique framework for gathering various user events.
Because customers in Uber and Just Eat act differently from one another, you must use multiple user events to map your product goals accurately and then perform your analysis on selected metrics that are exclusive to your company.
More distinctive user experiences will be available to collect as new industries develop.
2. Product Analytics Is Centered on Various Customer Funnel Phases
Earlier phases like customer acquisition and conversion are given more attention in marketing analytics. The steps before your target reach converts to consumers are the metrics' emphasis.
The term "customer" suggests that product analytics concentrates on the later stages since it gathers information about your customers, whereas, in product analytics, customer event data is the primary data.
In other words, a business with an online app seeks to monitor how many leads and potential consumers have been contacted by their most recent marketing efforts and how many have installed the app and turned into paying customers. Simply put, this is marketing analytics.
Suppose the business wants to know what proportion of its recently gained clients will use the app again. The next step is to use retention, a type of product analytics, to obtain such data.
Product analytics concentrate on the last stages of the customer journey, whereas marketing analytics concentrate on the first stages.
3. Product Analytics May Contain Private Data While Marketing Analytics Uses Public Data
We know that data acquired for product analytics is tied to user behavior, but data collected for marketing analytics is related to marketing.
As a result, the obtained data's confidentiality varies. Marketing analytics data is publicly available and does not infringe on people's privacy. In product analytics, things are different because you have to get certain private information.
For instance, details like name, family name, address, email, and mobile number are regarded as delicate and sensitive data. You must transfer your data to a third party to evaluate your customer behavior.
Some companies have greater latitude regarding security, but others, including ride-sharing, healthcare, and insurance, are highly cautious about disclosing their customers' personal information.
4. Marketing Analytics Concentrates on Boosting ROI; Product Analytics Concentrates on Raising Product Engagement
While both business analytics aims to boost sales, they go about it differently.
By identifying the factors that influence product engagement and then replicating those factors, product analytics enhances revenue.
For example, you would want to give a specific feature great attention and search for ways to improve it if clients are receptive to it. Nevertheless, if the data reveals that users hardly ever utilize a particular function, you could wish to modify or obliterate it.
Marketing analytics generates revenue by reducing campaign inefficiencies, removing underperforming marketing channels, and increasing expenditure on top-performing channels to boost ROI.
You may maximize the use of every dollar by identifying the marketing channels and tactics that are most effective.
5. Solutions For Product Analytics Focus on Product Improvement While marketing Analytics Focuses on Improving Marketing Campaigns
Product business analytics take effect after a lead turns into a customer.
Your current objective is to produce the most effective possible customer experience, which is accomplished using data analysis to enhance product features, eliminate trouble spots, and spot broad trends.
In the long run, this helps to raise client retention and increase product engagement. Conversely, marketing analytics is utilized in the activities before the conversion.
They concentrate on issues including identifying the most effective digital marketing channels, picking the most effective content to appeal to various target demographics, and discovering marketing automation options.
The goal is to assist you in attracting high-quality visitors to your website, convert the most significant percentage of that traffic into leads, and then convert the most considerable number of those prospects into customers.
Product analytics are used to enhance products, whereas marketing analytics are used to improve campaigns. They also provide tremendous client success when employed in tandem with one another.
6. They Employ Different Analytics Tools
Different technologies are needed to retrieve the data since product and marketing analytics track different phases of the customer experience.
A few marketing analytics solutions include Crazy Egg, Woopra, and Google Analytics.
Their main objective is to provide information on which marketing techniques and channels produce the best results and what changes can be made to maximize your entire marketing efforts. These vary widely in terms of their specialized capabilities.
Product analytics tools aim to inform you of how customers engage with your product, including which elements they use most frequently, how frequently they spend using it, and other information.
The most well-known product analytics tools are Mixpanel, Amplitude Analytics, Pendo, Heap, and Glassbox.
Product Analytics Tools & Features
Various products available on the market can assist you in completing specific product analytics tasks and achieving your ultimate objectives, which include enhancing customer experience, making your product "sticky," and keeping trial users and paying customers.
1. Mixpanel
Mixpanel is solely a tool for analyzing products. 
Monitoring client interaction with your online and mobile applications and leveraging the information to raise customer engagement are the fundamental tenets of Mixpanel.
For teams working in data science and product management, Mixpanel is ideal.
Mixpanel Product Analytics – Image Credit: Mixpanel
2. Amplitude
The most valuable businesses and innovative teams use Amplitude, a digital optimization system, to analyze and customize their digital products and maximize the commercial potential of new product development. 
Amplitude Analytics can help you answer questions that are essential to your digital product strategy, such as how users interact with your application, which features they find most interesting, or how to increase long-term user retention.
As the only analytics tool with real-time analytics, cross-platform tracking, powerful behavioral analytics, enterprise-level security, and customer support, it is also the only one designed to satisfy the demands of contemporary product and growth teams.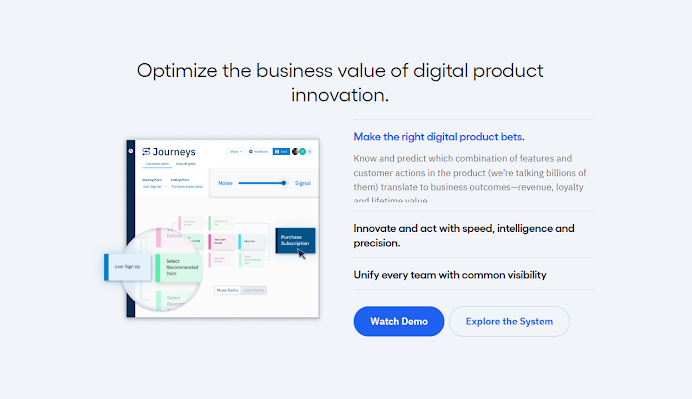 Amplitude Analytics Tool – Image Credit: Amplitude
3. Heap
The web and mobile analytics solution Heap has features comparable to MixPanel. 
You can keep tabs on every action your website visitors take using heap analytics. You may also utilize it to choose the events you want to see and analyze for your dashboard.
You can use it to track each user's behavior and divide them into groups depending on that behavior.
Heap Product Analysis – Image Credit: Heap
Product Analytics Features
1. Analytics Segmentation
Analytics segmentation helps to provide more significant insights on the specific occurrences and lets you pick particular features that are very important.
It also offers comprehensive demographic data for various events, which is typically shown as charts (line, bar, pie)
2. Cohort Analysis
It is a branch of behavioral analysis that divides customers into comparable groups known as cohorts rather than treating them as a single entity.
It allows you to set up activities alongside the client properties, one at the start and the other as a goal, and it considers various events.
It enables you to gain additional insights, such as the days needed for users to finish their second activity. It provides you with streamlined data in charts that often divide the data into first-time, recurring, and power users.
3. Analytical Funnels
Analytics funnels help you better understand your customer's journey. They are a string of things you want people to pay attention to.
It assists in locating users who have reached the last step, are stuck in the middle, or have been dropped.
You may quickly determine the cause of the drop and propose the desired modification by keeping track of this crucial information, such as the client dropping rate at each stage.
Tools For Marketing Analytics
1. Google Analytics
Among all the systems for marketing analytics, Google Analytics is arguably the most well-known. It is famous and accessible and has been operating for a while.
Because Google Analytics was created to capture web analytics metrics, it has few options for other types of marketing analytics.
Additionally, it only takes a small portion of the actual data for several reports. It uses session-based monitoring (which prevents you from drilling down to follow specific individuals over time).
Nevertheless, GA excels at responding to brief web analytics queries like "which marketing channel is bringing the most traffic to this page?" or "Which social media channel is genuinely driving traffic to our website?"
Google Marketing Analytics Tool – Image Credit: Analytics
2. Woopra
Woopra is a comprehensive marketing analytics program. Woopra might be your best option if you're searching for a unique tool that handles all the bases, or at least many of them.
The main selling point of Woopra is customer journey analytics. The platform includes end-to-end customer journey tracking and visualization to assist you in comprehending your clients' experiences from their first ad click to their first purchase and beyond.
Woopra's event-based tracking allows it to delve down to the level of specific users to comprehend their activity. But it also compiles trip data into understandable visual reports that show how clients proceed through their travels.
Woopra can combine data from various sources to track users throughout their entire customer experience.
3. SEMrush
SEMrush is a marketing analytics tool showing you what your rivals are doing.
It can help you outrank your rivals in search results and gives its users an easy method to keep an eye on their rivals' social media pages, brands, etc.
It can also be utilized to monitor your own business. The analytics reports option in SEMrush reveals the AdWords keywords that your rivals are using.
It can also assess the competitiveness of the keywords you intend to utilize in your advertising efforts.
It is a valuable tool for marketers who want to boost their search engine traffic and keep an eye on what their rivals are doing.
SEMrush Marketing Analytics Tool – Image Credit: SEMrush
Conclusion
Every business in the modern world knows that gathering data is essential to success. However, there must undoubtedly be a sense of direction and structure for how to gather and do it.
Marketing analytics is a terrific tool for centralizing marketing data from numerous channels and bringing it together to improve campaigns and client acquisition.
Similarly, product analytics compiles all the information gathered from the various ways customers use the product to help you improve it and increase engagement. These tools are utterly incompatible with one another.
They are not pretty identical, but because of how well they complement one another and how they improve the overall customer experience, they are both essential for any aspirant firm in the modern era.
Acodez is a renowned web development company and web application development company in India. We offer all kinds of web design and Mobile app development services to our clients using the latest technologies. We are also a leading digital marketing agency in India, providing SEO, SMM, SEM and Inbound marketing service at affordable prices. For further information, please contact us.
Looking for a good team
for your next project?
Contact us and we'll give you a preliminary free consultation
on the web & mobile strategy that'd suit your needs best.