Besides enhancing a company's products and services, it is essential that businesses also learn to keep the interests of their customers close.
You should familiarize yourself with your customers' wants and needs, in the same manner, you understand your product offering. Indeed, the value proposition connects the two goals seamlessly.
A value proposition answers the 'why' customers should buy products from you – it tells your prospects the features and benefits of your products and services, and what makes them stand out from those offered by the competition.
Customers will explore and evaluate your brand based on the value proposition presented, making it essential to have a clear and concise statement to act as a selling point.
Remember, you've got about 15 seconds to create the right impression and capture a site visitor's attention.
In this article, you'll learn what a value proposition is, its characteristics, how to write an ideal value proposition for your business, examples, and common mistakes to avoid.
What is a Value Proposition?
A great value proposition speaks to your customers by telling them what you have to offer.
In addition to the standard product features, the value proposition tells your audience how your product solves problems, the benefits to expect, and why customers should buy from you instead of your competition.
A powerful positioning statement will make a strong first impression, convincing customers to buy from you. It illustrates what benefits you offer for clients and how well you differentiate your offering.
Remember, the value proposition should be as clear as possible to ensure it conveys your intent in one sentence or phrase.
Present all the benefits and solutions your product or service offers in a quick and digestible manner to make the right connection with the buyers.
Characteristics of an Effective Value Proposition
Your value proposition should stand out to differentiate your brand from the competition and connect with your target audience easily.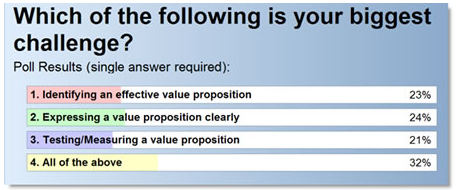 To do so, ensure it meets the following requirements:
Outline your goals and product offering.

Be precise and easy to understand.

Enable visitors to search and locate your online store with ease.

Show how your product or service solves potential customers' problems.

Be displayed strategically on your website's homepage or product pages.

Let the customer understand why they should buy from you instead of your competition.
While these elements appear too many to fit in a concise value proposition, the secret is to ensure you identify the key elements that would sell your business idea to the customer.
Express the idea clearly and test or measure the performance of the value proposition on different customer touchpoints.
You should also keep in mind the following issues, which affect the ability of marketers to present their brand effectively:
Failure to identify the company's value proposition

Failure to clearly express the value proposition

Failure to test or measure the value proposition
A clear value proposition will improve your conversion. Therefore, ensure you cover all the internal and external factors when crafting one.
For instance, according to the above formula for MarketingExperiments Conversion Sequence, factors like motivation, clarity, incentives, the level of friction, and anxiety caused by the process are factors that can affect the quality of your value proposition.
Motivation (the match between the visitor and the offer) is the leading factor to consider to ensure your target audience is convinced that your product will meet their needs.
How to Write a Value Proposition
Now that you understand the elements to consider in your value proposition, let's dive into the process of writing one.
1. Create a Value Proposition Canvas
The value proposition canvas will help you determine the minimum viable elements of clarity, which can be described in a one-sentence value proposition.
Coined by Peter Thomson, the idea behind the value proposition canvas is to explore how different aspects of your company can contribute to a strong positioning statement.
When creating a value proposition, you should aim at blending business strategy and brand strategy. Anticipate what your customers would want to gain from buying your product.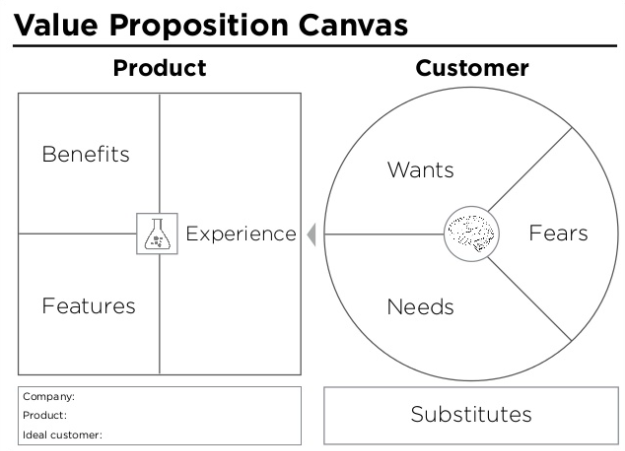 For instance, when noting down the benefits, features, and experiences expected from using your products or services, imagine how these aspects help improve or decrease pain and fears for the user.
Does your product offering improve the customer's quality of life or does it enhance the customer experience?
You should then focus on the customer's wants (emotional triggers), needs (rational drivers), and fears (undesired outcomes).
Emotional aspects are difficult to measure, but they are crucial in determining a customer's purchase patterns. For example, customers will be concerned about what your product does and how it feels to use it.
In terms of fears, your value proposition should address any hidden needs, while the features should cover the workings of the product.
Next, you can use Bain & Company's 30 Elements of Value, including emotional, functional, life-changing, and social impact, to create a value proposition that addresses your customers' personal needs.
For instance, motivation is a life-changing aspect to incorporate in a positioning statement for a brand selling exercise-tracking products, such as Fitbit.
Your goal should be to articulate the value proposition in ways that improve your customers' quality of life in a given context.
2. Use Harvard Business School's three Prompts
The Harvard Business School Institute for Strategy & Competitiveness defines a value proposition as the value a business creates for the customers.
While the value chain focuses on a company's internal operations, the value proposition looks at the demand side, mainly the consumers.
Therefore, you should brainstorm the following questions to create an integrated, cohesive value proposition:
What customers? – Who are the end-users of your product or service? What channels do they use to interact with your business?

Which needs? – Which products, features, and services are appropriate to meet their needs?

What relative price? – What relative price will enable the customers to enjoy the value extended in a profitable manner?
The three prompts will help you create a clear and concise value proposition that meets your customers' needs. When using the model, consider which element brings the greatest value of the three elements in the triangle.
For instance, a business whose goal is to offer cost savings will prioritize relative pricing, while another focusing on product quality will create a value proposition highlighting solutions offered or needs to be met.
3. Use the Steve Blank Formula
Steve Blank is a former Google employee whose value propositioning formula focuses on the benefits consumers gain from using a product rather than the features.
According to Blank, you should create a value proposition summarizing the value your company offers to customers. To achieve this goal, you can use Blank's formula to brainstorm ideas and distill them into a clear, simple sentence:
"We help (X) do (Y) by doing (Z)"
Once you have a statement in place, ask a few people if they find the value proposition sensible. If they don't, formulate a longer version of the statement and ask them to summarize in their version.
What other people will perceive as a concise, clear, and value-adding positioning statement is most likely the ideal value proposition to go by.
You can get insights from a group of people and compare and contrast answers, giving you helpful tips about everyone's priorities.
See below example of a short value proposition using Blank's format:
"We empower our local residents to live healthy by offering fitness solutions in a community-based setting."
Your objective should be to craft a value proposition in the language of your customers. You should write it the same way your customers would to ensure your offer is in sync with what they see and need.
Let's now look into real-life applications of value propositioning.
5 Examples of Value Proposition in Practice
Companies don't always publish their value proposition. However, we are able to get a grasp of what the positioning statement is depending on how well and far the message resonates.
The following are the top 5 value proposition examples to give you an idea of how the process works and how you can create one for your business.
1. Airbnb
Airbnb's value proposition is two-way, whereby travelers benefit from unique local experiences, while hosts gain extra income.
The company's goal is to create a space where anyone can belong anywhere through local, authentic, inclusive, sustainable, and diverse travel.
Unlike hotels, Airbnb hosts are located where people live, giving guests an opportunity to gain local knowledge and experience. Basically, you can belong anywhere.
As your business grows, you can model your value proposition to suit new and diverse benefits on offer. For instance, you may have more than one business segment, whereby you can market more expensive, premium packages with a different value proposition.
2. Uber
Uber's unique value proposition is founded on the idea of convenience, something lacking in the traditional taxi platforms. Indeed, the company's core promise is "Tap a button, get a ride".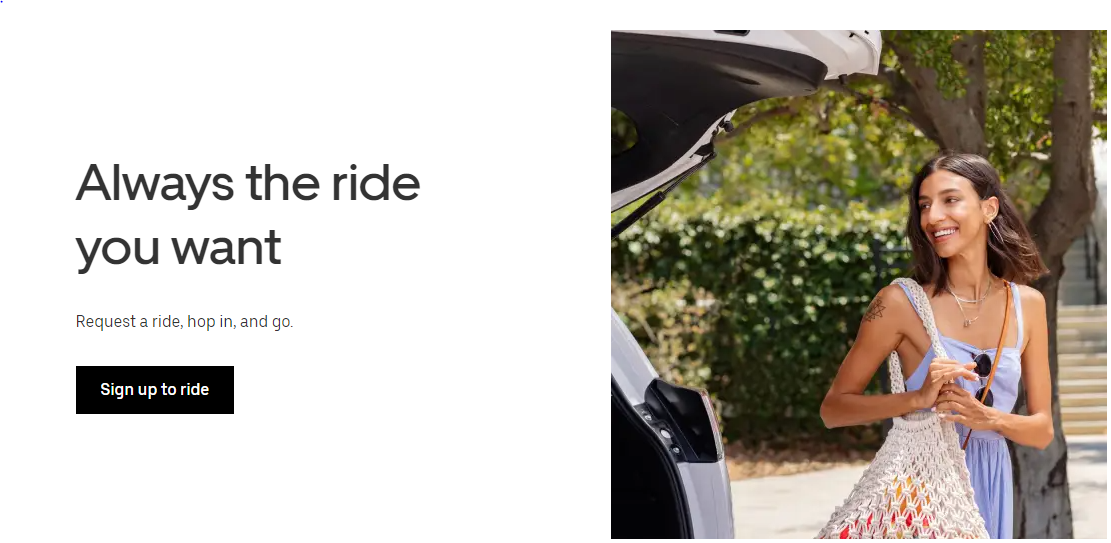 With a single tap on the Uber app, customers can order rides, drivers can view customers' location, and payment can be made online.
With the support of Google Maps, customers and drivers don't have to hustle explaining and understanding the intricacies of the travel routes and destinations. What an efficient, reliable, and customer-friendly model!
Uber's value proposition is clear in that customers expect to get the services ordered in a timely and seamless manner. The needs of the service provider, the driver, and the rider are met conveniently through the Uber app.
Similarly, you can craft a value proposition that meets the needs of your customers in a convenient manner, ensuring the features and benefits offered are always available and delivered whenever and wherever they are needed.
3. Shopify
Shopify's positioning statement is founded on the idea of helping businesses operate online irrespective of their physical location.

The company uses simple language to reach all sellers; Shopify promises to handle everything from payments, marketing, shipping, and safe and secure checkout for businesses, enabling them to focus on core operations, such as production and delivery.
The value proposition supports all eCommerce businesses to start, sell, market, and manage their operations.
What can we borrow from Shopify's strategy?
That you can create a value proposition that meets all customer needs from one platform. You can offer solutions to meet all customer needs, reducing revenue leakages caused when shoppers are forced to seek services from the competition.
4. Pagely
Pagely targets WordPress users by promising to offer a scalable and secure platform. The clear and simple value proposition offers benefits businesses would not get from WordPress.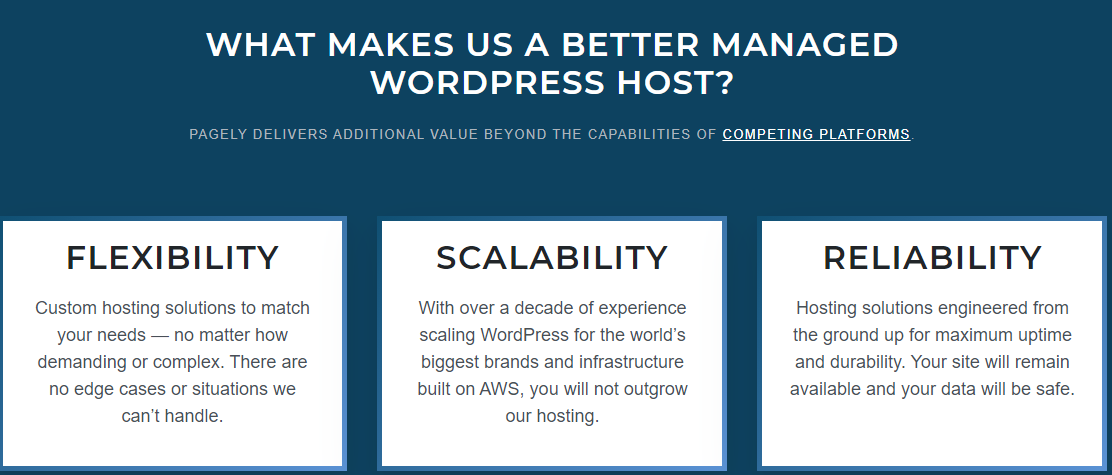 For instance, Pagely's customers stand to benefit from the platform's services, such as hosting support, managed DevOps, and personalized technical account management.
The managed WordPress hosting comes with enhanced SLA, enhanced deployments, and outstanding customer support.
When creating a value proposition, remember customers want value from your offering. While WordPress offers almost similar services as Pagely, the latter business model provides differentiated, personalized benefits, enabling businesses to scale their operations.
A value proposition promising flexible, scalable, and reliable services is all it can take to enhance your company's capabilities, enabling you to offer additional value beyond your competitors' capabilities.
5. Vimeo
Vimeo is a platform where users can upload high-quality videos. It is a more sophisticated version of YouTube.

Vimeo's value proposition makes it clear that users can post and view something "worth watching". Users can also create, manage, and share live videos through live streaming.
It is also possible to add powerful marketing tools to the videos to improve engagement.
Your value proposition should not only outline the features and benefits of your products but should also differentiate your brand from the competition.
Common Value Proposition mistakes
Crafting a concise, clear value proposition can be challenging for many marketers. Here are the most common mistakes to avoid when creating a positioning statement for your business:
Lack of proof
You must back up your value proposition with evidence. For instance, if you say you provide an eCommerce marketplace where consumers can buy electronics, you should display the products and deliver them upon request by buyers.
You can support your statements with user reviews and testimonials. Video testimonials or evidence of customers using your products are more authentic than write-ups and star-rated reviews.
For instance, Hootsuite's video testimonial by Wiley Publishing emphasizes collaboration instead of product or service benefits.
The video shows other customers what value they can get from using Hootsuite's services because it addresses customers' real concerns.
Similarly, ensure your testimonials demonstrate the solutions customers expect to get from using your products or services.
Lack of clarity
Ensure your value proposition tells customers exactly why they should visit your site or buy your products.
Don't leave customers wondering what exactly you are offering; let your positioning statement set your brand apart from the competition.
The statement should communicate your selling points with the target audience clearly and quickly, improving your engagement and sales.
You can improve your conversion rate by using convincing and customer-friendly language that tells users the benefits and solutions offered within the shortest time frame.
Failure to test or measure
Ensure to test your value proposition to tell which terms and language perform best or resonate best with your target audience.
A/B testing will enable you to craft a compelling positioning statement by checking which keywords or terms generate the highest conversion or click-through rates (CTR).
For instance, you can test the pay-per-click (PPC) ads by adding specific keywords to your ads. Each ad's CTR helps the company's marketing team determine which value proposition creates the best impression on potential customers.
Consider using either micro-testing or radical redesign testing methods.
Micro-testing enables you to test if your new value proposition is identified and expressed clearly. You can test the CTR for your ads, of which the ad with the highest CTR is the most appealing to your customers.
Radical redesign testing is a multivariable strategy enabling you to optimize several web pages with a focus on congruence and the effectiveness of expressing a strong value proposition. Optimized web pages can improve conversions by up to 150% or more.
Conclusion
A value proposition answers the 'why' customers should buy products from you. It tells them what makes your product offering stand out from the competition.
A good value proposition should clearly and simply communicate your goals in one sentence while indicating how your products or services solve customers' needs.
To capture the precise elements in your positioning statement, consider using ideas from tested methods, such as the value proposition canvas, the Harvard Business School's three prompts, and Steve Blank's formula.
Ensure to avoid common value proposition mistakes, such as the lack of proof, lack of clarity, and failure to test or measure performance. The clearer and targeted your positioning statement, the more engagement, and conversions.
Acodez is a leading digital marketing agency in India. Our services includes SEO, SMM, SMO, PPC, and content marketing services to ensure that your website's rank among the top results on the search engine. We are also a leading player in the website design company India arena, offering all kinds of web design and web development services at affordable prices. For further information, please contact us today.
Looking for a good team
for your next project?
Contact us and we'll give you a preliminary free consultation
on the web & mobile strategy that'd suit your needs best.