It is no easy task to migrate a WordPress website. It is not just one or two parts that you need to take under consideration when getting the migration of your WordPress site done. Sometimes, it is found that a little technical knowledge would help you to maybe install and set up a WordPress site. But WordPress migration is entirely different and it takes more than the little knowledge you have got.
You surely need an expert or a technical professional to help you with the process, also for other WordPress errors and solutions. It is important if you are planning to get your WordPress migration done in no time with no hassles. Unless you have expert help, there are possibilities that some critical details are missed. And when the migration is well-strategized, there is no fear of the website experiencing any unnecessary downtime and all links are completely functional with no missing data.
Why Using WordPress Migration Plugins Matters
WordPress Migration might come as a necessity at any point of time – you might need to move to a new host, clone a website to get it to work on the local system or get a local installation to a live server. This migration might take ages unlike setting it up which might take hardly a few minutes. A lot of things need to be taken into consideration, starting from backing up data, copying content, images or files into the appropriate directory structures, getting the database restored, moving and reactivating plugins and widgets, and finally testing to make sure that the required process reaches its final point without any hassles.
When a site comes with a large number of posts and images – migration might be a tedious task and might push you into a lot of errors. Apart from that, you are risking the loss of data and the website becoming unavailable if processes do not happen appropriately.  
With WordPress Migration Plugins, you are free from all these tensions as you get confirmation about data safety during migration.
Once the migration is complete, it is necessary that the site starts functioning absolutely like it was previously before the migration happened and this can be ensured through migration.
Top WordPress Migration Plugins
For the migration purpose, WordPress offers you with a set of plugins that make the transition easier and smoother. We have handpicked the best of WordPress migration plugins, including the free and paid ones, and you can choose the one that fits absolutely into your needs.
Duplicator
Duplicator was created by the team that has also created 'Life in the Grid'. It has an overall 4.9 star rating and above 500,000 active installations. It is highly popular among the WordPress migration plugins, which is why we have it on this list. Both free and premium versions are available for Duplicator.
You can get the free version of Duplicator from WordPress.org plugin directory, whereas, the premium version can be availed at a rate starting from $49. Some of the characteristic features of Duplicate include cloning, moving, backing up, duplicating and transferring sites from one point to another. Its three-phase wizard would help you with the package set up, which comprises a single zip file, otherwise referred to as an archive file, along with an installer.
This also includes scanning potential issues with server settings, database tables, archiving files and building the package. Customize your package to get rid of certain file types, database tables, and directories. You can find detailed logs that would help at each stage of your review with a logging tool that would help to debug any issues that might arise with the plugin. You can also use it to install a new website using a previously created package via the install file in your browser.
Again, there is another three-step wizard, which would help you with the extraction of files from the archive and to create the database, to perform or update the database and then test the site. You can customize the settings for both the website URL and all those plugins that you want to activate upon installation. Once the installation is complete, a detailed report of all the possible errors, along with the warnings is available. Also, you can find full documentation along with tutorials (video) on the developer's website. Though all this information is available, for the best results, it is advisable only experienced hands deal with Duplicator.
For anyone purchasing the premium version, Duplicator Pro, you get full customer support. If you upgrade the Pro version, you would enable certain features, including support for Dropbox backup, FTP and Google Drive, multiple site licenses and others. For the time being, you cannot use Duplicator on multisite networks. But this is the best choice for any developer who wants t backup WordPress sites, push local test site for production server launches and more.
WP Migrate DB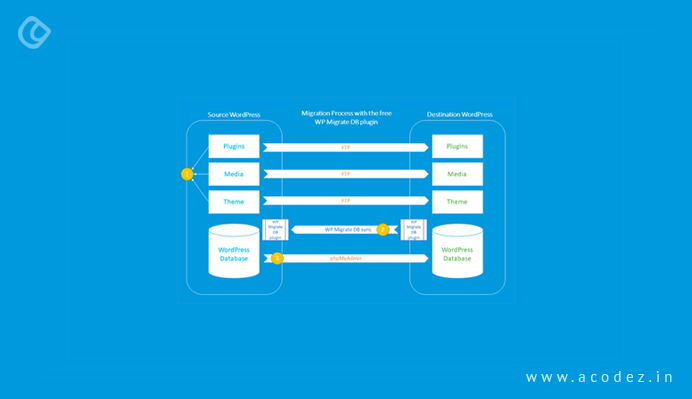 Again, this WordPress Migration Plugin gets a 4.8 star satisfaction rating and more than 100,000 active installations are happening. You can get the free version from the WordPress.org plugin directory. The premium version can be availed at $90 and you can own a personal license as well. Here, you do not need to export files or build a package or archive, but the plugin can export the website database, which can be saved on your computer as an SQL file.
For the migration to be completed, you need a database management tool that can be used to import file to any of your existing WordPress database, which will have the contents replaced. You can easily set up the migration, as there is a wide range of options available for this – replacing existing website URL with the new URL across the database. Also, it would help cut out the clutter or unnecessary data, such as spam comments, data that is temporarily cached. You can save the process that was implemented here. This will help the process repetition at a later point in the future.
With the Personal Pro license, you can add a couple of interesting and customized features to your WordPress migration, including enabling a backup of the database before you start the migration execution. Here you do not need a separate database admin tool – as WP Migrate DB Pro helps in enabling a DB that can be pushed into the installation process with the help of a plugin. While the migration runs, the Pro plugin will help with pausing and resuming the migration.
Some of the high premium levels, including Studio, Developer and Agency help in adding further functionalities via add-ons. This is the best choice if developers are working locally and want to migrate new data from the production site or when they want to migrate local site to a production or staging site.
WP Clone
We have chosen this as the next in the list as it has an overall 4.2 star rating and over 200,000 active installations. It is one of the best free WordPress Migration Plugins available, and also another interesting feature about WP Clone is that it makes copying or migrating a WordPress site instantly more easy. Once the plugin gets installed on the destination site, then there is no need for an FTP access to get to the source site.
So here what happens is that the WP Clone would simply copy the user content and database, without the WordPress system files. This helps in speeding up the process, with no compromise on security. It helps to get rid of any of those uploading issues by providing access to the original site backup via a secure HTTP connection. It uses only inbuilt zip archive functions to ensure compatibility across any hosts or move it to or from a local server while creating copies of a site, which helps with development and testing processes.
BackupBuddy
BackupBuddy comes from iThemes is one of the original WordPress backup plugins. In order to manage two sites, you need to pay an amount of $80 for a year. It helps in creating complete backups not only for the WordPress database, but also for theme files and plugins, and the media library. An automated schedule is in place for creating backups. The files can be saved anywhere in offsite destinations, such as Amazon S3, Dropbox, custom backup locations and FTP, and emails. You can always exclude individual files and tables.
Though it was meant for backups, BackupBuddy is the best choice among WordPress migration plugins for migration functionality. It has the deployment feature, which helps in setting up a staging site for connecting it to an existing site, thereby making it easier to push and pull each change that arises between staging and production stages of the sites. This would be the best choice for developers who like to build their sites on temporary domains or locally and would like to move their sites to a live client domain. So whenever necessary, non-technical site owners who need a clear off the back up once set up kind of facility, this is the best choice.
BlogVault Real-time Backup
It would require a payment or paid subscription if you want to avail this BlogVault Real-time Backup option. The subscriptions are around $9 per month. It has a 4.3 star rating with over 10,000 installs. BlogVault chooses to provide scheduled backups that are automated and complete restoration from dashboards.
The difference happens in its real-time backup, which is triggered by some of the WordPress features, including the update of posts or pages. It also helps in reducing the server load, making the backup process incremental and faster.
The migration process of BlogVault is simple and easier as it helps the site owners to migrate their website to a new domain or host in a few simple steps. Since the migration is broken into smaller steps, it makes it easier to migrate larger sites with ease.
These are some of the most popular and highly rated WordPress migration plugins.
Acodez IT Solutions is a web development company in India offering web-related services to our clients in India and abroad. If you have any further enquiries, please contact us today.
Looking for a good team
for your next project?
Contact us and we'll give you a preliminary free consultation
on the web & mobile strategy that'd suit your needs best.