The COVID-19 pandemic has forced tutors and students to shift from the traditional education setting (the classroom) to online learning. It's even more challenging for parents who are unable to monitor their children's screen time.
In such circumstances, free educational apps are a better choice because they can help parents and teachers to regulate how students spend their time.
Educational apps come with multiple benefits, including teaching students a variety of subjects like social studies, reading and writing, foreign languages, note-taking, planning and time management, and mathematics.
However, as parents look for ways to keep their children busy with educational activities, it is essential to minimize resentment. The recommended free educational apps for students should incorporate learners' natural interests, such as love for games, to reduce the impulse to turn away from using the apps.
Finding educational apps for students may be easy, but securing the best free ones is even more difficult. This post hopes to ease the process for you. The review covers the best apps to ensure engagement and the right picks for core subjects and academic levels.
They suit the needs of elementary, high school, and college students, whether they are homeschooling or in quarantine.
Let's have a look at the top 13 free educational apps for an effective distance learning curriculum.
Khan Academy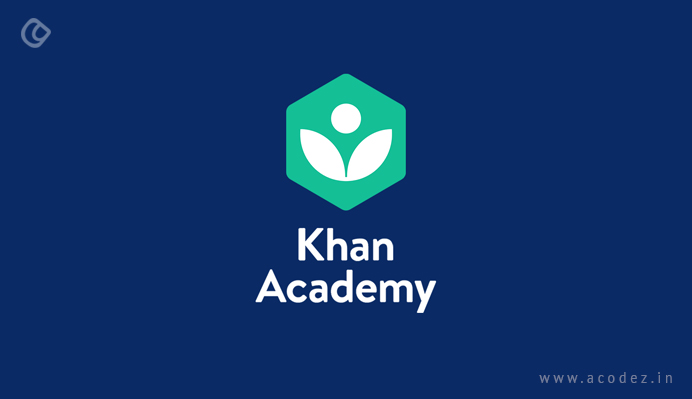 Khan Academy ranks among the best free learning apps for students because it has a world-class curriculum and system to ensure a smooth learning process.
The lessons are organized into video tutorials, where students can view recordings of pictorials drawn on a virtual blackboard.
The lessons are administered in a manner to mimic a teacher giving a classroom lecture, including descriptions by a narrator.
Other features of the Khan Academy include online courses, which prepare students for academic tests like the Medical College Admission Test (MCAT), Law School Admission Test (LSAT), and SAT (Reasoning Test).
You can find lessons on subjects like mathematics, humanities, economics, and computing. The app also consists of lessons in multiple languages, progressive monitoring of students' performance, and practice exercises.
You will find lessons on topics like ancient civilizations, cryptography, cosmology, and politics, and branches of government. The progress tracker helps students to view the extent to which they have covered the topic requirements.
You can download and install the Khan Academy app from Play Store for Android and App Store for iOS.
Google Classroom
This free educational app for college students is the best solution for students and teachers who must collaborate for seamless submission and grading of homework and assignments.
This virtual classroom setting enables teachers to send announcements, schedule learning sessions, initiate discussions, share resources, and respond to questions and answers.
Other features and benefits of Google Classroom include improved communication, and enhanced grading process, and better organization.
Setting up a virtual Google Classroom is also easy because teachers only have to share an access code with students. Students can use the Google Calendar to add items like tasks and events, set reminders, and color-code their activities.
The app's ability to work with other applications like Google Doc, Drive, and Slides makes it the best free educational tool for interactive learning sessions.
You can install Google Classroom for Android and iOS.
Duolingo
Duolingo is one of the best apps for learning foreign languages thanks to its adaptive, interactive, and fun teaching practices.
The app enables students to learn multiple foreign languages, including English, Spanish, French, Welsh, Dutch, German, Czech, Arabic, Japanese, Mandarin, Italian, among others.
The lessons are arranged into levels, such as basic picture labeling and other engaging games to improve learners' grammar and vocabulary skills.
Students can create their daily goals while the progress tracker gives insights on activities and tasks to be completed.
As they complete more tasks, learners earn experience points (XPs), granting them more interactive stories to improve their listening and reading skills.
Duolingo also provides immediate grading for language challenges taken and rewards learners with virtual coins and higher fluency scores.
Other features of this free educational app for college students include 30+ languages, forum discussion, language-learning events, and competitions.
You can install Duolingo from Play Store and App Store.
Remind
It is not always easy for students to learn on their own without being distracted. The Remind free educational app for college students comes in handy by creating a platform where multiple students can assemble for a common purpose.
It facilitates group learning, ensuring students, teachers, and parents remain connected within the school community.
Students join the school community using a unique class code, where they can access realtime updates on classroom activities.
The Remind app also has a messaging feature, enabling teachers or class representatives to message relevant students, share handouts and photos, seek clarification from friends, and submit assignments.
The app allows these capabilities both individually and collaboratively.
Other features of the Remind app include chat translations in more than 70 languages and instant two-way messaging.
You can install the app from Play Store and App Store.
edX
If you are looking for a platform where you can study courses taught in top universities like MIT and Harvard, then look no further than this free educational app.
edX brings together top-performing institutions of higher learning, enabling students to learn more than 2000 courses.
The app has multiple courses, including engineering, computer science, linguistics, and others.
The courses and tests also grant students university credits and professional certificates, increasing learners' merit and professional standing.
Other features of the edX educational app include video tutorials and study materials, and interactive quizzes.
You can install the app from Play Store or App Store.
Quizlet
Quizlet provides an easy and convenient learning experience through study buttons like flashcards, write, learn, test, and others.
The flashcards are particularly useful because they actively remind students of the learning outcomes and topics or issues covered.
Learners can also create and share flashcards with other students or choose from other students' thousands of stacks.
Students can access other fun activities on the Quizlet app, such as games, which help improve their content retention. They also receive study reminders to keep them updated on their learning progress.
Other features of the Quizlet app include practice tests, custom audio and videos for improved learning, and study materials for standardized exams.
You can install the free educational app from Play Store or App Store.
SoloLearn
If you are a coding enthusiast, the SoloLearn free educational app should be your top choice. This tool has a wide variety of coding tutorials both for beginners and experts.
It has multiple programming languages, such as python, java, c++, CSS, JavaScript, HTML, and others.
There are 80 complete lessons to choose from, including quizzes, to test learners' knowledge.
The knowledge obtained from using this app can equip students with on-demand app development and coding skills. Companies are increasingly seeking the expertise of programmers, making SoloLearn a valuable tool for learners.
Other features of the SoloLearn educational app include access to an interactive community of other coders, free code editor for mobile, and tutorials on the current coding trends.
You can install SoloLearn from Play Store or App Store.
Google Earth
This free educational app is suitable for students learning social sciences. It enables students to study different topics, including diversity across cities, geographical elements, and historical architectural designs.
By combining the concepts learnt through Google Earth and Maps, learners can gain insights on global issues, enabling them to connect classwork with real-life scenarios.
The app also has a temporary information hub where students can access quick educational activities. They can also take virtual field trips to visit space stations.
Other features of the Google Earth educational app include the ability to create stories by enabling students to develop their own projects and access to materials to add texts and rich multimedia content to shared maps and stories.
You can install Google Earth the app from Play Store and App Store.
Kahoot
This app comes with free interactive quizzes, which provide students with active learning materials for improved content retention.
Kahoot has ready-made quizzes on all manner of topics, as well as an avenue to compete with fellow students offline.
The teacher or quizmaster can create a quiz competition on the app, which is displayed on a projector or whiteboard. The players use a PIN to join the competition, while answers are entered through the app.
Other features of the Kahoot app include tools to create interactive, educational games easily and more than 2000 live contestants.
You can install the Kahoot app from Play Store or App Store.
Udemy
This top-ranking free educational app for students contains over 130,000 video tutorials for multiple courses, including business, technology, writing, drawing, yoga, and personal development.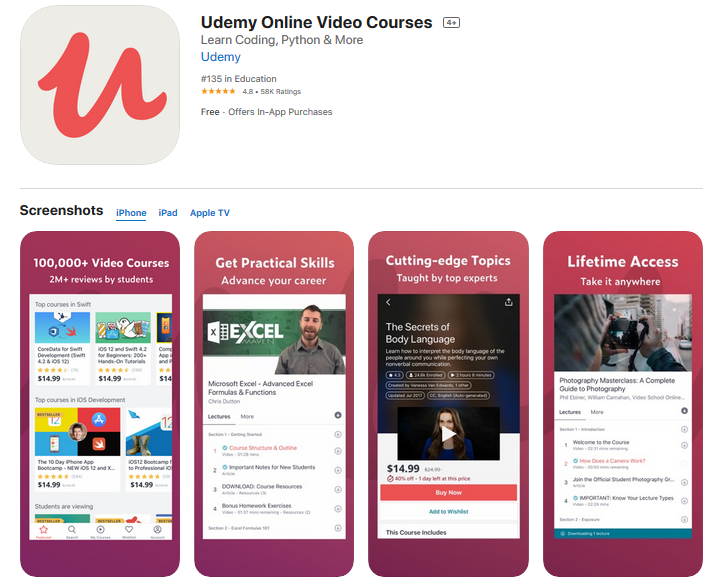 The app allows students to learn at their own pace and seek clarification from online instructors. Udemy's experts can also train learners on how to develop mobile applications of their choice.
Other features of the Udemy app include discussions, interactive learning, expert tutors, and survey creators.
Students can use the app to enhance their personal growth and wellness, productivity and professional skills, and essential technical skills.
You can install the Udemy educational app from Play Store or App Store.
Photomath
Mathematics can be challenging for any student, whether a novice or expert. However, with the help of the Photomath app, anyone can solve relatively complex math problems quickly and easily.
This free educational app for students has a simple learning process, including the ability to take photos of and upload printed or handwritten math questions.
The Photomath then teaches you how to respond to the questions using guided instructions and explanations. It helps students to resist the temptation to rush through their homework by learning how to answer the math questions themselves.
The app contains multiple solving methods, a scientific calculator, animated instructions, and interactive graphs. Students don't have to be connected to the internet to use the app, making it convenient to use anytime, anywhere.
You can install the Photomath app from Play Store or App Store.
BrainPOP
This free educational app for students covers multiple topics, including science, art, health, and others.

It comes with many educational games, which young students can play to learn more about planets, famous artists, and adverse health conditions like asthma.
One day the app could cover a topic on planet Mars and on another, it could be on dogs, blogs, or a Mexican artist.
BrainPOP targets students in middle school grade levels, enabling them to access and understand well-explained content on complex and challenging topics.
Though the content changes daily, it is archived to reduce the need for learners to search for it every other time.
You can install BrainPOP from Play Store or App Store.
StuDocu
Founded in 2013 by four Dutch students, StuDocu is an online platform where students and educators can share study materials and lecture notes with other students worldwide. They aim to empower everyone to excel at their studies by providing the best tools to study more efficiently.
StuDocu covers a wide variety of subjects. Their platform helps over 15 million students every month and is one of the biggest educational websites in the world. After signing up, you can have immediate access to over 8 million study resources.
80% of their learning resources are free for anyone to use. To access the remaining 20%, you would need to purchase a Premium Account.
Conclusion
Educational apps are beneficial to students, mainly because they facilitate interactions with teachers and parents when homeschooling or during work-from-home arrangements.
Following the COVID-19 pandemic, it is even more essential for students to access learning materials remotely, mainly because teachers and students are required to self-isolate or stay in quarantine.
The highlighted free educational apps for college and high school students come with multiple features and benefits, including engaging and interactive learning materials, quizzes, homework reminders, individual and social learning, and virtual tours.
The choice of the app to install depends on individual needs. The focus could be on social sciences, mathematics, linguistics, and geography, or it could be on art and technology.
Students can also opt for an app like edX due to its ability to provide advanced experience as that of Harvard and MIT or SoloLearn for coding skills.
Others like Khan Academy have a collection of multiple courses, including health and law, while Quizlet provides the best opportunities for active learning.
Whichever your need, these apps contain the best materials for distance learning. You can find and install them for free on both Play and App Stores.
Acodez is a renowned web design and Mobile app development company in India. We are also a web design company servicing our clients across the world using the latest technologies. We are also a leading digital marketing company providing SEO, SMM, SEM, Inbound marketing services, etc at affordable prices. For further information, please contact us.
Looking for a good team
for your next project?
Contact us and we'll give you a preliminary free consultation
on the web & mobile strategy that'd suit your needs best.