After the article we posted on the super powerful Browser extensions for web designers and developers, we know our SEO and content marketing nerds are unhappy with us.
We deliberately left you out! Because we know you are already experts and are aware of what the industry is armed with.

We don't think there will be a browser extension that came and went without you guys noticing it.
But, lately, we have been receiving requests from several of the industry experts to share some of the powerful browser extensions to help the SEOs and content marketers.
Before we move further, there are those SEO toddlers and beginners in content marketing who have no idea of how effectively they could you use these for achieving better results.
Save time and effort!
This is one of the most important thing.
Wondering How?
All it takes is just a few mouse clicks and it is installed. You are there!
Check the right side of your address bar and you can access these whenever you need them.
Benefits:
Link building made better and easier
Your tasks are made easier (Saves time)
You can easily examine the underlying code
Website performance can be analyzed with ease
Here we go:
#1. Domain Hunter Plus:
The name says it all. How do you track domains that have expired? Get the Domain Hunter Plus to find out which are those expired domains with backlinks and authority.
Another purpose is to identify the broken links.
How does it work?
You can try it here: Nothing, just go to a high authority page. This page should be the one with many links. You may click on the extension's icon and get the page scanned.
This will detect all the broken links on the page and display it to you in its little panel.
Also, you can find out how many links do point to the broken URL. You can also find out how many links direct to the domain.
If you have been searching for one of the cheapest domains, use this extension and crawl through Google, you will get what you want.
Download here: Domain Hunter Plus
#2. Mozbar:
There is hardly an SEO personnel unaware of this extension. This one comes with a number of other alternatives but it is still the first choice of SEOs.
You can use it in two ways:
When you are searching for a keyword in Google, you will find statistics listed below each search result.
OR
2. Also, you can use it when you land on a page. Click on the Mozbar's icon and you can find a pop up bar that displays the page's entire statistics.
This will bring you the PA and DA scores along with the statistics of Social shares.
Download here: Mozbar
#3. Majestic SEO Toolbar:
We already discussed that Mozbar has some other alternatives and this is one of the competitors that we have been talking about.
It has got all the essential features similar to that of an SEO Toolbar.
It will display the following things when you use it on a page:
citation flow

trust flow

Number of links and root domains

Also, link profile charts and many more…
Download here: Majestic SEO Toolbar
#4. SEOQuake:
Are you looking for something that you can customize with ease? Or are you fed up with using extensions associated with premium links?
There are a very few of them that are available for all browsers including Safari and Opera.
It operates efficiently across the Search Engine Result Pages (SERP's).
Whenever you are using SEOQuake to search something on Google, you can find a bar below each of the results. here is a guide on how to use SEOQuake.
You can find the following with SEOQuake:
density of keywords

Basic meta data

information on backlinks

social share information
The link data that comes out of the Google/ Bing/ Yahoo links are not up-to-date.
Download here: SEOQuake
#5. Link Grabber:
This is something you need to get today if you never thought of because it has an unbeatable speed.
How it works?
You just need to click the Link Grabber icon on your web page and you will find a new link opening up instantly showcasing all the links you want to view.
The exciting part is that you can click through these links and even copy/paste these into a Spreadsheet.
Download here: Link Grabber
#6. Browsec:
One of the amazing facts is that the content displayed to users across different countries differs as it depends on the site you are working with.
At times, you will need to get your hands on some content that you cannot reach out to from your country's IP address.
This VPN that is available for free allows to fake your IP address and the websites will be hoodwinked into believing that you are located elsewhere.
Download here: Browsec
#7. Ahrefs SEO Toolbar:
Another competitor of Mozbar. Both provide similar functionalities, but here the data belongs to Ahrefs database.
The active bar will provide you with access to the following:
Overall Domain Statistics

Link information of the URL &

Social information
Also, you can find the following information:
Domain rating

Ahrefs rating for the URL

Social shares

Backlinks

Referring domains and more
You can avail all the above specified basic information for free, but if you have a subscription then you will have more information with you.
Download here: Ahrefs SEO Toolbar
#8. Check My Links:
Whenever you are working on building broken links, it is recommended you utilize the power of this extension.
You just need to click on the "Check My Links" icon and it will have all the links on the page tested immediately.
It will showcase all the broken links in red whilst the working links are displayed in green color.
Also, you can find the error code beside the broken links.
Download here: Check My Links
#9. SEO & Website Analysis by WooRank:
This is considered as one of the best in the lot. Apart from focusing on domain authority and backlinks, it will focus more on the technical aspects and on-page SEO.
For any web page that you want to test, click the icon and you'll find a panel pop up to its left side.
It will provide a score out of 100 for your web page.
You will find the following information:
The kind of CMS and plugins that are in use (technology)

Social sharing stats (Social media)

The responsiveness of the site across various devices and detecting mobile friendliness (Mobile-friendly)

Estimating the flow of traffic (Visitors)

Page Load Metrics and how efficiently it can be accessed

Meta and title tag information (SEO basics)
Download here: SEO & Website Analysis by WooRank
#10. Meta SEO Inspector: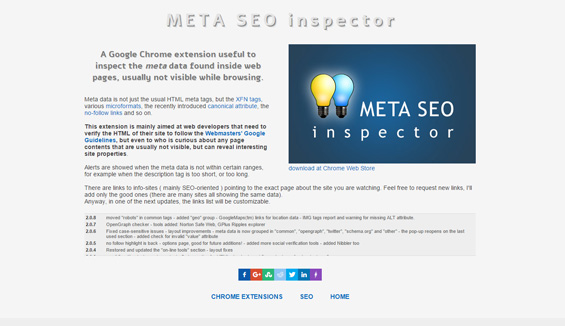 I know this is one of those extensions that provides the basic information but it will also bring you the meta information on a page.
It will provide you with the following information:
Title, description and keywords (basic SEO information).

Open Graph tags (this is required for the Social Media part).
Download here: Meta SEO Inspector
#11. Redirect Path Checker:
Redirects are a part and parcel of the Internet system.
Whenever a web site is updated or there happens an ownership transfer, these redirects will ensure that the backlink authority also comes along with it and this will automatically lead the visitors to you.
Our SEO team has been implementing these browser extensions to make SEO process easier and efficient.
You can try these out for your SEO tasks.
Download here: Redirect Path Checker
Now for my dear content writers. Don't worry I have got all those Chrome extensions with me that will make your job easier.
Here we go:
#12. Grammarly:
No writing is perfect, but there is nothing that can prevent you from being a perfectionist if you are using Grammarly. It helps to check for spelling and grammar mistakes making your writings more pleasant.

How do you get it?
Register on their official website and you will find that it automatically gets integrated with your Chrome browser.
While you write it will keep an eye out for the mistakes and will alert you.
Download here: Grammarly
#13. Evernote Web Clipper:
This is something I have been using for making my writings translucent and clear. This official web extension helps to clip web pages and get them saved on to Evernote immediately and you can use these at a later time.
No more waiting!
You can share these clips with your friends and followers over the web instantly.
Download here: Evernote Web Clipper
#14. Google Similar Pages:
This is helpful when you are researching for content. Once you find out some related content, you can use this to find pages with similar content. It will bring you pages that are discussing similar topics. Now that is food for a content writer's soul!
Download here: Google Similar Pages
#15. OneTab:
You can use this to save selected tabs that can be viewed later.  If you are doing content research this tab is actually helpful. You can organize these into groups.
Download here: OneTab
#16. Speak-it: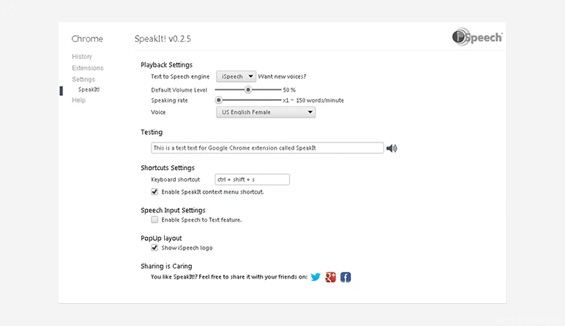 It is a simple speech to text converting extension. If you feel lazy to type just speak it and your document is ready.
You can read more about more this plugin on Business Insider.
Download here: Speak-it
These are some of the very few but useful extensions that content writers can use to make their writings more impressive and excellent.
Have I missed any of the browser extensions particularly Chrome extensions that you are using? Then, share those with me and I will include those in my blog to help SEO's and Content Writers to enhance their productivity.
#17. Markup Hero
Markup Hero is a leading screenshot and annotation tool made for the web.  The tool is compatible with Mac, Windows, Linux and Chrome.
Download here: screenshot and annotation tool
Acodez IT Solutions is a web designing company located in India providing web development and design services to our clients all over the world. We utilize the latest web development trends that are evolving and sometimes we even experiment new methodologies that become a massive hit in the market.
We also provide digital marketing solutions that are the best in the industry helping our clients reach their business goals.
For our services, contact us and we will provide you with a free quote…
Looking for a good team
for your next project?
Contact us and we'll give you a preliminary free consultation
on the web & mobile strategy that'd suit your needs best.