The increasing demand for web development globally can be associated with the proliferation of IT in business operations.
Today, more companies are hiring IT experts worldwide to help them complete simple tasks, such as web development.
Most recently, the increased need for web development in business has led to high demand for outsourced skills.
Furthermore, the current global pandemic has forced companies to cut costs, retrenching a fraction of their workforce significantly.
The economic situation calls for better business strategies, including a relatively affordable skill set.
The decision to outsource web developers may be more straightforward. However, the question that keeps appearing is, "Which countries are the best for outsourcing web development services?"
Stick around for a more comprehensive answer.
What is Outsourcing?
First things first, outsourcing means using someone (an independent contractor) who is not a permanent employee in the organization to complete different tasks on a project-by-project basis.
Outsourcing has remained one of the most reliable business strategies for startups that cannot afford to hire professionals full-time.
This method is considered the most cost-effective for one-time projects. Companies are nowadays creating teams by choosing members carefully and pooling unique talents from around the world without worrying about employment benefits and other related costs of hiring employees.
In the fast-paced world of remote work where the best global talent gets scooped up quickly, you don't want to miss out on hiring the best talent. Older, traditional methods of hiring will no longer cut it and companies need to innovate how they hire and retain the best talent. Try some of these new recruitment techniques to make sure you're hiring the right way. There's nothing worse than an outdated system of recruiting talent in a world where outsourcing and contract-based work are slowly becoming the norm.
What is more, an organization can outsource services on the go. So, you may be left wondering where to outsource the best and relatively affordable experts in web development.
This article covers four of the best countries for outsourcing web development services.
Factors That Make a Country Ideal for Outsourcing Web Development Services
When it comes to outsourcing web development services, you will want to focus on various factors. Some of the things to consider may include the costs, IT market, and the ability of hired experts to communicate in a language you understand.
One of the most important criteria that most organizations used to choose a country to outsource for different services is the country's investment in corporate education.
This means that the quality of education in a given field is essential when determining where to hire independent contractors. According to many sources and statistics, Europe and Asia lead in IT education.
Accordingly, offshore outsourcing companies tend to be more affordable. In general, India is the most preferred outsourcing country due to its emphasis on IT education and low labor cost.
Many countries that offer web development outsourcing have an excellent understanding of the English language. This is another factor that determines who to hire for your web development tasks.
Various roles may need advanced knowledge of the language for smoother operations.
Why Should You Outsource Web Development Services?
Some of the reasons to outsource web development services abroad include:
The ability to work with a more diverse team
Outsourcing makes your tasks completed by professionals
It enhances risk management
It is relatively cost-effective
It gives you control over services
Which Are The Best Countries For Outsourcing Web Development Services?
India
India is one of the most advanced outsourcing markets in the world. At the moment, India is considered the best country for outsourcing talents.
According to a study by Deloitte, almost 60% of companies globally outsource different projects to India.
Since India is a dominant market for outsourcing services, it remains a preferred destination for web development projects as well. Many reasons may be used to explain why India is the best outsourcing country.
First, India is the most populous country in the world. This means that it has an abundance of labor, which can be translated into more affordable services. The population alone has led to a cost-effective and innovative workforce for creating value.
The competitively low cost of web development services in India makes it one of the best countries for web development outsourcing.
Accordingly, India has continued to make strides in the tech industry for years. As a result, the country has produced many IT experts, making its tech industry thrive significantly.
India's population of web developers is highly competent in different programming languages. Additionally, the surplus in infrastructure and difference in time-zone for various US, UK, and AU organizations come as an added advantage for India.
Although the country's literacy rate is low, the government has focused on emphasizing mathematical research, medicine, and technology.
Additionally, India has also paid close attention to STEM education, producing more than two million graduates every year. Acodez is one of the leading companies in the much-acalaimed web development India market.
China
China is currently the most prominent emerging economy in the world. The country's human, physical, and financial capitals are massive and almost unmatched.
These factors make China a vital destination for outsourcing web development services.
China's education is mainly focused on mathematics and technology. This aspect alone increases the country's stake as one of the best countries for web development outsourcing.
Outsourcing web development projects to China means working with diverse skill sets and experts with a positive mentality.
China has always focused on constant and progressive innovation, advanced technology, and high skilled labor, making it ideal for companies to outsource web development services.
As a nation, China has an eye for excellence. Additionally, the country has always looked to make the most out of technological advancements to improve its products and services to domestic and global customers.
According to the HackerRank Programming Olympics, China has more than 30,000 web developers in the first and second tiers. This fact emphasizes the country's focus on education.
However, China has a bad reputation when it comes to compliance with intellectual property laws. This means that you may want to consider working with teams after establishing rules that guide your relationship to protect your company.
Philippines
The Philippines is an emerging contender for the title of the best country for web development outsourcing. This is mainly associated with the country's revolution in major sectors that have promoted its growth in the global market.
When it comes to culture, the Philippines ranks as the third-largest English-speaking nation globally.
Generally, the Philippines is an excellent destination for outsourcing web development services. The country has produced many web developers with exceptional results and output history.
Additionally, the country has one of the most manageable and low-cost workforces in the world.
Another aspect that makes the Philippines outstanding is its vast pool of talented workforce and emphasis on quality.
The country has many web development teams with competencies in Ruby, Java, C++, and HTML.ASP, among other programming languages.
Lastly, independent contractors from the Philippines are known for their reliability and ability to meet targets and deadlines.
Additionally, the country has a solid educational background with high numbers of tech graduates from its universities.
Ukraine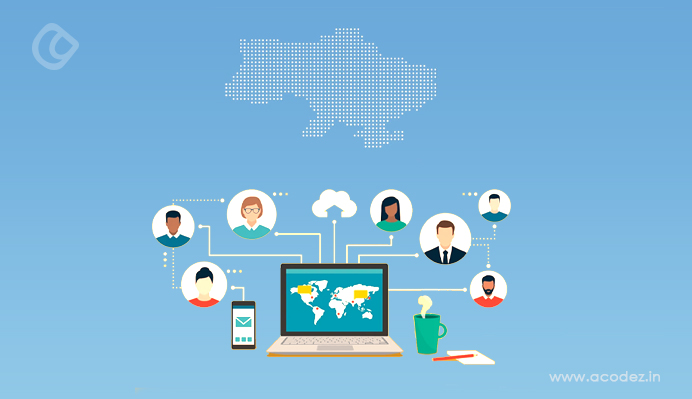 Ukraine is another great destination for outsourcing web development services. As much as the country is not as popular for speaking the English language, most of its web developers can communicate clearly in the language.
This alone makes your working relationship more manageable.
Additionally, Ukraine is the perfect country for outsourcing services due to its overlapping time zone with the US and UK.
Accordingly, the nation has an excellent work ethic and almost the same cultural structures that enhance healthy competition.
Ukraine is also an excellent destination if you are on a budget but do not want to compromise on quality. Currently, the country is among the best for producing programmers globally.
Lastly, the Ukrainian tech market is proliferating. This factor has contributed to its popularity among global companies looking to outsource services in the tech industry.
Generally, the country has a vast pool of talents, with exceptional quality output at an affordable price.
Final Thoughts
The first step to making your company more competitive in the current business environment is to work with the best talents available.
The good news is that outsourcing enables you to draw from different backgrounds and hire the best of the best in any field.
When it comes to outsourcing web development services, you will want to develop a positive and strong relationship with experts from around the world.
This means that you should always choose the best countries for outsourcing. Additionally, you will also want to outline your expectations and develop a transparent communication system to enhance your relationship with an independent contractor from another country.
Generally, the decision to outsource web development services boils down to the reliability and expertise available.
India should be your go-to destination for the most reliable, cost-effective, and committed freelance web developers. The country stands out as the best for outsourcing web development services and other projects.
Acodez is a renowned web development company and web application development company in India. We offer all kinds of web design and Mobile app development services to our clients using the latest technologies. We are also a leading digital marketing company providing SEO, SMM, SEM, Inbound marketing services, etc at affordable prices. For further information, please contact us.
Looking for a good team
for your next project?
Contact us and we'll give you a preliminary free consultation
on the web & mobile strategy that'd suit your needs best.