Technology evolves every day bringing in new opportunities for businesses. With all the technology advances, it's easier for businesses to miss out on the available opportunities.
Even with technology making things easier, it becomes hard for businesses to maximize on opportunities if they don't have the expertise to help them tap into different technology changes.
This is the exact situation businesses with limited knowledge in web design and web development find themselves in.
The truth is, website services have changed the way of doing business. Try to think of how hard it is for a business with no website to succeed compared to the one with a website.
In today's environment, it's almost impossible to do business without a good website and here comes in web design and web development. There are top-notch web design companies in India like, Acodez, who does both. Let's see what is the difference between these?
Web Design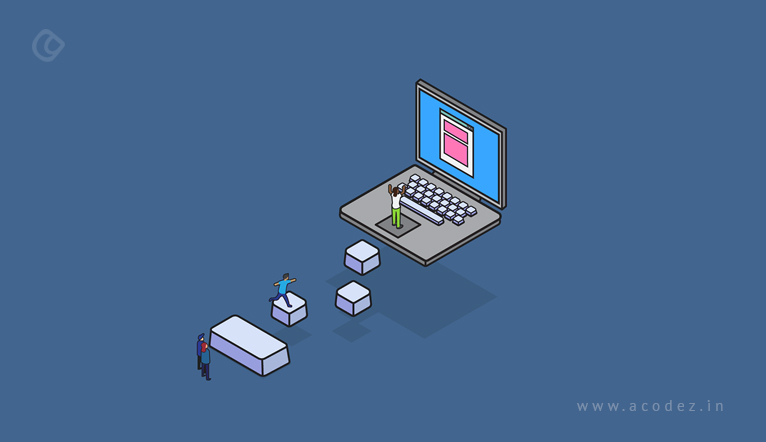 Web design is the process of planning, arranging, and conceptualizing internet content. It is the design of websites displayed on the internet. With modern web design, we no longer look at how the website looks also known as aesthetics.
It also spreads to how the websites work or functionality. Web design, as opposed to what many people think is not limited to websites. It includes mobile apps, web apps, and user interface design.
Types Of Web Design
There are different articles online that talk about many web design styles such as fixed, static, fluid, and much more. However, web design in the mobile world has evolved. There are two ways to design a website with modern tools: adaptive and responsive web design.
Adaptive Web Design
It uses different versions of a website customized for several screen sizes. Adaptive websites may be split into two categories depending on the version to be displayed.
Adapts depending on device type
When connecting to a website, the browser, also known as the client, uses the HTTP request and sends a file known as the user agent. The file has information about the device attempting to view the specific page and it loads this information to the server.
Using this information, the site knows the web version to display and today, it is either a mobile or desktop version. Website designers take extra caution with this approach to avoid the page not adapting based on device type.
Sometimes if you shrink the browser window on the desktop, the page fails to adapt as it continues showing the full version.
Adapts depending on browser width
In this type of adaptive websites, the website doesn't use the "user-agent". Instead, it uses breakpoints and media queries to enable it to switch between versions.
This means there's no desktop, mobile or tablet version and instead, you have 1080p, 768p, and 480 versions.
Web Development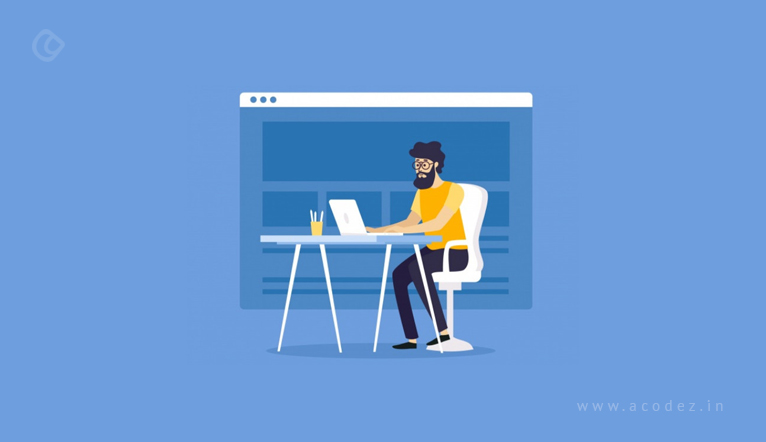 Web development is the entire process of developing a website. It is basically the process of building and maintaining a website.
The main difference between web development and website design is that in web design, the designer comes up with the user interface of the website.
In contrast, the web developer integrates web design into the web development process. The functionality of the website, application, and basically how the website works is done during the website development process.
With this basic understanding of the web design and web development process, what is the importance of all this? Why would a business go through all this?
Let's Look At The Importance Of Web Design And Web Development For All Businesses
Easier Navigation
As a business, a strong online presence requires an easy to navigate and responsive website. All the information displayed on the website should be easy to read and access.
To achieve this, the web pages should have super-fast loading speeds determined by the web development process. A fast loading website is more responsive and easier to navigate.
A good website offers a visitor more options that help in easier navigation. This includes a search box where users can type what they want and be directed to the section quickly, as well as including sticky elements, such as a sticky header or a sticky menu to furthermore simplify and improve the navigation of your website.
This is achieved through exemplary web design and during the website development process.
After the website developer is done with the website, it is recommended that they regularly test the web pages to ensure ease of navigation is maintained all the time.
This helps resolve or eliminate bugs that hinder the ease of web page loading. A website with easy navigation is guaranteed of increased organic traffic.
Win With SEO
Search engine optimization (SEO) is a fundamental aspect that should be observed and considered in the web development process. Today, millions of websites are contesting for the top spot in search engine results pages.
This is how websites are listed or ranked based on different factors.
Web development and web design are some of the ways that a website gets a higher ranking. The website must meet all the standards required by the search engine to rank on top.
The parameters considered include load speed, ease of navigation, keywords, image optimization, and much more.
Through search engine optimization, the website gets more traffic and becomes more and more user friendly. Apart from having a website, as a business, you get to retain users or visitors to the site.
It is the job of the web developer to help the business get this through by adding features such as "call-to-action."
This shows the need to have a website built with a simplistic design. With this, the business gets to know about the expected loading speed. Through optimization, a website appears high on the search engine results page when specific queries are raised.
This in turn gets the website more organic traffic.
Expand Reach
A business with a good website can reach a wider and more interactive audience. Good web design helps a business expand their reach and attract all possible leads or customers.
It is easier to get testimonials about your products and services and go through them on a website. These are the simple details that help the business earn the confidence and trust of customers.
This then leads to more sales and more profits.
A well-designed website helps build an audience, target specific customer bases, and return your investments quickly. A well-designed website increases the conversion rate of a website by 200-400 percent.
This means a website that is easier to read and navigate, has a fast loading speed, and has an interactive design with a responsive interface.
Maintain Brand Identity
An effective web development process helps protect your brand identity. Have you ever gone on a browsing spree and stumbled on a weird-looking website? The kind whose interface can hurt your eyes and trouble your mind?
What was your conclusion about the website? Most people don't trust these kinds of websites. It doesn't matter how big your business has grown or what kind of a name you have built for yourself.
If you don't have a high quality, well-designed website, it is almost impossible to have any person trust you.
Low quality, poorly designed websites rarely get visitors. When one stumbles on the site, the first instinct is to close it as fast as possible. As a business, think about the consequences you have to face with your website and do it during the web development process.
An unappealing or outdated website gives your brand a negative image. Clients will be deterred from your website and you end up missing out on leads.
Attracts Loyal Customers To Your Business
Having loyal and repeat customers is a dream come true for many businesses. This is what creates a lifetime customer but it doesn't come easy.
Every business aspires to expand and loyal customers are what drives this growth. As a business, web design and development help you out in an amazing way.
A well-designed website is more appealing and attracts more customers to your brand. This coupled with excellent customer services, fast loading speeds, and an easy to navigate website makes customers stay.
It is easier to convince your customers to try out your products or services when it took them just a few seconds to get on your site. On the other hand, if you have low quality, poorly designed website with slow loading speeds, the visitor might not even get to the landing page.
Your effective web design and development process has given you credible leads, it's now your role as a business to make them stay. But how? Start by ensuring no loyal customer is left out.
One creative way of retaining customers is through rewards. It can be anywhere between gift vouchers and bonuses on select items.
Maintains Consistency
Getting new leads for your business isn't an easy task. You have to get quality leads, who turn into visitors, audience and eventually convert to customers.
However, this is a process where you get to build your brand and it can be daunting sometimes.
You want to get the audience familiar with the brand such that when they make the decision to convert, they choose you. With web design, you create and maintain consistency on your website across all pages.
Each of your pages must have the same layout, fonts, style, and design. Having a different web design on your pages makes it look unprofessional and unappealing.
It also makes it challenging to build brand recognition. Your audience doesn't know which styles, colors, or designs to associate with your brand.
Web visitors bounce from a website that looks unprofessional and inconsistent to a more professional one. Building a brand identity is easier with a consistent website.
Sets A Good Customer Service Impression
Did you know that visitors can sometimes judge how you might treat them based on your web design? The web design gives visitors an insight into how your business perceives your audience.
The question most of your audience asks is if the business can't put a lot of effort into good web design and development, can they put a lot of effort into helping me out? Did the business put a lot of effort into their products and services enough to help me out?
Most of the time, the answer to these questions is a no which leads the visitors to your competitor.
A well-designed website acts as a customer service attendant. If the website is modern, bright and inviting, the audience feels more confident and welcome on the page.
It gives the impression that you are open to receiving new clients through your website.
An unappealing and outdated website makes your business appear aloof. Most people don't appreciate a business that doesn't value them enough to get a good web designer to help them create a good first impression.
Your website is the digital face of your entire business. You want to greet these people with a friendly face to make them feel more confident and welcome.
Increased Sales
The success of any business is anchored on the number of sales. Web design and web development can help a business attract more sales which translates to more profit.
Nowadays, the number of online business transactions increases by the hour. Most businesses have seized the opportunity to capitalize on online sales.
With a good website, the business shows its clients that it is dedicated to offering the best services and information to all their clients.
Saves On Costs
Many startups and companies fail in their different ventures all thanks to losses or low profits. Part of the failure is the use of poor business tactics such as ignoring online web services.
Web design and web development are affordable. During web development, structuring the content properly saves a lot of costs. These costs extend to the future gains that the website brings in the business.
In today's world, running any business without a website is almost like inviting failure to your doorstep. Thanks to advancements in technology, most people rely on the internet and websites to search for products and services.
The websites have a testimonial, reviews, and such opinions which lead to profits in the long run. The use of websites as a communication, advertisement, and marketing tool leads to more traffic and more sales.
However, all this is impossible without proper web design and web development services.
Acodez is a renowned web development company and web application development company in India. We offer all kinds of web design and Mobile app development services to our clients using the latest technologies. We are also a leading digital marketing company providing SEO, SMM, SEM, Inbound marketing services, etc at affordable prices. For further information, please contact us.
Looking for a good team
for your next project?
Contact us and we'll give you a preliminary free consultation
on the web & mobile strategy that'd suit your needs best.