Internet is a place where you can get anything that you want. Come on now, I am not joking out of morning sickness. You, me and all my readers are aware of this fact.
There was a time when there were no Smartphone and communication gap was unbridgeable. Maybe around 17 years ago we did not sleep with mobile phones under our pillows.
Bringing people closer!
But, today we use Whatsapp and Facebook Messengers to wish our friends on their birthdays.
What is the first thing that you do when you wake up in the morning?
Undoubtedly, you are online and stalking someone (maybe your ex! :P:P).
We live in a world where communication is no more a problem and everything is available with just a click of the mouse.
Celebrating a kitty-party with your friends?
Take your Smartphone and look up for all the best restaurants in your locality. Local Business Search now provides you with a refined search with better results.
Choose the restaurants ( results 1-3 on the search engines) and go through their menu. If they have your favorite dishes, just take a sneak peek into their customer reviews. If all is well, place your order.
No more waiting. Your order is delivered at your doorstep while you set the table and make the other arrangements for welcoming your guests.
Next week you have to attend an important function at your friend's place. And your wardrobe sulks. What are you going to wear? What are the latest trends? What brand or what outfit? In the middle of the night you are already under pressure due to heavy workload and only a few days left for your friend's marriage.
What will you do? So many questions!! No tensions… You know where to look for. Online shopping sites are sometimes more than a blessing.
No matter what time of night it is logon to your favorite site, choose your price range and size, here it is. Pick your item and add it to the cart. Make the payment and place the order.
It will be delivered in maybe 5-6 days. Now you can relax and go back to sleep.
This makes my whole point. E-commerce is a part of our lives.
Just like we enjoy music and playing online games, many of us love online shopping.
Some of us do it just because we do not have the time to visit the shops in town. There are others who do not want to take the pain of roaming around the streets.
We all have our reasons for choosing online shopping.

Where are we going?
Yes, so if you have plans for a business, consider taking it online.
In today's first paced world of technology, you cannot survive with a physical store at some corner of the street in some lone town.
Go online. Let people know you exist and they will help you survive.
I don't think I need to brag further to convince you, because all that stuff would be among those that you already know.
People would have told you about the prominence of an online store in today's world and you might have your account of success stories and statistics which is why you are here reading this.
My task is to provide you with some tips to help you choose an E-commerce platform that will fit in your business requirements.
Now, I know that this is not something new. There are a number of blogs and articles that have already brought you information on which platforms will serve you better.
There are articles from E-commerce experts that compare the different frameworks and which kind of one will suit each of your business needs.
So I won't be boring you down further.
What I have done here is collected expert advice and tips on which E-commerce platforms they recommend. My instincts don't trust me to have a complete profound knowledge and expertise on helping you choose the best one when you have all that information with you already.
I want to do the no nonsense thing. I am providing you with information that will actually help you win customer hearts and appreciation.
I can guarantee you the same because these are tips from experts who have already tried these techniques repeatedly and achieved success.
Ready?
Let's get started then-
#1. Shoprocket:
A single line of code and the work is done. You have your online store built within a blink of the eye. Also, Shoprocket is easy to integrate and manage.
See what Anthony Gale, the CEO of Shoprocket has got to say about this awesome platform:
"Shoprocket offers a fully-featured eCommerce platform that enables anyone to start selling in minutes using only one line of code. Unlike many platforms out there, it's very flexible, only charges on successful transaction and is very resources light. We believe this is the future of eCommerce and that it's important for the ecommerce industry to continue to innovate. Additionally, our one page checkout ensures a very low basket abandonment rate which will be a trend that other platforms will catch on to."
7 minutes and you are the owner of a full-fledged online business
Can you believe that?  It takes only 7 minutes from the sign up to go live.
The costs: Only 2% of what you earn from each of your closed deals.
A small headsup for Shoprocket from my side: Guys this is the best one, go grab it and embrace the world in your arms. All it will take is just 7 minutes.
#2. BigCommerce: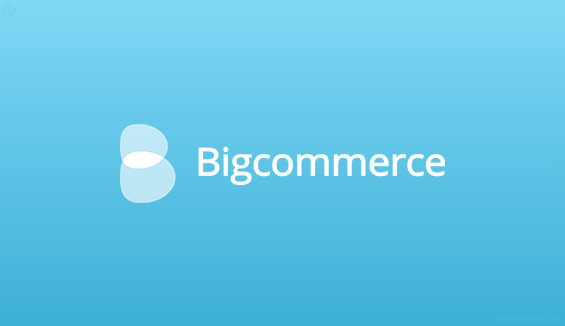 Take my word or abandon it after 30 days of free trial. Many businesses from over 150 countries have already tried this and are serving several thousands of their customers with the best solutions in the industry. The size of your business does not matter, you can integrate small, medium or large sized businesses quite easily with BigCommerce.
Here are a few points I have found from my research on why businesses prefer BigCommerce for their online store:
Integration is easier: Starting from integration Email newsletter tools, auto responders, shipping and tax configurations, payment integrations that are 100% safe and secure, social sharing, product wish list, product reviews and more. BigCommerce is a warehouse of anything and everything that your online store needs.

Mobile friendly: You do not have to put in a lot of effort to ensure that your online store is mobile friendly. It provides you with attractive mobile templates.

Facebook is the next big thing: Your online business is incomplete unless you take it to your audience on Facebook. It provides your fans and followers to catch a glimpse of who you are and what your products are before they navigate to the website. Also, you can request them to spread a word about you.

24/7 Support: This is one of the highlights of BigCommerce. If you have signed in for the 30 day free trial you have a lot of time with you during which you can explore the different sides of this Platform.

Search Engines love BigCommerce: This is because BigCommerce comes with Search Engine Friendly Tools that helps to boost business SEO.
Do you need more convincing on BigCommerce could be the thing for your business?
Here it is:
See what Jeremy  Levi, Director of Marketing at MarsWellness.com has got to say about BigCommerce:
"I've been in online marketing for about 5 years now, working exclusively in the ecommerce space. I've worked for companies doing $100,000 annually and for companies doing $1,000,000 annually-companies building their own platform and companies using the out of the box software.
I love using Big Commerce. While it's doesn't seem to have the same traction as Shopify it performs just as well, and web developers I've spoken with all tell me that if you have a lot of products on your site with many SKUs you're best off with Bigcommerce.
On the customer side it gives you a robust experience-the customer can't tell the difference between Big Commerce platforms and customized $1million platforms.
I've used Wix as well but Bigcommerce is better.
Site I built on Big Commerce: grandmaswishlist.com and I'm in middle of building another one."
#3. WooCommerce, PrestaShop, Magento and Shopify:
Before I share with you expert thoughts on WooCommerce, PrestaShop, Magento and Shopify, a word about these from my side:
WooCommerce:
WooCommerce is Free. Don't think more. Utilize it. You don't get everything for free. But when you get goodness for free why say no? Grab it…
It is a WordPress Plugin. Also, along with building a fully functional website, you can utilize it to build a blog. So much of goodness in a single place.
Analytics is easy. Provides you with WooThemes and has several customization options. It provides you with a high level of flexibility.

Can you think of a reason to say no to WooCommerce when it has so much to offer for free?
PrestaShop:
One of the widely used Ecommerce solutions that has been gaining popularity quite recently. Available for free. You can download and install it with ease.
What are some of the benefits of using PrestaShop:
OpenSource and free of cost: If you are running on a budget then choose PrestaShop for your online site.

Multiple languages: If you want to reach out to a wider audience, your website needs to possess the ability to converse in their language.

Free Themes: Several free themes are available that you can use to improve the appearance of your website.

User friendly: You do not need to put in a lot of effort to learn and use Prestashop. It is simple yet powerful too.

Search Engines love to date PrestaShop: It has got SEO tools that will take you to the top of search engines.
The world prefers to use PrestaShop for building their online stores. Then, why don't you?
Magento:
Magento is a Content Management System based on MySQL and PHP and is Linux Compatible.
A brief overview of its features:
Also, there are businesses that have chosen Magento over BigCommerce, Shopify and other similar big heads. They have found Magento to be the best choice for their business.
Shopify:
Shopify is simple and is powered with auxiliary apps that makes things easier.
Why do businesses choose Shopify for their online store?
Simple and affordable: It is not available for free but the price is something that you can easily afford.

Provides your store with a great appeal that attracts people.

Marketing tools: It provides SEO marketing tools that will take your business to the next level.

Safe and secure: Customers will reach you and make a deal only if they feel your system is safe. Shopify is one such platform where your customers do not have to worry about the safety of their transactions.

Hosting is easy: Usually starters have no idea of how hosting works. But with Shopify, everything is taken care of.
Shopify is popular and many businesses have already benefitted from it.
Here are expert thoughts on all the four and something more:
Grayson De Ritis, the Chief Operating Officer & Design Lead at De Ritis Media says:
My go-to platform for creating a future-friendly, responsive e-commerce presence is hands down WordPress in combination with WooCommerce. For me, this combination of CMS and plugin has the most aftermarket support, lowest initial cost and greatest level flexibility from a design and development standpoint. Additionally, WP+Woo is friendly on nearly all major hosting provider packages these days. Whether an advanced web designer or someone starting out, this platform is friendly for all levels of experience. For example, the ability to code a skin/theme from scratch is readily available, but so is selecting from a wide variety of read to go packages.
David Attard, Founder of DART Creations – website for web designers and webmasters shares a similar thought on WooCommerce and also shares his experience with Magento:
When choosing an ecommerce platform, we think that the actual shopping platform per se is the least of your headaches. Essentially, the platform will have to integrate with many systems, some which you may already have and use, and some which you will have to implement specifically for your ecommerce project.
If you haven't got any setup yet, your choice will be easier, because all of your options are open. But if you already have a website, a shipping platform, a payment platform, a CRM, a mailing system, an accounting system and other systems which you want to integrate with – you need to check how difficult it will be to integrate with your existing systems.
Another crucial area will be support and response times for ALL of the systems you choose. You'll need to choose platforms who are able to support you 24/7 or at a minimum in your peak time zones. If your ecommerce platform experiences downtime at crucial hours, you'll lost lots of potential revenue, besides loss of reputation and trust.
For small companies who are integrating with a WordPress site, WooCommerce is the platform of choice. For larger businesses whose website will be mainly for ecommerce, you'll need to go for something which has been tried and tested. Magento, with it's various flavours is a good choice for those looking for a reliable choice. "
Josep, an Ecommerce expert at WebsiteToolTester shares the following thoughts with us:
"Love this topic! I work for WebsiteToolTester.com, where we've helped plenty of users find the right ecommerce tool for their projects.
There isn't a perfect ecommerce platform that suits every project. Therefore, the first step is to figure out the project's requirements. There are usually three factors that will define this: technical knowledge, flexibility needed and costs (in time and money).
Generally you can distinguish between self-hosted online store solutions (eg. Magento, Prestashop, WooCommerce, etc.) and more beginner-friendly hosted ecommerce website builders (such as Shopify, Volusion, Weebly, Wix, etc.). They have different requirements, variable costs and diverse pros and cons.
Self-Hosted Online Stores: these provide lots of flexibility and are highly adaptable to your needs. However, advanced technical knowledge is required, and developing an online store takes longer. The entry price can be as low as $0 for open source products, but developing the website, paying for the hosting, and the website complements (e.g. templates, plugins, etc.) will raise the costs significantly.
My favorite platform in this arena is WordPress + WooCommerce. It's the most straightforward content management system that I have tried, and WooCommerce integrates smoothly; the right balance between performance and ease of use.
Hosted Online Stores: These cloud-based tools aren't as flexible as the solutions described above and their entry price can be higher initially. They are easy to use and the shop owners don't need to worry about things like software installations and updates, security issues, hosting etc.
These tools also offer personal support which is a great plus for beginners. Their costs depend on the platform and chosen plan but they are between $15 to $75 per month.
My favorite tools here are Weebly and Shopify (the market leader in this segment). The former is more limited in features and flexibility but is as easy as it gets. The latter is a good alternative to self-hosted solutions due to its flexibility and wide-range of features. "
Weebly Example Store:  http://www.xobruno.com
Shopify Example Store: https://www.popchartlab.com, https://www.popchartlab.com
Alex Drysdale, Founder at CrikNutrition.com shares the following thoughts about Shopify:
" I have been building online brands for the past two years and was mentored by a friend with 10 years experience.
For most businesses Shopify is really the way to go if you are mainly just an Ecommerce business.

It's quick and easy to set up a beautiful site, and if you are picky and want it tweaked you can do it yourself or get it done cheaply.

It can scale and is built to handle it both on their end and for the store owners end.

There are tons of very useful plugins that would costs thousands to implement on any other platform, where with Shopify you just 1-click install and easily configure.
I know friends that have had built completely custom stores from the ground up, or even with wordpress, and the problem is you need to have someone on staff that is really good with code and problem solving or at the very least have someone very reliable on call 24/7.
With my latest business I needed to get things up and moving very fast (1 day) after we received a lot of press, and I was very impressed with Squarespace. It is very easy to drag and drop elements, and has the easy option for products. Anyone can set up in a day.
The problem with it for me is as we grew there are many features that are needed which would have to be custom coded, and you need a developer account for that. Also the backend is nowhere near as robust and useful for a busy store as it is with Shopify. "
Erik Robie Ecommerce expert at MerchantMaverick.com shared the following thoughts with us:
"When it comes to working with Ecommerce platforms we've quite a few.. From Weebly, to Etsy, to Magento, to Shopify and most everything in between.
What we've seen is that at this point most of the major Ecommerce platforms share the same basic features – straightforward product addition, clean themed templates, consistent checkout flow, and useful product payments.
Those that don't just aren't worth using in this day and age. But the real dividing features between the top tier Ecommerce platforms is what you can get outside of that basic level of features. What we have found is that no platform, free or paid, can match Shopify when it comes to additional features and tools.
The shear volume of apps doesn't necessarily differentiate Shopify. WordPress and Magento also both have a large number of extensions that have been developed over the years that can help Ecommerce sites on those platforms. But our experiences from a development side have made us believe that Shopify app development will continue to grow at a rate far exceeding these other platforms because of its robust and useful API that its competitors lack. This will allow developers to continue to create high quality, modern, apps for Shopify allowing storeowners to flourish.
Whether you are looking for free or paid features, help with marketing or Point of Sale checkouts, email capture or shipping calculations, Shopify's app store has something there for you. Because of the easy to access API and clear documentation many developers have created an array of dynamic products that allow you to customize your store making it possible to seamlessly transition from a fledgling store to a major Ecommerce site. All Ecommerce sites can now give the same basic offerings, but only Shopify can give you exactly what you need when you're trying to grow your business."
Further Eric puts the following conclusion note:
"The best marketing methods revolve around staying within your customer's daily line of sight. In a world where shoppers can buy anything from their cell phone and have it shipped to their front door, all while waiting in line on some other errand, it has never been more crucial for retailers to maintain an eCommerce platform. With so many options, finding the right tool to build an online store can be its own puzzle to solve.
There are several questions to answer which will help you to narrow down the field of choices, but the most important one is this; What is the scope of my business? More specifically, determine the current stage that your online marketing strategy is in. Are you just starting out? Are you graduating from online marketplaces like Etsy? Does your website need to be redesigned entirely? Do you merely need a more versatile shopping cart in your existing website? Each eCommerce platform will specialize in serving one of these needs, and there are several excellent choices for every unique business.
An Enterprise-sized business will have the budget, IT proficiency, and infrastructure that an Entrepreneur will not. There is no single eCommerce provider that rises to the top, winning predominance for every type of business. Whatever stage your business is in, there is a unique "short list" of eCommerce providers that will best serve your unique needs.. ."
Also John Lincoln at Ignite Visibility shares the following thought:
"I have worked with almost every E-commerce system online. For the fastest set up online, use Ecwid.com. Not only is it free, but you can easily set up a distributed e-commerce system where you can sell anywhere. If you are looking for a step up, consider Shopify. This comes with a nice CMS. The company is worth over 1 billion and they have invested heavily in the features of the site. From there, you run into more robust platforms. My two favorite platforms for E-commerce online are Magento and Miva Merchant. Both are easy to use CMSs with built in functionality that can take any website to the top. There are many similar platforms to these two, such as Big Commerce and Core Commerce, as well. Finally, there is ASP.net. Many very large E-commerce sites will use this platform. You can build massive stores and have a lot of flexibility, however, it can be expensive to get the right developer and there are often technical problems."
These are what experts have got to say about these E-commerce solutions. Let us keep our fingers crossed and wait for the new trends to rule the world of online shopping.
Do you own an online store? What was the E-commerce solution you have used to build your store?
How comfortable are you with managing and handling your online store? Share your thoughts, comments and feedback with us…
Acodez IT Solutions is one of the leading ecommerce web development companies based in India providing a wide array of web design and development services to our clients around the world. We also provide digital marketing solutions to help client businesses gain visibility. We customize inbound strategies that will help you to extend your reach at a global level.
For more information on our services, contact us today and we will provide you with a free quote…
Looking for a good team
for your next project?
Contact us and we'll give you a preliminary free consultation
on the web & mobile strategy that'd suit your needs best.