Today, the majority of internet users have created scores of accounts online, and the high chances are most of them are reusing the same password across different sites.
Although it appears convenient, it also puts them in real danger; if at all one of those accounts is compromised, then all the other accounts will be in hot soup.
Using the right password manager makes life easy and secure. There is no hassle of having to remember those unique, complex, and rather lengthy passwords for every account that you create online.
A password manager does the remembrance part for you and eliminates the risk that might occur due to data breaches, and immediately generates a new, strong password so that you will never require to reuse the old one.
Now, you're only required to remember just a single password, the "master password" to the manager itself.
The best password manager comes with tons of superb features like a powerful anti-malware program to secure the computer from malware/virus, a powerful theft protection application to assist retrieval of data should the PC be stolen, and a VPN application to keep users' online activities private.
A good password manager would secure data on the computer and cloud with tough encryption.
They can be installed in all devices that use a single account (usually paid) with ease and have the capacity to store an unlimited number of passwords.
In this post, we have compiled some of the top password managers in the market today like LastPass, Bitwarden, Dashlane, Keeper, RoboForm, 1Password, NordPass, Keepass, RememBear, and Enpass.
LastPass is one of the leading Password Managers out there in the market. It's user-friendly, secure, comes with a plentiful of powerful features, and available in free and premium plans.
The free version syncs across various devices and comes with almost as many capabilities as the premium version like secure storage, a password generating tool, and countless password storage.
The Premium versions come with a 1 GB space for online storage, multi-factor authentication, and DARK WEB monitoring capabilities.
It stores unlimited passwords and can be installed on multiple devices under one account. With Lastpass, the user does not necessarily need to install the application on their computer.
Instead, they can have it run as an extension on their browser.
Features
Multi-factor authentication (MFA): protects your device(s) from phishing attacks by requesting extra authorization to give you full authentication to your accounts.

Password vault: all the passwords can be accessed using different browsers.

Supports all major platforms: Mac OS, Chrome OS, Windows, iOS, Android, and Linux.

It's an excellent family-plan pricing
Certainly, top on the list and has been considered as one of the best password managers for years.
It's superbly user-friendly, offers great security to data, and comes with a range of incredible features like multi-factor authentication (MFA), a virtual private network (VPN), password changer, and DARK WEB inspection.
Multi-factor Authentication (MFA). The application is compatible with MFA software/features like FreeOTP, biometric identification, USB authentication, and Google Authenticator.

VPN: in fact, VPN in Dashlane works better compared to some autonomous VPN software. For instance, the Dashlane-enabled VPN can unblock geo-restricted streaming services with no interference with the internet connection.

Monitoring of DARK WEB: Dashlane can scan the DARK WEB for financial information, personal information, or login details. Should your identity be stolen/breached/compromised, Dashlane will instantly notify you and propose the right solution.

Password Changer: the ability to replace multiple passwords with one click. Actually, this feature sets it apart from its rivals.
Bitwarden is an open-source, highly secure, and easy-to-use password manager. It's ranked one among the best free programs that offer an unlimited number of passwords.
Its basic plan is meant for password management but also includes capabilities such as multi-device sync, the saving of notes and Identities (online storage), and optional self-hosting.
The premium plans may include reports on passwords notifying issues such as weak password detection or insecure sites.
Features
Open-source program: implying all the lines in the code can freely be accessed by the online community, so the company cannot spy on the user's data. Also, the performance of the program is constantly optimized by a community of global developers.

Multi-factor Authentication (MFA): compatible with applications such as Google Authenticator and Authy for authentication purposes.

Online password Vault: allows users to access all their passwords in different browsers
It's an easy-to-use password manager that features highly secure and encryption capabilities. Its Secure Audit feature – ranking passwords according to their strength allows users to generate strong passwords.
Keeper features KeeperChat, which is encryption messaging app making it a powerful tool for both password security and sharing of files.
Compared with its rivals which often include a 1 GB storage space on paid plans, Keeper comes with a larger space of 10 GB.
Features
Compatible with major platforms like Mac OS, Chrome OS, Windows, iOS, Android, and Linux.

Multi-factor authentication (MFA): includes biometric authentication for mobile gadgets.

Syncs data across a huge number of devices

Secure record sharing
Also, Keeper has an excellent family-plan that protects the login information of the persons in your household and allows you to share files securely with each other.
The plan provides an encrypted messaging tool that operates like WhatsApp messenger.
It's a versatile program with extensions for various browsers –Chrome, Internet Explorer, Opera, et al., and mobile applications for Android and iOS.
RoboForm particularly comes with form-filling features – provides immense customization compared to its rivals such as Keeper and LastPass.
With this program, you can easily create several identities from internet forms, having eight different classes of data, with passport and credit card data included, and securely share these files with your RoboForm mates.
Roboform features a password generator that applies an open-source protocol that's purposely meant to assess the strength of the password.
The protocol is constantly updated by a community of developers around the world to make it security-tight from the latest cyber-crime tactics.
Features
Peculiar bookmark function: allows users to save and synchronize bookmarks from their computer browsers onto devices that have RoboForm

Reasonably priced

Multi-factor authentication

Online storage of data
1Password is a solution meant to offer password security for individuals/organizations while offering shared password protection plans for families.
This manager comes with two service provisions where one provision is for one person and their family that offers a plan of single-use or family plan with no more than 5 individuals.
The second one is a business service that provides password security for individuals working from home, teams, as well as companies in general.
Besides offering password protection, 1Password secures your computer from cyber-threats and data breaches, like keyloggers and all sorts of phishing attacks, and only works with verified browsers.
Features
Watchtower: notifies users in case their password has been breached, tests the overall strength of the password, and generates new strong passwords.

Inbuilt multi-factor authentication

Local data storage
Developed by NordVPN, NordPass is best suited for non-tech savvy users. Its interface is meant to be effective and user-friendly.
With NordPass, you'll encounter no trouble when importing and generating new passwords, or even creating new logins.
It comes with an in-built multi-factor authorization feature that uses fingerprints and emails to authorize access to your accounts.
Also, NordPass applies the XChaCha20 encryption – which is the same as the one used by Google for data protection – and zero-knowledge protocols, implying that even the NordPass team cannot access users' information.
Features
KeePass is an entirely free, powerful, and customizable password manager. Besides, the user is required to assemble the program.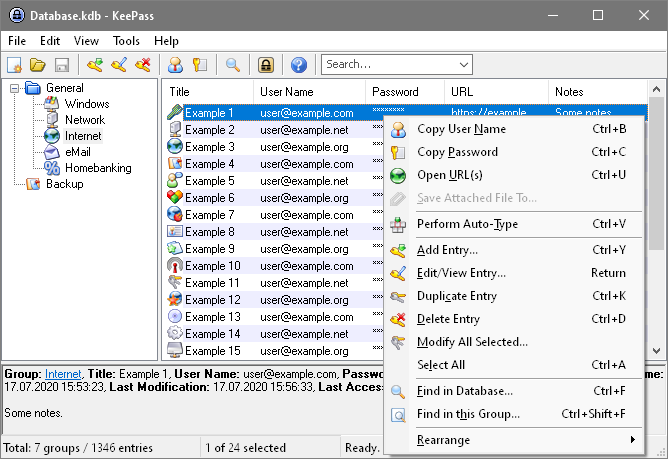 The application is purposely written for Windows but it can work on Linux and Mac OS with some tweaking.
Users are allowed to sync among various devices by using a Dropbox, OneDrive, or familiar internet accounts, or sharing them on their home networks.
KeePass requires some bit of learning to make users familiar with its operations. But, it works very well for people who have a technical mind and who enjoy working with challenging applications.
Features
Entirely free and open-source password manager

Users have full control of data

Runs on major platforms like Windows, Linux, Android, Mac OS, and iOS.
It's an easy-to-use, secure password manager that features a peculiar interface – simple, stepwise instructions with animated bears! Whereas it misses some of the super features found in other products such as Dashlane and LastPass, it's indeed an incredible product.
With RememBear password manager, users can easily sync passwords, their credit card info, and even notes across different devices.
Also, its mobile version application supports iOS operating systems, biometric identification features, so users can easily log in to their accounts with their fingerprints.
Features
User friendly

Generates NDK – unique device key: only seen by the user. It's generated in case the user forgets the master password.

The free plan offers storage for an unlimited password, but just for one device while the premium plan offers unlimited password storage on various devices at a lower cost compared to other password managers.
Regarded as the best budget password manager and the only password protection program that offers a single-time purchase option.
It offers a reasonable annual subscription for users who don't have much commitment like a limited number of passwords.
It offers storage of local data, unlike other programs that adopt dedicated servers for data hosting so that all devices remain synced through the cloud.
Features
Inbuilt multi-factor authentication (MFA)

Enpass portable: offers users to install the software on USB storage devices

Wearable support: data can be accessed from a smartwatch

Biometric support: users can use fingerprints, eyes, or face to log in to their accounts.
Conclusion
Nearly all password managers work the same – saving, storing, generating passwords; syncing multiple devices; multi-factor-authentication; et al.
But there are different features that distinguish them like the method of encryption, simplicity of use, pricing, and options for multi-factor authentication.
Arguably, the suitability of each password manager depends on what the user(s) want in them.
Acodez is a renowned name in the website design company India arena, offering Emerging Technology Services to our clients across the globe. We offer all kinds of web design and web development services to our clients using the latest technologies. We are also a leading digital marketing company providing SEO, SMM, SEM, Inbound marketing services, etc at affordable prices. For further information, please contact us.
Looking for a good team
for your next project?
Contact us and we'll give you a preliminary free consultation
on the web & mobile strategy that'd suit your needs best.