There are a few aspects that you need to consider while building an E-commerce website taking into account all the related utilities and features that are essential for facilitating an online shopping dais with extended ease and convenience. These aspects include implementation of the shopping carts, product catalog, stock control and the payment gateways and a transaction process that is safe and secure.
There are a number of questions that will keep on pondering you when you plan to design an E-commerce site. The first and foremost aspect of E-commerce design is to decide whether you need to implement your store on a hosted or self-hosted platform. User-friendliness, scalability, reliability, customization, etc. form an important part of the decision making factors when you are new to designing an E-commerce site. Each and every business has varying requirements and based on these requirements you can choose an excellent shopping cart solution for your online store. Think of the specific features your business needs and then go with one of the following:
If you are a beginner with limited resources (budget) and if the budget constraints pull you back from opting for subscribed hosting, then open source is the best available option. The technical part and the set up process is quite simple and hassle-free when using open source CMS.
Listed below are 13 open source CMS and you can choose any one of these to build your own E-commerce site absolutely free of cost:
1. Magento
Magento is one among the complete E-commerce platforms that are available till date and this content management system based on PHP and MySQL, is highly compatible with Linux. It comprises of an array of additional modules that can be easily installed to customize a great virtual store in-cooperating your business requirements. Also, it provides you with the facility to implement multiple payment options across your store that makes it easy for the visitors to make payments based on their preferred payment gateway.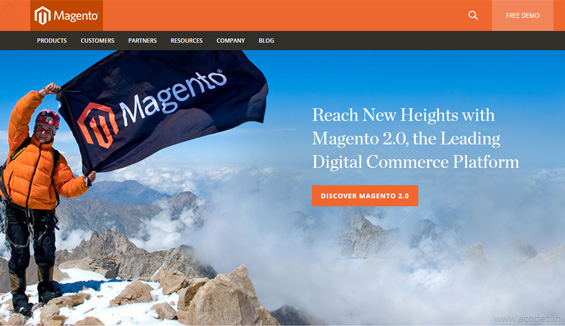 2. WooCommerce
WooCommerce powered by Woo Themes is a free WordPress plugin that offers a wide range of functionality and a lot of flexibility. It is highly professional but simple and secure. Also, it comes with inbuilt analytics that makes the presentation of things like sales by date, individual customer statistics and total sales and average order totals in neat little pie graphs easier. It offers a high level of customization as you can choose from any of the 39 different WooCommerce themes that are available.
3. Prestashop
Prestashop is one of the most powerful online shopping cart scripts. You can easily download the scripts from the site: www.PrestaShop.com. It offers a high level of flexibility and also the loading speed of the sites is highly competent. Theme customization is easy and flexible as it allows you to easily replace the old ones with new and updated fresh themes as per your business requirements.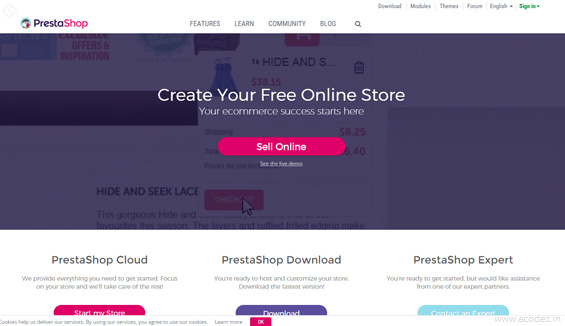 4. Virtuemart
Virtuemart is one of the most popular and experienced plugins that helps to set up online stores with a friendly navigation and also it allows you to sell any type and number of products. The initial set up and installation process is simple and easy and does not involve a lot of technicalities, so anyone with little or no technical knowledge can easily manage it. It supports multiple languages and a varying range of currencies, which means you are at an advantage of selling your products across anywhere in the world.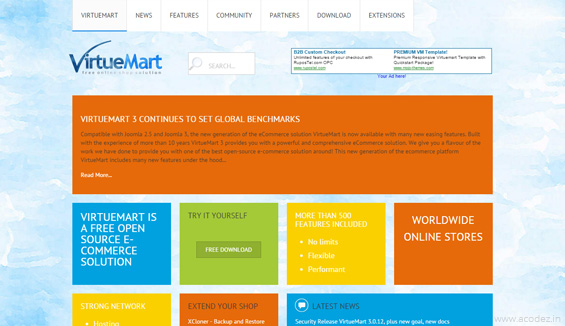 5. OpenCart
OpenCart is a complete package of high-end solutions that combines simplicity, flexibility and a multitude of functionalities. One of the major attractions of OpenCart is the simple and easy installation process that it offers. Being a lightweight E-commerce solution that utilizes AJAX technology, OpenCart helps to reduce load speed while increasing the store speed. Also, it provides the multi-store functionality which allows store owners to manage multiple stores from a single admin panel. It comes with 7000+ extensions which will help you to expand the store possibilities beyond imagination.
6.  ZenCart
The ZenCart is an open project that has been built and supported by a community consisting of developers, designers, shop owners and consultants. Anyone who is good at coding can make their valuable contributions to the ZenCart project. You can easily modify ZenCart's source code and customize it according to your business requirements. ZenCart works fine with all kinds of hosting providers as it requires only PHP, Apache and MySQL.
7. CS-Cart
CS-Cart is equipped with a large number of features right out of the box that makes it easier to organize and manage a powerful online store. It provides an array of detailed settings that can be used to add, edit and modify any number of products and categories and also this platform comes with a multitude of languages and currencies supporting all kinds of payment/shipping options. The CS-Cart inventory tracking system is one of the major attractions of using CS-Cart as it will notify you whenever an item is out of stock. You can utilize CS-Cart's inbuilt content manager to publish any kind of web content that fits into your business requirements. The website of Shopeclues was built on CS-Cart.
8. UberCart
If your website is being implemented using Drupal, then it will be worth considering the UberCart open source CMS. This module provides splendid E-commerce functionality to Drupal powered websites with an extended ease. Generally, UberCart is used to sell a varying variety of physical goods that includes shirts, shoes, bags, watches, and also digital goods like movies, music and even software and event ticketing.
9. ZeusCart
If you are implementing your store using Bootstrap then it will be a cool idea to utilize the ZeusCart default theme that will make your website fully responsive. ZeusCart is equipped with a repository of features that includes gift cards and coupons, apart from the regular shopping cart, payment gateways and shipping cost calculators functionalities that are readily available with all kinds of open source CMS and also it is equipped with advanced SEO & search functionalities that will help your site to achieve a higher ranking over the search engines.
10. CubeCart
If you plan to implement your store using CubeCart, then the admin of the site can take the privilege of accessing all the details about the E-commerce site including the stock and sales reports without any kind of delay.  Also, it provides you with the facility to export these reports as spreadsheets. It is also equipped with a large number of plugins and modules that can be used to enhance the functionality of the store.
11. TomatoCart
This can be one of the best things that can happen to your store as it utilizes Rich Internet Applications or RIA's in its backend that presents a powerful GUI similar to your PC. It also helps to enhance SEO, as it implements Rich Keyword URL's for products, reviews, articles, categories, etc and also the Rich Keyword URL provides with the advantage of replacing the ID with the name of the content. TomatoCart is powered with a simplified MVC that ensures a speedy performance.
12. SpreeCommerce
SpreeCommerce provides you with the facility to configure, add, edit or modify and replace the functionalities of your site, and also you have the full authority to customize the components of your store as per your business requirements. One of the exciting aspects of SpreeCommerce is the in-built subscription functionality which facilitates the customers who have already signed up, to avail your products and services constantly without the need to repurchase every time.
13. LiteCommerce
Just like UberCart, LiteCommerce can be used as a Drupal module or it can act as a standalone E-commerce platform. It is equipped with a smooth interface that is powered with AJAX facilitating lively interaction, and the design part of LiteCommerce is amazing as it is absolutely clean and beautiful. It has been built over modular architecture that makes it highly customizable.
14. HeroCommerce
HeroCommerce is an extension of the CMS platform HeroFramework and this extension transforms HeroFramework into a complete E-commerce platform. You just have to download the bundled package that comprises of HeroFramework along with its E-commerce add-on and install these on to your server. The E-commerce add-on is equipped with all the necessary features and functionalities such as the shipment, payment gateway, product inventories and more.
15. nopCommerce
nopCommerce is an open source E-commerce that is powered by Microsoft technologies, ASP.NET and MS-SQL Database. Just like the other E-commerce platforms, nopCommerce is equipped with all the necessary functionalities that you need to set up an online store and start selling your goods online, no matter whether these are physical or digital goods.
16. Kartris
Kartris is an E-commerce platform designed to run across the Microsoft's IIS web server built on ASP.NET. It is equipped with all the essential functionality features that include product inventories, payment systems, back-end administration and also the shopping cart.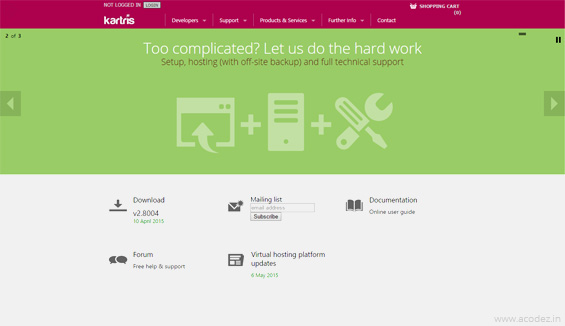 Hosted E-commerce Platforms
You can choose to go with the hosted E-commerce solutions as these facilitate website hosting within their servers along with automated set up, maintenance and upgradation services for the website till the expiry of the service subscription and in most cases businesses opt for monthly subscriptions. These are referred to as the Managed E-commerce platforms and listed below are some of the best options that will be worth the investment:
 17. Shopify
Over 74,418 sites have already been powered using Shopify. The setup process is simple and easy and it comes with a handy dashboard area that makes it easy for you to add products and also you can customize the appearance of your site as per your requirements and much more. It is quite cool as it directly asks the user whether they are moving from another platform during the signup process and if so the system provides you with a link that enables to import products from your existing store. Shopify's in-built functionalities and features make it easy to add products with separate fields for titles, price, descriptions and much more. Now you know why Shopify is a popularly preferred option among online businesses.
 18. Volusion
Volusion, another most preferred hosted E-commerce solution, though it is not as pretty as Shopify but has the elements to appease your customers. It is being used by more than 40,000 online stores around the world. It comes with a user-friendly interface that allows you to add and customize the content of your site using an array of in-built editing tools. It also provides you with certain tools that make store management functionality quite easy. The advanced SEO features of Volusion will rank your site at the top of the search engine results.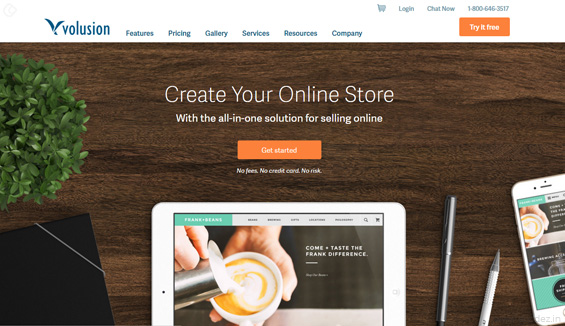 19. 3dcart
3dcart comes with excellent features that includes a reliable server and an-easy to use admin panel. Also 3dcart stores have a powerful product management system that will help you run your shop with a high-level of efficiency. You can easily add and manage any type of items including product inventories, customer reviews, wish lists and multiple price listing and more that will contribute to make your shop profitable. Also it provides Search Engine friendly URL's and also advanced options to facilitate selling via Facebook and other social media sites across a variety of mobile devices.
20. Big Cartel
Big Cartel comes with 4 themes and each of these themes have a customization panel that allows you to add or change the colors and fonts and also upload the header and background image of your shop according to your preference and the exciting factor is that you can do all these with absolutely zero knowledge in coding. The backend of Big Cartel is easy to handle and manage and almost anyone opening an online store can easily create new products, categories and pages and add content to these.

21.BigCommerce
You can hardly find any online store builder software apart from BigCommerce that provides a 30-day free trial option. BigCommerce supports almost all kinds of payment gateways. Also you can customize it to easily fit in all your requirements. It also provides you with a large number of search engine and marketing tools and also a number of merchandising features that includes bulk discount pricing, tracking inventory, automated widgets, tracking customer reviews and much more.
Have you used any of these open source CMS or hosted platforms for your E-commerce store or tried any others apart from the ones listed here? How efficient are these at offering a high-end user experience? Share your thoughts with us…
Acodez IT Solutions is a leading ecommerce software development company based in India catering to a large number of our clients all over the world with state-of-the-art technology and innovative ideas to help their business achieve the desired growth. We also provide digital marketing solutions that will help your business to reach out the target audience across the globe. For a free consultation, drop in your queries to us.
Looking for a good team
for your next project?
Contact us and we'll give you a preliminary free consultation
on the web & mobile strategy that'd suit your needs best.