In today's world, regardless of what your product or service is, you can set up your online store – your Ecommerce site. Most people also felt that it was the easiest thing in the world to do – make a site and sit at home in your PJs, and count the money coming in.
But merely creating an ecommerce site won't suffice; today there are thousands and thousands of ecommerce websites out there, so you have your work cut out.
You need to make sure that people come to your site, and make purchases. So it's necessary that not only you have great products that people will want to buy, but also that they are able to find you, and keep coming back for more.
Now, there's no need to panic! Ecommerce success is not all that difficult. Here is a checklist you can follow to have a booming ecommerce business:
     1.Make sure your site looks good: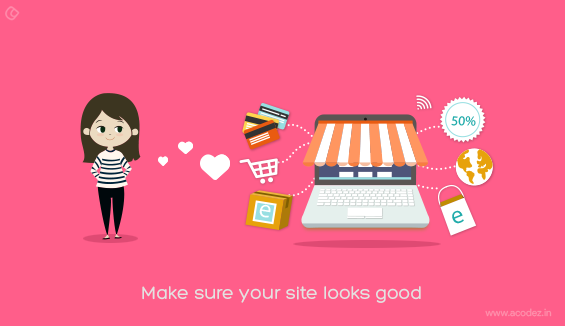 Duh! This one's a no-brainer. Your site must be attractive to visitors, otherwise, they will just move on to the next one. A word of caution, though: your site must look attractive to your target audience.
For example, if you're selling women's products, soft looks, shades of pink and peach, cursive fonts and so on will work well; if it's for motorbikes, say, then bold fonts, minimal looks, and red, blue and black colours will be more effective.
We have also written article about How to choose colors for website.
     2. Tell your story – everywhere:
People don't just buy a product; they buy a brand. In this case, that means you.
Even when people buy online, they always like to think they are dealing with a real person rather than a faceless entity; and they will love to hear about the person behind the wonderful product or service they have just purchased.
Tell your story – who you are, what drives you, what your passion is,  how you got into this business; and not just in the 'About Us' section; do it on social media, industry forums, discussion forums, blogs – wherever you get the opportunity to do so, without, of course, coming across as overly pushy.
     3. Your site needs to contain useful and valuable info:
You need to make sure you have high quality original photos and helpful product descriptions – add demo videos if you can; nothing works like videos! In short, you need to focus on the user – in this case, you need to target your ideal customer.
You need to think from their viewpoint – what would attract them? What info would they like to see on your site? Think through all these things before you actually launch your ecommerce site. No point in rushing and launching a half-baked site.
     4. The site must be responsive: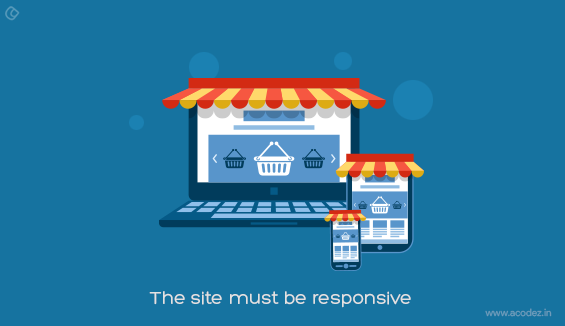 Another no-brainer! With an increasing number of population switching to mobile devices for browsing and purchasing, and several users using multiple devices at different times, it is imperative, that you provide them the same user experience every single time, so your site must be responsive – regardless of whether they're browsing on their 5 inch Smartphones or 20 inch desktops, and whether it's Android, iOS, Windows or any other operating system.
Optimizing your site to provide a seamless experience to your users is crucial these days. If you don't do it, they will simply go to someone who does give them this experience.
Get the Reasons for why website needs to be mobile optimized.
     5. Ensure easy navigability:
Your visitors should be able to find what they want with minimal clicks; make it easy to find your products.
Make sure there are menus with well labelled product categories, and sub-categories that pop out.
Make sure also, that you incorporate strong search functionality. When they are able to easily and quickly search for something they want, they will be happier to stay. Here is other Simple Usability Tips for enhancing E-Commerce Web Design
     6. Your site must be credible and trustworthy:
Ensure that you get an SSL certificate and serve your pages via https so that visitors know that transactions on your site are secure; they will be more comfortable purchasing with their credit cards or via netbanking.
It will be even better if you can get a known third-party security company like Kaspersky or Avast to scan your site and display their logo. Your guarantee/warranty policy and returns policy must be clearly worded so that potential buyers understand it properly, and are reassured.
      7. Include Customer Reviews:
Nothing inspires trust like first-hand, unbiased reviews of your product or service left by previous customers; potential buyers are far more likely to trust what other customers have to say, rather than what you say about your products.
Enable star ratings, and ensure they are displayed on category pages and above the fold on product detail pages, to boost visibility. Make it a point to respond to reviews – it will show the potential customers that you really care what your customers have to say about your products and services.
     8. Customer service should be available quickly and easily:
When you set up your ecommerce site, in effect, you open a 24/7 business!
People may buy your products in the middle of the night, early in the morning, on a national holiday – after all, that was the whole point of starting an online business, right?
Your customers may want to get in touch with you for any number of reasons – queries regarding pricing, shipping, suitability of the product, and so on. Make sure you provide multiple channels of contact: email, phone, online enquiry form, social media, and instant chat via a chat box.
They may have questions before they buy, or after, and you must be able to help them without much delay.
    9. Checkout process must be minimal:
Your visitors should be able to check out with the least number of steps; the more steps you make them go through, the higher the chances that they will just abandon the cart and go elsewhere.
While getting them to create an account is good for you and them (making future checkouts super-fast), provide a guest checkout option for those not interested in registering.
Read on the article:10 Top Tips to Achieve Minimalism in your web design to know more on minimalism in web design.
    10. Go social:
There's no point in having a great looking, responsive ecommerce site if nobody knows about it or is talking about it – all your efforts in creating it will come to naught.
Promote your online business through social networks like Facebook, Instagram, Pinterest and Twitter, and you'll soon see that others are also doing the promoting for you.
Make sure your website has social follow and share buttons. Advertise and connect with influencers on various platforms, and you will see your customer base grow.
Even if you outsource your social media management to another team member or outside professional, you need to be personally involved.
    11. Build and manage a robust product catalogue:
This is crucial. You need to have a solid catalog of products to enjoy online success. Identify and highlight what differentiates your products from others: pricing, free delivery, free accessories and so on – so that your products stand out from among thousands of similar products available.
    12. Focus on your competitive advantage:
Having a too-broad business plan right at the outset is not a very good idea. Find your niche – preferably with minimal competition. Identify your target audience – your ideal customers.
Then ask yourself what problem of theirs is solved by your product or service. Also check out the competition, and do an honest comparison: do they have any advantage over you, or are you really stealing a march on them? If your competition is doing better, learn from them, and your mistakes, and go about improving things in your processes or the site itself.
    13. Choose your channels wisely:
Do some research on which channels will reach your customers the best; are you going to sell them only through your own site, or also through platforms like eBay and Amazon?
You will need to plan how to market the products on your site, or paying fees for fulfilment, engage in price wars and so on.
You can also experiment by selling a few products on marketplaces, a few through your site, or a few products on both channels, and so on. You may need to go through trial and error before settling on a particular method.
     14. Make a Marketing Budget and stick to it: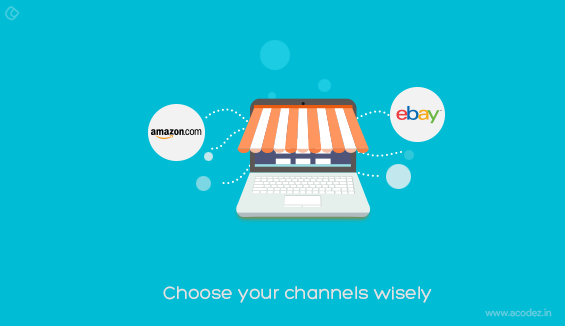 Even if you have an awesome site and product, it is still not enough to guarantee ecommerce success.
There are so many variables involved – competition, buying cycles, market conditions, change in technology or fashion or taste – that you have to be on your toes always.
You need to track competition, and budget for marketing; remember that there will always be a cost involved when you try to sell anything, so it makes good sense to plan for it; trust me, your sales and profit margins are going to improve.
No surprises is a good thing in marketing!
     15. Streamline your workflows:
Once business picks up, handling the daily logistical issues can become overwhelming. You may end up spending hours on data entry.
To avoid this, you need to make sure that you automate: integrate your sales data into your accounting, inventory and shipping systems.
When you accurately synchronize a set of order data across each operational area, you will find the whole process becoming much smoother. You need to work out how you're going to handle pricing, shipping and providing your customers with tracking info beforehand so that you can avoid multiple touchpoints.
   16. Build a sturdy fulfilment system:
A precise, well-managed and speedy fulfilment system is absolutely essential for ecommerce success.
Of course, if you're selling through a marketplace like Amazon, it becomes easy – just ensure that there are enough stocks of your product available in their warehouses.
If you're providing the fulfilment guarantee on your website, ensure you have a reliable and robust shipping process in place.
   17. Always measure results:
It's not enough to build a great site, make it responsive, offer support and be active on social media.
Don't you want to see how effective your efforts have been?
There are several analytics tools available, free and paid, that let you check numerous KPIs, or key performance indicators – for example, you can track how much time visitors spend on a particular page, how many visitors convert into customers, how many leave the site without going to the next page, and so on.
Ecommerce platforms are more accessible today than ever before, thanks to the many free communication channels available. If you're willing to invest time to engage with your prospects, launching your ecommerce business is a breeze.
The challenge is no longer overcoming technical issues. It's the amount of effort you will have to put in to promote your site – get other people to know about it, that is the big challenge today, especially because of the ever increasing competition.
Also read more on: Challenges, Advantages and Winning tools for International Business Marketing
Follow these guidelines, and you can surely taste success in your ecommerce business!
Acodez IT Solutions is an ecommerce website development company based in India catering to the online needs of businesses world over. Your dream of having a successful website can come true with the help of our talented team working on website designing, digital marketing, SEO services and Inbound marketing services.
Contact us today to know more.
Looking for a good team
for your next project?
Contact us and we'll give you a preliminary free consultation
on the web & mobile strategy that'd suit your needs best.