The outbreak of the COVID-19 pandemic has affected many businesses negatively. Many people have been laid off, and businesses have suffered significant losses, some to the point of closure.
This outbreak has had an impact on the web development sector as well.
The adverse effects of this unexpected disaster have shifted industries and how businesses are conducted to the Internet to make it out successfully.
While many industries have been taking hard hits during the pandemic, the web development industry has seen many benefits over the past year.
Lockdowns and market shutdowns have pushed most business owners to consider web solutions for their businesses.
People and industries now more than ever depend on the Internet to shop, conduct business processes and communicate. This has led to increasing demand for web developers and web designers.
The increased demand is being met thanks to innovative technologies and improvements in a variety of web services.
The following shows how the web industry has transformed due to COVID-19.
Massive Shift of Multiple Industries to Web Technology
The Coronavirus pandemic brought a newfound perspective on the value of the Internet.
With offices, schools, shops, and businesses shut down to minimize the spread of the virus, everyone has turned to the Internet and web development industry to continue thriving in the new normalcy.
Here are a few sectors that shifted to web services, causing a great impact on the web development industry:
Ecommerce
Online shopping has grown in popularity over the years because of its convenience.
It is fast, easy and you can shop from anywhere and at any time. Since the pandemic, eCommerce platforms have become a necessity in many countries.
People have been ordering household essentials and even groceries online to avoid public places like supermarkets.
Many businesses already had online platforms at the beginning of the pandemic. Those that didn't had to catch up to avoid losing customers quickly.
The cost of developing an eCommerce website in the United States has shot up from a minimum of $5000 in 2019 to $10000 in 2021 due to the increase in demand for e-commerce websites.
Entertainment
The entertainment industry thrived during the pandemic, thanks to web development.
While theatres and cinemas were locked down to reduce the spread of COVID-19, web traffic on streaming sites surged during the pandemic as people shifted from going to cinemas to online entertainment platforms such as Netflix, Hulu, and Google TV, among others.
These companies also employed more web developers during this period to manage the traffic surge and improve their web features.
Education
The education sector was one of the most affected by the pandemic.
Millions of students from kindergarten to university were sent home in lockdowns worldwide, clueless of the next step.
In developed countries, the curriculum was quickly switched to a digital one, and learning quickly resumed.
Software and web developers were quick to the rescue and have created many mobile and web applications for collaborative learning, such as Frog, Chromebook App Hub, Grammarly, and Blippar.
These learning tools support online practicals and student-teacher interactions.
Remote Office Management
Companies big and small had to shut down their offices in the wake of the pandemic.
Many were laid off, and working from home became the new norm for those who were lucky enough to keep their jobs.
All in all, there's a rapid shift in the nature of work. These technological changes we are seeing right now are uprooting entire industries and changing the way we interact in the workplace. Therefore, it's important to consider these work trends and developments to ensure the long-term marketability and vitality of your skill-set.
Since then, work-chat and remote office management tools have gained popularity. Daily meetings are now conducted through Skype and Zoom, among other video conferencing tools.
Work-chat apps such as Discord, Mattermost, and Slack have gained massive traction in the past year. Currently, Slack has over 12 million users daily worldwide.
Conducting Pulse surveys is a great way to get feedback from the employees especially during this pandemic as the majority of the workforce will be working from home. Pulse surveys allow administrators and managers to know how comfortable employees are with their new work environment and livelihood.
It also lets the employers know how the workforce feels about the company. The details obtained from this survey could be used for the betterment of the company.
Google and Microsoft office tools have also been recording higher traffic. Tech companies are building more remote office management tools since this trend will likely continue post-COVID-19.
Video Conferencing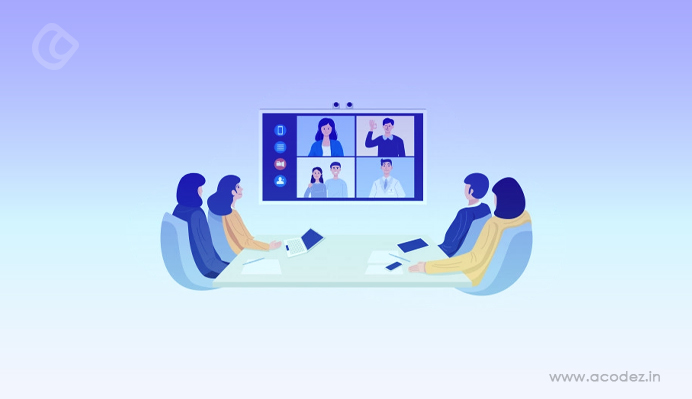 Video conferencing applications have been crucial to businesses during the pandemic.
With people working from home, office collaboration tools such as video conferencing apps have gained active users.
Many different sectors now use video conferencing apps for virtual meetings, virtual interviews, virtual mentoring and virtual conferences.
These apps have been built with top security features and provide collaborative tools such as screen sharing.
In 2019, Zoom only had 10 million daily users, and now, the company records 300 million active daily users.
Google Meet and Microsoft Teams have also gained more users who buy licenses for customized services.
While businesses worldwide were declining, these companies have earned profits and expanded their web developer personnel.
Healthcare Industry
The healthcare industry was already slowly but surely adopting technology in its many departments pre-COVID-19.
However, since the pandemic, the sector has fully dived into technology such as web apps to provide primary healthcare services to patients without them having to come into the hospital.
Software engineers have built AI-based applications and decision support systems that have aided in finding the cure and vaccine for the Coronavirus faster than before.
People are also relying on healthcare apps and devices like the Apple smartwatch for basic health checks.
Social Media
Social media has dramatically grown during the pandemic. Locked in, working from home, and not allowed to meet in person, people have turned to social media for interaction, business, and entertainment.
Web and mobile apps such as WhatsApp, Instagram, and Facebook have added more entertainment and business features since more people spend more time on social media.
Companies without eCommerce have also taken advantage of social media to conduct their business and market themselves without sacrificing much money in the process.
Finance Industry
The finance sector has also widely been pushed into technology during the COVID-19 pandemic.
The number of financial apps available in the market has dramatically increased since the pandemic started.
People no longer need to go to banks or ATMs to make transactions with these apps readily available on their smartphones.
There are hundreds of apps for saving, lending, sending, and receiving money online with great security features.
Forex trading has also gained popularity as people look for ways to make money during the pandemic.
Increased Demand for Professional Web Developers and Designers
COVID-19 has led to an increase in Internet usage. Because most people are stuck at home during this time, web design, in general, is witnessing a significant rise in demand.
Many individuals believe that now is the best moment to start a new website or redesign an existing one.
Existing businesses are also seeing this as a perfect moment to pursue eCommerce.
With the increased number of users of web applications, the concept of a desired and practical user experience has shifted.
Web design will continue to be in high demand to meet the demands of the post-COVID-19 world.
People are opting for the convenience of web applications, and professional web developers are needed to create web apps.
Anything that minimizes the need for contact can be enticing in this new world of social distancing.
Many of these products and systems use websites and applications to manage their functionality, and web design is at the heart of these new possibilities.
Increased Need for Cyber-Security Experts
The increase in virtual activities during the pandemic has raised a need for increased cybersecurity. Remote work and online shopping have opened up enterprise networks to cybercrime.
Cyber attackers target organizations using phishing attacks to exploit security loopholes in remote meetings and listen in on company information for malicious purposes.
Between February to May 2020, reports show that over 500,000 individuals working from home were targeted in fake COVID-19 phishing scams and had their usernames, passwords and email addresses stolen and sold on the dark web.
Cyber attackers were aware that most companies were using Bring Your Own Device (BYOD) and had not yet set up proper security features for their employees at the beginning of the pandemic.
Employees are also reckless and, at times, not adequately trained on cyber security and how to keep their devices safe from a breach when working remotely.
Cyber attackers also target individuals in phishing attempts to steal financial information as they make transactions over e-commerce platforms.
Attackers are setting up trustworthy traps for users, and many who are not aware of safe browsing measures fall for these and get their financial data stolen.
There is a growing demand for cybersecurity experts in Infosecurity roles and remote employee training during the pandemic.
Conclusion
The COVID-19 pandemic had a massive negative impact on many industries. However, the web development industry grew dramatically in the middle of these adverse conditions and has helped other industries stay afloat.
As businesses move to the online way of conducting meetings, and transactions, it is essential to be aware of the potential threats and educate consumers and employees on cybercrime.
Acodez is a renowned web development company and web application development company in India. We offer all kinds of web design and Mobile app development services to our clients using the latest technologies. We are also a leading digital marketing company providing SEO, SMM, SEM, Inbound marketing services, etc at affordable prices. For further information, please contact us.
Looking for a good team
for your next project?
Contact us and we'll give you a preliminary free consultation
on the web & mobile strategy that'd suit your needs best.