Since the emergence of social media the first time, we have always been looking forward to news and updates. There have been unbelievably exciting changes happening across the social media and digital marketing industry and by now, the updates do not come as a surprise. We have seen social media trends in the past years. (Evolution is expected and it will continue to happen forever.)
As someone has said, "Change is the mother of all necessities and from this need for change to happen, we indulge in experimentations that give rise to change. Every experimentation gives something new to think about and in fact, implement for better.

Digital world is changing day by day. We have seen Digital Marketing Trends before. If we take a look at the graph of social media trends over time, we can find that in the recent years, there has been an impeccable change happening within an interval of few days, weeks or months. The changes revolve around changing customer expectations, desires and needs, branding goals and much more. More is always less and more is expected further in the web journey for the year 2019.

Though no one exactly had an idea of the changes that were bound to evolve in the previous year, better and fresh ideas were expected, which happened to leave everyone surprised. In the year 2019, the same applies across the social media marketing network; however, let us keep our fingers crossed for new trends in social media in the year 2019.

Remember the Instagram and Facebook stories that have been trending for some time now. Similarly, business intelligence and robotics process automation have reached new levels leaving us astonished again.
Apart from all this, social media is opening up with further opportunities for e-commerce, carrying online shopping to another level. For instance, the Instagram shopping that emerged and evolved in the year 2017 has opened up a new horizon for shoppers and businesses alike by enabling 'on-the-spot' purchases.

Expected Social Media Trends in 2019
We have been examining and researching and keeping an eye out for trends that are expected to transform into social media trendsetters in the year 2019 and would like to take you on a tour of these.
Branding and Customer Engagement
One of the major goals of businesses has been to bridge the gap between customers and brands and to increase the engagement rates, which will automatically enhance conversion and business prospects for improved sales. The struggles toward achieving this have helped in pulling consumers closer to the brand, bridging all gaps. Studies reveal that every one in three customers is ready to refer a brand whenever asked to share the story of a personal accomplishment over the social media network. This happens only when the experience is enticing.
It is often a good idea to respond to consumer concerns, though there are ample brands that consider this as a catastrophe in marketing and are not ready to engage in conversations. This makes consumers feel that brands are biased, which could be a myth because only a small population thinks so. But in 2019, we can expect brands respond to repair requests instantly and social issues.
The general trait of social media users is that they like to flaunt their personal accomplishments over the social media sites and also, love the attention they receive for achieving the milestones set by brands. This is where you can enter and ensure that you are providing your people with an opportunity to share their milestone accomplishment.
Effective Ways of Building Online Brand Awareness
It is high time that you stopped viewing social media as a channel to market your products, but utilize the prowess of this to build long-lasting relationships. Provide your bandwagon of followers with a medium to stay in touch with you always. Instagram states that around 80% of Insta users are loyal followers of their brand.
If reports from 2016 are to be believed, around 89% of the messages submitted over the social media are ignored, which could be a great loss. But, this has changed to some extent in the year 2017 and we expect it to change further in the year 2019 – with brands providing instant responses via chats, messages, mentions or comments, etc.
Ensure that you stay connected with your customers through constant communication and instant responses.
Chatbots Offering Personalized Experiences

We have already discussed that instant responses are important to keep the engagement on. The fact is that when you are socializing across social media networking sites, a lot of messages, responses, concerns, etc. would flow in.
It could be ranging from one, two or more up to infinity. It is not easy to address all these at once, though you are expected to. Adopt chatbots and this will happen easily.

We will see the evolution of chatbots for social media in the year 2018. Facebook messenger is the best example for the implementation of chatbots offering product information, data collection, and processing of orders. Facebook has already experienced an upsurge of organizational and brand enhancement by more than three times of what it was previously.
We can't expect the chatbots being implemented by all organizations to exhibit similar characteristics. This is where personalization comes into the bigger picture, where chatbots would be responding to consumer queries and requests, which differ from business to business.
While chatbots respond to your consumers, you can have your staff engaged to take care of other important organizational activities.
Social Listening Tools Will Take Branding to the Next Level
The year 2019 will witness the emergence of a number of social media listening tools as in the year 2017. So, what exactly do we mean by social listening or how these tools are going to help in the long run?
The process of monitoring conversations or communications, which spin around particular brands, phrases or terminologies. Once you find these, you can further enhance these phrases or terminologies to explore fresh and new experiences by generating content for your target audiences.
This covers wider aspects of your social media presence and communication. There is much scope of engaging in active conversations apart from responding to the Facebook comments. With the help of these social media listening tools, you can track and ponder across your audience behavior pattern.
Also, this includes the analysis of progress in organizational activities, building improvised marketing campaigns and all this will be directed to enhanced consumer experiences – the ultimate goal of any brand.
Importance and Benefits of Having a Strong Brand Identity

Listed below are a few instances on how social listening tool can be helpful for your brand visibility in the year 2019:

Marketing campaigns that are influential: If your existing marketing campaigns are less helpful, then, it is high time that you gave a serious thought on improvising these through social listening tools – as these tools can help you to analyze the latest trends and consumer expectations for the year 2019.
Customer needs: Gone are the days of telephoning for customer care. Now it is the time for social media to take care of consumer needs. This implies that considering user views are most important when brand enhancement is your focus.
Content is king: As always 'content' has an important role to play in the success of any brand. Ensure that the content that is created is engaging is one of the most important social media strategies. Social listening tools will help you to identify the topics that are trending using hashtags, keywords or topics that people regularly use for relevant searches.
Instagram Stories Are Trending
Snapchat and Instagram were in a neck-to-neck competition, and both have been introducing trends to stay ahead in the race. Instagram stories were launched as part of this competition. And, these Insta stories attracted over 250 million users per day which is a record-setter when compared with the Snapchat's 173 million daily users.
Insta stories have taken the social media trends with a storm. If reports are to be believed, everyone among five Insta stories attracts one direct message from a customer. The need for 'short-lived' video content (that disappears after 24 hours of time) is the trend rather than videos that live forever. This is one of those ideas that brands on Instagram have been adopting to attract customer attention.
If reports are to be believed, an average user started spending about 28 minutes and more with the launch of 'stories' feature. Users and advertisers are equally in awe of the Instagram stories feature. Instagram Direct has seen an increase in active users up to 375 million users every month.
Augmented reality is becoming more real with time. Apart from this, Face filters are expanding and becoming a trend. Face filters are often referred to as the AI lens. Instagram's Stories' feature has brought about this popularity of face filters. And, as discussed earlier in the previous point, we will be able to see further development in this feature over time.

One of the most popular Instagram's face filters has been the dog ears and we can see it on all celebrity stories as well as others using it now. Snapchat was the first to introduce this face filter and Insta followed suit. Snapchat has been providing advertisers with the provision to personalize face filters for each and every user. But, Snapchat charged a fortune for these filters, when Insta was too liberal to its users.

Instagram would be making another revolution in the year 2019, allowing brands to provide their users with the personalized face filters for communication. This is much evident from the fusion of augmented reality technology and facial recognition provided by iPhone X.
The Social Call-Out Culture
The social call-out culture is pressurizing brands to take up further responsibility when it comes to engaging with people, regardless of whether they want it or not. Consumers have been using social media as a channel to be heard by brands and are expecting responses in favor. Utilize your social media listening tools and analyze what they are trying to say.

Why do you think consumers are sharing their opinions via social media networking sites? Every three in five consumers say that the dishonesty flaunted by brands leads them to call out over the social media.

Yes, there is a positive and negative side to this, as it helps you to identify flaws in your system, while it could spoil the brand's reputation as this is a public place and more people will come to know about what is happening. Less than 5% of consumers might not react if they found a brand posting anything inappropriate or irrelevant over the social media.

This is why social media is providing a platform for flourishing and expanding, which ultimately leads to growth.
Pinterest in Love with Ad Targeting
Experts predict that Pinterest will be preferred more by businesses in the year 2019. In order to accomplish this, the social platform will emphasize the need to maintain a high level of accuracy and efficiency in the keyword and visual search.

Pinterest has been growing at an unexpectedly awesome rate since its launch. Though it was one of the major preferences of small businesses until recently, now businesses of all sizes prefer Pinterest to target their customers and the trend will continue over years to come.

The major focus of Pinterest will be to help create exemplary ad targeting on the basis of searches conducted by users previously and then, bring the user's preferred choices to their smart feed. The best of the pins related to the user's search will appear in the user's smart feed – which is what we all want. Pinterest is also going to experience a rising acceptance for videos. Now, marketers and web analysts need to work in close collaboration to research on what kind of videos works best with the users on Pinterest.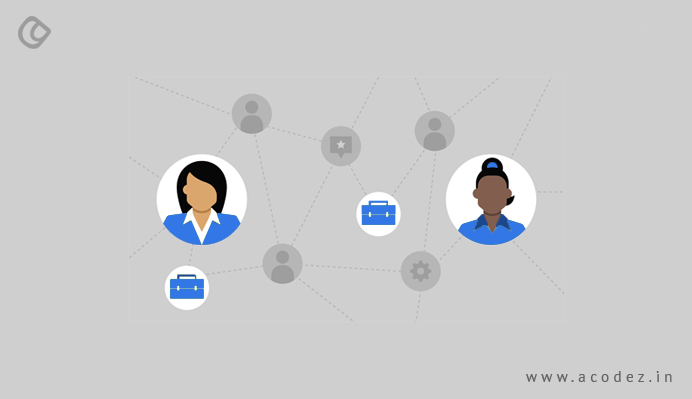 How can we miss the professional network that has been successful in connecting and networking like-minded professionals, businesses and others? Yes, you guessed it right. We are talking about "LinkedIn." From the day it was launched, it has been putting in a lot of effort to ensure that job seekers find the right jobs or opportunities, while recruiters and others find the right kind of candidates.

They have introduced videos for all personal accounts. Geofilters for these videos are in the testing phase. Also, if you observe, they have made a lot of updates to the messaging platform. The exciting part of this is that the platform has already reached a milestone of 500 million users on a monthly basis.

So, we can expect a hike in the growth of this platform in the year 2019. Another interesting fact about LinkedIn is that it would be adding values to the companies by connecting and engaging these to users who are above 35 years of age. At present, there is no provision for businesses to post videos on their page. But, we can soon expect video ads from LinkedIn that would be an added highlight again in the year 2019.
Facebook: The Game Changer on Videos
In the year 2017, Facebook unveiled Facebook Watch for chosen creators (a TV-like option). This will soon expand to users and pages across Facebook. In the year 2019, we can expect this to be a trend. Video creators can also expect Facebook to unveil further features that will ensure that the programs will expand toward people and other pages.
This would include Facebook news feed providing further exposure to original native video, revenue-sharing contracts that would be relaxed and very slowly, we can expect the rollout of a video app. We are also expecting Facebook to open Facebook traditional television deals as well as launch its own cable T.V.
We will soon experience a new and unique marketing experience over Twitter. Around 330 million users highly engaged over the social media platforms but ignored by brands. You will find that advertising costs are hiking up on Facebook and so are AdWords. Thus, we can expect that people will turn toward Twitter very soon.
As we have already discussed, Instagram would be bringing about further updates and changes to products thereby enhancing user growth. A number of business tools have been released in recent times by Instagram allowing marketers to 'swipe up' the calls to action while facilitating the users to follows these hashtags with ease.

Though you might have never taken hashtag following as a serious thing, you can now seriously consider this for the popularity that it would bring about for your posts.

At present, the algorithm for hashtag might not be doing too well. But, since the trend changes, people will soon start following and start interacting with the hash-tagged posts.
Important Strategies For Social Media Trends
We will take you through some of the important points that need to be kept in mind when thinking about social media trends in 2019.
Trust is One of the Most Important Factors

Social media platforms have been growing at an unbelievably tremendous rate. The figures are on a spontaneous hike – for instance, there are more than 2 billion active Facebook users per month. This might be more and in the year 2019, we are expecting it to accomplish bigger numbers. Social media is one of the places where you can drive customer trust if you are social media strategies are intact.
But with the growing influence of technology and social media, people are growing suspicious and careful as well. So marketers need to be more responsible and take charge of the situation, ensuring that there are no non-labeled advertising posts or are overdoing it with a lot of unnecessarily targeted ads that annoy users.
This would, in fact, push your brand away from being trusted by users.
It is imperative to devise newer strategies to build consumer trust. This can be accomplished by implementing authentic and trustworthy ways to connect with your audiences.
Storytelling and Social Media
Social media is one of the places where millions worldwide come together and share their experiences with friends and families. Some share their stories through posts, and the newsfeeds give us a glimpse into people's lives. This was happening through written stories initially, but now images and videos are slowly gaining popularity.
Social media is providing people with new ways to share their interesting stories with the world. Some of the people are taking advantage of Facebook, Instagram, and Snapchat for this. These social media platforms, as discussed earlier, are changing the way people consume content.
Social media is looking for ways to inspire audiences to try and examine their products through their stories.
While you write stories that attract visitor attention, it is also important that you create a strategic narrative for your brand. This helps in showcasing experiences and moments that have been shared by a user with a product after they have used it.
Share these narratives via social media and digital media – reflecting a brand's community. Usually, brand narratives offer a compelling way to persuade audiences to take the necessary action.
It is best to avoid using mediocre and uninteresting content, which are used for the sake of SEO. These are not preferred by people who want original and real content. So prospects run away when such content is given to them. In this age when it is important to gain customer trust, you have no other shortcut except to offer great and exception content that persuades people to engage with your brand.
This means that you need to have content that is creative and drives action to add value. No matter the size of the content – even if it is a short paragraph, make sure the entire purpose and solution are covered well in your content.
People are looking forward to using your content as a resort for their concerns. So when you have what they are looking for, it makes them happy and they keep coming back to you.
Give a Human Face To a Brand
Social media and personal branding are closely connected. It would be great if you could put a human face to a brand for building trust and loyalty. With personal branding, businesses acquire a human touch which helps in connecting with the customers, making the brand more relatable.
This can be done by sharing images, videos or even going live – where people can interact with you and understand what your brand represents for real.
Conclusion
In the year 2019, we can expect newer miracles to unfold and bring about newer changes to enhance the bonding between brands and customers.
Acodez is a digital marketing agency in India offering all kinds of digital marketing and web development solutions to businesses in India and abroad. Our broad experience of having worked on numerous projects has helped us know the requirements of the clients and provided the best services to them.
Looking for a good team
for your next project?
Contact us and we'll give you a preliminary free consultation
on the web & mobile strategy that'd suit your needs best.