Do you know that you can increase your chances of ranking high on Google's search results by publishing audio?
Yes! Audio has a significant impact on Google rankings – the same way publishing content on various syndicated sites pushes your results to Google's first pages.
SEO is a topic that every internet marketer loves. We curate SEO content aiming to improve our SEO.
Audio SEO is a new effort that has been rising rapidly for the past few years, and currently, you'll find podcasts on Google's first-page search results.
In 2018, Zack Reneu-Wedeen, a podcast product manager in Google, indicated that one of their primary goals was to double the number of podcast listeners within the next few years.
It's now 2021, and they have attained this mission because there are around 485 million podcast listeners in the entire world.
So, what's audio, how important it's, and what are its best practices? Worry no more! Continue reading this informative post to get answers to those three questions.
Audio SEO Definition?
First, it's vital to understand SEO before defining audio SEO. SEO, commonly identified as Search Engine Optimization, refers to the web optimization strategies that enhance higher rankings on various search engines.
"Organic search results" is the term used to define these free search engine rankings.
Besides this, you require basic knowledge on the progress of traditional SEO to under audio SEO with less hassle.
Search engine optimization currently relies on well-structured content, top-notch content, and links pointing to high-quality content from reliable and trustworthy sources.
Search Engine Optimization involves more than the above information. You may want to know the correct title tags to use on blogs posts or websites and the number of times to mention the focus keyword.
You may want to know the ones to link in and where to link out to. Also, you may want to know if the alt tags in your pictures match your primary keyword.
Moreover, you may want to know if your content is right for your potential audience and if it can help them get what they want.
Note that Google uses over 200 rank ranking factors to rank any website.
These include domain factors, backlink factors, brand signals, off-site web spam factors, special algorithm rules, and on-site web spam factors. Others are user interaction, page-level factors, and more.
However, a significant percentage of those ranking factors become less reliable when it comes to audio SEO.
The way audio is found, recommended, applied, and created differs much from web content, which is the primary reason these factors become less reliable.
The chances of discovering podcast creators increase when transcribing spoken-word audio from voice to written work and applying SEO strategies.
As a result, there is a high probability for Audio SEO to grow and become a critical factor for any podcaster looking to increase the number of their listeners.
Also, it will become a crucial factor to consider for any podcaster who wants to emerge the best in this field.
Also, soon, expect podcast apps and search engines to leverage drop-off, audio quality, text, social signals, text, location, and more signals to ensure they rank only high-quality audio content.
Importance Of Audio SEO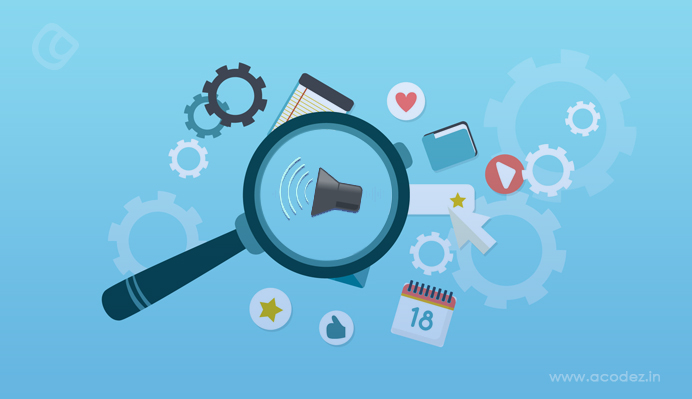 The SEO industry has managed to achieve a value of around $79B within 25 years.
Also, the audio market keeps recording rapid growth, considering the significant percentage of audio content available on today's websites.
If you check how audio SEO has been growing for the past few years, you'll realize this market has an immense opportunity of increasing its value within the shortest possible time.
The audio market shows exponential growth, giving podcast creators a new challenge. Research shows that the internet receives over a hundred new podcasts every hour.
This number will keep increasing, making it hard for the podcast creators to retain, engage and attract new audio listeners.
However, any podcast creator can manage this challenge if they decide to focus on audio SEO.
If you implement the best practices for audio, you'll stand out from the competitors and increase your chances of reaching many audio listeners.
So, which are these best practices for audio SEO? Let's dive in!
Best Practices For Audio SEO
Define Your Niche And Understand Your Audience
Knowing your subscriber's likes and dislikes is the first step to understanding your audience.
Start by preparing an audience persona, analyzing your competitors, and checking your competitors' audience.
Also, conduct surveys, explore social communities, and review comments to understand your potential audience's needs better.
Never make a podcast focusing on a vast topic. Instead, focus on a specific niche whenever making a podcast.
For example, create a podcast on pet start-ups of Saas start-ups instead of making one on start-ups.
Having sufficient data is vital when making a podcast on a specific niche. Through this, you'll find it easy to make data-based decisions.
Creating the audience persona will become easy when you define your niche and understand your target audience.
This step will boost your podcast marketing efforts and make it easy to access the right listeners, genuinely ready to subscribe to your episodes.
Include Written Word
Your primary focus is on audio content, and Google keeps getting excellent at transcribing.
However, the on-page text remains the most important factor considered by search engines when ranking website content. This feature also works if your site is a progressive web application.
Therefore, it's vital to have the written word for website ranking purposes. Ensure you have this content without considering the website content you offer.
Provide a landing page description for your podcast, explaining what you have covered and the user needs you'll fulfill in that audio content.
Through this, it'll become easy for Googlebot to identify the relevant search queries and target audience.
Ensure that each podcast episode has a dedicated landing page description, introducing what you'll cover.
Not that it's not essential to transcribe the whole podcast word for word.
Implement The SEO Basics – Structure & Keyword
When curating the text, concentrate on the actual discussion topic because it'll feature the vital keywords. Be researching the keywords as you plan your podcast.
By doing this, it'll become easy to identify the issues, sub-aspects, topics, and questions related to your potential audience.
Never address the topics and queries only in the podcast. Also, you have to mention the titles and questions in the description content.
Structure the description content using text-structuring elements like highlighted text elements, lists, bullet points, and paragraphs.
Also, structure the text using h2 because h1 works well on the main heading, such as the page title. Moreover, apply internal links to other website landing pages with more podcasts with similar content.
Maximize Visibility
Podcast searches occur across two primary platforms, including search engines and podcast discovery channels, such as Apple Podcasts and Spotify.
Google remains to be the most significant player in these fields. It's a top-rated search engine owning a podcast platform called Google Podcasts.
Besides this, Google displays podcasts in the search results for related searches.
Ensure that you have claimed your podcast episodes on Google Podcasts Manager to get your podcasts ranked high in Google Search. Doing this will increase your visibility in Google Podcasts and Google Search.
You must have your podcast episodes featured on Apple Podcasts, Spotify, and other discovery apps to enhance your visibility.
Have Chapters
Make life easy for the target listeners by splitting the podcast into several chapters.
Chapters are the most recommended, in this case, because they allow the users to move straight to a section featuring the content they need.
Therefore, you'll save much of the visitors' time because they don't have to listen to the entire audio file.
Besides this, a content table makes it easy to add keywords to the podcast page. With the chapter format, you find it easy to plan your podcast episode framework before recording them.
An episode with chapters will appear much organized to the search engines and users and after publishing it.
However, it has not been proved if episode chapters can promote excellent SEO rankings. But, it's vital to include them in your podcasts.
Expect to get rewarded by search engines if users find it easier to access your podcast content.
Besides involving you in listening to the podcast episodes, chapters also mark down the exact subtopic duration.
When creating podcasts that use an interview format, create each podcast chapter at the exact second you begin asking a question.
Choose The Best Podcast Logo & Name
The podcast logo and title will determine if your users will find your episode on Google and iTunes.
The podcast title is one of the critical algorithms iTunes considers when ranking your podcast.
Other factors considered include the total number of podcast reviews and the overall number of subscribers.
Therefore, you must have a compelling and exciting podcast title. Never choose a non-intuitive/obscure podcast title that doesn't clearly explain the message you want to pass out.
Also, ensure that the podcast name has not been used in any other place. Besides this, the podcast title must feature the most important keywords. If you have a well-established show, then you can go for podcast subtitles.
Moreover, remember to create a podcast logo that can work well on any small screen.
Generally, the best podcast must portray a point related to the topic, concentrate on the brand, include a personal touch, highlight simple components, and value the picture quality.
Final Thoughts!
Hesitate no more! Now you know how to get your audio content ranked higher and increase your visibility in Google Podcasts and in other various podcast listening apps as well.
You only need to put the above best practices into use, work hard and create top-notch or high-quality audio content.
Acodez is a leading digital marketing agency in India. Our services includes SEO, SMM, SMO, PPC, and content marketing services to ensure that your website's rank among the top results on the search engine. We are also a leading player in the website design company India arena, offering all kinds of web design and web development services at affordable prices. For further information, please contact us today.
Looking for a good team
for your next project?
Contact us and we'll give you a preliminary free consultation
on the web & mobile strategy that'd suit your needs best.