The current trend in online marketing strategies is influencer marketing. The concept entails using influential people to help market and sell your brand or product.
More businesses are beginning to realize the importance of social media (SM) influencers in reaching a more relevant audience and increasing engagement and sales.
Given the influx of influencer marketers on social media platforms, it is essential for business owners to choose a figure that best suits their needs.
When you partner with the right type of an SM influencer in your industry, you tap into the amount of followers they have, enabling you to market your products to more ready customers.
The popularity of the concept has led to four different classifications of social media influencers. Each category carries a set of benefits and standards to be met to rise to the next level.
Let's take a look at the four various types of social media influencers, their features, advantages and disadvantages, and factors to consider when hiring them.
Various Types of Social Media Influencers
1. Mega Influencers
A mega influencer has 1 million and above followers or subscribers on their social media platforms. The majority of these people are A-list celebrities, who have gained fame for their talent both on social media and in real life.
Thus, mega influencers are mostly singers, actors and film stars, video game voice actors or sports athletes, among other talented, popular individuals.
People like Beyonce, Kevin Hart, and Cristiano Ronaldo fit into this category because they have millions of followers on social media. Indeed, a report by D'Marie Analytics shows that an SM post by Beyonce can earn a business about $1 million in advertising revenue.
Mega influencers are your best choice if you want your brand to be recognized globally. These people are effective on this front because they have a massive following and their content can reach the most people, fast.
However, you need to be careful when using mega influencers for your marketing campaigns because they lack an intimate relationship with their followers, making them less trustworthy in building partnerships and engagements.
Their following is highly diverse psychographically and demographically; hence, they are mostly suitable for promoting products that can be consumed by the masses.
They are also the most expensive influencers to hire, yet their actions can cost your brand if the influencer marketing strategy is poorly planned and executed.
There are many eyes watching their actions, thus you should be wary of bad influencers and their practices, which have resulted in influencer marketing fails.
Advantages
Despite the challenges associated with mega influencers, they come with the following benefits for your brand:
Impact

: Mega influencers can reach millions of people, enabling you to market your brand or product to a huge audience.

Professionalism

: Mega influencers have worked with more renowned brands, earning a wealth of experience on how to run marketing or advertising campaigns in a professional way. Their expertise in this field makes it easy and simpler for brands working with mega influencers to market their products.

Brand credibility

: When your brand is endorsed by the right type of social media influencers, you stand to gain from exclusive exposure and followership from credible, global sources,

improving your brand awareness

, engagement, and sales.
Factors to Consider when Hiring Mega Influencers
Availability:

You should plan your marketing campaign on time to secure the mega influencer of your choice. These influencers are in high demand and finding a slot to meet them or schedule a meeting may take longer or may prove impossible if you are dealing with their managers. Engaging the influencer agencies early is key to a smooth and successful execution of your marketing campaign.  
Cost:

mega influencers don't come cheap. Their pay ranges

between $2,000 and $50,000

, depending on the number of followers and reputation.

 

Risk:

Brands stand to lose a lot if the marketing campaign fails to go as planned. For instance, they could suffer reputational risk, damaging their image and losing the amount of capital invested into the campaign.

 

Trust:

Mega influencers have a huge following but sponsored content may not always be considered trustworthy by their audience. To make the best out of them, ensure the influencer blends naturally with the content of your campaign. 
Negin Mirsalehi is a mega influencer with more than 6 million followers on Instagram. She runs a business for hair products made from honey while making a successful career out of influencer marketing in the fashion industry. She works with major brands, such as Balmain and Dolce & Gabbana.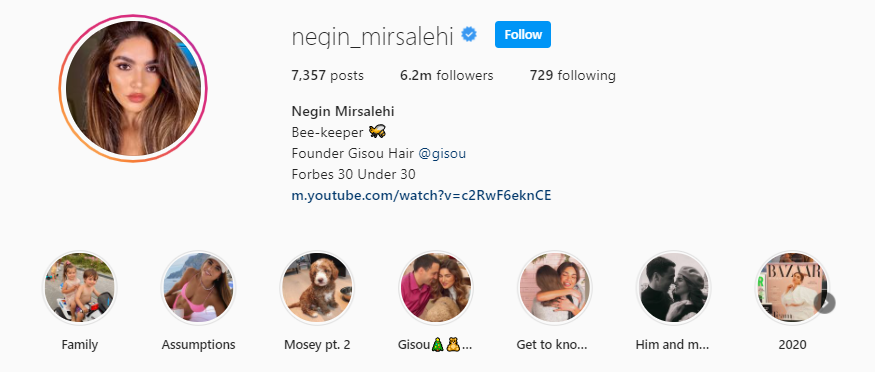 2. Macro Influencers
Macro influencers have 100,000 to 1 million followers, but unlike the top-tier mega influencers, they have gained their fame by taking part in internet-based activities, such as blogging, vlogging, or producing specialized content.
Macro influencers are considered experts in their field, producing new content regularly and growing their audience consistently.
Due to their expertise, brands prefer them because they can gain from improved exposure, brand awareness, and engagement through niche-specific followers.
Macro influencers grow their audience from zero, gaining them quality experience in managing social media platforms for many years.
This asset makes them one of the best marketers your brand should go after because they have the skills to nurture and establish a highly responsive audience.
Their priority is to keep a strong, trustworthy network with their followers; their followers trust their intentions whenever they promote a given brand or product because these influencers are mainly after helping and growing with their audience.
Despite them being cheaper than mega influencers, macro influencers can still be costly to secure because many of them work with agents. Factors, such as the number of followers and reputation can push the cost to hundreds and even thousands of dollars per social media post.
According to a report by Iconosquare, about 28.86% of businesses pay $100-500 per sponsored Instagram post while about 20.81% pay between $1000 and $5000 per post.
Advantages
Validity:

Macro influencers have a highly targeted audience because they are experts in their niche. When you partner with them, you stand to gain from highly responsive and valid leads,

improving your conversions

and sales.

Reach:

This type of social media influencer will enable your brand to reach a wide audience while gaining good engagement rates. Macro influencers are ideal for a business seeking a balance between a large reach, and brand awareness and conversion.

Professionalism:

Macro influencers are highly skilled and experienced, and they will work with your brand to create high-quality campaign content. Their goal is to craft content that resonates with the audience while building awareness and engagement at the same time.
Factors to Consider when Hiring Macro Influencers
Credibility:

Macro influencers can have an audience as large as 1 million followers, making them less credible to some SM users. To ensure high conversions, invest in understanding the nature of the audience the influencer commands.
Engagement:

Macro influencers with many followers will not engage fully with the audience. It is essential to review the goal of your social media marketing campaign to enable you to select a macro influencer with a suitable audience.

Cost:

It may cost you a lot in agency fees to sign a highly influential macro influencer. You should consider your budget and the goals of your marketing campaign before deciding on how much to part with when partnering with a macro influencer.
Jesse Driftwood is a macro influencer specializing in photography. According to Social Blade, he has about 163,000 followers and an engagement rate of 5.33%. His posts are highly engaging because they are friendly and personalized.
3. Micro Influencers
Micro influencers have 10,000 to 100,000 followers. They are people who have gained popularity and followership out of being industry or topic experts.
They have a smaller reach, but brands trust them because they are more specialized than mega and macro influencers, and their followers are interested in what they have to say.
They have a very loyal, relevant, and engaged audience. Indeed, a report by HelloSociety shows that micro influencers' engagement rates are 60% higher than those of more popular accounts, making them more effective for marketing campaigns.
Micro influencers are also cheaper than mega- and macro-influencers, but those with high levels of engagement charge high fees. Their rates are levied per post, making them expensive for some businesses.
Due to the lack of a unified way of charging, your business may incur high marketing and advertising costs without a guarantee of quality content or returns in terms of conversions.
Advantages
Cost: many brands prefer to work with micro influencers because they charge lower fees than mega- and macro-influencers. They are also more accessible, hence, brands don't have to deal with agencies who charge additional fees.
Engagement & conversion:

micro influencers relate well with their followers, and they have built a trustworthy relationship with them. The content they post is deemed valuable to the audience, hence, a high response rate.
They can easily convince their followers to like or share content about your brand or product, leading to increased lead generation, subscriber list, and conversions.
Factors to Consider when Hiring Micro Influencers
Time:

Working with micro influencers may require you to dedicate more time communicating, drafting agreements and campaign plans, and working through review cycles and other ideas. If you are working with multiple micro influencers, you will need to spare more time for the many tasks involved to make your campaign successful.

 

Quality: Some micro influencers may compromise the quality of content delivered in their attempt to balance between providing services to other businesses. It is essential to agree on the terms of service and quality checks in the contract to avoid misunderstandings.
Reach:

If you're seeking brand awareness, it is advisable to work with mega or macro influencers because micro influencers have a smaller audience, which may affect your reach.
Creativity:

Micro influencers seek more flexibility and less strict guidelines on what to post. You can work with them by outlining your campaign goals, brand values, and guidelines, and give the micro influencer the freedom to create content that best resonates with their audience.
Sperry is one of the brands that have used micro influencers to successfully market their cold, wet weather shoes. The influencer campaign led to improved awareness and extended reach through paid posts.
@hellorigby is a leading micro influencer with about 24,000 followers on Instagram. She specializes in fashion, dogs, and lifestyle. Her posts are highly engaging because they appeal to an interested group of food and dog lovers.
4. Nano Influencers
Nano influencers have less than 10,000 followers. These types of social media influencers comprise influential people in a given local community. Their reach is low, but their content has a high influence on a small tight-knit audience.
Businesses leverage nano influencers because they know all or most of their followers, hence, high engagement and conversions. They have a strong level of intimacy with their audience, which can be highly beneficial for the right campaign and brand.
Nano influencers can be friends or family members whose recommendation is trusted by people within their circle. They are people sharing content that users can relate to and experiences that their followers can connect and empathize with.
They are an excellent choice for startups with small marketing budgets and who want to focus on something specific while testing out different influencer marketing ideas.
However, their lack of experience working with more established brands makes nano influencers less appealing to businesses seeking a great reach and high conversions.
Advantages
Relevance:

information provided or distributed by nano influencers is considered credible because their followers know them on a personal level. Their posts have a high, positive response rate; hence, businesses are guaranteed their marketing campaigns will receive many views, shares, and likes.
Factors to Consider when Hiring Nano Influencers
Reach:

Nano influencers have a limited reach. Businesses seeking to expand their brand awareness by reaching many people should use other types of social media influencers.

 

Experience:

Nano influencers are not highly experienced and skilled in working with brands to market content. Therefore, to achieve the best results, you may need to work with them on why and how to display some crucial elements of your marketing campaigns, such as hashtags.
Quality:

you should work with your nano influencers to ensure the content they publish is in line with the goals of your campaign. Some may be new to branded content, hence, may affect the quality of the output if not guided appropriately.
Maria Dix is a nano influencer on Instagram with about 5,500 followers. Her content is highly engaging, convincing her audience to follow her recommendations, such as taking nutritional gummies.
Conclusion
Influencer marketing entails using influential people to help market and sell your brand or product. The concept is now a trend with different types of social media influencers making a living on platforms like Instagram and Facebook.
Businesses using this method to market their products stand to gain from improved audience reach and awareness, engagement, conversions, and sales.
Mega influencers are desirable for increased brand visibility and to create awareness about your products and services, perhaps on a global scale.
Macro influencers also have a wide reach, but still appeal to a more targeted audience. In comparison, micro influencers are suitable for businesses seeking more conversions, leads, and subscriptions from a specific target group.
Nano influencers come in when marketing local content to a narrow audience. They are the best option for maximum engagement and low-budget marketing campaigns.
Acodez is a leading digital marketing agency in India. Our services includes SEO, SMM, SMO, PPC, and content marketing services to ensure that your website's rank among the top results on the search engine. We are also a leading player in the website design company India arena, offering all kinds of web design and web development services at affordable prices. For further information, please contact us today.
Looking for a good team
for your next project?
Contact us and we'll give you a preliminary free consultation
on the web & mobile strategy that'd suit your needs best.