Every day we are moving a step closer towards more advanced technology. Brands like Apple, Samsung, Sony, etc., are coming up with sophisticated gadgets like smart watches & other wearable devices that are meant to make our life better & comfortable.
The wearable technology has captured only a small market as of now but is growing steadily as more & more consumers are getting interested in it.
Designing for wearable devices poses a unique challenge, unlike other projects.
The device has to function flawlessly with a design that needs to be optimized for one of the smallest size screens designers have ever worked with. Ultimately, the motive is to create a wearable device which is visually appealing, user-friendly and performs all the required functions. Here are some of the best designing guidelines for wearable devices.
1. Keep your user in mind:
What users love?
Apps that do not need a lot of action from their part.
So, what can you do here?
Limit user interaction or involvement to just a single gesture that includes a swipe, tapping, or maybe something as little as a voice command.
When the user realizes that how easy it is to interact with your app, they will automatically fall in love with your app, and this will lead to an increase in demand for your app.
Also, think about implementing it in such a manner that it allows the users to navigate via your apps with ease, and it will dance to the rhythm of their fingertips.
The modes of interaction should be designed such that it offers the same interface and ease of use as the watch originally provides.
Think from your customer's perspective while you design as this approach will help you to combine experience with intricately smooth technology to develop apps that are exquisitely the best.
For instance, if you closely observe the Apple Watch it has four different modes of user interactions that include action-based events, gestures, force touch and the use of the digital crown as listed out by the Usability Geek.
When they are using the app they are expecting the same mode of interaction, so keep this in mind while you design the app.
Give them what they expect and something beyond.
Apps that are the apple of the customer's eye:
When it comes to designing this kind of apps if you can bridge the gap between reality and virtuality you have won the race and there is no doubt that you will oust your competitors.
Attention to details:
Whenever you start designing take into account the visual hierarchy of your app. This is one of the major aspects of an app design that brings about a huge impact.
How do you achieve this?
First, you need to research in-depth the details of the watch design, and the rest is in your hands, the success of your app depends on how well you present it to the users.
Fine tune your app to create a visual feast for your users.
How does designing an app for a phone device differ from designing for wearable apps?
The phone provides a great interactive interface with its number of screens that can be scrolled across whereas this kind of an interface is yet to be implemented across wearable devices. Let us hope it would be invented soon!
You cannot apply the same kind of design hierarchy when working on wearable devices
Here, comes content. You need to filter it to the maximum so that when the user tries to access the same they can view all that they need.
As a designer use your wits and design your app to showcase the information in such a manner that the user understands what it is all about at a glance.
2. The app should tell your users what next!
It happens many times that the users abandon certain tasks mid-way because it is taking them along an unpredictable route.
But, when the app appears to be friendly and takes them through a path quite familiar to them, they start loving it.
A designer has certain limitations when designing the interaction mode. Your app should be smart enough to predict what your user is expecting and function accordingly.
Focus on aligning your app to offer predictive intelligence in synch with customizing contextual content.
What kind of an app is the best on a Smartwatch?
It is the one that helps the users to reach their goals through quick access that can even beat the speed at which you blink your eyes.
Now you are eligible for some extra points, and your audience will be tempted to use your app over and over again.
Intuition plays an important role:
Your goals are accomplished only if your app is intuitively interactive and tells the user what it will allow them to do with just a glimpse. It is all about assuring them that it will fulfill their requirements. This is one of the major aspects that you need to focus upon to set yourself apart from your competitors.
Here your aim should be to serve your users with the appropriate information on time.
How do you achieve this?
Track your user's previous interaction details and then design an output straight out of the predictive intelligence box. This is one of the smartest ways of defining the contextual design.
When you have the user interaction details, you can easily spin your data in alignment to the same and develop a perfect app that meets the user expectations.
3. How do you plan to present it?
As we have already discussed, one of the major aspects of designing an app is to focus on making it visually appealing to the users. So, presentation matters!
The way you present the information that your people are looking for needs visual perfection.
The color, the layout should synch well with the functionality, creativity and usability of your app.
Here are a few guidelines:
High Contrast and Low Color:
Every bit of color on small screens matters. Right contrast can help in making elements easy to read and grab. Colors play a major role in interactive tap elements or as a backdrop for a text command. The key here is a sharp contrast. Try to consider the environment in which these devices will be used such as, in sunlight or dark rooms – the design should be such that each and every letter is easy to read for the user.
Try to avoid pastels or colors with low saturation. Highly saturated colors and bright hues are considered best, complemented by black or white type for optimum readability.
Typography:
Sans Serif. It might sound boring, but simple sans serif is the only thing you need to know about a font, with a uniform stroke width which makes it one of the easiest and most readable font type.
Try to avoid typefaces which are ultra-light or condensed because the light coming through the watch may create readability issues. Also, be careful with black or bold and super thick styles.
Also, try to stick to a typeface with a moderate stroke with wide letterforms, such as Helvetica, though it is being used almost everywhere these days.
4. What's the personality of your app?
The watch or the wearable device is considered to be a personal statement, and the app is nothing less.
We have been discussing all through the article that the design should be appealing to the user, and the interface should be simple, yet aesthetic.
One of the points that you need to keep in mind while designing these apps is that you do not have the right to exercise your freedom of space as you might have for devices such as the mobile and laptops.
Here, you need to brush up your design skills as the approach for wearable devices is entirely different from that of others; you can refer old school books to revive your knowledge on the basics of the design approach.
You need to handle each of the minutest details such as the alignment, symmetry, and transitions to draw the user's attention.
It should give the user an idea about the purpose for which the app has been designed.
Small things can create a big impact.
Even your icons speak about your brand. The app should be capable of putting a mask over the icon shape such that it can alter and adapt itself to the shape of the device on which it is being accessed. (Predictive Intelligence re-visited).
5. Luring your users:
This is one of the most important steps to making your app popular. You need to get your users like your app. It should be something that they want to know, explore and learn about.
People learn only when they experiment. Let them tap, hold and explore. Predictive intelligence tells a lot, but there are things that we cannot stop from happening.
Whenever your user makes a mistake, keep things simple to help them understand where they have gone wrong and make the functionality so easy that they can navigate back with ease.
You need to focus on making the functionality interface easy and communication phase simple for the user to interpret.
6. How do you plan to manage the power?
You don't want to frustrate your users with a power issue while they are using your app.
If you are using a basic layout mode for your app then, it will ensure that there is less power consumption.
Honestly, no one wants an app that drains out the power from their wearable device or otherwise.
7. Easy to use interface:
Not all wearable devices are same. Every device has something different regarding hardware or features.
When you design, make sure it works with all of these, giving consideration to the physical components of each device.
The design should be able to work with all the physical parts which a device will be carrying. It should be easy to use with intuitive designs giving the user exactly what he wants from the device.
8. Include Essential voice controls:
Of course, tap & touch will work on wearable devices, but there is no doubt that voice commands are more comfortable from a user point of view.
Since the screen size is small, voice commands are more preferred by users around the world to control & interact with their wearable devices.
Popularity of Siri app in iOS devices are a proof that voice controls are important for users & needs to be considered seriously.
9. Vibration should not be an annoyance: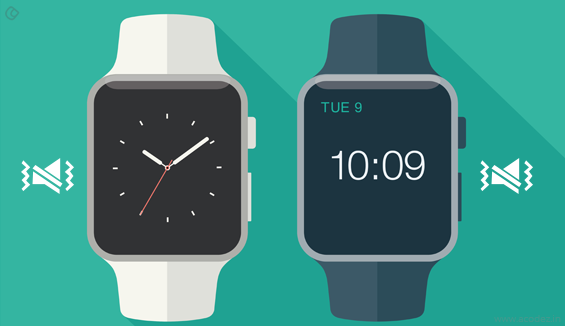 One of the most important features to be included in wearables is vibration.
Even a simple buzz or movement can use to have an interaction with the user.
Vibrations should be mild and must happen in a way which should be obvious, but not uncomfortable to the user.
Don't frustrate your users with a lot of vibrations.
10. Minimal Design with Creative Aspects:
One of the most popular trends in wearable designs is minimalism. Yes, the same minimalistic design ideas employed while designing websites or even in print or packaging design is considered perfect for wearable type devices.
Everything from color to typography and imagery should be as simple as possible & easy to read since the screen size is small.
Flat design concepts such as high contrast, bright color, and elimination of design embellishments can also be used.
11. Design it trendy and cool:
This may not sound like a big deal, but making the device look trendy & "cool" is imperative from a user's point of view. Sure, you might have put in a lot of effort & included various functionalities that work perfectly.
But if it doesn't look good on screen for users, much of the effort is wasted. The information on the display has to look like it actually belongs there.
Do you have a great app idea that would fit into a wearable device? Then, let us know! We have got the skills and technology, and you have got the ideas. Let us join hands.
Acodez IT Solutions is a web design company in India offering a wide range of web design and development services. We are also an SEO agency in India offering all kinds of inbound marketing services to our clients all over the world.
For further inquiries, contact us today.
Looking for a good team
for your next project?
Contact us and we'll give you a preliminary free consultation
on the web & mobile strategy that'd suit your needs best.