Web Design is an art and first impressions matter.
From choosing the proper color scheme for your site to making sure you have navigation that's easy to navigate, you must pay close attention even to the minor details if you want to build a robust website, and since 38% of people say they won't explore a site if they find it unattractive.
In fact, it takes just 0.05 seconds for customers to form an opinion about a website. This instant judgment has evolved over the fascinating history of web design. 
As competing companies flourish in the market with various designs, distinguishing your website is no easy task. Your website must not just be fast, but it should also provide the information that visitors require.
So, how can you position yourself for success?
If you want to have a successful and customer-focused online presence, it's critical you understand the do's and don'ts of web design. This approach will allow you to concentrate on design skills and remove unnecessary complexity.
But what exactly is web design? Read on if you want to understand what web design is really all about, why it is important, and how to get it right with the do's of web design and the don'ts of web design.
What Is Web Design?
Most novice or inexperienced designers frequently misunderstand the notion of web design. Any design of websites that are presented on the internet is referred to as web design. Instead of software programming, it usually relates to web development's user experience (UX) components.
Web Design vs Web Development – Image Source: CydoMedia
On the other hand, web design is distinct from web development, which involves the actual coding or programming that makes a website operational.
While creating a website, you will require both web design and web development. However web designers can also be web developers, but those are different skills.
Of course, knowing some coding languages (HTML, JavaScript, Php, CSS) would be beneficial. But, you shouldn't delve too deep into front-end (client-side) programming because that isn't the basis of web design.
Visual and interactive elements are the basis of web design. Its goal is to resolve communication issues between visitors and website content.
Why Is Web Design Important?
Good Web Design Statistics – Image Source: FinancesOnline
Web design is a tool that you can utilize to make visitors see the beauty of your website in the way that you would like them to see it.
If you use the right visual marketing plan and technique, your company will continue to engage and attract qualified leads and turn them into buyers.
People are much more likely to do business with a company that ensures consistency and displays trust. But without a defined web design strategy, you will miss out on the possible benefits that a strong online presence may provide.
As a result, it is not a component of your design that should be overlooked.
Your potential customers will certainly be able to tell if your design lacks something, and 90% will refuse to engage with your company due to this poor design. Instead, 89% will prefer competitors who place a high priority on web design and user experience.
This is also why working with professional web designers is essential. A skilled professional can examine what your company requires and utilize the appropriate tools to communicate it while visually remaining true to its strategic priorities.
Now that you understand what's what and who's who, let's look at some of the do's and don'ts of web design.
The Do's of Web Design
1. Provide Similar Experience, Maintain Consistency
The very first element that determines the performance of your website is the user interface (UI).
Depending on the user interface, a user can make a decision about your website in roughly 50 milliseconds (0.05 seconds). Thus, the user interface is crucial in catching potential customers' attention and turning them into buyers.
Ensure to design an appealing, eye-catching, and functional user interface. Your goal should be to create a consistent and accessible design.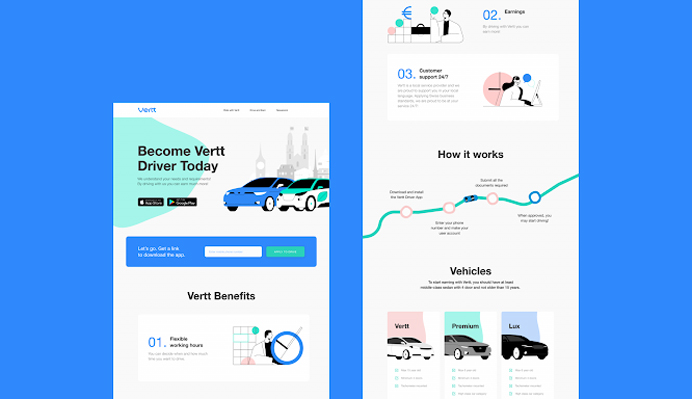 Consistent Web Example – Image Source: Tubik
The consistency of navigation, color palettes, fonts, and prose style can all improve usability and UX. Additionally, you can focus on your user interface by exploring other companies' websites in your niche and paying attention to the smallest elements.
Also, keep in mind that visitors to your site may be using a variety of devices, such as a laptop or desktop computer, a tablet, or even a phone.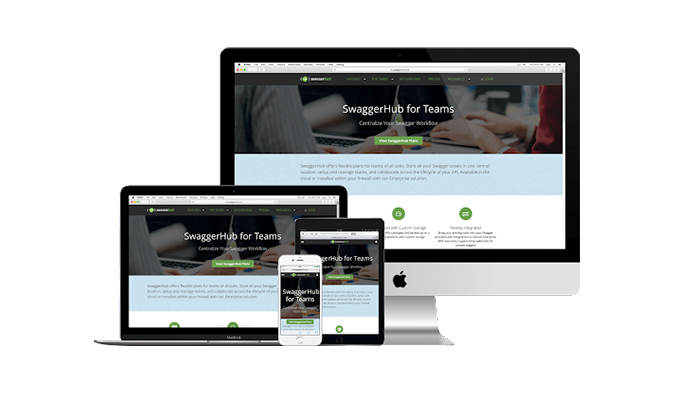 Web Experience Across Multiple Devices – Image Source: CrossBrowserTesting
A key component of UX design is ensuring that regardless of how a customer views your website, they get a consistent experience no matter the device they're accessing with.
As a result, make the design accessible first. If your website is not created right from the start, attempting to make other aspects of it consistent will result in a website that is consistently poorly designed.
2. Design Clear, Easy-to-Use Navigation
Website Navigation is a critical component of UX. Keep in mind that no matter how excellent your site is, it's useless if visitors can't navigate their way around it.
As a result, your website's navigation should be easy, clear, and consistent.
With this, your visitors will be able to engage with your site and brand easily. Furthermore, it makes it simple for visitors to find what they're browsing for.
All you need is to design your navigation in such a way that it leads users where they need to be with the fewest number of clicks while remaining easily accessible.
Use colors to make navigation easier. Color is the first thing that draws the eye, which is why 39% say that color is vital for a brand's website. If your navigation headers are purple, for example, consider your sign-up button red or another design.
To achieve a modern appearance and feel, you can still employ a similar font style, and color palette as Verve (a coffee company) does with its navigation.
Website Navigation Example – Image Source: Verve
Content can also be organized on several hub pages. If you're not sure you can reorganize your content to meet consumer expectations, try services like UserTesting to identify potential problems.
3. Make It Easy to Scan Your Pages
When people visit your website, they are much more inclined to scan the interface rather than read everything. Thus, when visitors need to access a certain service provided by your website, they will scan the pages of that website until they find the product or service.
But how come this is the case?
The internet is an extremely distracting place, with sites vying for people's attention pulling them in a variety of ways. People typically browse the internet while also doing other activities, leaving them with little time to focus on the information or contents on the website.
That's why users frequently looking for specific content, with their limited time, will scan rather than read until they get it in the most convenient method feasible.
However, with the use of a visual hierarchy, it is possible to hold a user's attention for long. Visual hierarchy refers to the organization or presentation of materials in such a way that the most important things are at the top.
In addition, take a look at the text below from Codecademy.
Easy to Scan Content – Source: Codecademy
Notice how much quicker and more straightforward Example 2 was to read. This is because users can easily scan the text with clear formattings, like the use of bullet points.
As a result, you should avoid using long paragraphs of content that are difficult for clients to read visually.
Make crucial features, like call-to-action (CTA) buttons or signup forms, focal points so that users see them straight away. You can draw attention to items by utilizing varying sizes or colors.
4. Keep a Different Color for Visited Links
Links are quite important in the navigation of any site.
Considering your current location is the climax of your voyage, you can better understand it if you have full knowledge of your past navigation. Understanding your previous and current locations makes it easy to decide where to travel next.
Visitors can exclude web links that were ineffective during previous visits. On the other hand, they may return to links they found useful in the past.
Thus, understanding which sites they've already viewed prevents visitors from mistakenly returning to the same pages.
These advantages depend on one key assumption: visitors can detect the differences between visited and unvisited pages since the web page should display them in various colors.
Therefore, you should use colors that are subtle to the eyes and distinct from your navigation alternatives. You can, for example, display your visited links as purple and unvisited links as blue, just as most search engines such as Google do.
Color Scheme in Search Engines – Image Source: Google
Consider the example above of Google Analytics search results.
"Google Analytics" and "Analytics Help" links have previously been visited; therefore, they are highlighted in purple. However, the "Sign in" and "Get started" links are still highlighted in blue.
This approach (changing the color of visited links) not only does it makes it easier for users to decide where to go next but also prevents them from mistakenly revisiting the same pages.
5. Check Your Website for Errors
Like most things, good website design takes a lot of testing to perfect.
After you've polished up your website and added new unique features, test the website on various devices.
Examine it for any obvious design or navigational flaws. You need to get it thoroughly analyzed before it meets your visitors' devices.
Here are a three of the common issues to be mindful of:
1. Keep an eye out for broken links, images, or videos.
When visitors click a link on a website and receive a 404 error page, they can quickly become upset. Visitors expect each link to lead them where it claims it would, without any errors or to another site that they were not anticipating.
Try using a tool like Nibbler, which will provide suggestions on how to enhance your site in various areas, such as the 404 error.
Nibbler Server Behavior Illustration – Image Source: Nibbler
2. Ensure that all media content loads correctly and quickly.
40% of people abandon a website that takes more than 3 seconds to load. Three seconds would appear to be too little an error margin to make a significant difference; however, every second counts when it comes to the loading speed of your website.
The longer your site takes to load properly, the more customers you will lose. You may increase the speed of your site by optimizing your database, employing a caching tool, and compressing your images.
Finally, double-check your website for typos.
The Don'ts of Web Design
1. Don't Use Too Many Fonts
Creating a one-of-a-kind website is quite appealing to website developers. Yet many forget that you should make it difficult for the visitors.
Many individuals consider utilizing numerous typefaces (5-7 fonts) to create a unique website, but this typically results in a cluttered appearance.
A website with five different fonts loses potential customers in seconds since it is difficult for them to read. With too many fonts, your website may appear disorganized and amateurish.
Keep it simple and avoid using unusual typefaces. Users may become distracted and confused if there are too many changes.
What you need to do is put a maximum of 2-3 fonts on your website and use the same ones throughout. If you do use multiple fonts (2-3 fonts), make sure the font families complement each other in terms of the character width.
Font Families That Complement Each Other – Image Source: Medium
When building a website, consider how you may make the typography more effective by experimenting with weight rather than different typefaces.
2. Don't Use Too Many Colors
Ideal Color Usage – Image Source: Datawrapper
As with typefaces, it's best to resist the urge to utilize more than one color on your website.
Your site's color scheme reflects your brand and beliefs. It all comes down to balance. Combining too many colors on a website can give users confused feelings.
According to Kaiser Fung, "The readers' instinct is driven by a set of unspoken rules that govern the production of data visualization. Specifically, the rule here is: color differences reflect data differences. When such a rule is violated, the reader is misled and confused."
Thus, unless you wish to emphasize a crucial section with color, it's best to keep the color palette confined to a few hues and uniform across your website.
Consider the emotions you would like to elicit from your attendees. Understanding what emotions you want to communicate will assist you in selecting the appropriate color scheme.
3. Don't Display Pop-Ups Too Early
Many websites display pop-up boxes with a subscription solicitation as soon as visitors land on their website.
However, pop-ups are inherently disruptive, and because they are often employed to display advertisements, consumers frequently close them prior to actually reviewing the content.
Consider the chart below from Nielsen Norman Group, which shows that the longer visitors stay on a site, the less inclined they are to leave.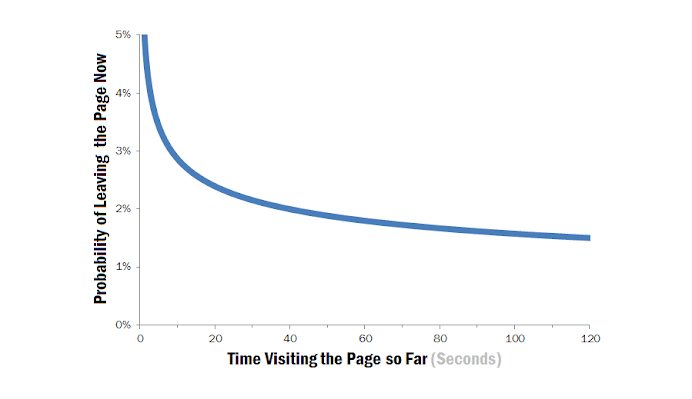 How Often Users Leave Web Pages – Image Source: Nielsen Norman Group
The data clearly shows that the first 10 seconds of a site visit are essential in determining whether a person will stay or go.
Visitors are extremely distrustful during those first few seconds, having been subjected to numerous poorly designed websites in the past. Therefore, the likelihood of abandoning the site is very high.
Thus, showing the pop-up immediately after they've visited the website may only increase their urge to leave.
Your pop-ups should be timed. Before you request users to act, you must demonstrate how you can provide benefits or more value. Keep the pop-up from appearing until users have spent some time online.
4. Don't Autoplay Background Music or Videos
Nowadays, digitally savvy visitors prefer to control how and when they consume internet material. Blasting them without their permission is easy to drive new buyers away from your site without even a purchase.
Unless you have a marketing website, playing background music over most sites is simply a terrible idea.
Sudden music or sound might irritate and perhaps cause complications. Users may be viewing your site at the workplace or in a public setting; thus, unwanted music could quickly turn them away.
Visitors are also irritated by auto-play videos placed into a section of content in the same way that music in the background does. They should therefore be used rarely – only when they are necessary.
You need to include controls (play/pause buttons) on the video or music that is playing so that the users can control what to listen to and when.
Video Control Buttons – Image Source: NBC News
5. Don't Hijack (Take Over) Scrolling
Scroll hijacking occurs when designers alter the scrollbar on their site to experience a change. This can feature dynamic animations, fixed scrolling points, and even redesigned scrollbars.
Hijacked scrolling irritates many visitors since it gets control from them and causes scrolling activity to be utterly random. Thus when designing a website, minimize or scroll hijacking and allow the user to take control of their surfing and navigation within the website.
The Bottom Line
Visitors expect an exceptional UX when they connect with your website. If you don't meet their demands, 89% will go to your competitor, as seen in this piece, which could be just a matter of seconds.
As a result, with each and every design stage, consider what is appropriate for the customer and strive to make the encounter as enjoyable as possible.
By addressing the do's and don'ts of web design we've discussed in this piece on your website, you should see major gains in your website's performance.
Acodez is a leading web design company in India offering all kinds of web design and development solutions at affordable prices. We are also an SEO and digital marketing agency offering inbound marketing solutions to take your business to the next level. For further information, please contact us today.
Looking for a good team
for your next project?
Contact us and we'll give you a preliminary free consultation
on the web & mobile strategy that'd suit your needs best.