If we go all the way back to 1995, the number of websites was hardly 25000 overall. But belonging to the modern age era, 2019 data analysis evaluates how websites have touched 2 billion approximately.
Websites are considered as gateways to depict your talents and skills in the best of your manner. It would not be wrong if I say that websites have a significant role in deciding your business' failure or success in today's era.
Building a website for your business has its pros and cons. It is not easy to build a website, see it flourish, and boom! All the data is gone in a blink of an eye. You may go through financial and mental instability too.
It is much needed that you keep your websites backed up. At the same time following all measures and security procedures to save yourself from these kinds of losses and mental pressures is also vital. Specifically, it is much needed in WooCommerce websites.
Why Is It Needed To Keep Backup Of Your Woocommerce Website?
Besides the specification that you must be following all backup procedures for the security of your site, other multiple reasons to backup your WooCommerce website are:
Latest Updates
New updates are frequently introduced by the WooCommerce team, with more security than the previous ones and other innovative features.
Case in point, the 3.5 version of WooCommerce enhanced the copy of transaction email along with the addition of a latest feature that helped in the export of products towards the file of CSV. Almost everywhere, it is a must recommend to backup your website before updating.
This measure is taken to put yourself on a safer side.
While updating your website, you could come across things that would be incapable of co-existing. And these things are: plugins, extensions, and even coding concerns.
Having backup satisfies you that you can access your last-in-use version at all times. It is highly recommended to take some precautionary measures before updating.
Higher Probability Of Loss
Inactivity of even a minor website can cost it a significant loss. If you consider your WooCommerce website in this scenario, the inactivity phase can cause you severe loss without a backup.
You do not want to lose your precious data. Each second counts. You may lose your orders made every other second. You can lose your customer details, and above all, it can revive everything from one way or another, but it is most difficult to gain customers' trust back.
The pillars of your business are your customers and the money you make. To ensure that your business keeps running, you must backup your WooCommerce website; otherwise, you may end up losing your entire business.
What Backup Is Required By Woocommerce Websites?
WooCommerce is not a regular website. It would be best if you kept that in mind. Therefore you cannot always back up the data like you do in a regular website.
Just to mention, all websites have files and databases, and every normal website has 11 tables. But when it comes to the WooCommerce website plugin; the plugin provides you with an extra customizable table that gathers sensitive info regarding orders, delivery charges, tax charge details, and transactions.
Quite a few standard backup plugins are unable to perceive this additional custom table, which may result in backing up of all files and databases. Still, this additional custom table of WooCommerce consists of your sensitive info. And this may end up causing trouble for you by not providing an unfinished backup.
Therefore, you might need a backup plugin designed especially for WooCommerce websites.
On the other hand, WooCommerce websites have a regular constant customer traffic. Simultaneously, you may have customers searching for their desired products or making a payment or even entering their shipping details.
This tells you that you can't just start your backup at any time, as you might lose a handsome amount of business.
For instance, some visitors came to your website and bought anything, you would not have a single hint that something like that happened, and ultimately you will end up losing your customer details and even worse payment information.
GUIDE TO BACKUP YOUR WOOCOMMERCE WEBSITE
We have already discussed three methods to backup your WordPress, so it might not surprise you that those methods are implemented for WooCommerce backups too.
1. Manual Backup
Manual backups are considered to be less complicated but riskier. It is time-consuming, where minor errors may cause ruining consequences. Following steps are undergone for manual backups:
You can download the website data on your personal computer or laptop. Through the possible options:
FileZilla; FTP tool
File Manager located in the cPanel of the website host account
Backup the website database. By the panel of your database management, make your way to phpMyAdmin.
Choose the database you want from the file named wp-config.php. It will show all available tables present in the database on your screen.
Export these tables by selecting.
This procedure is not suitable regularly. Assigning a specific person for this is not workable. Also, it is not the best option for WooCommerce website backup.
2. Backups through Your Web Host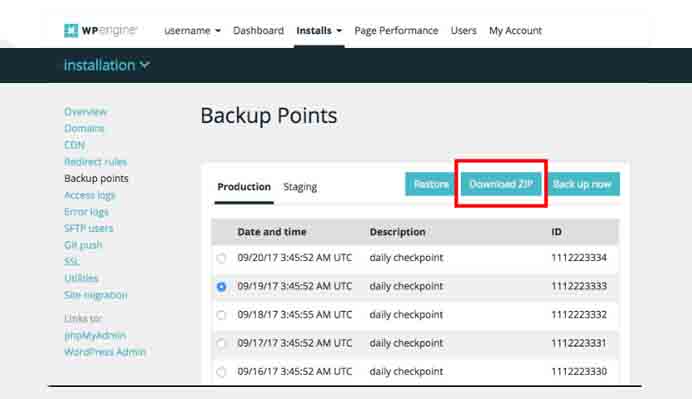 WordPress hosting sourcers have backup plans that offer additional paid features in their programs. Still, real-time backup providers are rare as most of them provide daily backup plans, which may not be suitable for you.
If you still want to have a real-time backup, here is the trick.
Consider the option of on-demand backup by contacting your host supplier then download the latest backup. Start backup again for new data and have it downloaded.

Use the manual method for exporting the database and backing it up. By using MySQL manager, you can transfer your database to any local folder.
These backups from hosts are not known to be reliable. As mentioned earlier, the backup will not contain the complete backup information required; especially, in the case of WooCommerce website backup, leaving the precise knowledge of table for WooCommerce data.
Plugins with Real-time features for backup are one of the most needed things right now. As explained before, and after discussing both techniques, you can evaluate that none of them works perfectly for backup.
3. WordPress Plugin Backups
The option of an automatic backup plugin is one of the most convenient ways of backup on sites made on WordPress. It works faster and easier to start.
Several plugins like UpdraftPlus, BackupBuddy, and BlogVault offer a simplified the process of backup which has eased the process of execution and managing backups. For more info, you can check the detailed BackupBuddy review.
For WooCommerce sites, there are numerous options available, but all backup plugins are not suitable for shops or stores.
You need a backup option that gives you the freedom to store and backup data for both databases of the website and WooCommerce site.
At the time of restoring, a backup should work smoothly and efficiently. Also, you must have the permission to run site backups for tests prior to any restoration activity. BlogVault can be the best option that fulfills the criteria. Let us discuss why.
Real-time BlogVault's backup is an option that is most desired in the WooCommerce site. The ability to activate the backup when any change occurs on your site activity and WooCommerce custom table changes makes the BlogVault perfect.
To reduce the implications of a heavy backup that makes the site slow and overload, you can find two ways to tackle this issue by BlogVault's WooCommerce Backup Plugin.
Dedicated servers ease the process of backup to even enable you to use the freed-up space and resources more conveniently.

BlogVault uses a special backup module after setting up. This plugin backs up the complete site.
Succeeding changes are added to the primary backup little by little. Due to this website and your server works seamlessly and gets unaffected.
Steps to Backup WooCommerce Site via a plugin (BlogVault)
Sign up for an account with

the help of BlogVault

and add the WooCommerce site to your dashboard.

From the dashboard, there is the easiest and computerized option available for plugin activation. After activating the process, BlogVault backs up your site completely.

After that, from the section of Backups. Select the toggle bar placed after "Real-time Updates" if you want the function to be activated.
How To Avoid Data Loss?
One of the examples of such a plugin is WP Staging. Furthermore, blogVault users have a staging feature already available.
You will momentarily halt the platform from receiving new orders. You can retrieve your most recent backup by activation of this feature.
In case you use scheduled backups, it is best to schedule them in the time frame when your site attracts the lowest traffic.
And if possible, hold an offsite duplicate of the same backup.
Excellent customer service is important; therefore, before using any backup plugin, check if they have a good customer service system.
Make the process of backing up your WooCommerce website a ritual of your website maintenance procedure. The loss of data has a greater effect on internet retailers than on a traditional website.
This is linked to the following factors:
Your woo commerce site has greater features and has the capability of processing more than one task at one time.

It is the legal responsibility of the owners of WooCommerce sites to maintain their consumers' data safely. Negligence or abuse of consumer's private details could result in hefty consequences.

For the acquisition of merchandise, distribution, and billing, a regular online store must collaborate with several vendors. The amount of data at risk is considerably larger.

Due to the setup of various processes, your WooCommerce store requires substantially more investment when compared to an ordinary blogging location.
We suggest installing the WordPress real-time backup plugin, which stores every site operation in the backup. It also consists of improvements in the WooCommerce product custom table if you want the best backup plan for your WooCommerce business.
The computerized method is a quick but rigorous tool for monitoring your site's efficiency and eliminating the slowdown of your site. You cannot get any more near to zero data loss.
Hopefully, our article has helped you considerably in terms of backing up your WooCommerce website.
When it comes to the list of web development company India, Acodez ranks among the top companies. We offer all kinds of web design and Mobile app development services to our clients using the latest technologies. We are also a leading digital marketing company providing SEO, SMM, SEM, Inbound marketing services, etc at affordable prices We also offer Branding solutions to our clients. For further information, please contact us.
Looking for a good team
for your next project?
Contact us and we'll give you a preliminary free consultation
on the web & mobile strategy that'd suit your needs best.