With the increase in cybercrimes, the online world is less than safe when cyber threats pose a great danger to your online presence and should be one of your major concerns. The recent online attacks and hacks have left the online world shaken with the fear of another attack that can pop up at any time from anywhere. Unless measures are taken soon enough, there is no idea as to what we would end up losing. However, there is nothing to worry about. With the hacks increasing and hackers finding new ways to make their attacks easy, we can see that new technologies are evading their way to stop these hacks.
One of the latest impenetrable technologies, the blockchain, is seen as a way to protect data from the increasing cyber atrocities and to improve cybersecurity online. Blockchain in cybersecurity is increasingly being adopted by businesses for protection against cyber crimes and attacks to save data. This will help to ensure that no data is destroyed, lost or stolen.
Blockchain Technology 101
The first time when blockchain was launched the main intention was to store or send the first cryptocurrency referred to as Bitcoin. But with time, the blockchain technology started spreading across the globe and people began to realize that it could be used for a variety of other industries apart from storing or sending bitcoins. This has helped to ensure cybersecurity of a variety of other niches as well.
What Exactly is Blockchain
Millions of users around the world are implementing blockchains as distributed networks. Now, it is possible for every user to add data to the blockchain and cryptography is the technology used to secure this data. It is the responsibility of each member on this network to ensure that the data that gets added to blockchain is real.
This can be done using the private, public and the receiver's keys, which allow the members to ensure the accuracy of the data and also to verify the source from where this data originates.
Forming Blockchains
These verified data are connected together to form a block, which then gets added to form a chain. This connection is possible when blockchain users make use of their respective keys along with certain computing systems which help to run algorithms, cracking complex mathematical problems. Once each problem is cracked or solved, the respective block gets added to the chain and the data contained in it would stay on the network – which means no one can destroy or modify this data.
Saying No To Breaches – Saving Your Data!
So we now have measures to save data from being corrupted.
But what at some point of time, a new update or change comes? What would you do? How do you keep this data updated when it cannot be modified or deleted?
If you are looking to make updates to any particular data, the data's owner needs to add a new block of data on top of the previous block, which requires the update. This would create a specific code chain. This would bring about an alteration to everything, including something as small as a comma. This would result in a change to a lot of aspects of the data, such as its appearance would change from that in the previous block through the entire chain within the network and the new change would affect the newly added blockchain.
So with every change or modification that happens to any data, it is tracked and all your data is safe as nothing is lost because users can refer to their previous versions of the block and easily identify which is different within the latest version. This saves them from the effort of having to add the previous changes to a new block of data every time a new update comes. This neat and appropriate form of record-keeping ensures that the system can track and detect blocks with false or inappropriate data to help prevent loss, destruction or corruption of data.
Recordkeeping, Peer-to-Peer Sharing, and Decentralized Data Storage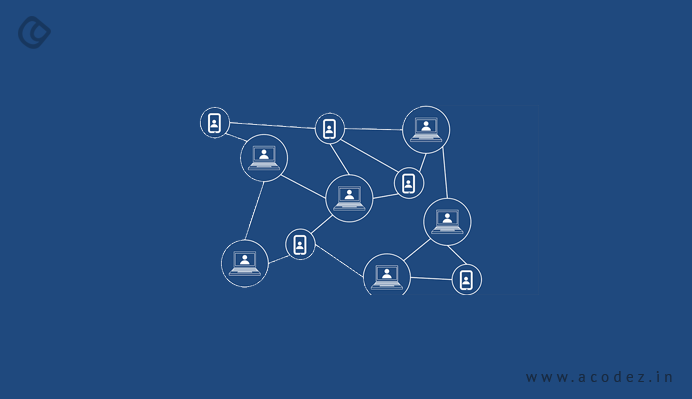 One of the most important things that blockchain users need to note is that they should be able to store all data on the network of their computer regardless of whether they want to or not.
With this, the blockchain users can make money for renting the space for storing the data. And also, they can ensure that the chain doesn't collapse under the weight. For example, if someone who does not own a piece of data tries to hack or destroy a data within a block, the entire system will analyze every single block of data to identify the one block that differs from the remaining. In any case, if the system happens to find such a block, then it would exclude it from the chain as inappropriate data.
The design of blockchain technology is such that there is no centralized storage location, which makes it decentralized. The role of the user on each network is strongly related to storing some or all of the data on the blockchain. Each user on the network is responsible to verify the data and ensure that no inappropriate data gets added to the chain.
Ensuring That No Fraud or Data Theft Happens
With blockchain technology, you get one of the best tools that help in protecting your data from hackers, ensuring that no fraud or corruption happens, which is required to guarantee that no data is stolen or compromised. To ensure that no blockchain is destroyed or corrupted, the hacker needs to get to the data stored on each user's computer across the global network.
This would include millions of computers that store a copy of the same data. It would be highly challenging for a hacker to get their hands on such data or bring down an entire network because there would be undamaged computers, otherwise known as nodes, which would keep verifying and ensuring that data on the network is safe from corruption. With the number of users that exist on a network, the possibility of taking down an entire chain becomes more and more challenging.
Huge blockchain networks with a large number of users have a lesser risk of being attacked by hackers as it is not easy to get into such networks.
This is how blockchain ensures that it is easy to store and share information online. And these days, innovators apply this technology in a variety of sectors to prevent corruption while ensuring the data is safe.
When users sign up for this service, they can choose the personal storage space that can be dedicated to the network. Now, the system provides safecoin, one of the cryptocurrency systems to make sure that the users can compensate for the space that the data occupies over the network. On the network, each file that is placed is fragmented, encrypted and shared among users. The owner of the data can make it readable while ensuring that the data is not accessible to anyone else other than the user authorized to.
Innovative Uses For Blockchain Technology
Every day, the amount of data that is produced online increases and the hacker's attempt to get their hands on this data increases with the increase in data. But the technology behind this the blockchain is adaptable and ensures that the future of the internet is safe while ensuring that the data stored by people is safe over the internet.
The number of uses for blockchain technology is increasing day by day as its safety increases and people have better provision to save their data. The data distribution protocols adopted by the network along with rigorous encryption method helps ensure that the information is safe and intact, and cannot be corrupted.
Removal of Honey Pots
As we had already discussed, there is no centralization of data and this data is the universal currency. No data can be leveraged from anywhere, which is one of the reasons why marketers are ready to pay any amount of money for data. To get a single customer's data, a lot of dollars need to be invested per year. In order to save such data in a centralized database with just a single point to access is not a great idea. Though years back, this data was kept in a central location, whereas with the introduction of the blockchain, this changed.
A lot of businesses have suffered because of data breach and they understand the corruption, only when they receive a mail, which would state that their data was compromised or corrupted. The centralized data offered by blockchain ensures that there is no way for penetration to happen.
It is important to ensure that there is no compromise happening over your data in order to make sure that no one corrupts their data. This helps in enhancing the trust that users have over a brand.
Acodez is one of the prominent and leading digital marketing agency in India offering all kinds of web design and web development services at affordable prices. We are also an SEO agency offering inbound marketing solutions to help take your businesses to the next level.
Looking for a good team
for your next project?
Contact us and we'll give you a preliminary free consultation
on the web & mobile strategy that'd suit your needs best.