Neglected LinkedIn in your business efforts?
Big mistake!
It is a goldmine of opportunities, completely on par with the traditional business toolstack – like a business phone system, CRM and communication software, tools for product development, as well as other social media — like Facebook and Instagram — with just a couple of slightly different rules to it.
Create and manage your LinkedIn business page right, and you will:
Have a chance to interact with other business owners, stakeholders, and important industry figures

Acquire another channel to increase your online exposure

Boost your SEO

Learn from niche experts and their advice for free — the community is great!

Step into a rich talent pool and find potential employees
It's not even hard at all, and you can even do it for free or with just minimal costs! If you're ready, we'd like to guide you through this task, and show you how to use LinkedIn for your eCommerce business to its full potential.
In this article, we will show you everything from basics to a couple of in-the-know, pro tips for LinkedIn business success.
First Things First: Create A LinkedIn Business Page
Here are some hard facts straight from LinkedIn:
Completed pages get 30% more weekly views

Pages that post once a day have twice as much the member engagement

Once the page reaches 150 followers, the page growth skyrockets
Now imagine what some focused effort can do for your business!
Let's get started and create a proper LinkedIn Business Page that gets you plenty of followers, engagement, and conversions.
How To Create A Business Page On LinkedIn
Here is a step-by-step guide that will show you how to set up your business page on LinkedIn:
Pick the right size of your company — the two options are

Small business

(up to 200 employees) and

Medium to large business

(200+ employees); you can also pick the

Showcase page

if you already have the main one, and wish to add a sub-page for slightly different purposes

Fill in the

Page identity

(Name, public LinkedIn URL, Website),

Company details

(Industry, Size, Type), and

Profile details

(Logo and Tagline) tabs; you'll find a handy preview on the right side of the LinkedIn screen
Now you've got the very basics settled, and you can start with activities that bring more attention (and customers) to your eCommerce business.
Your company page, however, also needs some honey to attract the bees. By honey, we mean carefully curated information that tells a story about who you are, what you do, and who can benefit from your service.
When writing a company overview in the description bars (About tab), keep those key aspects of your company in mind, think about the very soul of your business. If you're struggling to come up with the right words, try opening up a new doc and answer these questions:
What are the products and services you offer?

Who do you offer them to?

What kind of problem does your product/service solve?

What makes you different from your competitors?

What core values do you stand behind as a company?
The answers should be brief but comprehensive and guide you through the storytelling process.
Not just kids and journalists — everybody loves a good story!
That is why you should come up with one when describing your company. Make sure it has a natural flow and shows who you are, not what seems popular. Honesty is the best policy, and authenticity is never out of style.
Share your story in a compelling way; how did everything start, what impact do you wish to make in the world, how did you come up with your product, and what you did to make it unique. A well-crafted origin story is the starting point of company branding.
Company Branding On LinkedIn
Building a recognizable brand starts here. The language you use, images, posts, everything should be enriched with certain something unique to your brand. You know you have stellar branding when people recognize your posts before seeing your name above — that's the goal!
Here's a couple of tips for visual elements:
Images in general

should follow the previous rule for the cover image, and illustrate your point well. Always include a small, non-invasive logo in a corner to enhance branding further and prevent "borrowing" your photos without permission
Now, Leverage Employees' LinkedIn Visibility
Your staff can help increase the company's visibility in multiple ways.
As they note where they work in their personal profiles, everybody who looks around their accounts can see and get to know about the company as well. During this time, you can integrate the best virtual phone system to provide support in case someone reaches out to your company.
Check if they're linking to the business page correctly, so everyone can land there through just a click on the employee's profile.
Apart from this passive exposure, there are more active ways to boost the company's visibility. Encourage them to share the posts from the business page, and occasionally post about their workdays.
Assign the HR department to come up with ideas for content that shows your company culture and good employee treatment.
When you create a post from the company page, tag the employees, and double the exposure. Company page followers and their connections combined will boost your brand's visibility even more.
Find Your Audience
Let's focus on two key, basic facts about LinkedIn:
It is geared towards

professionals

It is (still) a

social network
This means that you have an opportunity to address people as working professionals and as regulars within the same platform. Both B2B and B2C are in the game.
This means that you can expand your individual client base (people who buy the final product), and discover new potential associates and vendors!
Let's explain this with an example: imagine you own a cosmetic company and wish to offer your products in brick-and-mortar stores as well, not just online. By now, you relied on your Instagram and influencer marketing efforts, but now it's time to hunt for the bigger fish.
You've heard that CEOs and professionals hang out on LinkedIn, so you created an account and added a business page.
But, now what?
How To Find B2B Audience (And Reach Out To Them)?
Manual search is a thing of the past — now you can automate each step! To continue with our previous cosmetic company example:
Is your brand luxury, or it fits the drugstore price range?

What specific geographic areas do you want to cover?

What is the profit margin you're willing to accept for your products?
When you answer these and create the buyer personas, you may start searching the leads with the help of LinkedIn filters, since this will improve and facilitate your prospecting efforts. There are free filters, but more advanced ones are available within the LinkedIn Sales Navigator. When used in combination with automation tools, you can export leads from LinkedIn Sales Navigator to your CRM as well.
Now, it's time to reach out to them!
This is where a lot of people mess it up by sending non-personalized, cold messages, and connection requests to massive amounts of people.
It takes a lot of time and effort to study each account, personalize each message manually and send it, so the best thing is to use a smart automation tool for LinkedIn prospecting.
In all honesty, nobody likes receiving cold messages, so it's important that your messages don't look like them!
What To Do With The Showcase Page?
Sometimes, a part of your enterprise covers a different audience. You don't have to mix them up! For example, you can create a Showcase page for B2C clientele, and keep posting more professional, B2B content on your main business page.
It will serve as a subsection and arrange your followers without separating them. This will make posting easier since you know what to post for different crowds.
Post and Interact With Your Audience Frequently
There's no point in a well-made business page if you don't use it to its maximum! Apart from B2B, use this opportunity to speak to B2C clientele. The HELP principle can help you create engaging content:
H

-umanize

E

-nergize

L

-ocalize

P

-ersonalize
Create a content plan that provides your target audience with something they'll appreciate and bookmark. Think of their struggles and way of thinking when solving problems.
The content should provide them with the answers in a format that's easy to go through. Sprinkle it with something fun, and include the relevant hashtags.
There are plenty of content and post ideas you can use:
Company life — snippets from employees' lives, video call bloopers, team building photos, and videos

Achievements — business awards, positive reviews, testimonials, accomplishments

Cornerstone content — statistics, research, blogs, graphs, lectures

Quizzes, discussions, Q&A sessions with followers
Multilingual LinkedIn Tools
LinkedIn has a great feature for enterprises who strive for global markets. Through this feature, you can customize and adjust the company description, so it's translated to their language — each visitor will see the description in the language of their choice.
This way you can target people from all over the world, and leave a great impression.
It goes even further than merely translating the Page name, description, and tagline.
You can post targeted company updates, tied to a specific language/ geographic area. It's also possible to add admins from different areas and have them post the updates specific to their region.
Harness The Power Of LinkedIn Algorithm
The three top-ranking signals on LinkedIn are:
Personal connections — the algorithm determines who you know personally and places their content higher

Personal interests — it will rank the content you're interested in higher

Engagement probability — LinkedIn's algorithm determines the probability that you will interact with a post (share, like, comment) before it ranks it
To get the better of the Linkedin's algorithm, you should:
Post the content that's relevant to your audience and encourages the debate and comments

Promote your posts on various channels

Optimize with LinkedIn Analytics

Post at the right time — as LinkedIn doesn't provide the engagement data tied to the posting hours, test and replicate what works the best!
LinkedIn doesn't like it when you post links that drive people away from the website. The way around it is to post the link in the comments and signify that in the post. Another option is to copy the link to the comment (that contains the original link), and include it in the post.
Apart from that, you can ask people to let you know in the comments if they wish access to it, and then deliver it to them manually.
If you have a LinkedIn account, you might have noticed that posts from weeks ago pop up first in your timeline.
That's because the algorithm values relevancy over recency. This is a default setting that can be changed (by switching to recent posts); in 2019, LinkedIn fixed this to show the posts from people you know, not just from LinkedIn superstars with thousands of likes on each post.
Strong LinkedIn Page Will Boost SEO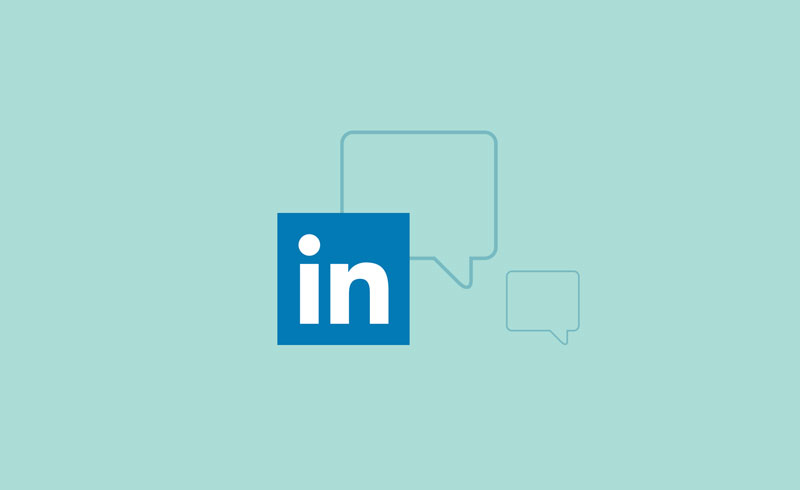 Staying active on your well-made LinkedIn page helps with your eCommerce SEO as well.
When you post, comment, and interact with connections and followers frequently, it sends a positive signal to Google. Once it estimates that you're a valuable resource to many people and a useful visitor hub, it will rank you higher for the keywords that matter to you.
Include these keywords by all means and, as mentioned above, create and post A-grade content around it. The content should lead the audience to the products you're selling with CTA, so create simple, fast-loading landing pages that make the purchase easy.
Key Takeaways
LinkedIn is an important additional channel to help you with boosting your online presence, SEO, and brand visibility.
Unlike other platforms, it helps you pinpoint B2B leads of higher importance, and your potential vendors and business associates. While the main focus is on professional people, LinkedIn provides you with a chance to speak to them on a more personal level, as it is a social media channel after all.
Use it to tell a story about your brand, increase your conversion rate, and interact with a professional audience in a meaningful way — with high quality, branded content.
Author's Bio:
Stefan Smulders is a SaaS entrepreneur and a founder of the world's safest software for LinkedIn automation – /Expandi.io. He's enjoying his family life in the Netherlands being a proud father of a lovely 4-year old son Steef.
Acodez is a leading digital marketing agency in India. Our services includes SEO, SMM, SMO, PPC, and content marketing services to ensure that your website's rank among the top results on the search engine. We are also a leading player in the website design company India arena, offering all kinds of web design and web development services at affordable prices. For further information, please contact us today.
Looking for a good team
for your next project?
Contact us and we'll give you a preliminary free consultation
on the web & mobile strategy that'd suit your needs best.