A number of new technologies have been evolving these days. We can see that technologies such as automation, virtual reality (VR) and augmented reality (AR) are moving into a new phase where they would be involved in a number of everyday activities.
In fact, these technologies are bound to influence how we live, work and do our daily chores. We are waiting, with fingers crossed, for such a future evolution. Slowly, the world is witnessing the emergence of fully immersive computer-generated scenarios in real-time, where humans can explore and live through virtual reality (VR). This is made possible by overlaying computer graphics onto our view of our immediate environment through augmented reality (AR). The entertainment and a few other industries are adopting these technologies.
So with time, each of the devices or apps is driven by VR and AR and is getting more and more powerful, and stronger. Thus, we can expect devices to create visuals with more resolution and higher quality. Also, another advancement that we can expect is the change in how humans can navigate and interact within the virtual or augmented scenarios, which will change and improve.
This will help in creating or inducing natural methods with which the virtual space can be explored and interactions can be made more feasible in such an environment. How do we apply virtual reality and augmented reality in these environments interdependently?
VR and its Applications on Training Opportunities
A major application of VR is L&D – which helps to connect teams and gives a lot of exposure to stakeholders and retailers across different locations of their staff. In scenarios that are limited by a number of foreseen and unforeseen aspects, this technology can help to get rid of barriers.
VR can be used by employers to offer training experiences regardless of the store's location or the number of staff employed by them. One of the best examples that we have got of a course based on virtual reality could be a famous organization's use of VR in a real-time environment, as cited by Forbes. These are used to train a large number of their associates within their nation.
Their staff is offered a learning environment within virtual classrooms, where they can develop and understand what virtual customers are in need of and relate to it. They can also reach out to new shops in the virtual scenario to find out and understand how the different stores keep their various products organized. In fact, VR-driven technology makes it possible to reach out to stores driven by new ideas with ease.
More Effective Program Development
AI has a strong impact on learning and development programs, which is accomplished by adopting a data-centric approach to L&D initiatives. This will help the LMS administrators to complete their tasks with ease as most of the tasks committed by humans are taken care of by AI. This is also capable of coming up with innovation to help bridge the gaps that exist in the present learning system.
There might be certain loopholes in the present system. As we all are aware, implanting a strong educational base is an inevitable part of the trainer's job, and the excellent course material comes in an interesting form. So, the learners need not worry about anything else.
AI is capable of providing editorial guidance, while also helping to identify some of the most vital aspects within the curriculum development. However, the truth is whatever patterns it induces in, nothing can be a substitute for human abilities.
Keep in mind that though AI can get better, it is not human, there would be limitations. If the content is worthless, don't expect AI to take care of it.
It might look like some of the groundbreaking technologies, which we discussed, including AI and VR, are out of a sci-fi movie and we are having to put up with in real-time. But in real-time, you would realize that everything is far easier than what we had in our imagination.
Artificial intelligence and virtual reality are capable of helping L&D specialists to help everyone access the medium of education and training. This is mainly intended to help them to perform better as and when needed.
Just-in-time Learning with AI
When it comes to digital learning, it doesn't need to be done via phone always. Moreover, now, the intention is to help employees learn from the office space through their mobile platforms. With AI, the new learning scheme will help employees to learn as and when they have time to.
There are platforms that use AI to identify the patterns in behavior, which will have a great impact on employees throughout the day. These implement a kind of nudge edge to identify the decision points and provide recommendations.
With this technology, it is like nudging an employee to contribute to something important or when someone in the team gets a reminder or notification regarding some of the courses that they can enroll whenever they find (like during a short break or so). Also, these nudges serve as important lessons or training sessions that are imparted on the basis of an employee's workload and other factors.
Such training can be classified under 'just-in-time trainings.
AR and VR can be Enhanced with AI
Unlike never before, the developers are working on embedding smart, cognitive and futuristic functionalities into the apps-enabled by AR and VR.
Computer Vision
This is where an AI technology, allowing computers to identify and recognize what they are viewing through their cameras is required for operating AR. This makes it easier for letting objects into the user's visual field, where they can identify and label these objects. With time, the machine learning algorithms that drive these features would become more enhanced.
For instance, some of the Instagram filters, which were released some time ago, the overlay bunny ears, cat whiskers on selfies are intended to be consumer-engaging ones. Here, AR was enhanced in collaboration with AI. So image enhancement and other similar apps are expected to undergo further enhancement over time.
Other advancements applicable to scientific use cases include Google's machine learning enabled microscope, which is capable of identifying those tissues that would grow into a cancerous tumor. This would help the pathologists to identify cancer using viewfinder within no time.
When it comes to VR, it is about letting people inside virtual environments, and such environments and their users are likely to become intelligent over time. We can expect more voice control to route from AI natural language processing, thereby increasing immersion, which happens when the reliance on icons and menus intruding in the virtual world is brought down.
We will also see gamers in VR facing even more challenging competitors as computer-controlled players would react and adapt to individual play styles successfully than ever.
VR in the Mainstream (consumer entertainment)
This was expected for some time now. A few years ago, we saw the emergence of VR adoption in homes with the introduction of consumer headsets. But there has been no progress or any further developments in the field after this.
These headsets came with certain limitations. The user required to be tethered to a huge and highly expensive computer in order to have the experience powered into it. This limited the mobility fraction and even the sense or feel of immersion that is offered.
Another limitation arose when relying on relatively low-powered mobile technology to take charge of stand-alone headsets.
A lot of breakthroughs are being expected with stand-alone headsets being released that are capable of incorporating in strong and dedicated computer technology, using Vive and Oculus. So the new release would include more immersive entertainment experiences along with an unbelievable level of natural sense embedded within these VR games.
We will witness that the new generation of headsets will contribute to improving the technology, by powering the virtual experience, which would mean including a number of features. Some of these are eyeball-tracking and an expanded field of view. This will further help the users to interact and explore in a realistic way, as they had always intended to.
Now, you can find more than 100 to 200 varieties of VR headsets from which you can choose to buy the best one that fits your purpose.
Creating a Social and Collaborative Environment with VR and AR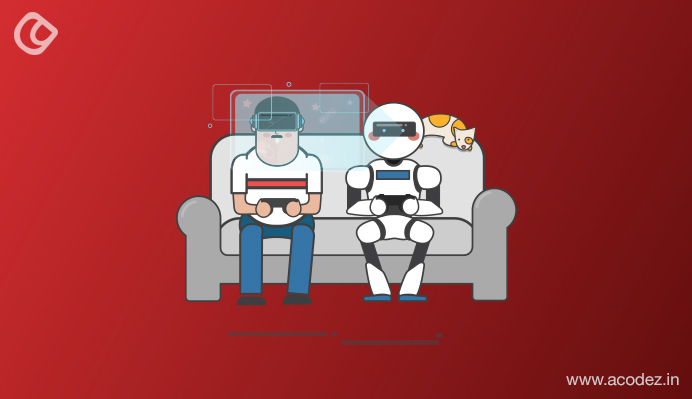 With Facebook's purchase of Oculus in the year 2016, we came across a new era of social media. This has, in fact, hit us with the reality that in a short time, virtual reality should become a part of these online social media environments. Regardless of whether it would be used for calls or socializing, VR would be an important part of this environment.
Now, Spatial has come up with AR tools for offices – boardrooms – wherein users can view whiteboards and pinboards while collaborating to work on design documents that are laid on objects in the real world in real-time.
There has been an increase in the sales of VR and AR headsets in the year 2019 and over the next few years, we can expect this to become a trend.
Besides these, vehicles and other consumer apps are depending on VR and AR.
Acodez is a renowned web design and website development company in India. We offer all kinds of web design and web development services to our clients using the latest technologies. We are also a leading digital marketing agency providing SEO, SMM, SEM, Inbound marketing services, etc at affordable prices. For further information, please contact us.
Looking for a good team
for your next project?
Contact us and we'll give you a preliminary free consultation
on the web & mobile strategy that'd suit your needs best.