Planning to get a website designed for your business?
Cool!
It is quite an easy process. Thanks to the loads of Word Press framework templates that are available for free download over the internet, anyone can create a website at anytime.
But, do you think this website will be sufficient to meet your needs?
No, of course not!
Any amateur can indeed create a website because of the number of online tools that are available for free download. So, no waste of time and no waste of money or effort!
Also Read: How To Create A Better Strategy for Efficient Web Design
As easy as that!
The sad part is unless we know how to lay out our website as per the needs of our people; we are going to fail at impressing them and drawing them near.
So, what are we going to do?
A lot of misconceptions exist when it comes to a client or a website designer.
Designers are usually more into creating intricate designs that will mesmerize their people. Many a time it even happens that designers impress their clients and both are happy. But, things start turning sour when the website fails to derive the expected results.
So, how do we ensure that this website will create the expected magic from the end-user perspective?
It is not an easy game!

I had been in talks and discussions with designers who have been into this calling over a long period of time now and are still researching and trying to find out what innovative ways could they introduce to impress their people.
Some of them say that they have managed with ease to impress their people while there are those that say they have time and again failed to create the magic.
And, are still searching for ways to impress the end-users!
Some of them say their clients are happy in the initial stages as some of their ideas seem to work but, as days pass by these strategies seem to wear off because there are competitive minds on the other side that are constantly working on coming up with innovative ideas that cultivate customer interest and ensure that the customers never leave them.
The point is that both the clients and website designers have certain misconceptions when it comes to creating intricate website designs.
Here, we are going to examine all those points from both their perspectives and get rid of ideas that are actually spoiling the website design and causing you to lose your customers.
First of all it's the client who decides to build a website, so let us find out what are the common website design misconceptions that frustrate designers because you have been reaching up to them and irritating them with these. If you are one of a client that exhibits these misconceptions, then, it is high time that you warded off them and started getting along well with your designing team:
1. Website designers have a life of theirs
A common misconception that every client has regarding website design companies or website designers is that once, a project is finalized they feel the website design company or the website designer is obliged to obey them every hour – every minute – every second of the day.
Of course, we do understand that you are spending your hard earned money and this website is your dream and the one that will earn your bread and butter helping take your business to the next level.
Also Read:14 Ways to Make Visitors Fall in Love with your Website
So, this doesn't mean that you will constantly call up your designer on their holiday or late in the middle of night asking for the status of the project.
How to tackle this?
Discuss with them and ask for a particular day or time of the week when you can get in touch with them and monitor the status of the project progression.
This way it is easy for both of you, as you now have a particular time and date fixed to catch up on the updates.
2. You do not know it – all
Of course, it is your business and the website is being designed for your customers, ultimately. You know who your customers are and what their needs are. But, if you have little or less knowledge on website designing and how it works over the web, it is meaningless to impose ideas on your designer forcefully, recommending them to implement it in your website design.
There are a number of clients doing this because they think the flashes and marquees on a website with a hell lot of content (meaningless and boring) is still the trend and this is what their customers are looking for.
To be honest, maybe 15 years back all this was a cool trend as back then, the end users were not as tech-savvy as they are today.
So, even a website was considered to be something out of the world. But, now things have changed!
Anyone can design a website as we discussed at the starting of the article.
Keep in your mind, your web designer or web Design Company is not claiming that they are designers without knowing the soul of the trade. But, they are aware of the audience pulse and what works well in a world driven by technology.
So, chill and allow them to take the call.
This is quite easy to tackle, sit down with them and talk about the various prospects that drive customer conversion and retention through websites. Discuss these ideas with experts and researchers and then, try discussing the unique ideas that you have in your mind and request their ideas on how to make these feasible from the point of view of the web.
3. Responsiveness is not a new term anymore and it differs from mobile app
A number of people are still living with the misconception that a mobile app and mobile responsiveness is the same thing.
But, to tell the truth both are entirely different things.
Raise your hands if you have been thinking that going live on mobile and having a mobile app is the same thing all these years!
I bet that every 2 out of 5 of you are raising your hands.
Chill! It happens.
The truth is when we ask our web designer to make our site responsive across a variety of devices we are automatically blinded by the misconception that this will be available offline too.
Of course, you cannot survive the latest game unless your website is live and accessible via the Smart devices but, when it comes to being available offline a lot of work is involved and here again you need to get some help from some of the best mobile app designers.
Designing a mobile app is way different.
Of course, photo editor is one such example. You can use it whenever you need though you are offline or online.
But, Facebook app is something that doesn't work when you are offline.
Next time do not blame your designer if your app doesn't work offline.
Because, now you are quite clear with what the difference between the two is.
4. Get rid of the space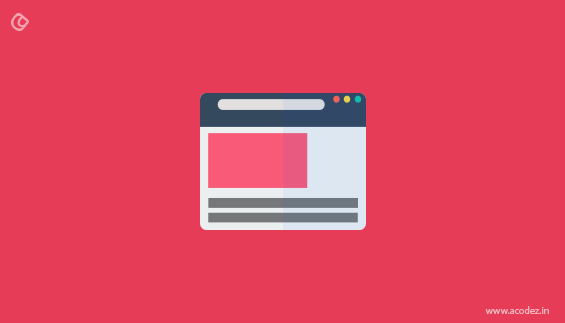 A lot of people consider space to be a bad thing.
But, the secret to a good web design is having some space left out always.
No customer likes being on a website that is too congested.
We all love to see the sites that have given enough space for their words to breathe and relax.
So, next time when you see your designers have left enough space do not cross with them and ask them to fill those up.
The trend says so and you have to live with the trend if you really wish to be successful.
It is important that you live with the latest trends to conquer your customer's heart.
5. Redesigning
As we have already discussed in #1 you do not own the designers or the web design company that has committed to designing the project for you.
Since, they designed your website it doesn't mean that they are responsible to help you whenever there needs to be a redesign or whenever you feel like the trends are changing and you need to get this redesigned.
Also Read: Top 11 Proven Tips for Redesigning your Website
There are of course new designers around us who are ever ready to help and provide us with designs that we need.
You can approach them and get the website designed as per the new update.
But, try with your web design company before you proceed to seek help from others, because web designers like Acodez IT Solutions are always happy to help their previous customers and provide them with assistance as and when needed.
Also, do not hesitate to reach out to us if you need help with redesigning something that someone else has done for you. We can always start from where they left or restart it from scratch.
Now, we shall discuss some of the common misconceptions that the web designers or web design companies have when they commit a project and you should be getting rid of these to succeed:
1. Website goes viral
Website design is not a simple process, though the delivered project looks simple and easy in its final stage. It is the effort of a number of people.
Your client expects that once it is ready to go live, immediately the next day it will create history.
If you do not mention these ideas you are going to end up giving them wrong notions on how these things actually work.
Designers normally think that their clients understand that web design is not an easy work and once the final thing is delivered it will create magic.
But, honestly, the truth is we all know it doesn't work that way and we are quite shy to disclose this fact.
Stop shying! And, disclose the truth to your people.
They need to know that no business reaches heights in a day.
Of course, "Rome was not built in a day."
So, they need to learn and accept the fact that it will not happen in a day but it will take time.
2. You are not alone in the process
Involve your people at each stage of the website design process.
As you know it is not easy to finally come up with a website design that they need.
Every time you reach a new phase it is necessary that you meet up with them or at least have an online call and present them with the progress of your project.
Imagine the plight when you finally come up with a design and they say this is not what I was looking forward to.
All your effort and time goes in vain!
So, it is important to communicate and coordinate with your client at each stage of the process.
3. Client knows better
But, since, we discussed that it is always good to involve your client into your projects, do not make it a habit.
Calling them up and asking for inputs every time.
Do not forget that you are the designer and the thing is in your hands.
The client has only vague ideas of what is needed.
Of course, they know who their end-users are and what has to be done to impress the end users.
But, how you do it is up to you because they have no idea of the technicality of things that are involved in the process.
So, do not waste your time asking them for inputs. Is it okay if they ask you to put up something like a brown color with flashy cartoons for a website that is into the sale of women's cosmetic products.
No lady is going to come and buy from that site and the client will blame you for this situation.
4. Bugs could mean you are not a good designer
It is a common misconception that if a website ends up delivering bugs it is not good enough. But, that is not right.
Some clients really do a tough job of research.
They might very well know that not even one person from their customer base is going to use Opera Mini web browser.
But, they will test the website across this browser to ensure that it is compatible and find that it leads to bugs because you dint feel it necessary to test it upon this browser as you know their end users are not using it.
And, they will blame you!
Don't take the blame, instead, sit down and show them all the possibilities that they know very well.
They will understand it well!
But, to avoid risks it is always better to stretch out all these possibilities before you commit.
5. Testing a website design
This is out of the box! Something that is applicable to both the clients and the web designers.
As we already discussed it is necessary to coordinate and work together on a project.
Being a client it is your duty to ask and get involved at each stage of your project because you do not have time to lose. Imagine the frustration when the final product turns out to be something that does not comply with your needs.
It is sad!
How do you deal with this?
Not an easy thing.
So, what do we do?
It is always important to discuss with your web design company about your needs and ask them for the moodboards that they are going to develop in relation to your project. Unless, the moodboard depicts something that you are looking for how can you ensure that moving forward the final product will be something in line with your expectations of the web. But, when you see the rough sketches you have an idea of how your final product will be like and you can suggest and discuss for further changes if any.
Or if you are happy you can give them thumbs up to go ahead. But, if it doesn't synch with your expectations, you always have the option to provide your suggestions and request them to work as per your needs.
From the designer's perspective once you start or commit, it is always necessary that you develop a moodboard and present it to your client to exhibit your understanding of the project or you cannot move ahead. Because once the entire design is ready it will be out of question to rework and deliver something that is far apart from your understanding of their needs.
It is always necessary to coordinate and work together from the initial stages to help yourself create a product that is aligned with the client's business needs and requirements.
These are some of the misconceptions and easier ways to handle these to prevent complications on the part of the client and the web designer when you coordinate to work on a particular website design.
Also Read: An Ultimate Guide for your Website Design Budget Plan in 2017
Are you looking for a great web design company who can design a high-quality website within your budget
We can help you.
Acodez IT Solutions is a web design company based in India offering all kinds of web design and web development services to our clients in India and abroad. We are also a SEO agency based in India offering all kinds of digital marketing services to our clients. We can help you take your business to the next level online with our services.
For more information on how we can help you with our services, contact us today.
Looking for a good team
for your next project?
Contact us and we'll give you a preliminary free consultation
on the web & mobile strategy that'd suit your needs best.