The world of UI design tools is constantly evolving. There are a number of options out there, but not all will work for your needs. Figma and Sketch are two popular choices that can help you to create responsive designs with ease.
Let's take a look at the differences between these two in order to determine which one might be best suited for your project:
What Is Figma Used For?
Figma is a browser-based, vector graphic design application that offers the ability to create mockups for webpages, responsive layouts, and more. It's an excellent tool if you work on multiple platforms or collaborate with colleagues remotely.
What Is Sketch Used For?
Sketch is a powerful vector app that makes it easy to create wireframes, logos, and more. It also supports team collaboration so that you can have input on your designs regardless of location or position in an organization.
Both are available as apps through their respective marketplaces (Apple App Store & Google Play). You can access these apps online with Figma at figma.com and Sketch at sketchapp.com.
Figma Vs. Sketch: Compatibility with Operating Systems
Figma is compatible with most major OS platforms, including Windows, iOS, and Android. Sketch on the other hand is exclusively available for macOS. Sketch developers have made it clear that they do not plan to launch an app for Linux or Windows.
Figma Vs. Sketch: Performance
Many professionals agree that both Figma and Sketch offer similar performance when it comes to the speed of their features (hierarchical layer navigation, grouping/ungrouping elements on the canvas, etc.). Both apps support key commands like CTRL+Z or CMD+Z for undoing changes, which is convenient.
Figma Features Vs. Sketch Features
The following are some of Figma features:
Drag and drop interface elements.

A unique feature called Craft, which is similar to Marvel or Zeplin in that it allows you to create prototypes.

3D rendering tools for Figma allow you 3D models, shadows, etc.,

Animation testing – to preview animations within the browser.

Team libraries – to share design assets with other team members.
The following are some of Sketch features:
Pixel grid – enhance designs by using guides to precisely place elements.

Sketch supports 3D rendering, which is not offered on Figma.

Import custom SVG icons.

Smart layers are another unique Sketch feature that allows you to use the Layers panel for organizing your design assets.

Symbols are another popular tool within Sketch, allowing you to reuse common objects or interfaces throughout a design (a logo with multiple colors, for example).
Figma Styles Vs. Sketch Styles
In addition to supporting layer styles (drop shadow, inner shadow, strokes, borders, etc.) both apps offer a variety of fills and patterns as well as 'Styles'. A style is a collection of properties that can be applied with a single click to any element on a canvas.
Element properties include color, width & height which are all adjustable from one place. In Figma, these styles can also be adjusted using sliders.
Symbols/Components of Figma Vs. Sketch
Styles and Symbols are very similar tools that make it easy to create reusable elements like buttons, icons, or logos for your design assets (see image below).
Sketch does offer more customizability as far as the number of properties that can be included in a symbol; however, both apps do allow you to set variants along with adjustable parameters.
Another unique component that is offered by Figma is the ability to connect other teams working on the same project through their 'Figma' app. This way multiple designers can work together in different countries and still share information seamlessly.
If you're not working with team members collaboratively, this feature would serve no purpose for you.
Plugins available on Figma Vs. Sketch platforms
Sketch is by far the most popular platform for graphic designers with a large number of plugins being developed specifically for Sketch.
The following are some of the most popular plugins you can access with Sketch:
Sketch Manager

– This plugin aids in the quick creation of Sketch documents. You no longer have to use two separate plugins for this. You can modify Text Styles or Symbols in one plugin now, making it as simple as ever to manage your Design System.

Sketch Style Inventory

–

As a result of its structure, UX design promotes organization and structure. Sketch may be effective in both areas, but transitioning from exploration to structured layouts with distinct colors and styles is difficult. It's either a completely new beginning or an attempt to tidy up what you've got. The Style Inventory is designed to assist you with this. It provides you with a list of all your used styles and guides you through the process of combining layers with similar styles.

Rename It

– In either ascending or descending order, rename layers using keywords to establish a naming pattern based on the existing name and/or width, height, and numeric sequence.

Merge Duplicate Symbols

– Merge symbols with the same name using this tool. Select the one you want to keep and press OK. All of the other symbols will be deleted, and all of their instances will be replaced by the one you selected to keep.

Symbol Organizer

– Organize your symbols page and list, as well as your alphabetically sorted symbol names, into categories.

Style remover

– If you created styles that you don't need, this plugin can help you find which ones aren't being used and remove them in one click.

Style generator

– Sketch Styles Generator enables you to build any number of layers (text, shapes, or both simultaneously), and it generates a slew of Shared Styles with exactly the same name as the layer.

Lint for Sketch

– You can test your designs against your established design standards in a matter of seconds. Extract the rules to utilize this plugin, just a Sketch file with your design guidelines is required. Text styles and color swatches are stored in this file. With a single click, the plugin may extract all of the typography instances and color rules from the guideline and save it as a JSON.

Moodboard Builder for Sketch

– With this Sketch plugin, you can create beautiful moodboards with a single click.
The following are some of the most popular plugins you can use with Figma:
Unsplash

– Unsplash is a stock imagery website that created a Figma plugin. It provides you with the option of using stunning,

free public domain images

.

Palette

– The ideal choice for apps that want to keep their design consistent. This plugin provides color palettes that go well with whatever design element your app has. It also includes an AI component that generates random color schemes and fine-tunes the aesthetic of your theme to your liking.

Content Reel

– This plugin is used to bring content (text, icons, avatars) into your design. It's also useful for adding randomized data to your design without having to supply placeholder text.

Color Contrast Checker

– This is a simple and quick tool for scanning all of your app layers at once to identify any that do not fulfill the Web Content Accessibility Guidelines (WCAG) requirements. The program enables you to click a specific color swatch to view the layer, change the lightness of any text on it, and set the background brightness in order to receive a WCAG passing grade.

Iconify

– There are 40,000 icons to select from in this plugin. Because of the technology behind this plugin, third-party icon designers may soon be rendered obsolete!

Figmotion

– You can't make in-app animations in Figma, but Figmotion lets you create over this limitation without using a third-party program.

Mockuuups Studio

– With just a few clicks, this plugin provides you with over 500 possibilities to combine your design with. It may be utilized for social media, blogs, marketing campaigns, prototype designs, and much more.

Coda for Figma

– This plugin allows you to import data from external services like Gmail, Wikipedia, Dropbox, Github, and JIRA into layouts.

Table Paste

– This plugin, like the name suggests, can assist you in exporting data from an Excel spreadsheet to Figma-style formatted tables.
Prototyping on Figma Vs. Prototyping on Sketch
Both apps allow you to build interactive prototypes; however, if you're looking to prototype animation within your designs, Figma's Craft app would be more beneficial (see below).
With that said, both apps provide similar performance when designing static elements like logos or icons. For detailed animations like transitions between scenes in an app design, it seems that Figma is better equipped at this time.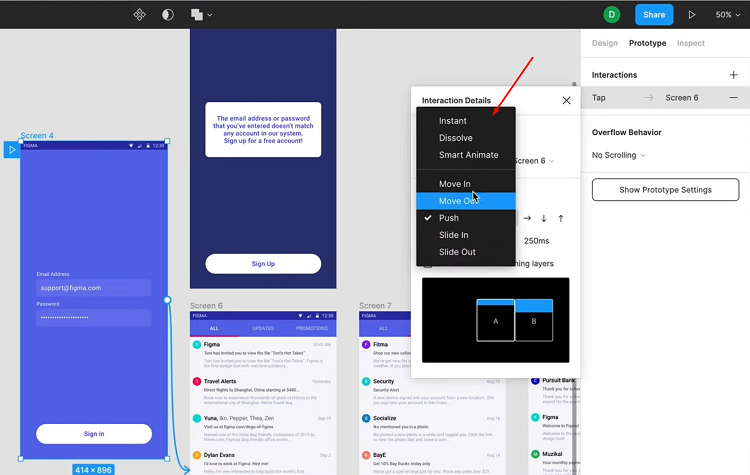 Collaboration on Figma Vs. Sketch
Collaboration is essential when you're working with a team. Both apps offer collaboration features that make it possible for multiple designers to work on the same project at once while being able to keep track of all design changes in real-time.
The only difference here would be that Figma offers an environment where designers can communicate more directly, which allows them to build upon each other's ideas and improve collaboration within their teams.
Price Comparison: Figma Vs. Sketch
Figma comes in three different plans, including a "free forever" version. The paid versions start at $12/month per user up to $45/month per user. Sketch has a flat monthly rate of $121 and does not have a free version: only a free trial period.
Conclusion
It's very clear that both Sketch and Figma are great tools for UI designers. If you're working with other team members, Figma would be the better option to go for due to its ability to connect multiple designers together.
On the other hand, if you require an application where you can work independently without collaboration options, Sketch is still a good choice since it offers more customizability in terms of plugins available which will make your workflow faster.
The same goes when prototyping detailed animations within designs; however, if all you need is to build transitions between screens for simple apps, then both apps perform equally well at this task.
When it comes down to the price difference between the two the over $100 difference is huge, making Figma the obvious choice. But again, there's more to UI tools than their pricing.
Acodez is one of the best UX design agencies in India. The latest technology trends of website design are followed to provide the clients with the best web services to provide a better UX design experience to the users. This, in turn, has helped the organizations get better returns on their investment.
Looking for a good team
for your next project?
Contact us and we'll give you a preliminary free consultation
on the web & mobile strategy that'd suit your needs best.