We have come too far from the stage when we would have been wonderstruck if we were to think of machines thinking like humans – well that was way back before 1960. Now, we are in 2019 and it is very much a norm that yes, they can. Look at the miracles of technology – they can win you at a game online, provide you suggestions on whatever you search over the internet, and even come up with recommendations based on your preferences and search history.
Isn't that great?
As humans, it might not be an easy task for us to each go through all the data that we acquire on a day-to-day basis and organize content according to our consumer preferences, ie, customer-based marketing strategy. But with machine learning algorithms, marketers can reach out to their people with the content that they are looking for. And not only that, they can generate an enormous amount of data in no time.
And with artificial intelligence, we see that the world of content marketing is undergoing a great change, which we can see is for the better.
Role of Artificial Intelligence in Content Marketing
Let us take a closer look at the role of artificial intelligence in content marketing.
Content Generation
By artificial intelligence, we are referring to machines, which possess the ability to mimic cognitive functions and operations, which are usually connected with the human mind. This majorly involves problem-solving and learning. As you might be aware, there is an important role of artificial intelligence in content marketing – as it helps to restructure and update processes accordingly at a time when a lot of content is being piled up.
There has been a drastic change taking place in the field of content marketing over the years. For instance, if you take a look at the blog posts – these are much longer, even the web pages are hyper-focused – also, we know the importance of personalized advertising. Besides, Google has come up with a new machine learning update that will keep a tab on how well you are excelling at serving your customers with personalized content.
With artificial intelligence, marketers can easily analyze the field of content marketing and track data that would help marketers to realize what the user intent is exactly. It will make it easier for marketers to generate content automatically for stories, including stock updates and sports reports. Have you ever noticed content that has been written by an algorithm? Well, that's true. We have covered all those stages of an automatic content generation now.
Chatbots are Used to Interact with Users in Real Time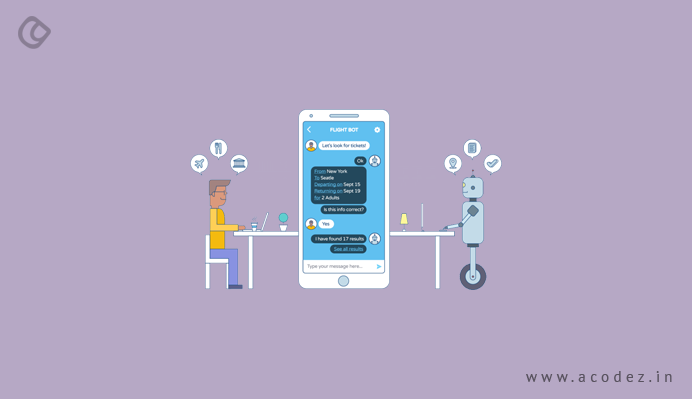 What exactly are the chatbots supposed to do? These chatbots are mostly computer programs that make use of artificial intelligence for mimicking conversations with users. One of the best examples is your Facebook Messenger – which usually uses chatbots – to help carry out conversations with users – usually answering their queries in real time.
A number of multinational corporations and others use Facebook Messenger chatbots to provide their users with a platform to place a request for a ride. There are even chatbots wherein you can make food orders and check or track your orders, while they provide you with help with any related queries. Most often, Facebook Messenger chatbots are used for sending promotional content – in case the user comes up with a query.
With Chatbots, the customer support process becomes easier and simpler. Where regularly users are required to fill in forms and submit their queries, here chatbots are always at your service to answer your queries in real time.
News Feed Algorithms are Customized
AI would customize the news feeds of your users for their social media networks – including Instagram, Twitter, and Facebook. With this, you can make sure only the people who want to see these posts would get to see it.
As these are capable of analyzing a number of variables and predicting the accuracy or appropriateness that a user would place on each post – such as the number of likes, comments, or spam there. Also, these algorithms can provide relevant scores to social media ads such that users get to see only the ads that they might be interested in.
Content Hyper-Personalization for High-Efficiency Marketing is Next
It is quite evident that AI can provide highly personalized content as per your needs. According to certain studies, marketers face the highest struggle with personalization. This is a struggle because it is challenging to collect data that is accurate and appropriate, and then draw conclusions on the basis of these.
This might be a tricky part – as it sometimes pulls out flawed data while at times, it hides data from marketers, who need it the most. And unless you have a clear idea of what is needed, it might not be easy to make the right choices with regard to the content or its delivery. But there are AI-powering analytics apps out there, which would help marketers to arrive at the best marketing decisions on the basis of the data that becomes available to them.
Global and Local Targeting Would Undergo a Transition
It might not be sufficient to just create a lot of content. It would be necessary that you also deliver high-quality content in the time available. Geography and culture are two factors that are hindering with this aim of marketers. Though social media has made it a point to pull the world closer, marketers are not yet at the point where they have a lot of means to reach out to their customers, both locally and globally.
They are still looking for ways to reach out to their consumers, clearing all language and cultural barriers – by publishing at the right time – helping create a great impact. Taking into consideration these factors, AI is more focused on providing location-based targeting with the help of local maps and areas. Check this article about Local SEO.
Though creating localized content might seem to be an out of reach aspect – but AI is expected to make this happen soon. You are aware of the existence of personalized content across the platforms of Google and Facebook. It would have a great effect on your friends and family. With localization in content marketing, you would be opening new markets for you to target.
Micro and Macro Sales Conversations are on the Way
These days, businesses are focused on content marketing that is more in terms of return on investment (ROI). This is made possible by end-to-end tracking solutions, which are available to marketers – making it easy for them to arrive at the results of their marketing efforts. There are a lot of marketing options these days, but the budget is low.
It is necessary to make it possible to attract traffic and sales through marketing activities. With AI, it is easy to deliver the appropriate content and guide prospects to make a purchase. While AI can take care of the sales process in the background, it can also carry on the conversation with others – prompting them to make a purchase. These AI-based chat and customer support bots have already achieved much in terms of transforming queries into conversions.
Since customers are more inclined to do good research before they make a purchase, this kind of support counts more these days. It is your responsibility to ensure that this kind of information is available to your customers anywhere at any time.
Organizing and Delivering Content Through Supply Chains that are Safe and Secure
AI would enable you to create personalized content – but how safe is this content? Aren't we concerned about the safety of this content? It is required that you get this content arranged accurately and deliver it on time, without ensuring that no mishaps happen in between.
It is important to record and track every data that goes to each person out there.
Predictive Intelligence
With predictive intelligence, businesses find it easier to operate more efficiently. With this, companies can have a better picture of each individual consumer and have access to their data – which they can use to create content that syncs with their personalized needs.
Also, it can be used to determine the positioning of your potential prospects within the buyer's journey. Marketers can fast track the sales process by determining the customers that would convert on the basis of their past patterns, behaviors and attitude history.
It will allow marketers to have a clear picture of the kind of content that they should be used to target their customers. Once you have a clear idea of where your users are in their buyer journey, you can apply that information on customizing the content with which people would engage with.
Creating Content that Matters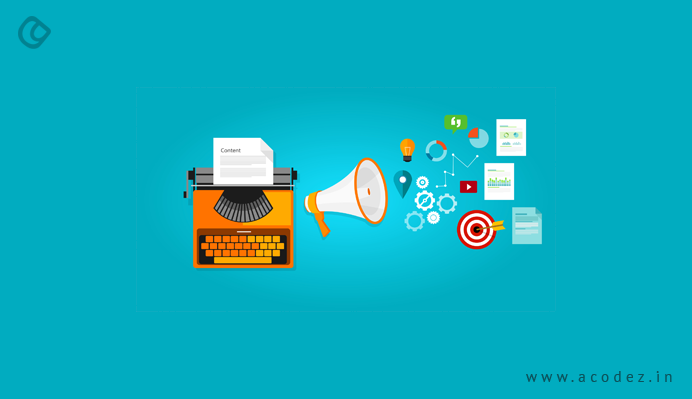 Last but not least what about the right content that your people want to read. So it looks like AI is making an effort to help marketers to get ready the kind of content they would want to offer their audiences at each stage of their marketing funnel.
Let us create a customer experience that they will never forget.
AI in combination with great content will surely help you to provide your people with what they need.
So go for it.
Acodez is a web development and web design company in India offering all kinds of web design and development services. We are also an established digital marketing agency providing a wide range of SEO, SMM services to ensure that your website's rank among the top results on the search engine. For more details, contact us today.