Digital marketing refers to the electronic marketing techniques involved in the identification, and development of the audience to convert them finally into customers.
It is an electronic marketing process that consists of several digital platforms businesses use to connect with prospects.
Search Engine Marketing (SEM), Social Media Marketing (SMM), Search Engine Optimization (SEO), mobile application, online marketing, email marketing, website, and content marketing methods, are adopted by businesses to improve their digital marketing strategies.
Why Digital Marketing?
There are certain benefits that highlight the importance of digital marketing in businesses.
Affordability is the primary benefit when compared to traditional marketing.  Since digital marketing involves focusing on the marketing strategies to the specific target audience, you can stick to the budget.
Online business operations cost very less and help you expand the reach to more users globally.
There are higher chances for your marketed content to go viral, thereby improving social networking, and getting you more leads.
The major attraction of digital marketing is that the results are always measurable. With analytics tools, it is easier for businesses to track and analyze their marketing growth.
You have more power with digital marketing to keep your business along the safer side of competition. Every business has an online presence, hence it is important for your business to have it in order to ace the digital world.
User experience is beyond words when you utilize the power of digital marketing. With digital marketing efforts, you can accommodate personalization features, where the targeted efforts will meet the requirements of specific customer types.
Hence, digital marketing has made its incredible journey to develop the business online, however, real-time results can give you an idea about the status of digital marketing so that you can groom your marketing skills and efforts, and improve your conversion rate.
Here is the list of the major latest digital marketing statistics you need to know.
Digital Ads
Digital Banner Ad spend is expected to reach 85bn USD by 2025. (Source)
The total banner ad spends in the US is currently about 68.8 billion USD and is expected to reach the value of 85 billion USD by the end of 2025.
If you clearly observe the changes from 2017 to 2021, the rise has been huge from 36 billion USD to 68 billion USD, which is incredible.
US Advertisers are expected to spend more than 95bn USD on Digital display ads by 2022. (Source)
The digital display ads spend in the US in 2021 was expected to reach 92.53 billion USD, which made almost 54% of the overall digital ad spending in the United States in the same year.
The digital display ad spends, generally, for programmatic digital display ads, the advertisers in the US invests more than 63.3 billion USD. It is expected to rise to about 95 billion USD by 2022.
Facebook is the prominent digital display ad selling company in the period 2019-21. (Source)
The leading digital display ad selling company as per the data of 2019-2021 is Facebook with a digital ad revenue share of about 42%.
This is then followed by Google and YouTube together with about 10.5% revenue share, and Amazon with more than 4.1 % share.
The E-commerce segment leads in the total digital ad spend of the year 2020. (Source)
When compared to the other businesses, the e-commerce segment is the leading platform with the largest share of 24% out of the overall digital ad expenditure in the year 2020.
The consumer durables segment comes in the second position with about 17% share out of the overall digital ad spend.
Total Digital video ad spend in the US is expected to reach 63.3 billion USD by 2025. (Source)
Digital video ads have been gaining recognition and more people have been moving towards using these ads to trigger their business operations digitally. About 356 bn USD was spent on digital ads in the year 2020.
The overall digital video ad spends in the US is expected to take a leap from 34.3 billion USD in 2020 to 63.3 billion USD in 2025.
The total Digital search ad spend in the US is expected to reach 115 billion USD in 2025. (Source)
The average digital ad spends in the US for the year 2020 was 66.6 billion USD.
This value is expected to reach about 115 billion USD in 2025.
Also, the mobile search ad spend is expected to grow from the value of 35.7 billion USD in 2020 to about 72.3 billion USD in the year 2025.
The total digital search ad spend growth is expected to grow up to 22.4% and 12.5% for mobile and desktop users respectively. (Source)
The digital search ad spending considering mobile users was 14.1% in the year 2020 and is expected to reach 22.4% by the end of the year 2021.
Additionally, the same while considering the desktop users was 3.5% in 2020 and expected to reach an estimated value of 12.5% by the end of 2021.
The search ad revenue of Microsoft has jumped to 8.53 billion USD in 2021. (Source)
Microsoft Bing has been using search ads tremendously to boost their business operations digitally.
The search ad revenue of Microsoft in 2016 was 5.43 billion USD.
By 2020, this has improved to a figure of 7.74 billion USD, which then further took a leap to 8.53 billion USD in 2021.
The ad revenue of Google has hit up to 146.92 billion USD. (Source)
Google leverages the ad revenue with the Google Ads platform, through which advertisers can display their product advertisements, service promotions, and listings with the extensive network of Google.
The ad revenue of Google has made a quick jump from 95.58 billion USD in 2017 to 146.92 billion USD in 2020.
Social Media Ads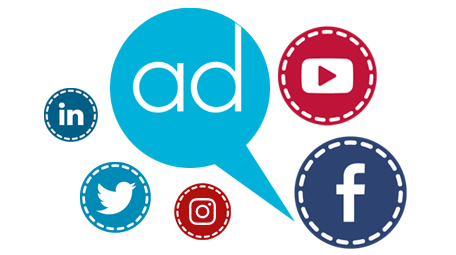 The overall social media advertising spending in the US is expected to hit 82 billion by 2025. (Source)
Social media ads include spending on ads across all online social media networks like Twitter, Facebook, LinkedIn, etc.
These ads usually appear to users as a sponsored post or along with the newsfeed. The entire ad spends in the US for social media is expected to see growth from 50.4 billion USD in 2020 to 82 billion USD by the end of 2025.
Facebook makes the largest Social network advertising revenue in the US as of 2019. (Source)
Social media advertising has gained attention due to the upsurge in social media users.
In this regard, Facebook has been targeted maximum for the social media ads with revenue of about 29.92 billion USD, Instagram the next with almost 9.45 billion USD, and finally LinkedIn with 1.39 billion USD.
Social media ads have been able to influence the purchase decisions of 51% of the users. (Source)
As per the US survey in September 2020, about 51% of the people said their shopping decisions were influenced by social media advertisements, and about 49% of people said that they were not influenced.
Also, the key highlight is that the advertising spending for social media was about 40.3 billion USD in the year 2020.
Mobile Ads
The overall mobile ad spend has reached 120 billion USD. (Source)
With mobile ads, companies advertise their services or products through mobile compatible channels or media.
The United States is the largest position in terms of spending for mobile advertising.
With the ad expenditure that totals to about two-thirds of that spent in the US, China stands in the second position.
Overall spending on search advertising will rise to almost 51.7 billion by the year 2025. (Source)
In the survey of 2020, the highest spending category of ads in the US was social media advertising with 33.3 billion USD spent.
The second position was grabbed by search advertising, with about 32.6 billion USD.
In addition to this, it is expected that the search advertising spend will rise to reach 51.7 billion, and the social media spend will reach 48.2 billion USD, says Digital Market Outlook.
The expected expenditure for the retail sector on mobile advertising is 129.8 billion USD. (Source)
The overall mobile advertising expenditure in the retail sector would hit 129.8 billion USD which is the highest.
The retail sector shows the highest amount of ad spending with more than 24% of their average sum.
The best five segments that cover the highest ad spend are consumer electronics, telecom, financial services, consumer goods, computing products, etc.
Playable ads are considered to be the ad type with the most retention rate among mobile users. (Source).
As of the 2019 survey, almost 27% of the respondents feel that playable mobile ads can contribute to the largest retention rate among the users.
About 57% of the app developers use playable ads for their products, and 23% of them could discover that these were highly engaging among the users.
Mobile ad spending globally is expected to cross 339 billion USD by 2023. (Source)
In 2020, the mobile ad spend was about 223 USD, meanwhile, it is expected to hit more than 339 billion USD by the end of 2023.
Mobile ads have triggered business growth and actively contribute to improved business conversions.
Ad spend on the application installs is about to grow up to 118 billion USD by 2022. (Source)
The ad spend on app installs was 57.8 billion USD globally in the year 2019.
The top countries contributing to the improved usage, being countries like Indonesia, China, India, Africa, etc, the global install spend is to jump over 118 billion USD by 2022 end.
About 60% of ads in the applications were in the form of videos. (Source)
Most of the in-application creatives were playable ads or videos.
About 60% of the advertisements incorporated in the applications were in the form of videos, whereas the banners have been accounted for about 33% of the total mobile ads created.
Social Marketing
About 78% of the marketers who use social media can perform better when compared to their peers. (Source)
Social media marketing has made significant differences in the businesses with its popularity and audience reach.
As per the survey conducted, about 78% of the marketing personnel agree to the fact that social media marketing efforts have helped them to improve their business processes to a great extent.
98% of the sales representatives with more than 5000 connections on LinkedIn are capable of meeting or exceeding the sales quotas. (Source)
The social marketing efforts have framed many changes in the sales processes within every firm.
About 98% of the sales reps who have 5000+ connections in the popular platform LinkedIn are able to market their services and products, thereby improving their sales revenue more than targeted.
IBM could boost their overall sales by an average of 400% with the social selling techniques. (Source)
The American MultiNational Technology company, IBM was able to trigger their overall sales to a value of 400% growth, with the effective use of the social media marketing strategies.
The team at IBM is always popular for their agile marketing methodology, client-specific, and result-based strategies.
If you consider the worldwide data, there are more than 1.5 billion social media users. (Source)
About 1.5 million users actively use social media when you consider the entire digital world.
This data is evidently useful for businesses to realize the fact that enhancing social media marketing efforts can help you to scale up your business strategies.
About 77% of the B2B shoppers don't communicate to the marketers unless they perform research themselves. (Source)
B2B customers are keen to analyze themselves regarding the services or products they come across.
For this, they usually conduct research themselves, until they get convinced.
Hence, the marketers must be careful in using various effective social media marketing efforts for the ideal business outreach.
55% of customers prefer to do their research on services through various social media platforms. (Source)
About 55% of the shoppers wish to do their basic research along with the various social media platforms before it becomes convincing for them to purchase the respective products or services.
Hence, marketers of various businesses strive to amplify the core benefits customers can experience from particular products or services.
About 7% of businesses responded that social marketing was the primary concern as far as sales are concerned. (Source)
Almost 7% of the businesses said that their primary concern regarding sales was social media marketing.
Though the other businesses denied this was their primary concern, social media marketing is an inevitable factor in their marketing efforts, which will soon progress incredibly.
Once a salesperson is involved in the sales process, it can be well completed to more than 90% with social selling. (Source)
With social selling efforts, salespeople can be able to complete the sales process with more than 90% of completion success rates.
This is because social media selling is a trending factor, and with this channel, the salesperson finds it easier to reach the target audience.
About 87% of the B2B customers develop a desired impression upon the marketers when they are introduced by someone in their network. (Source)
When the marketers are known through references or collaboration through known entities, then there are more chances of about 87% of the businesses to find them more reliable, thereby getting impressed by their marketing efforts.
An average of 84% of the executives utilize the contact details and data from social networks for their purchase operations. (Source)
To improve the purchases, over 84% of the executives make use of the information and contact details from the social media networks of the users.
This is also helpful for them to analyze the consumer social media usage patterns and interests, so as to determine the concerned niche.
As per 31% of the B2B experts, social selling has let them build more in-depth client relationships. (Source)
Social selling helps in developing more interactions and fruitful collaborations with businesses and customers.
As per the data collected, about 31% of the B2B professionals agree that this has helped them to nurture strong client bonds.
Blog Marketing
32% of respondents ensured that they always checked their blog post analytics. (Source)
During the survey conducted by Statista in 2019, it was found out that more than 32% of bloggers used analytics to measure their blog post content.
Among them, only 4% of them said that they didn't have access to the analytics.
WordPress users produce about 70 million new posts and 77 million new comments each month. (Source)
WordPress is a Content Management System, also called CMS, where you build a website for your business with relevant customizations and design features.
About 18% of marketers consider WordPress as their core CMS tool. More than 70 million posts and above 77 million comments are generated by WordPress blogs every month.
This means that WordPress readers are increasing and the engaging rates for the blogs are improving steadily.
Blogs are among the primary three forms of media used in content strategies today. (Source).
Blog marketing has made tremendous changes in the digital world.
The content marketing efforts by marketers are invested more in improving the blogs, thereby incorporating measures to boost their SEO.
Among the various types of media utilized in the content strategies, the blog is one of the top three forms of media that enhance any business.
About 89% of the content marketing professionals used blogs primarily for their content marketing strategy in the year 2020. (Source)
With blog marketing, businesses improve their brand credibility and loyalty towards their potential customers.
To advertise their products and services, businesses make use of blogs that can improve their brand reliability.
More than 89% of the content marketers utilized the blog posts in their content marketing during 2020.
Deloitte says that the marketing expenditure is expected to witness a growth of 14% by the end of 2021. (Source)
Deloitte is an industry giant that deals with providing advisory, consulting tax, and industry-specific audit, helping the clients to transform.
Deloitte had discussed the global marketing trends in a report, which states that the marketing expenses worldwide are expected to jump to an increase of 14% in the year 2021.
About 83% of the marketing blog traffic happens from desktop systems. (Source)
About 83% of the traffic happens from desktop systems, while more than 17% of the traffic happens through mobile devices.
Evidently, this is a shocking surprise to realize that more than 83% of the users browse for the services on their desktop and laptop computers, not mobile phones.
The best-performing articles have more than 5700-word length on average. (Source)
Articles have also made an impact on the users with the SEO-rich and user-friendly marketing efforts.
According to the survey by Semrush in 2019, top-performing articles are found to have 5700 words in length when compared to the other articles.
The articles with over 3000 words get higher traffic, shares, and backlinks than the shorter articles. (Source)
The preferable word length of every article comes close to over 3000 words because it is proven that such articles welcome 4x more shares, 3x high traffic, and 3.5x greater backlinks when compared to the smaller articles.
The majority of companies (67%) use organic traffic to measure their content success. (Source)
Organic traffic is not paid, it rather comes from search engines to your websites.
More than 67% of the businesses utilize organic traffic, thereby measuring the overall success of their content.
FOMO
Almost 69% of the millennials go through FOMO, across all age groups. (Source)
Fear Of Missing Out or FOMO has evidently been one of the powerful digital marketing strategies used successfully by businesses.
Most of the millennials have a desire to get connected to what others do and try to not miss out on any rewards or offers.
More than 40% of Millennials don't mind overspending or being in debt to compete with their friends and peers. (Source)
Over 40% of the millennials agree that they would like to stay ahead of their near and dear ones to be over the competition.
They don't even have a problem going into debt or spending too much to win over their friends.
27% of the users rise to search their social media as soon as they wake up. (Source)
The real advantage of social media marketing lies in the concept that most of the users go searching for their social media instantly as they wake up.
Almost 27% of the device users wake up to browse and surf through their social media platforms.
60% of Millennials make reactive purchases because of FOMO. (Source)
People are more bothered about what others do. This has induced a thought in them to make instant purchases to avoid others shopping before they do it.
About 60% of the millennials belong to this category and they make quick purchases due to this FOMO factor.
The most popular and widespread FOMO contributor is Facebook. (Source)
It is found that Facebook contributes FOMO effect to the consumers the most with 72%, followed by Instagram with 14%, Twitter with 11%, and Pinterest with about 8% impact in inducing the fear of missing out among the consumers and prospects.
Lead Nurturing Statistics
About 45% of the businesses are committed to sending the leads with one email every week. (Source)
Email marketing plays a crucial role in retaining and grabbing the attention of prospects and consumers.
This is why over 45% of the businesses are dedicated to sending emails to clients regularly keeping them aware of the brand, at least once a week.
Above 35% of the entire B2B business advertisers have made a lead nurturing business technique. (Source)
Lead nurturing is important to keep customers alive, and remind them about the products and the benefits you offer to them.
So, about 35% of the B2B business marketing professionals have made a well-laid lead nurturing business strategy to make sure that the customers are addressed as per their requirements.
63% of marketers expressed that their core challenge is acquiring traffic and developing lead generation. (Source)
To maintain a lead generation strategy, businesses are making more efforts every day.
They consider traffic generation and lead generation as the major concern as long as their business is taken into consideration.
Hence more email marketing and online marketing efforts are being undertaken by the business marketers to scale up the lead generation.
66% of businesses say that email nurturing is an amazing method to boost lead generation. (Source)
Email marketing is the direct way to enter into audience requirements and provide them with the requirements to improve the conversion.
Emails can be personalized and the customers can be introduced with a direct promotion with emotional communications, to skyrocket the business.
Online Shopping
Men invest 68% additional money to buy online when compared to women. (Source)
It is exciting to study the online shopping behavior of various users. It is found that men spend more money on online shopping when compared to women, which is a shocking and exciting fact.
Over 2.14 billion people purchase online every year. (Source)
About 2.14 billion users make their favorite online shopping every year. Digital buyers have seen an upsurge from 1.66 billion to more than 2.14 billion people, availing of the products and services from online shopping sites.
56% of customers reveal that unexpected prices can let them leave the site without finishing the purchase. (Source)
It is likely that the customers experience hidden additional price hikes during checkouts, apart from what is actually listed.
This is quite embarrassing to 56% of them, driving them to leave the products in the cart without proceeding to purchase.
79% of customers from the US said that they are likely to purchase online if they had the privilege of free shipping. (Source)
About 79% of the US customers wished to purchase products online if they had the option for free shipping.
Therefore adding this option can help your customers to get pleased, thereby improving the number of sales generated.
50% of customers consider online live chat as the most efficient method to contact a business. (Source)
Customers are likely to trust businesses when there exists personnel to deal with their demands on a real-time basis and quench their queries on ti,e.
Hence about half of the consumers believe that online live chat can help them to reach out to a particular business successfully.
The highest cart abandonment rate is for the Finance segment. (Source)
The industry with the highest cart abandonment is the Finance segment, followers by Non-Profit segment, Travel segment, and finally retail sector.
Email Marketing
About 47% of emails are not considered and are discarded completely based upon the subject line alone. (Source)
The subject line of an email has huge significance when compared to the other content of an email.
About 47% of the emails are left without being opened or discarded as spam, just because of the lack of a catchy subject line.
Using emoji in the email subject lines has helped 56% of brands to improve the open rates. (Source)
Adding an emoji to the email subject line might seem unprofessional to certain businesses.
However, on the contrary, emoji in the subject line can invoke positive reactions among the users, and there are higher chances of open rates going high.
6 to 10 words are the ideal email word length with the largest open rate. (Source)
An email subject line should not be too lengthy. Long email subject lines result in creating an unnecessary feeling among the readers.
The perfect word length for an email subject line is about 6 to 10 words.
47% of marketing professionals consider testing various subject lines for email performance optimization. (Source)
About 47% of the marketers try various subject lines to analyze user behaviors and enhance email performance.
Businesses also opt for A/B testing to understand how their campaigns work with the different email subject lines.
There is a 22% chance for the mail to be opened if it is personalized. (Source)
When an email seems to be targeted to an individual user instead of a group message, the customer feels like they are important to the business.
This way, there is more than a 22% chance for the mail to be opened when it is highly personalized.
SEO
72% of marketers define content marketing as the top concern for making SEO tactics effective. (Source)
About 72% of online marketing experts consider the content as the top priority while SEO strategies are developed.
Content plays an important role in SEO, making the business services or products get highlighted to the customers, and can be passed on to the customers in a presentable, stylish, and attractive way.
Google records more than 77,000 searches every second. (Source)
Search intent is important to know the purpose behind a user's search. These searches can be your guides to travel through the best marketing strategies, giving customers what they need.
You get many impressions from refining the 77,000 searches to identify the customer behavior and providing services.
67% of the clicks are directed to the top 5 results in the SERPs. (Source)
Almost 67% of the user's clicks go to the topmost five SERP results.
This means that SEO-oriented marketing efforts can let you win the clicks, making more traffic and conversions, thereby increasing the overall business revenue.
50% of the total search queries are more than 4 words. (Source)
Long keywords are considered to be an effective inclusion to your content since people search with 4 words or more usually.
Hence, incorporating these long-end keywords into the marketing content or posts can help you win target customers.
Conclusion
Businesses keep evolving and the changes have been conquering the world tremendously.
If you wish to keep up the businesses, then there is a strong need of going through the market trends, digital marketing facts, and a clear understanding of what is happening around you.
The above statistics can benefit you to take care of certain factors before taking some crucial steps for your business.
Hence irrespective of the kind of business you are into, your marketing tactics must be alive to conquer the maximum audience for higher conversion rates.
Let your goals be aligned with SEO, paid ads, email marketing, content marketing, social media, or any other digital marketing techniques, and help your business to trigger in terms of revenue and user experience.
Acodez is a leading digital marketing agency in India. Our services includes SEO, SMM, SMO, PPC, and content marketing services to ensure that your website's rank among the top results on the search engine. We are also a leading player in the website design company India arena, offering all kinds of web design and web development services at affordable prices. For further information, please contact us today.
Looking for a good team
for your next project?
Contact us and we'll give you a preliminary free consultation
on the web & mobile strategy that'd suit your needs best.