According to research, more than 50% of marketers said they would prefer to create more content. This trend has been constant over the years. No one has ever declined the effectiveness of content in marketing. Most of the small businesses and start-ups have a clear idea of how valuable content marketing is. In fact, content is one of the most important marketing strategies for small business. You might have observed most of the people, including your competitors, post a lot of content. These include in-depth blog posts, podcasts or even videos.
In this article, we will take you through some interesting tips on improving your marketing strategies. Before that, it is important to understand what are content marketing strategies. So what are content marketing strategies?
Content marketing strategies are mainly concerned with creating a first-class content marketing idea or plan. This plan would futureproof your business or its marketing strategies in the time to come. This could include anything revolving around a content – including written materials and even visual images.
It is best to think of your content marketing plan in terms of "what" and think of your strategy in terms of the "how". With your content marketing strategies, you have an answer to how the content marketing plan will benefit your marketing strategies, thereby increasing brand awareness or improving lead generation.
Why do Content Marketing Strategies Matter?
When you have a great content marketing strategy, it becomes easier for your company to always stay aligned with the goals. In case there is no strategy, your company would find it challenging to achieve its marketing goals. This might tamper your ROI goals and interfere with your content marketing strategies.
 As you move along with the strategy that you have planned, you are moving toward the path of success. It is found that organizations that come up with a marketing strategy have success rates increased by 25%.
It is important to ensure that your content marketing plan is aligned to meet the changing industry trends. When you have a clear plan, even if you leave the organization after a while, your team will have an understanding of what has to be done next. They would be able to think of strategies way ahead, adapting to the changing marketing trends. This is how a strategy can be made effective.
Next, let us take a look at how to build content marketing strategies that are effective:
Tips to Create an Effective Content Marketing Strategy
Buyer's Journey
Content should be in line with the user's journey. Treat your customer as king. So when you create content, make sure that it would be in line with the user's interests. For that, you need to understand who your customers are. Also, it is important to understand what would be the process that they would go through to arrive at a buying decision.
You can analyze an existing customer's user journey to understand this better. This buyer's journey is often referred to as a sales funnel. User's go through a kind of logical as well as emotional contemplation before making a decision to purchase a product or avail a service.
Usually, throughout the buyer's journey, users are searching for information as well as ideas to help them move to the next step. When it comes to content marketing, you need to provide them with the relevant information related to this to help them go through the next steps in their user journey. People who are at the top-most position in the sales funnel are at the first stage of their journey. They are here because they are aware that they need something or a solution to a problem that is disturbing them.
At this stage, it is always best to make them understand that you have a solution to the problem they are facing rather than putting forth a lot of questions that might annoy them. You can think of including educational content that would instantly answer their concerns or queries.
Mid Funnel Content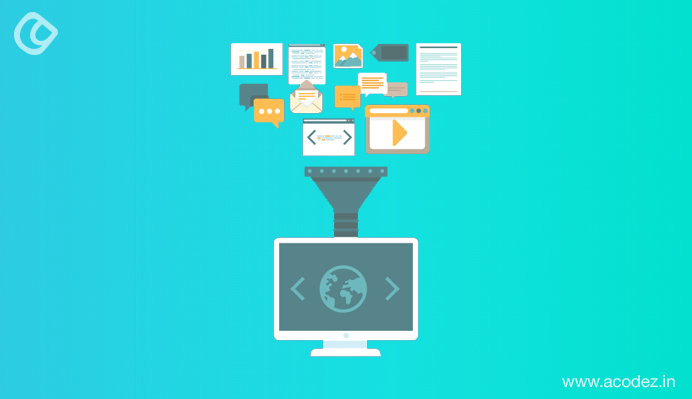 Next, come the people in the middle of the funnel. Who are they? What are they looking for?
Unlike the people at the top of the sales funnel, they are not looking for answers or solutions (or what we call as the basic educational material) that drives them to the next stage.
But they are here because they are contemplating and even evaluating their options. A lot of things would run through their minds – such as whether a product is necessary for them. Next, they would think about whether this particular product would be the answer to their problems. Also, the credibility of the brand is always a question.
This is yet another stage that needs to be handled carefully. So what kind of content would you present to your users at this stage? Give them content that would prove your expertise at leveraging the latest technology to help them drive to the solution they need. You can create long articles, blog posts, ebooks, eguides, white papers, competitive comparisons, and so on.
Bottom of the Funnel Content
This brings us to the people at the bottom of the funnel. Who are they?
They are the ones who have already decided and are here because they have made up their minds to make a purchase. But before they purchase, they are looking for some help. (This is to assure themselves that they have made the right purchase decision.) Here, you can help them with customer reviews, testimonials, case studies and even offers that would drive them to make the purchase.
So now, we have a prospect turned into a customer.
What happens next?
It is important that your content drives them to stick on to their decision and make a purchase. They should transform into a customer for your business. So now, you have a customer. We are not done yet. Next, you need to ensure that this person is retained and engages with the brand, as needed.
What can you do here?
Creating a content calendar would be really helpful.
As discussed, it is important to understand each of the above-discussed stages of your customer's journey. This will help you to drive them to make a purchase decision. Next, you need to be able to formulate content ideas, which will prompt them to take a positive decision at each stage of your content journey.
Creativity matters when you write content for your audience. It matters just as much as crediting content creators. It should have a professional touch and should be capable of striking an emotional connection as well. This would bring about interaction and engagement, which is a much-needed aspect of any content marketing strategy.
Of course, you do not want to copy what others have written. But you can always take a look at what others have got to say. It will help you to derive inspiration for your content.
Ideas to Create Content
We will take you through some interesting ideas on creating content:
Start with Keyword Research
This will help you understand what your people are searching for in search engines, which is one of the most important SEO strategies. It is important to have a clear understanding of what your customers are bound to ask at different stages of their journey, including before, in the beginning, during the course of the journey, at the end of the journey and after the journey.
What would be the problems that your product or service intends to solve?
You can create case studies for this. For that, you would need to research a lot. Conduct your research based on competitors, industry influencers and thought leaders. This will help you to curate the content that actually the customer buys.
Once you have come up with ideas, next create an editorial content calendar to help you plan as to when you would be publishing these ideas. This will help you to strategize the steps way ahead and then give you the results that you always wanted. It will help you meet deadlines as well.
Content to be Created
As discussed, you are writing for your customer. So the content that you write should be visually appealing, informative and in-depth. You should approach this from various perspectives. Ask the below-given questions before you start preparing your content as this would help you to create content that your user wants exactly:
What would your prospects prefer? What would they find more interesting: reading through mere text or watching a video?
What Kind of Content do you Create?
Creating content that lasts forever, otherwise called as evergreen content, is a great idea if you are looking out to driving steady traffic to your website.
Writing Content that Matters
No matter how well you write your content – adding in all the elementary details along with everything they are looking for – if it is not well-written, they will not read. It is important that you give them content that is engaging and arouses their interests.
It is always expected that the content is kept simple and engaging. Make sure that your brand's voice is well-reflected through your content. You can always get help, in case you feel your writing skills might not be well-honed to meet your customers' expectations. Always keep in mind that your customers need high-quality content and if you'd be able to provide that, you will succeed.
Acodez is a renowned digital marketing agency in India. Our service includes SEO, SMM, SMO, PPC and content marketing services to ensure that your website's rank among the top results on the search engine. We are also a leading web design company offering all kinds of web design and web development services at affordable prices. For further information, please contact us today.
Looking for a good team
for your next project?
Contact us and we'll give you a preliminary free consultation
on the web & mobile strategy that'd suit your needs best.