Do you have a social media marketing strategy? Well, this is 2019 and most businesses have an active social media life. When social media marketing is strategized appropriately, it is another step in building and growing customer base. The ultimate result is an increase in ROI. You must be up to date with the latest social media trends.
However, having a social media marketing strategy has more to it. Only if it is well-strategized can you reach what you aim for?
Most companies have a social media marketing plan in place. Some implement tried-and-proven techniques, while some experiment with new ideas and there are others who do not have any proper strategies at all. Social media is a medium to increase your brand's reach. So if you think it has not been giving you the expected results, then there is something that is not right. Let us check what are some of the top common social media marketing mistakes that you need to avoid.
Do You Have a Social Media Strategy?
This is one of the most common social media marketing mistakes you should be taking care of. Do you know the role of social media in Digital Marketing?. It is important to have a proper strategy for your social media promotions. Why do people often fail to create a social media marketing strategy? For obvious reasons – most of them think that it is not important. When you have already researched your audiences, product, and other details – it is important to have a social media marketing strategy as well. There are reasons to think that you could always work without a social media marketing strategy. You might have seen companies that have succeeded without a social media marketing plan. But this does not work for all.
Also, there might be a situation wherein you have already made a breakthrough into the social media network. Created your business profile and added a number of posts that would have attracted customer attention. But then, after a while, you do not take any action and in time, your presence is vanishing.
So when such a situation arises, people still keep coming back and checking for updates for some time. But with times – maybe over weeks – they will start thinking about what has happened, why is there no activity happening and they would conclude that you have disappeared. This affects your social media presence.
This means that you need to have a strong social media marketing strategy.
You need to have a social media marketing strategy that is strong and does not allow it to be abandoned in the mid-way owing to certain reasons. Come whatsoever, make sure your social media presence is active. Before that, it is important to define your social media strategy. Why are you here? Is it to gain likes and followers or is to reach out to a new group of audiences or to strengthen your brand's tone?
It is important that you have your goals defined clearly. Unless you have your goals defined and specified, you would never know why you are here. Besides goals, some parameters that matter includes target audiences, time, team and the steps you follow.
Create a social media marketing strategy that works for your team, but make sure that it meets your objectives.
Are You Measuring the Right KPIs?
Measuring the key performance indicators (KPIs) is another challenge when it comes to social media marketing. Some marketers have a tendency to fall for vanity metrics when they measure KPIs. What happens is they usually measure their fans and followers, and if this count increases, they are satisfied.
Just like all other marketing mediums, it is important that you analyze your social media efforts in terms of its impact on your business. This should not be concluded with the number of fans or followers you have.
What to do With Negative Feedback?
When you do not respond to negative feedback, you are again committing a social media marketing mistake.
A point where we are all mistaken is when we deal with negative feedback. What happens is when people see a negative comment, the way they address it is something that kills it. Some address it while some do not, and the ones who address it might not be providing a proper response to their audiences, which again upsets the people.
In fact, we are all living in fear of negative feedbacks that might harm the business reputation. 
Keep in mind that negative feedback could be an opportunity to change your business' existing tactics for better. So rather than ignoring or apologizing, take it as an opportunity to strike a conversation and engage with whoever gave the feedback.
Most of the times, negative feedbacks are opinions concerning the user experience of your product. If the feedback is in-depth, then it would be easier for you to understand what are the faults of your product.
When a customer gives negative feedback, they are waiting for some action from the brand. They are, in fact, requesting the brand to give them a solution. With changing customer expectations, it is important that you do everything that it takes to meet their needs. This is because they have provided feedback – by providing you their time and attention. Now, it is time to return their courtesy.
It is okay to approach with an apology, but your customers expect more. Give them an assurance that the next time, their product experience would be better. You can always get rid of negative feedback, but when you can provide a fitting response for a criticism, your brand is held high.
It is always best to respond to negative feedback at the earliest. It is always a great idea to have a team that can provide responses to any feedback at the right time.
How do You Look at Social Media Platforms?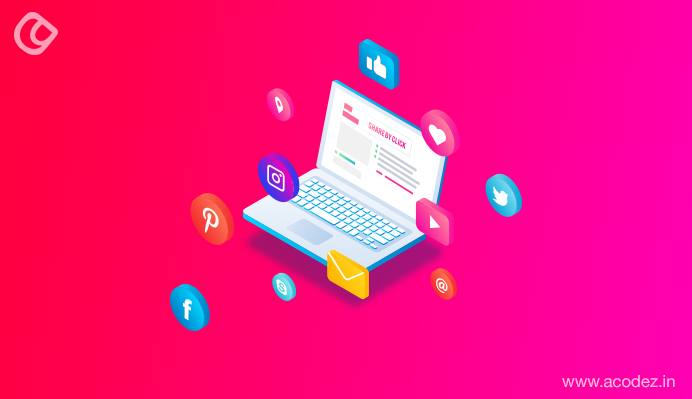 It is important to perceive each of the social media platforms differently. Each of them has a different culture and approach to be followed. If you use the same tone or approach for all social media platforms, then you are committing a grave mistake.
It is necessary that you consider the differences that exist between the content you are creating and the network for which you are creating that content. For this, you will have to understand how people communicate across these social media networks.
Promotions
Self-promotion is good up to some extent – until you grab attention. But after that what happens? When you promote yourself more than you should, people start getting annoyed and that is not appreciated much. Do not do that beyond a limit, because you are going to hit the rock bottom if you do that. Promotions are fine – only if you do not overdo it.
When you overdo self-promotion, you end up committing a social media marketing mistake.
Networking
As we had discussed the KPIs, similarly is the thing with networking. Sometimes, you might have a large number of followers, who might not belong to the category of your customers. It is important that your business reaches to your loyal base of customers, and you are able to engage these prospects, who share common interests. When you have customers who share common interests, you are working toward increasing your network.
What Kind of Content do You Post?
It is important that you post relevant content rather than going for content that does not make sense for anyone. Post content on a regular basis. But also, make sure that your posting content that matters to your customer base.
These are some tips to help you with your social media content marketing strategies. Would you like to get more ideas? Then, reach out to us. We have an excellent content marketing team that can help you.
Acodez is a leading digital marketing agency in India. Our services will help to take your businesses to grow in the online world to the next level. We are also a web design and web development company offering all kinds of web design and development services at affordable prices. For further information, contact us today.
Looking for a good team
for your next project?
Contact us and we'll give you a preliminary free consultation
on the web & mobile strategy that'd suit your needs best.