Twitter is the cool kid in the social media scene. Everybody wants to get on the #trend and discuss emergent issues.
Granted, all social media platforms serve a particular purpose, they all have an audience that logs in on the regular to check on what's popping.
That said, Twitter seems to stand out from the competition.
In a world where information is plastered everywhere, Twitter seems to understand the current setting. The character limit is set at 280 characters which are just about enough for you to express yourself without getting egotistical about it.
Given the fact that storytelling is an innate part of the human experience, it can be argued that such limits work best with a wordsmith. Still, if you're a savvy marketer, you can steadily grow your audience provided you stick to certain practices.
While Reddit has long been renowned as the front page of the internet, Twitter is where most people tend to turn to when they are looking to gain insights on what's happening around the world. There's a myriad of subjects to discover through retweets, trending topics, gifs, and memes.
According to Green-umbrella, each tweet has a lifespan of about 18 minutes. Given this metric, there's a fairly good chance your tweet may miss your target audience. As such, you must come up with a plan to post multiple times in a single day.
The beautiful thing about it all is that you can schedule out tweets to connect with your audience even while you're away.
With more than 500 million tweets sent each day, there's so much happening on Twitter with each passing moment.
To establish your presence and seek out prospects, you need to tailor your tweets to angle towards your business. The onus is on you to infuse your creativity to direct tweeps (Twitter users) to check out what you're offering.
Understandably, you may stutter before you find a solid footing. However, this shouldn't be grounds for you to give up on the whole enterprise altogether.
To help you out, we've compiled this handy guide with all the Twitter marketing tips you need to get lift-off. Read on!
Image Is Everything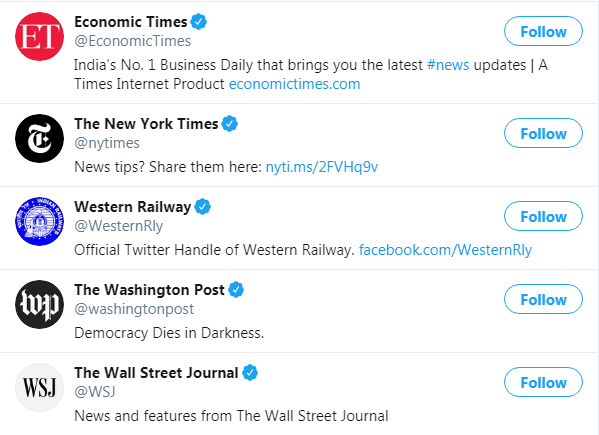 It's social media and you simply have to look and act the part.
Twitter is no different. If you're looking to grow your brand, you want your twitter handle to be simple but memorable.
Picking long handles can have its pros but it's safer to adopt a succinct approach that focuses the attention on the content you post. Also, a shorter handle makes it easy for your followers to tag your handle in their tweets.
With increased visibility comes great responsibility. With your handle now in the limelight, you need to work on refining your online persona across various social media platforms.
Where possible, it's best to use a common name since this will aid your followers to know your authentic handle and not get confused by other dubious accounts on the web.
The profile picture can also go a long way in enhancing your profile's appeal. With a good fraction of business transactions today occurring over the web, it's best to strike a good impression with prospects by sharing a profile picture that showcases your business side and informs them about your personality.
This duality not only makes you approachable but goes a long way in making your tweets seem all the more believable.
Alternatively, you can create a custom logo of your brand and stick to it. Depending on your enterprise, logos can serve as the perfect advert of what the business represents.
Since logos can get a tad bit tired over time, you need to work on a strategy that keeps the logo fresh over extended periods. If you're running a personal account, a professional headshot can do you justice.
At the end of the day, it's all about what makes you happy as you face your audience.
The Bio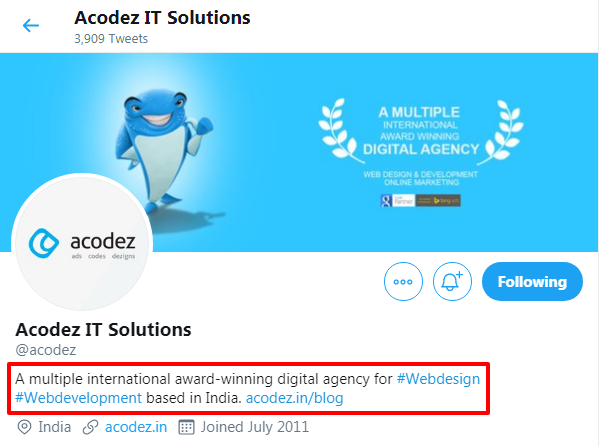 Your tweets are what will get people to click on and view your profile. Once they get there, they want to know all about you as fast as they can. While this is not easy to pull off, you can aid prospects to discover more about you by sharing handy information in the bio section.
Similar to landing pages, bios is very much like the "about us" section that reveals what you're all about. With conciseness, you can capture your essence beautifully and every word will sound like the lead up to a crescendo.
To keep things interesting, you can have a tongue in cheek moment here. Another way to play it is to announce your achievements for the world to hear. The key thing is to capture the attention of the reader whilst letting them know about your drives.
To connect with your audience, it's best to tailor your content to appeal to your niche of operation. You can also incorporate hashtags to boost post visibility during searches.
Importantly, the bio serves as the perfect headline space to showcase your brand and reveal any business associations you may have.
All About Timing
With so much action on the platform, engaging with tweeps on the regular should be normal service. Posting and sharing content can help bring your audience closer to your brand.
Remarkably, the time you post can have a massive impact on how your tweets fare. From data collected, workdays are usually slow in terms of Twitter log time activity.
On the other hand, Fridays, Saturdays, and Sundays have been noted to register impressive user impressions.
Since you want to have Twitter users interact with your brand as much as they can, it's best to optimize your posting periods to this. The high click-through-rate (CTRs) levels you witness during this period can help make it much easier to achieve your targets.
To ensure that you don't miss out on important occasions, you can elect to make use of tweet scheduling tools. Professional platforms like Buffer and Hootsuite can also help you set reminders on the best times to go live.
The key thing about this is to conduct due diligence about your audience. With a good understanding of their likes and dislikes, content creation will be easy.
Embrace New Media
As visual beings, humans love interacting with images. Today, various visual contents exist that can help brands connect better with their target audience.
Memes and GIFs have recently received lots of attention because they're identifiable by various demographics.
On Twitter, memes, and gifs also serve as brilliant tools for individuals to take the mickey with their friends. There's also the known practice of "trolling" where people hide behind pseudonyms and alter-ego accounts.
Given the fact that new age media like memes and GIFS tend to increase user interaction, you should find a way of developing your own branded content.
For this, you need to strike a balance between being playful about it and informing the masses about your business.
On Twitter, GIFs now come as pre-packaged attachments. As you compose your tweet, you can search for particular actions and explore the library of ready-made GIFs.
Videos
Similar to the aforementioned media, Twitter videos can add some gloss to your tweets and make them appear all the more impressive.
With this as the perfect stepping stone to boost user interaction, you can serve fresh content on your timeline and steadily watch as your following increases.
There's great convenience with Twitter videos too since you can choose videos right from your gallery or record right from your device. This flexibility gives you the power to share what you have in mind without any restrictions.
To ensure that your campaign remains focused, you can try infusing your brand name/logo somewhere in the video presentation.
Power To The People
Twitter is a democracy.
Through polls, you can get input from other users about contentious and interesting topics. While the comments section provides a great platform to argue out ideas, it's a bit difficult to tally the numbers as people keep on contributing.
With polling, the decision making is much more elaborate and people can align their priorities and see the proof of the pudding in real-time. Importantly, polls and replies are not mutually exclusive, rather, they complement each other.
Quoted Replies
There's a lot of great content on Twitter. While it's great to retweet posts that you find insightful or humorous, if you're not careful, you may just find yourself becoming a retweet merchant.
With quoted replies, you get the power to add your two cents on an entertaining discussion whilst showing the love. Your fans will appreciate your input while the original poster will get to enjoy the extra publicity you're created for them.
Importantly, quoting tweets gives your brand some extra facetime because your logo/profile picture shows up on your followers' feed.
This invites more visits to your profile and you stand better odds of connecting with a wider demographic, even outside your conventional audience.
Influencers And CTAs
Influencers are a force of their own in the Twitter universe. A single retweet from them can introduce your brand to numerous prospects and help boost your exposure levels on the web.
With an engaging CTA to go along with the endorsement, your brand awareness will skyrocket and you'll find it easy to guide prospects further along the sales pipeline.
Having keywords like "free" featured somewhere in the presentation can shine more limelight in your campaign and get the conversation going.
Conclusion
Twitter is where all the action is happening.
With a comprehensive strategy and by putting thought into your efforts, you stand good odds of driving new business.
The great thing about it is that it doesn't matter if you're running a traditional brick-and-mortar enterprise or doing business on an e-commerce platform. In Twitter, all that matters is how engaging you are with the masses.
Having highlighted eight tips to get your journey started, we're hoping you'll arrive at the scene with a bang.
Of essence is to ensure that you're consistent, that way you'll build a reputation and your brand will stand out.
Acodez is a leading digital marketing agency in India. Our service includes SEO, SMM, SMO, PPC, and content marketing services to ensure that your website's rank among the top results on the search engine. We are also a leading website design company offering all kinds of web design and web development services at affordable prices. For further information, please contact us today.