One of the most significant achievements for the business owner's website is to get ranked high on Google. This not only makes one's business popular but also increases traffic on the site.
Therefore, every website owner always wishes to know what criteria Google uses to rank websites.
To start, you need to understand that Google uses an algorithm that keeps on changing now and then to rank websites.
The changes are mainly meant to help those interested in services like yours find an easier way to get instant and accurate answers.
However, in 2020, Google introduced a new algorithm known as Core Web Vitals, a ranking factor that highly affects website performance. In this article, I have for you everything you need to know about Core Web Vitals.
What are Core Web Vitals?
Core web vitals are general elements that highly affect the user's experience in a website. It is recently that Google has released this technological advancement.
It intends to make the user's life easier and thereby allow website owners to get ranked for satisfying the needs of their clients.
Elements of Core Web Vitals
Largest Contentful Paint (LCP)
This is an element that acts as a timer for your website. It measures how long it takes for your entire website to load large graphics, images, videos, or even fonts. The faster your website is, the better the user experience; hence Google will rank you high.
For your website to be considered outstanding among many, it should have the capability to load the considerable elements in 2.4 seconds or even less. Google has a different categorization of how long your website takes to load. i.e
2.5 seconds or less- good 
2.6 to 4 seconds – needs improvements
4.1 and above seconds- Poor
One of the most significant causes of poor performance is having large designs that affect visual stability and using third-party scripts. You should always use simple graphics if you look forward to having a website that loads faster.
First Input Delay (FDP)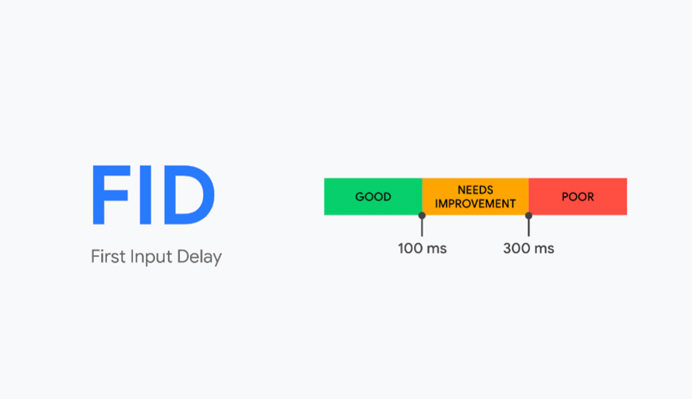 When a user visits your business website, they always expect to find what they are looking for within the shortest time possible. Therefore, they always long for an interactive website that gives them what they want instantly.
The first input delay measures the time it takes to process the user's interaction on the website. Google ranks the website based on the time taken to process interaction as follows;
100 milliseconds – good
100 to 300 milliseconds- needs improvements.
Over 300 milliseconds – poor
The main problem that causes a website to take a long in processing interaction is using large JavaScript. However, it can be minimized if you long to have a good score and get ranked high.
Cumulative Layout Shift(CLS)
Have you ever visited a website or a blog, then all of a sudden, an advert pop up? You get a picture that is not related to what you were looking for.
If so, then google is here for you. It has come to penalize those website owners who do that to their users—those who trick users into clicking banners and ads.
The CLS measures how visible your website is to the user. You can always improve your CLS score through proper optimization. For CLS, google ranks the website as follows;
CLS 0.1 seconds- Good
CLS 0.1 to 0.25 – Needs improvement
CLS above 0.25 – Poor
Here you need not worry too much. If your score is poor, it is not an indication that you are operating a spammy website. Though it highly affects your performance.
Other elements considered as Core web vitals
HTTPS (the hypertext transfer protocol secure)
This is an element that safeguards the confidentiality of the users and that of the website. As a website owner, always ensure that your website is secured.
Different users will avoid your website if it's not secure. It is an element that is considered in Core web vitals.
Mobile experience
You may have noticed that how your web appears on the computer is different from how users can access it on mobile devices.
Therefore, you need to always ensure that your website performs optimally on all devices. If your website is not mobile-friendly, it will highly impact the ranking of your website.
It is an element that may not weigh too much weight, but it is vital.
Intrusive interstitials
There is a pop-up that usually blocks most of your content on the web page. That's what is called intrusive interstitials. The website that has it usually has one of the most impoverished user experiences.
This means that your website overall will be negatively affected. Therefore, you need to ensure your website does not have intrusive interstitials to avoid these effects.
How to quickly check your Core Web Vitals
Checking Core Web Vitals is an important activity that helps you know where you stand and how well to improve your website performance. On the Google search console, there is a Core web vital report whereby you get your score.
How to view the report
Visit the Google search console.
Enter your domain to continue
Login to Google search console
On the left-hand menu, navigate to the enhancement
Select the Core web vital option
After this, you will get a general report that easily helps to track URLs score. It is either ranked poor, needs improvement, or poor.
You can also check for the issues in your URLs and know where to improve. Also, you can consider using the web.dev to measure your PageSpeed insights. Here is how the report looks like.
How google helps the website developer on improving the performance of a website.
These are some of the most essential reports that you could not enjoy before. It will enable you to know where best you need to improve and what you need to keep to make your users comfortable on the site.
How to optimize your Core Web Vitals
If you found out that your website has too much red, do not worry, as Google always gives you a chance to improve. All you need to do is get a professional website developer.
Here are some ways to improve the performance of the three elements of Core Web Vitals.
LCP
Compress all your large images 
If there is unnecessary JavaScript, remove them right away.
Move your site to a better server that will easily reduce the server response time.
Improve the loading speed through inlining CSS.
Using smaller images for smaller devices such as phones or pads.
Remove any third-party script that is on your website.
CLS
Improve the loading speed of your website to give the asset the ability to load quickly.
Prevent an unexpected layout shift by preloading the fonts.
Ensure you set proper heights and width for all elements in your website. i.e. videos, images, or ads
Have a proper style for your elements to give space for the assets that load slowly.
FID
Just like the rest, remove third-party scripts as they negatively affect your website's FID.
To speed up the load time and efficiency, make use of a browser cache.
Reduce usage of using javascript or stop. This is because it makes it impossible for a user to efficiently interact with the website.
Always ensure that you have everything to give your website one of the best looks.
Why Core web vitals are important
Improve user experience
Users are one of the main customers or the consumers of Google products. The main focus of the Core Web Vitals is on making the user get what they are searching for with minimal delays.
In addition, they want the user to be comfortable interacting with website pages they are interested in.
Boost ranking for website owners
When you meet the Core web vitals requirement, it is a clear indication that your website is well optimized. As a result, Google will rank your website among the best, which will get you traffic.
This is a great opportunity that you can grab now, and you are not late to make a decision and enjoy.
It helps to reduce tricking ads
Most clients have always been worried about accessing different websites due to their tricking ads. You visit a site to do research only to find that it's only unnecessary ads available.
Google is making this hard for website owners who do this and will not likely rank their site like before.
Final thought
Google is such an amazing tool for Coming up with such an awesome element that is aimed at helping you improve your website ranking. It is a great opportunity to improve the website's performance.
If your page has many features, you can easily consider hiring a professional to help you out.
A good user experience is not new, but this recent feature gives it complexity. Google ensured that website owners had more than a year to adjust their site.
If you are yet to do so, I hope that you could gather some knowledge on everything you need to take your website to the next level.
If the content entices you, feel free to visit our website and get expert help at Acodez.
Acodez is a leading digital marketing agency in India. Our services includes SEO, SMM, SMO, PPC, and content marketing services to ensure that your website's rank among the top results on the search engine. We are also a leading player in the website design company India arena, offering all kinds of web design and web development services at affordable prices. For further information, please contact us today.
Looking for a good team
for your next project?
Contact us and we'll give you a preliminary free consultation
on the web & mobile strategy that'd suit your needs best.