Whether you recently started a business or have been an owner for some time, you probably already know about the several kinds of marketing that are accessible. If you want to increase the size of your consumer base to the level you wish, marketing is a must.
However, the kind of marketing you choose will rely on a variety of things, such as your long-term objectives, the goods or services you provide, your target market, and more.
Performance marketing is one of the more recent forms of advertising that has been effective for many businesses. Not all companies will profit from this advertising; thus, your marketing agency will decide if it's a good fit for you.
There are numerous approaches to guarantee tremendous possible success for your campaign. You must first understand your audience.
Because each company's target market is unique, you must become familiar with yours. It is crucial to research your target market because it might enable you to foresee their needs and desires with regard to marketing.
However, for your advertising efforts to succeed, you must thoroughly know performance marketing, from its fundamentals to various channels and KPIs.
This article is a complete guide to performance marketing; It will go over the different types of performance marketing, the benefits of performance marketing, and tips and practices for effective performance marketing. First, let us define what performance marketing is.
What is Performance Marketing?
Performance marketing is a broad word related to online marketing and advertising initiatives in which marketers and advertising agencies get compensated when a particular activity, like a sale, lead, or click, is completed.
In more conventional marketing methods, you pay beforehand for a particular effort and then wait to see if it prompts your intended behavior.
It may mean paying for your advertising to appear in a magazine with a recognized readership with the aim of attracting people to your website or business. Traditional advertising results are never guaranteed and may only be guessed.
Performance marketing, more broadly, strives to enhance the performance of the business. The seller pays the marketing firm when the affiliate meets the campaign's intended outcome, as opposed to only when a sale of a particular product occurs.
$522.5 billion was spent on digital advertising globally in 2021 over computers, laptops, and mobile devices. Statista states this amount will rise rapidly over the coming years, topping $836 billion by 2026.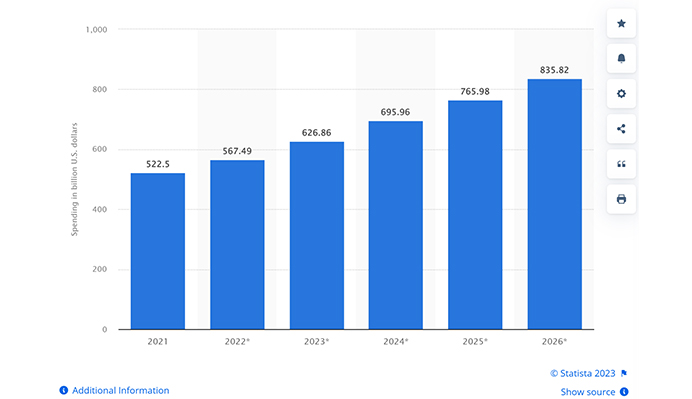 With this forecast in mind, it should come as no surprise that new types of Internet marketing are constantly emerging, like performance marketing, marketing through affiliates, social media advertising, and email marketing.
Main Performance Marketing Channels
The field of performance marketing as a whole has advanced significantly over time. Performance marketing can produce effective campaigns for various consumers and objectives thanks to the cutting-edge techniques accessible.
Below are some of the main performance marketing channels;
Affiliate Marketing
This type of digital marketing is usually associated with the advertiser and compensated after the intended action occurs.
It frequently entails collaboration with discount, loyalty, review, and incentive websites. It may also entail collaborating with a social media personality, YouTuber, or blogger.
This kind of marketing is placing advertisements on a website owned by a third party, like a blog, and paying a commission for each transaction.
Advertisers can sign affiliate marketing contracts with specific websites or affiliate networks like Affiliaxe. Affiliate networks then spread the advertisements across the many websites under their control.
Native Advertising
This advertising merges with a website's "native" design or another website to appear as though it were original content and consists of items suggested to customers depending on what they are thought to be interested in.
Instead of directly pitching goods or services, these advertisements often focus on generating leads for retargeting campaigns.
Unlike display advertising, native advertising melds your advertisement naturally with its surroundings.
Buzzfeed is a website you might think of while considering native advertising. Advertisers produce material that closely resembles the mood and presentation of Buzzfeed's original stories, which are subsequently shared or advocated to the main page by Buzzfeed's social media team.
Social Media Marketing
Social media marketing is an efficient paid advertising strategy to reach a sizable audience because most individuals have at least one account on the platform.
Each social media site draws a particular type of user, depending on what it is used for. The most widely used social networking websites are Youtube, Instagram, Whatsapp, WeChat, Facebook, and Tiktok.
Your published material will be carefully crafted to persuade your intended audiences to choose your firm to do business with.
Social media networks are used in performance marketing to increase traffic and raise brand awareness.
Social media lets you connect with consumers and direct them to your website. Still, users may also naturally share your sponsored material, greatly expanding the reach of the original post.
Search Engine Marketing(SEM)
SEM is a type of native marketing that focuses on search engine result pages. Sponsored search results are advertising that resembles organic search results but are identified as such.
Advertisers place bids on specific keywords to have their ads appear when users search for relevant goods or services.
While some businesses engage with SEM providers and campaigns and pay fees depending on results, others may analyze their search engine marketing results on an achievement basis.
Programmatic Display Advertising
Display advertising is a sort of digital marketing that includes banner adverts, rich media, and more.
Automation is used in programmatic display advertising to purchase adverts in real-time, depending on a user's online activity. This smart advertising is ideal for developing retargeting and highly tailored advertisements.
These display advertising transmit their message primarily using pictures, music, video, and little text. The creation of banner adverts must be creative to capture the attention of users simultaneously reading other material.
Because programmatic display advertising has poor clickthrough rates, it is seldom considered a performance marketing channel. However, it becomes a more successful performance marketing channel when marketers use more targeted techniques.
Display advertising is probably something you see many times a day since it's a popular method for blogs, magazines, and other websites to monetize their sites.
Ways To Measure Performance Marketing Success
Before a brand can pay for a performance marketing advertisement, it must establish its effectiveness.
Below is a list of some of the most regularly used indicators and KPIs to help you understand this guide to performance marketing.
The cost per click
The sum of money an advertiser spends is determined by the number of clicks an ad obtains. CPC is also known as pay-per-click (PPC).
CPC advertising is extensively employed in social media and search marketing. It's a beautiful approach to promote brand exposure and recognition since it places your ad in places where individuals will see it — but you only pay if consumers click.
Depending on the sector of your business, cost per click varies. According to Statista data from May 2021, below is an estimate of the average cost per click (in USD) across several businesses.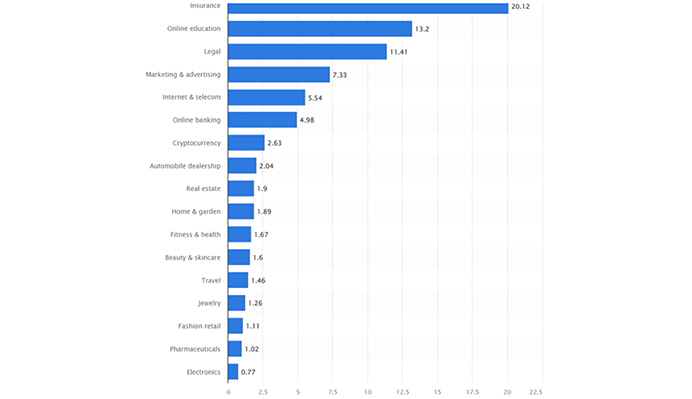 Cost per Impression
The cost per impression (CPM) is determined by the number of reactions or views an ad receives. CPM stands for cost per 1,000 impressions. (The M stands for "mille" or "thousand.")
CPM may assist you in reaching a broad audience with a message or advertisement. If you want to focus on quantity, cost per impression is the best performance marketing payment strategy for you.
Price per Sale
A publisher gets paid according to the number of sales or conversions produced by the ad through cost per sale (CPS) or pay per sale (PPS).
Other marketing tactics often compute the CPS after a campaign by dividing the entire cost of the campaign by the number of sales produced.
However, with performance marketing, the cost per sale is predetermined as part of the contract with the publisher – the advertising company agrees to pay an agreed-upon sum for each sale.
Price per Lead
If generating leads is your main aim with performance marketing, cost per lead (CPL) — or a pay-per-lead (PPL) model — is the appropriate statistic.
Other marketing tactics, like CPS, compute the CPL measure after a campaign to identify how much the firm pays per lead. However, the price per lead is fixed in advance for performance marketing reasons.
Acquisition Cost
The cost per acquisition (CPA) model is a larger model that calculates the overall cost of one user doing an action that results in a conversion.
It correlates to a pay-per-acquisition strategy in performance marketing, comparable to CPS and CPL measurements. Any additional indicators mentioned above may be included in the cost per acquisition.
Lifetime Worth
The worth of each client is referred to as their lifetime value (LTV). It's a measure that estimates the net profit you'll make from your customers' purchases throughout their lifetime.
It is not a performance marketing payment mechanism, but performance marketers often use it to help determine the value of other activities.
Tips for Effective Performance Marketing
Performance marketing is an exciting new instrument that benefits advertisers and agencies. However, like with any tool, you must know how to utilize it.
While the advantages of performance marketing are obvious, you should not embark on a performance marketing campaign without a plan. Here are some tips and practices for ensuring you get the best out of performance marketing.
Maintain Compliance
Marketing compliance is critical for firms in all industries. Your organization and any publications with whom you collaborate must adhere to the criteria established by the Federal Trade Commission, the General Data Protection Regulation, and the California Consumer Privacy Act.
This compliance is particularly crucial in the near future since the relevance of first-party data is another big performance marketing trend. Collecting first-party data about your target audience is essential to learn how to build successful connections, but consumer trust is also crucial.
Monitor Your Data
Once you've decided on a plan based on the outcomes of your testing, keep tracking and monitoring data on each channel to ensure everything is working correctly.
It's critical to monitor how your campaigns are doing; this will allow you to make informed judgments about what you may need to modify for the next campaign.
Test and Improve
Run A/B testing to learn more about what works and what doesn't. A/B testing, or split testing, analyzes two campaign versions to evaluate which works better.
Run an A/B test for the article or ad you want to utilize, generating a second version with one significant modification. Determine which one resonates the most with your target audience. Then change something else and test it again – or continue your campaign.
Understand Your Target Market
If your organization does not yet have buyer personas, it is time to develop them. These personas will enable you to design focused, tailored campaigns, which will be much more successful than blasting your marketing efforts to as many individuals as possible.
Personalization at scale is one of the top goals for businesses in the following years, according to the 2022 digital trends.
Consider how you may build personalized customer experiences using performance marketing. You can design relevant and compelling content when you understand your target audience.
Create a Solid Landing Page
When it comes to performance marketing, a poor landing page may keep visitors from converting, and an inadequate offer can keep them from clicking through. Furthermore, this may dissuade partners from collaborating and promoting your business.
As a brand, make sure you have an appealing offer for your affiliates, and check your site for any possible issues a visitor could come experience.
From the landing page to the purchasing cart, test the complete user experience. Review links and offers, and frequently change content and any weak landing pages.
Cast a Broad Net
Although performance marketing is a bottom-of-the-funnel approach aimed at client acquisition, it may often limit the keywords businesses bid on.
Bottom-of-funnel keywords, such as branded phrases or specialized features, are ideal for capturing the most relevant consumers, but top-of-funnel keywords are where brand recognition is found.
Brand recognition attracts the attention of new consumers, expanding a brand's potential client base.
Collaborate With Trustworthy Publications and Affiliates
If your product traffic originates from shady sources, it might negatively influence how buyers view your brand. Work with respectable publishers with a proven track record to prevent unwanted publicity.
Make Plans for the Future
As you plan your performance marketing efforts, think about how they will fit into your general marketing strategy and company goals. Because performance marketing is results-driven, it's easy to get enthused about a strong ROI for a single campaign.
Getting outcomes is excellent, but ensuring those results genuinely contribute to the company's bottom line is critical. In this manner, you can be confident that the work you pay for contributes to achieving company objectives.
Benefits of Performance Marketing
With the digital marketing sector expanding by the year, performance marketing has enormous potential to fully transform your company.
The following are the top reasons your company should invest in performance marketing:
Simple Tracking and Analytics
Results are easy to measure since performance marketing relies on success. There's no need to guess because payment depends on a consumer performing a certain activity, so you know what is happening.
Performance marketing is quantifiable and accountable. In reality, companies can now monitor each buyer's click-to-consume route and determine where to invest more money and in which partners and methods, thus achieving better outcomes.
Lower Risks
When running performance marketing campaigns, you may alter your budget, track campaign results in real-time instantaneously, and even modify your ad wording.
You may pause the performance marketing campaign after your objectives have been fulfilled or your funding has been exhausted. This adaptability lowers the entire financial risk of your campaign.
High ROI
ROI is the sole objective of performance marketing. Whilst other marketing models prioritize various KPIs, making it challenging to link marketing efforts to ROI, performance marketing is built from the ground up with ROI in mind.
This quality provides you complete visibility into each campaign and whether or not it was successful.
It should come as no surprise that increasing ROI is the main objective of marketers that use performance marketing. According to Ascend2's study, performance marketing produced best-in-class outcomes for 54% of marketers.
There is no risk of squandering money on ineffective marketing initiatives since every parameter is monitored in real-time.
New Audiences
Performance marketing is an effective method for exposing your business to new people. You may work with several publications to advertise your brand to individuals who weren't aware of you, ranging from search engine marketing to social media platforms to affiliate marketing.
You should be able to target more specialist publishers to reach a smaller fraction of your target audience. These audiences will eventually result in more outstanding sales and money.
Cost Effective
What better approach to save expenses than to pay solely for actual results rather than a fixed price, regardless of the outcome?
Performance marketing is ideal for teams with limited marketing resources that need to know the value of every dollar spent.
Smaller firms with limited funds frequently use it to evaluate both performance and brand recognition (the sort of advertising that isn't directly connected to outcomes). It enables you to grow your business and get near-immediate results rapidly.
Conclusion
Because understanding this guide to performance marketing offers several advantages, you should consider investing in it. The most significant advantage of this kind of marketing is that it does not need payment until successful transactions have occurred.
This marketing might benefit small organizations just getting started since performance marketing allows them to see results and perhaps make money before they have to pay.
Performance Marketing is a low-risk method. It has a high ROI and allows you to easily monitor your actions as you showcase your brand to a larger audience.
Begin by identifying your objectives, like you would with any marketing effort. Outline your goals for using this guide to performance marketing. Once you've completed that, you'll be ready to begin planning the remainder of your campaign.

Acodez is a leading web development company in India offering all kinds of web design and development solutions at affordable prices. We are also an SEO and digital marketing agency offering inbound marketing solutions to take your business to the next level. For further information, please contact us today.
Looking for a good team
for your next project?
Contact us and we'll give you a preliminary free consultation
on the web & mobile strategy that'd suit your needs best.