A website provides your business with amazing new opportunities and is a great way to grow quickly. Capturing the interest of users, converting visitors into customers, and promoting your brand are all goals that a great website can help you achieve. How to  get all of this from your website, especially when you are not very well acquainted with the technical aspect of designing and development?
The secret to a great website is not that difficult to figure out. In fact, most of the popular websites in the world today share some common traits:
Offer a concise but clear message that is of value to the user
Use compelling and effective call to actions
Use headlines that generate interest and make people click on them
Keep a simple sign up process for membership, subscription, or even for contacting you
User testimonials that are strategically placed and are easy to spot
An effective and well crafted user interface
Whether you are sure than you have a website that you are not satisfied with, it is time to call in an expert and get a website redesign that you as well as your customers will love. Instead of modifying the current website (of course, you have to make sure that you don't lose any of the value rooted in your current site), expand your vision, go back to basics and make sure that you follow the best practices and guidelines for your website this time. It includes,
Know what your business is
This may seem a little confusing, as you are a businessman and obviously know what you deal with. But does your website reflect that? Figure out why you are getting a website, and what it will offer the users, so that you can get everything just right. Strategize well and identify one focal point that the website should focus on above everything else.
White spaces are your friend
A white space gives the visitor a break, allowing him a chance to process the information on your site. Ensure that website has plenty of white spaces, or you will only end up confusing, or worse, irritating a potential customer.
Hand over the reigns to the user
This is a major design fundamental and should always be practiced. Your user should always feel he or she is in control. The website should be easy to navigate, and the user should be able to identify where he is and what he needs to do next.
Avoid animations, or at least allow users to skip them. Don't test their patience, and always make them feel like the website will do exactly what they want it to.
Keep your content fresh and diverse
Just because your business belongs to a niche, does not mean you only talk about products. Cover related topics as well to become a great source for information to your customers.
Balance minimal designs like an expert
Minimal website layouts are all the craze today, and they really do look amazing as well! You have a message that you want to get across to the visitor. If you can do that in one of two sentences and with a few images, then, by all means,  go for it!
Let your brand shine through
Do not shy away from being bold, or doing something creative. It's your brand, so make sure the website reflects that.
Test your website regularly as well, and stay on top of all issues or potential problems. And most importantly, make sure you have an expert who can handle all your needs.
Here's a Website Redesign example, website we designed and developed for ToursToKerala.org, an inbound travel solution company based in Kerala, India.
Tours To Kerala Old Design
Tours To Kerala after Redesign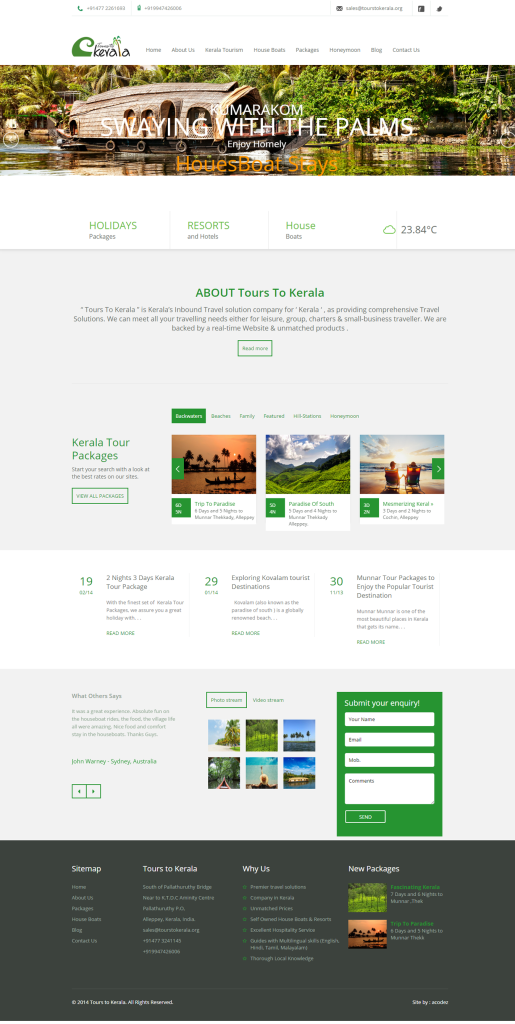 Are you looking for top-class Web Design Services in India? Call us at +91 9544668844 & get in touch with our team right away!
Credits: Image 
Looking for a good team
for your next project?
Contact us and we'll give you a preliminary free consultation
on the web & mobile strategy that'd suit your needs best.