A number of marketing strategies are available these days. These strategies are an imperative part of growing businesses. Since there are a number of digital marketing techniques in place these days, it might be difficult for you to choose the best one. E-commerce marketing is one of the best ways to promote your business online.
So you might be thinking how does it perform when compared to certain practices, such as social media, content, email marketing or affiliate marketing. E-commerce marketing is not too different from digital marketing. Websites that are using e-commerce make use of a number of digital marketing channels for promoting their products and growing their businesses.
We will take you through some important e-commerce marketing strategies that can be implemented to grow digital media.
E-Commerce Marketing
Through e-commerce marketing, you can create brand awareness and make sure that your business is moving toward such a range that it is able to sell a product or service electronically. E-commerce marketers implement social media, search engines, digital content as well as email campaigns for attracting visitors as well as to make arrangements to promote purchases online.
E-commerce is a collaboration of digital and inbound marketing that focuses on converting visitors into consumers. E-commerce marketers do not implement marketing channels the way a content marketer or social media marketer would for their purposes. eCommerce trends have changed recently. So it is important to have a digital marketing strategy for your eCommerce business.
E-commerce digital marketing is an important part of any business online.
This e-commerce digital marketing will help create a bigger revenue. This will help to further gain more customers along with enhancing the brand value. You will understand that customers cannot depend on just content or any other kind of publicity. This is important to be considered before a purchase decision is made for any product.
Customers are in the habit of going through product reviews across all platforms, wherever the product is listed. Certain findings report that over 30 million social media visits gave rise to around 500,000 orders or more. Facebook is known to have helped generate more traffic to a website, leading to more sales, comprising an average of 80% of all the orders.
Consumers might get distracted easily, so it is important to ensure that their focus is retained. This is where digital marketing can help you and your e-commerce business to stand and attract attention in the crowd. With e-commerce digital marketing, all-important marketing channels will have access to your business. We will discuss some of these e-commerce digital marketing channels below:
Search Engine Optimization (SEO)
SEO is an imperative part of any e-commerce website. It is one of the ways you can reach your people. You can increase the quality and volume of traffic to your website using SEO, which is an organic method. A number of businesses have realized the importance of SEO and are working on improvising their SEO tactics for better. When you produce a lot of content and keep posting a number of times every week, you are opening a gateway to your customers, which will enable them to reach you with ease.
You can think of various methods of reaching your people using SEO – such as product promotion – via content, promotional activities and even giveaways. Create content that is rich in keywords, but does not spam it with keywords. Good content always has readers. It will increase engagement. A lot of companies have users who come to read their blogs – thereby increasing the return on investment (ROI) – which helps in increasing sales.
Search Engine Marketing (SEM)
SEM is mainly a paid technique that helps to improve a website's visibility, thereby increasing search engine ranking organically. This helps you to acquire results in a short time-frame without having to wait too long as in many other cases, where the results are delayed. In SEM, paid ad campaigns are implemented to promote businesses. Here, keywords are used in the ad campaigns to target users who search for related queries.
One of the most effective SEM platforms is Google AdWords. This paid search channel is one where e-commerce businesses can make a lot of profit if they focus well enough. A number of companies have already tried this technique and benefited from it.
Also, long-tail keywords are more preferred as these have lesser competition and are not chosen often. This is mainly because marketers are not sure whether people would search the entire query. But yes, they do the search. Use long-tail keywords and see the changes. SEM would bring about an increase in click-through rate, driving better conversions in newer markets, along with excellent ROI.
Email Marketing
Yes, email marketing is one of the tried-and-proven techniques that will help you with digital marketing. It has been found to bring about a lot of ROI to businesses. Still, people are using this as an effective technique to improve their business. 
All these years, emails have been playing an imperative role in ensuring that customers are enjoying their shopping experience. When you place an order or pay for a product on any e-commerce website, they send you a confirmation email at the earliest along with a digital invoice.
This gives a good start! Next, the users can email back the service provider, in case they have any questions regarding products or experience. You can also email them when you notice an abandoned cart or remind them about it. With personalized emails, an emotional connection is developed with the consumer. This will help them form a bond with the consumer.
A number of companies help develop or personalize email campaigns according to consumer preferences. You can start by targeting consumers for email marketing campaigns, which helps to establish a personal connection. Then, you can slowly tap into consumer's interest, which will further help to drive brand awareness.
You can strategize an email campaign, which can start by sending a welcome message. For this, you can include an engaging subject line, a brand story, discounts, special offers and also send social media invitations. You can even send out invitations to people to browse through stores.
A number of e-commerce stores, including Amazon, have been sending product suggestions to their consumers based on their search and purchase, and even browsing history. Once the consumers purchase a product, they send out thank you emails. Personalization is key to effective email marketing, which forms an imperative part of e-commerce digital marketing strategies.
Social Media Marketing (SMM)
You might be aware of the social media trends for a while now. It would be hard to stay away from social media. You need to follow the wave and be active on social media platforms, such as Instagram and Facebook. In fact, it would be easier for you to reach out to your consumers via these social media networks. With no doubt, marketers are implementing social media as an imperative part of their e-commerce digital marketing strategies these days. Consumer demand is the driver that helps markets to build a foundation. To achieve growth, it is important that the brand should have a clear idea of what their customers are looking for.
Also to stay in touch with your customers, you can think of numerous ways, including building communities for your consumers. This will help to enhance consumer engagement.
Social media marketing will help to improve the traffic to your e-commerce website, by threefold. When e-commerce digital marketing strategies are aligned well, they will provide exposure to start-ups to grow and expand in a market.
You can find a number of digital marketing tools, including Google keywords, SEM, SM, Analytics and email marketing, which will help you to accomplish your digital marketing goals with ease.
When You Have Doubts, Get Help from Experts
In case you have doubts on how to build your strategies, seek some help. A number of individuals and businesses have already built their e-commerce empires. You can always reach out to them for help.
When asking them to help, start from the basics of how did they start. Ask them about the marketing channels that they used. Also, the channels that helped them produce the biggest ROI in a short time-frame. Ask them whether they had help from some agency. If yes, which agency did they seek help from. Check with them for the technology they had used.
In case, the details are not helping, you can always get help from experts. They have already done that for other businesses, so they can help you put together great digital marketing campaigns for your business.
You can always hire an agency or get help from some freelancer.
Make an eCommerce Digital Marketing Plan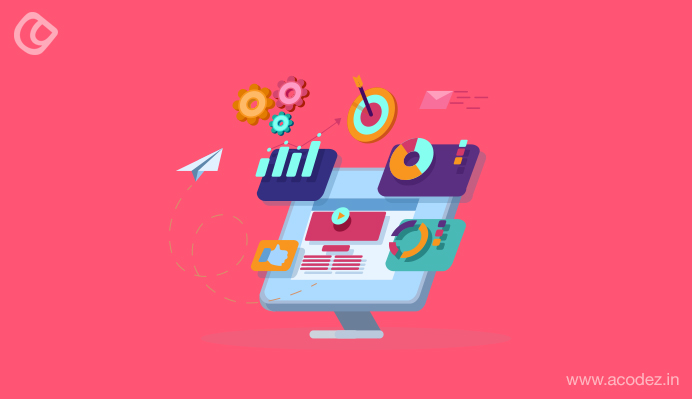 It is always great to start with a plan. You need to have a clear understanding of what you are getting into. Keep in mind what you are getting into.
Research your customers, market, and competitors. In case you are unable to find out these details yourself, get help.
These are some of the e-commerce digital marketing strategies that we implement to help make our clients' businesses to the next level.
Acodez is a prominent digital marketing company in India offering all kinds of digital marketing services which includes, SEO, SMM, SEM, Inbound marketing, etc. We are also a website design company giving solutions to businesses in India and abroad. Our broad experience of having worked on numerous projects has helped us know the requirements of the clients and providing the best services to them. For more information, contact us today.